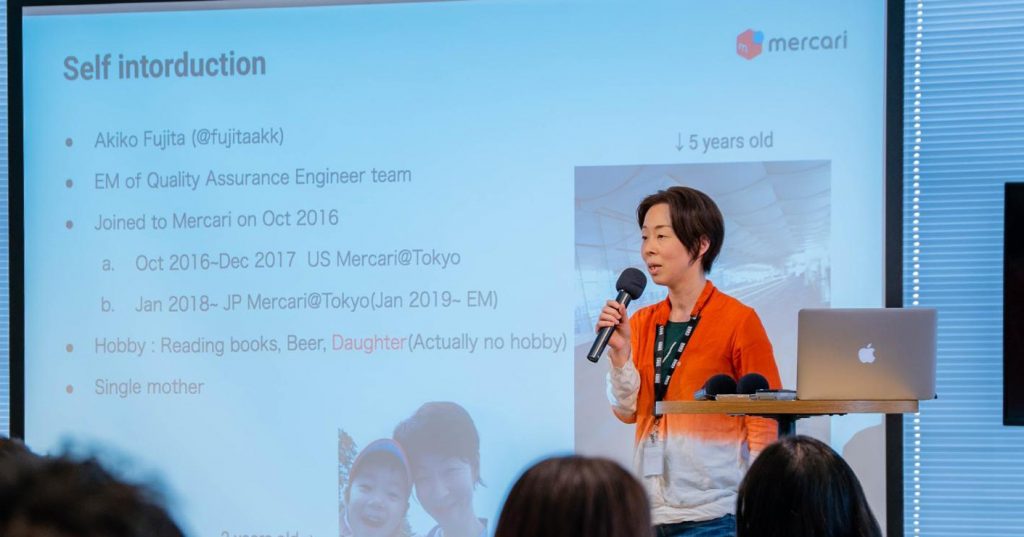 A world words can't describe: Taking my daughter to WWCode Connect 2019
"Women Who Code Connect 2019", a large-scale conference that looks to empower women working in the tech industry, was held in San Francisco in April 2019. The event is organized every year by Women Who Code Connect (WWCode), a non-profit organization supporting women's careers, and Mercari was one of the sponsors this year. For this, some of our engineers visited the venue together with HR members from both Mercari JP and US.
A few days after that, a document with thoughts and impressions from one of our members that went to the conference gained attention within the company.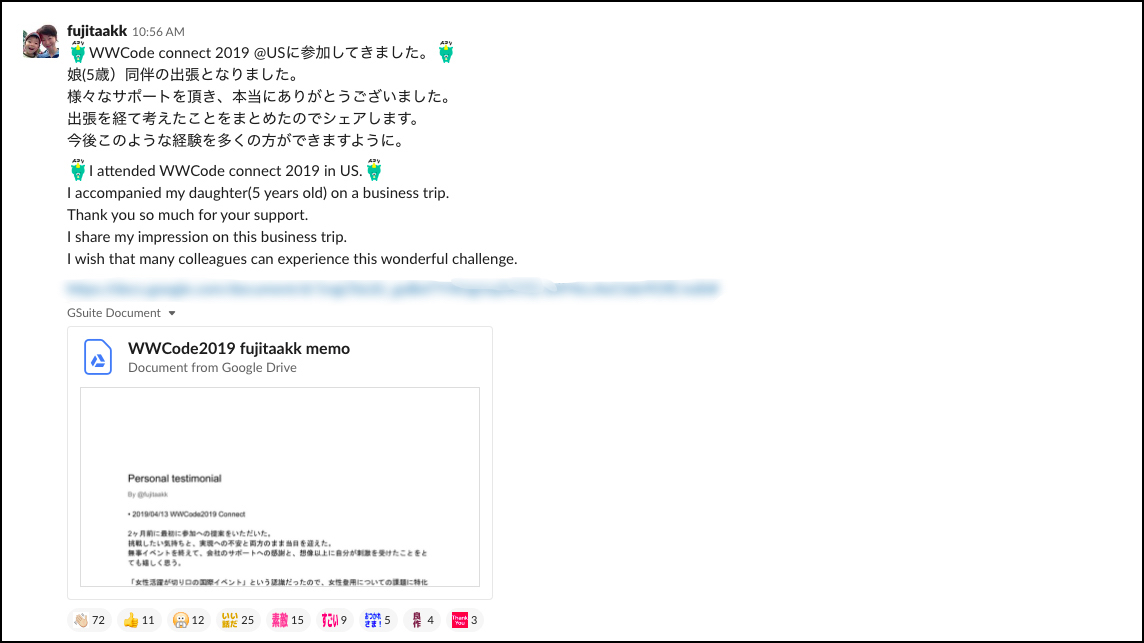 Slack message in which Akiko shared the document
In this issue, we bring you the personal testimonial of Akiko Fujita, Mercari's QA Team's engineering manager, who participated in the conference.
Note: The document shared by Akiko and contained in this article has been edited by Mercan's editorial team.
Personal Testimonial by Akiko Fujita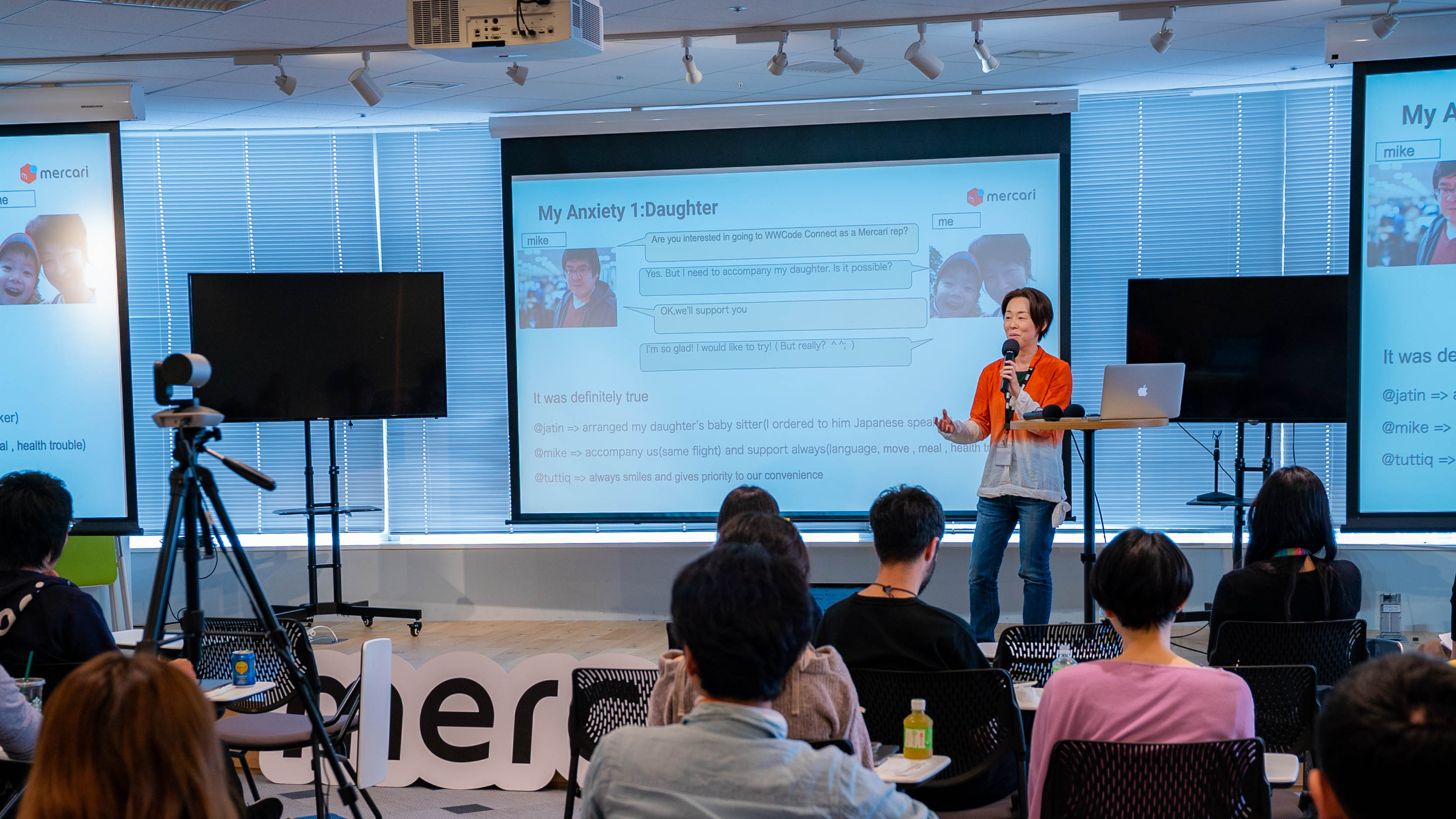 Akiko sharing here experience at WWCode CONNECT 2019 with Mercari members
I was first asked to participate in WWCode Connect two months before the event. I went that day with a mixture of anxiety and excitement for challenging myself to participate in an international conference. I want to thank the company for their support, and I'm really happy to be more motivated than I could ever imagine.
Since I thought that WWCode Connect was "an international event on women's empowerment", I imagined it would be a conference focused on promoting women. However, in reality, it was quite different from that. What I saw was a place where powerful women that are already active in the industry meet to learn and openly exchange ideas about things like the latest trends in software development or organizational issues. It was very exciting to see women personally dealing with work issues, and to know that there are so many energetic and talented women in this world.
During the session, the word "diversity" kept coming up a lot. It was a concept so naturally incorporated into that environment, it seemed like nobody was conscious about it anymore. Rather than having the feeling I was "studying" diversity, like in Japan, I could experience a world where the idea of diversity is naturally present. That was so stimulating, I found myself thinking about what diversity is all over again.
My daughter came with me to this business trip. She is actually sitting right next to me as I write this at the Mercari US office. In this office, the very fact that she is with me is not seen as something strange, but rather is accepted naturally. I feel that this cultural difference with Tokyo is also a lesson that I wouldn't have had if I hadn't come.
For me, this business trip had also personal meaning. At Mercari there are lots of opportunities to go on business trips, both abroad and in Japan, but I never thought I could go on one because I'm raising a child. Now, I'm as happy as surprised that the trip came true and I was able to accomplish what I thought would be impossible to me.
In order to come on this trip, the company supported us a lot with things like travel arrangements for me and my child, babysitters, concrete support for my activities on-site (traveling companions), advice regarding the conference, etc. I feel that I've learned from experience the meaning and importance of having the company's support.
On the other hand, this trip also made me realize how much I still have to learn, and how important it is to actually go through these experiences. To be honest, I really lack English skills so I can't say that my level of understanding of the session's content is very high, and also, the level of my interaction with the community was quite low. But I think that to be able to close that gap, it's really important to continue being part of this new world, isn't it? I believe that will translate into growth.
Also, I really want other members to have growth experiences similar to mine, so I would be glad to contribute to that opportunity.
I am truly grateful for having had the opportunity to experience a world words can't describe.
Akiko Fujita

After graduating from Yokohama National University Akiko spent a few years as a programmmer and then joined Cybozu, Inc. as a QA engineer. Since then, Akiko has gained experience at several startups including DeNA Co., Ltd. and is now Mercari QA team's engineering manager.