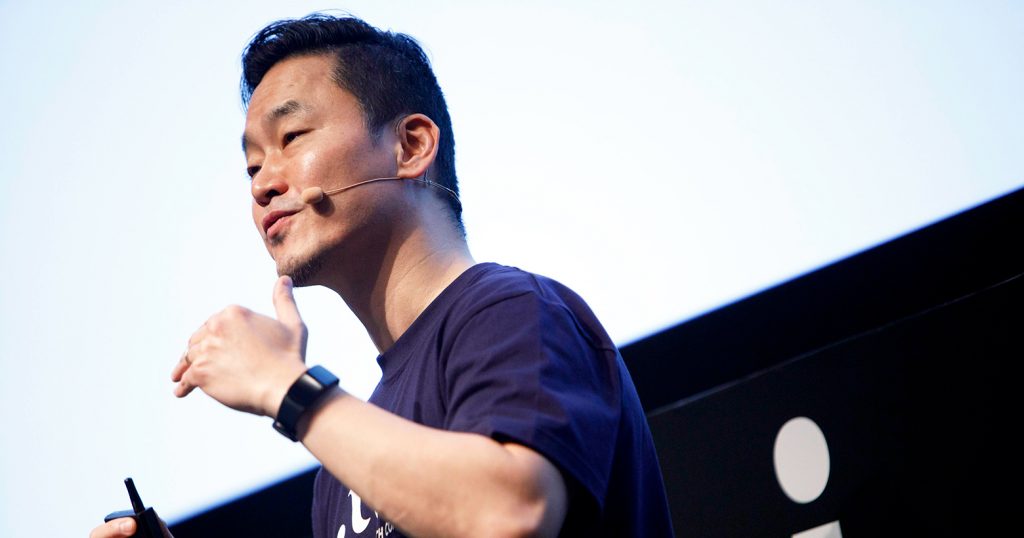 Mercari Tech Conf 2018 Report: Mercari US CTO Explains How to Optimize the Exchange of Value by Combining Data with Machine Learning
Mercari Tech Conf (MTC) is a tech conference hosted by Mercari that was first held in 2017. At the conference, the companies in the Mercari Group discuss their plans for the future and the technical challenges they're currently facing.
The theme of the second annual MTC this year was evolution. The speakers introduced the changes that have occurred within the Mercari Group in the past year, as well as the changes to come.
This year's second keynote speaker was Mercari US CTO Dr. Mok Oh. What happens if we apply machine learning technology to the enormous amount of data Mercari has gathered?
"We can find the probability that a listing will be canceled, or how likely an item is to sell. We can even see the likelihood that someone who liked a shirt will like shoes," said Mok. What kind of future does he see for data and machine learning in Mercari US?
Connecting Buyers and Sellers: Data x Machine Learning
In April 2014, one year after Mercari was founded, our American subsidiary "Mercari, Inc." was established. The US version of the Mercari app was released in September 2014, and in less than three years, it surpassed 30 million downloads.
In March 2018, the logo, icon, app UI (user interface), and website were completely redesigned. In anticipation of further growth, the company did a dramatic rebranding.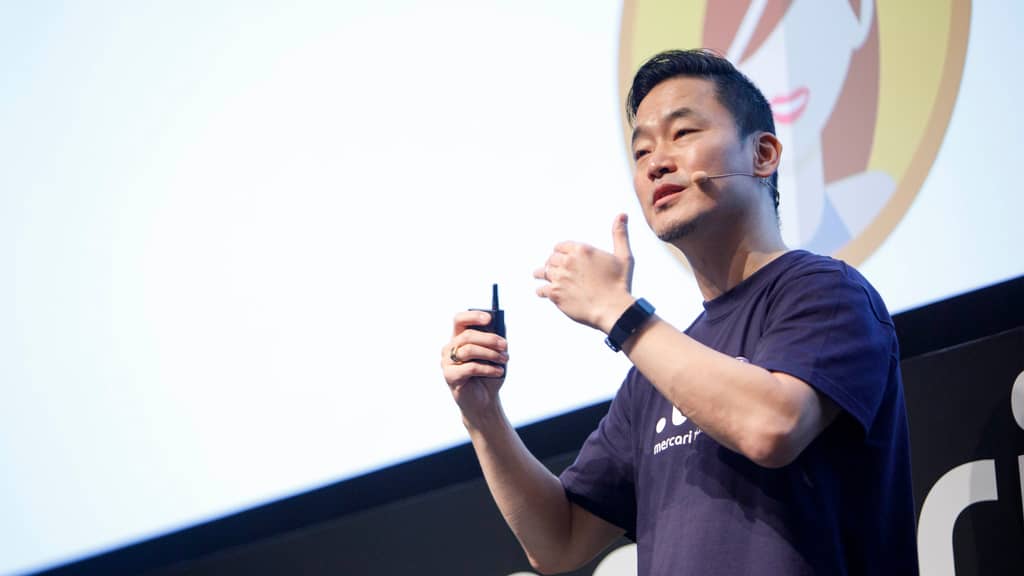 Dr. Mok Oh (Mercari US CTO)
Dr. Mok Oh is the CTO of Mercari US. Before joining Mercari, Mok worked as the chief scientist of PayPal and the vice president of Samsung Electronics (Suwon, South Korea). He is also the holder of 12 patents. In his keynote speech, Mok spoke about the Mercari Engine, a service in Mercari US where sellers and buyers can discover and trade items they value, and the data and machine learning technology necessary to implement it.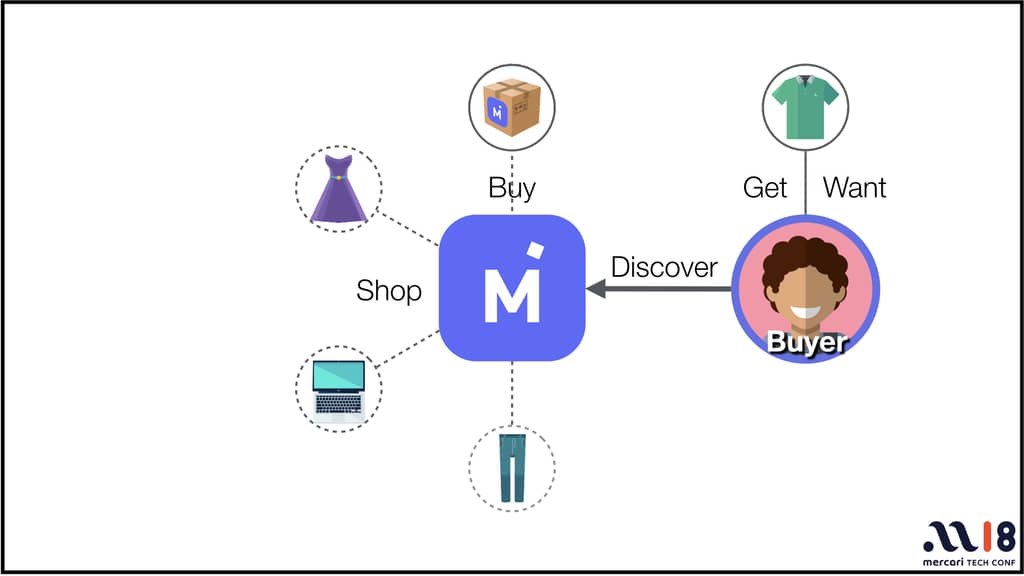 Customer journey map for buyers
The first topic Mok spoke about was the customer journey for buyers and sellers. When buyers want something, they search on Mercari and buy it if they find it. "It's incredibly simple," said Mok. "But one thing that's special about Mercari is that we also have a seller's journey."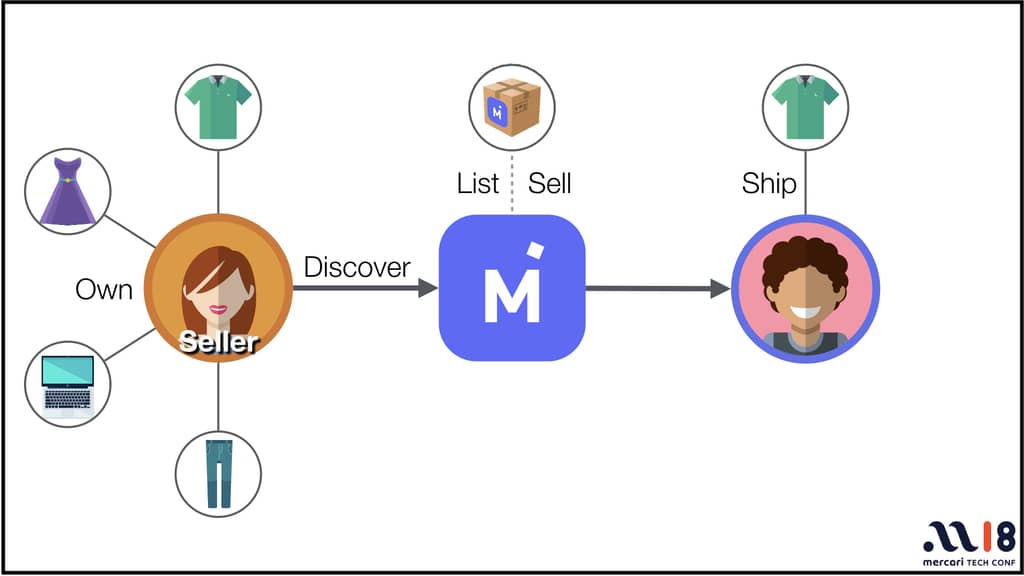 Customer journey map for sellers
"After a seller has listed the item they want to sell, they need someone to be the buyer. In order to accomplish the seller's goal of selling the item, it's very important to match them with a buyer. Data and machine learning play an important role in this." (Mok)
Using Machine Learning to Improve the Match Rate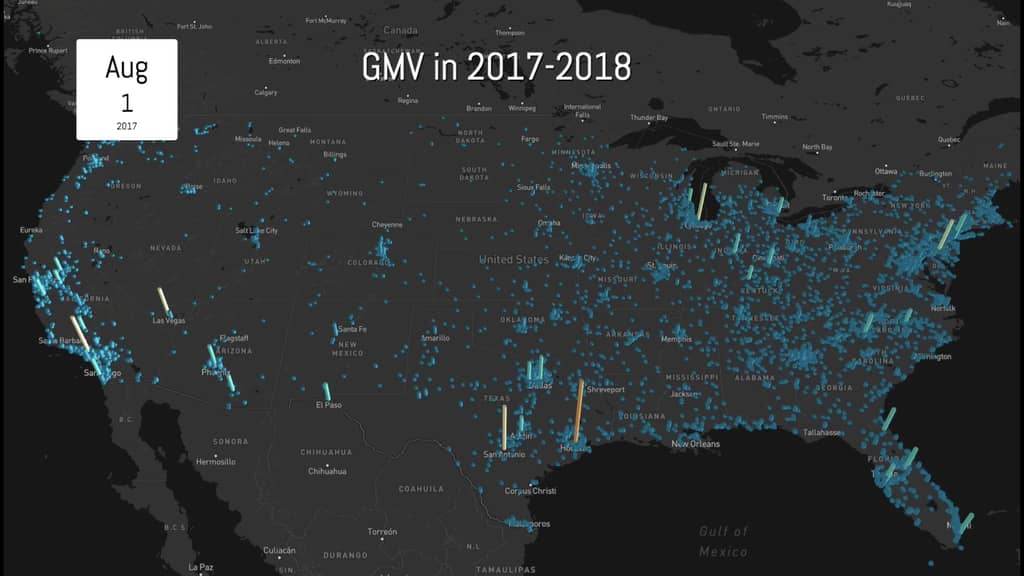 Mercari US's GMV (gross merchandise value) in 2017–2018
"We gather a lot of data," explained Mok while showing a slide of the changes in Mercari US's GMV (gross merchandise value) from 2017 to 2018. From this diagram, you can see that transactions occur in many different regions.
Of all of the regional changes in GMV, the area with the largest growth was Houston, Texas. Next, Mok showed the transaction data for Houston.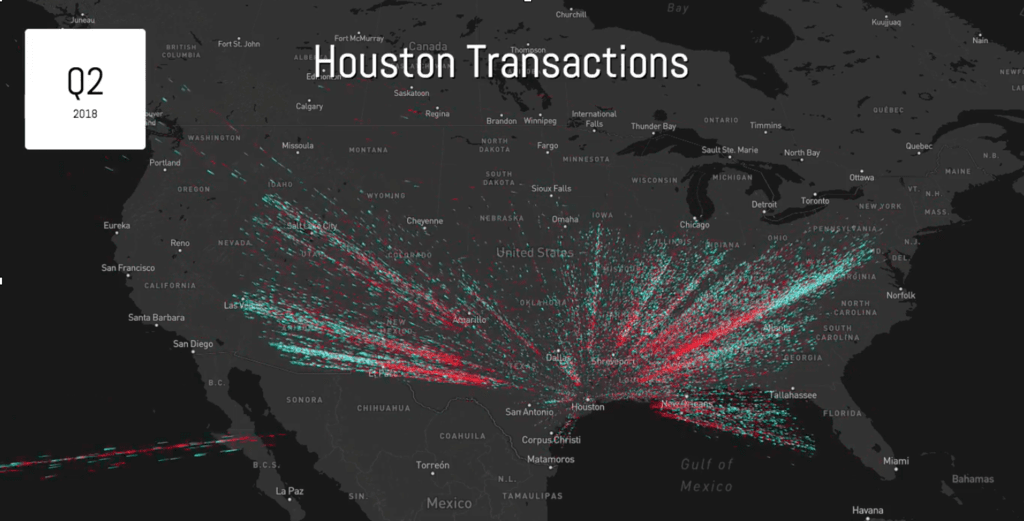 Changes in Houston's Transactions
From these numerous transactions, we have gathered basic information on buyers' and sellers' listing histories, purchase histories, and likes, as well as data for 100 million listings in the Mercari database. By combining this with machine learning, it's easy for buyers and sellers to exchange items of value.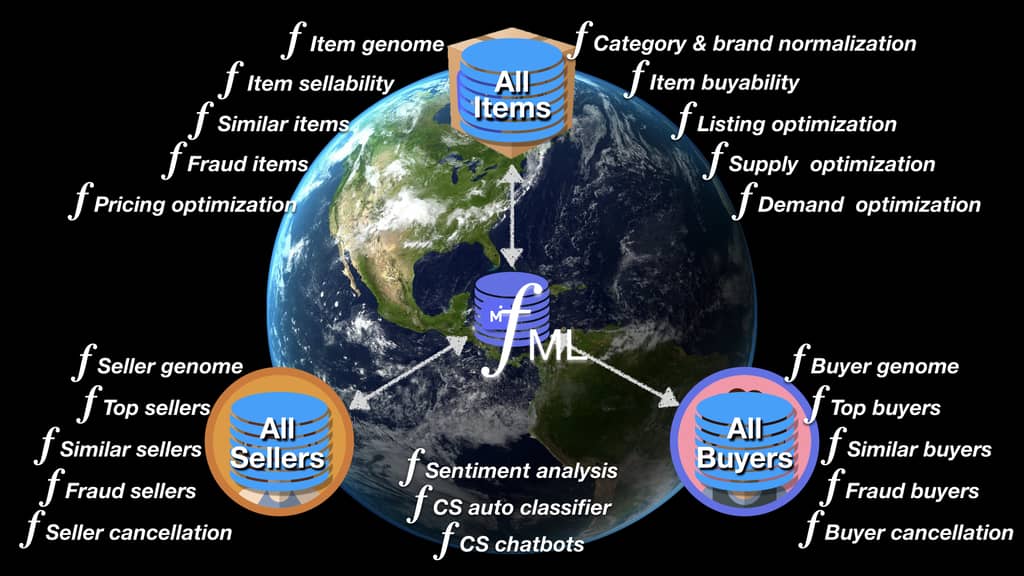 Mercari aims to optimize the exchange of value by pairing big data with machine learning
"Data is not enough; you have to apply machine learning on top of that. This function, fML, is the machine learning, data is the input, and the output is where the magic comes. There's a lot of things that we can do." (Mok)
One of the specific projects Mok mentioned was the fML Genome Engine. "This is an extremely simple system," said Mok before continuing his explanation.
"You have a function that has an input and an output. What if the input was an item on Mercari? What can we do to that? From all the data that we have that's human-legible (category, size, weight, etc.), we can convert that into machine-legible: n-dimensional vector." (Mok)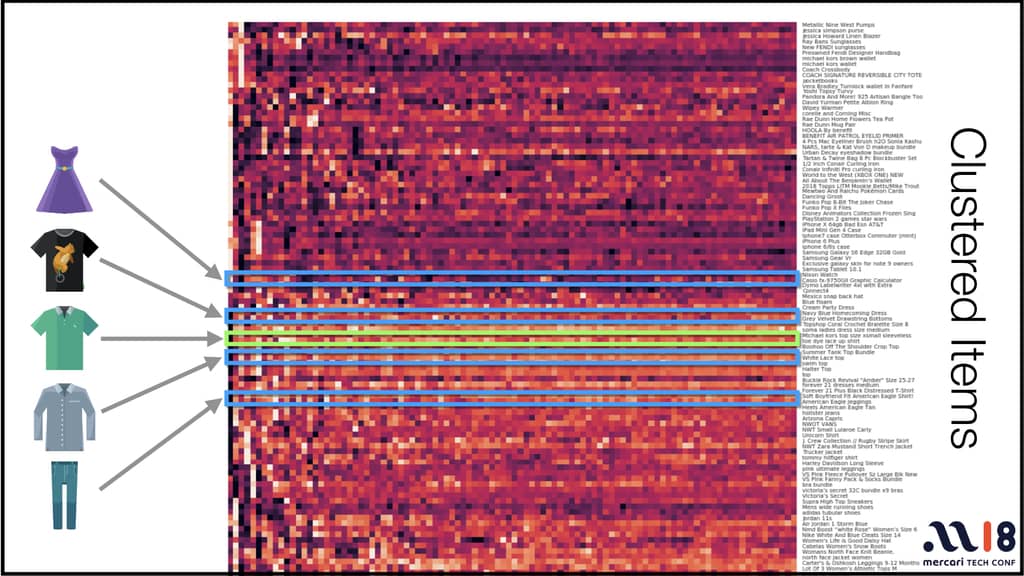 Clustered items read as n-dimensional vectors by machine
One thing made possible by this is the clustering of a large volume of items. Using this function, it is possible to make predictions based on data analysis. For example, there may be a 78% chance that a person who liked a shirt will like a pair of shoes, but a 12% chance that the same person will like a computer.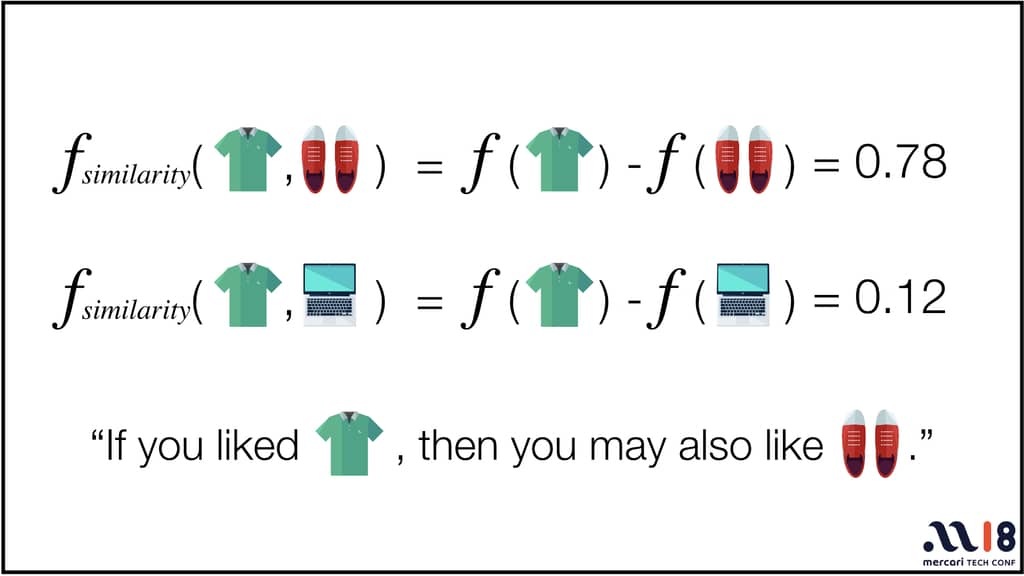 We can find the probability that a person who liked a shirt will like shoes, and the probability that they will like computers
"If you liked this shirt, you might also want to buy these shoes. These are the types of automation and scalability we can create with machine learning." (Mok)
Of course, we don't just use items as input—we also use buyer and seller information. By doing this, we can tell what kinds of people are our best listers. We can also predict what kinds of items they will list.
"By using this technology, we can understand which categories are popular for men and which categories are popular for women. For male buyers there's technology, and the high-growth markets are collectibles and home items." (Mok)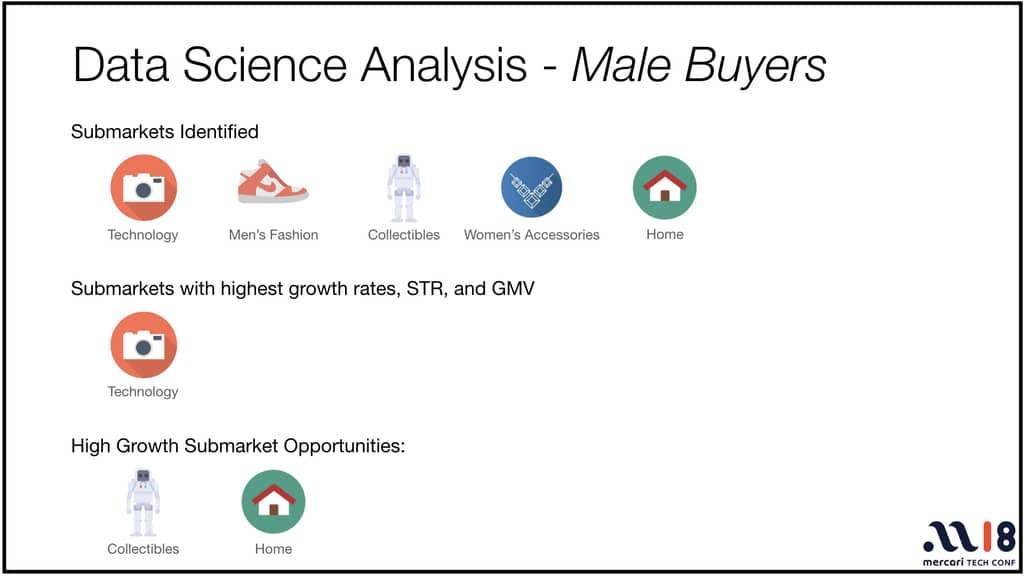 We can understand which categories are popular for men and which categories are popular for women
To Predict Is to Ask Questions
The next thing Mok talked about was predictions. "Predictions are about asking questions." Mercari US asks "What is the probability this item will sell within 72 hours?" and assigns a corresponding sellability score.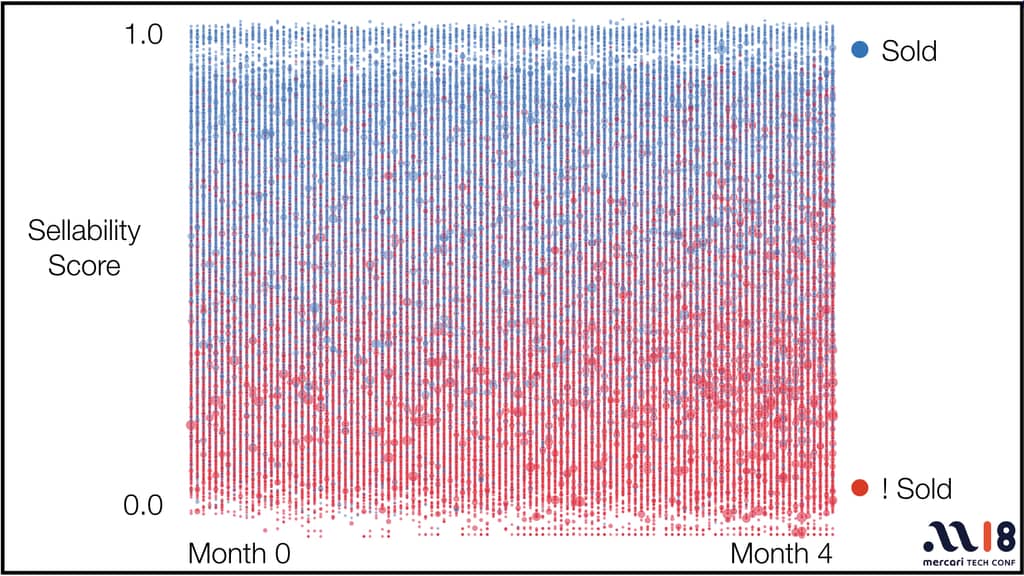 Distribution diagram of sellability scores
"As a user is listing something, we can say, 'Hey, your sellability score is low. Maybe you can put more pictures in or a better description?'" (Mok)
Another question we've asked is "How likely it is a transaction will be canceled?" From all the listed items, we sample the portion of items that were canceled. We assign a score based on this, and if a transaction is likely to be canceled, we can choose not to boost it.
"With this computation, there's a bunch of questions we can ask. Is this item a counterfeit? Will this person churn? If someone is a seller, we can predict what kind of other items they might have that they should sell. And if this person is selling something, what's the probability that that person will buy it? In order to do all this magic, we need the data, but we also need machine learning." (Mok)
Approaching the end of the keynote speech, the last topic Mok covered was people and culture in Mercari US.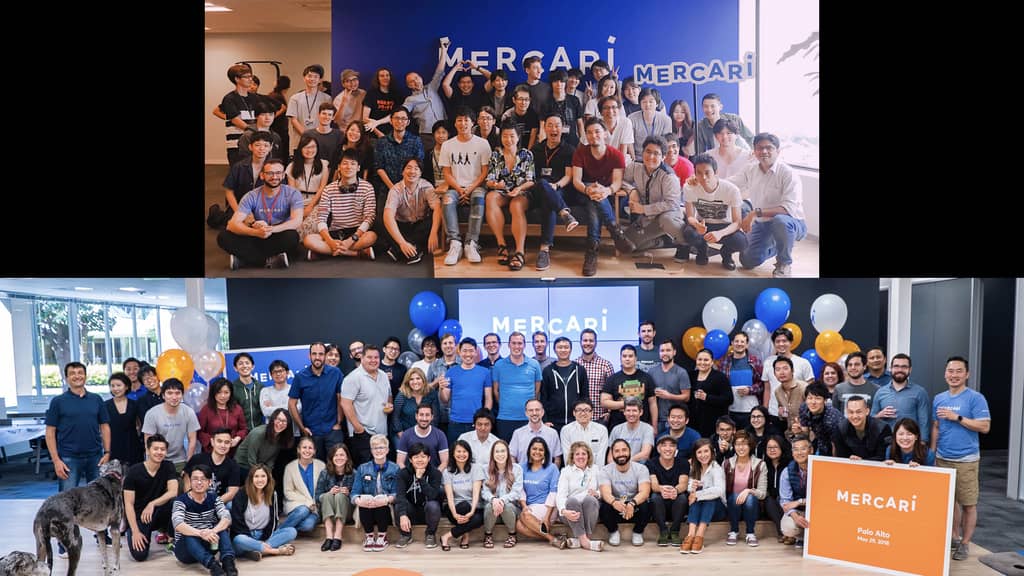 Group photo of Mercari US employees
"We talked about data and machine learning. Let's talk about people and culture. People and culture are the most important thing in a company. We have very passionate members working in our offices in Portland, Palo Alto, and Boston. We also have a technology advisor board with MIT professors. We're getting more and more unique people joining us all the time." (Mok)
The Mercari US team is structured to work on the customer journeys of both the buyer and the seller. Because of the seamless cooperation between teams, we are able to use data and machine learning to deliver an experience that's like magic.
"Because we have people and culture, we are able to pair data and machine learning. Ultimately this allows us to provide a service where buyers and sellers can discover and exchange items they value. The Mercari Engine makes this this service possible." (Mok)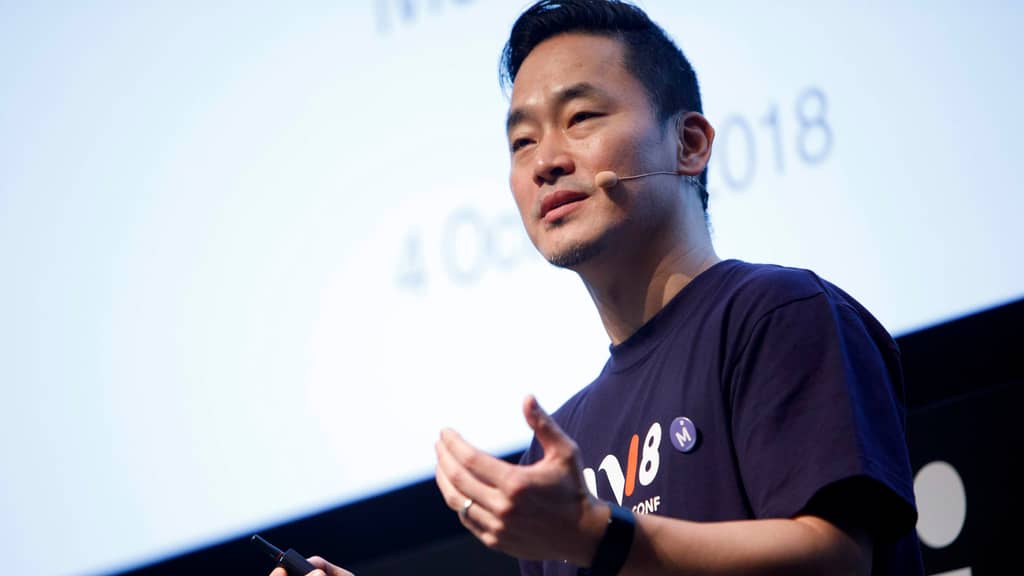 Using the latest technology, Mercari US will continue to evolve and make it easier to list, sell, and buy.
Presentation Video
youtu.be
Dr. Mok Oh

Mercari US CTO.Past Positions:Founder of EveryScape Inc. CIO of Where, Inc. Entrepreneur in Residence at North Bridge Venture Partners. Co-founder and CEO of Moju Labs, Inc. Chief Scientist at PayPal. Vice president of Samsung Electronics (Suwon, South Korea).Dr. Mok completed his bachelor's degree at Oberlin College, his master's at the University of Pennsylvania, and his PhD at the Massachusetts Institute of Technology.