Mercari Tech Conf 2018 Report: Trust, Value Exchange, and Mercari X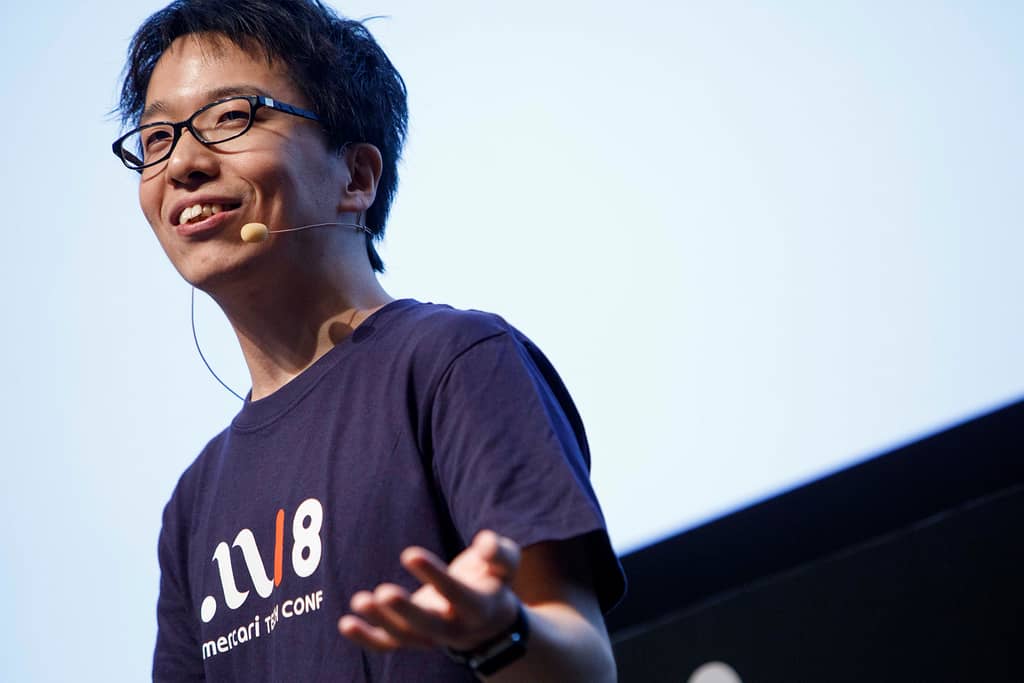 Mercari Tech Conf (MTC) is a tech conference hosted by Mercari that was first held in 2017. At the conference, the companies in the Mercari Group discuss their plans for the future and the technical challenges they're currently facing.
The theme of the second annual MTC this year was evolution. The speakers introduced the changes that have occurred within the Mercari Group in the past year, as well as the changes to come.
The final keynote speech was from Merpay's CTO, Keisuke Sogawa. At the end of the speech, he announced Mercari X—but what actually is it? Why is Mercari going into the financial business? Read on to find out more about the trust and value exchange Merpay envisions!
Building trust for a seamless society
Merpay was established in November 2017 as a wholly-owned subsidiary of Mercari. In July 2018, the subsidiary Merpay Connect was established to expand the base of businesses (merchants) for Merpay's future services. Little by little, the company is growing larger in scale. With a mission of "Building trust for a seamless society," Merpay is making a name for itself as a new financial business.
"Why is Mercari going into the financial business? I'm sure a lot of people are asking that." (Sogawa)
With those words, Sogawa started by touching upon the reason behind Merpay's creation.
"As a C2C marketplace with a huge user base, Mercari has been able to facilitate the flow of items within our economy. We turned our eye to the money generated through this flow and thought—by increasing the liquidity of the money we hold on to for our users, perhaps we can further facilitate the flow of items." (Sogawa)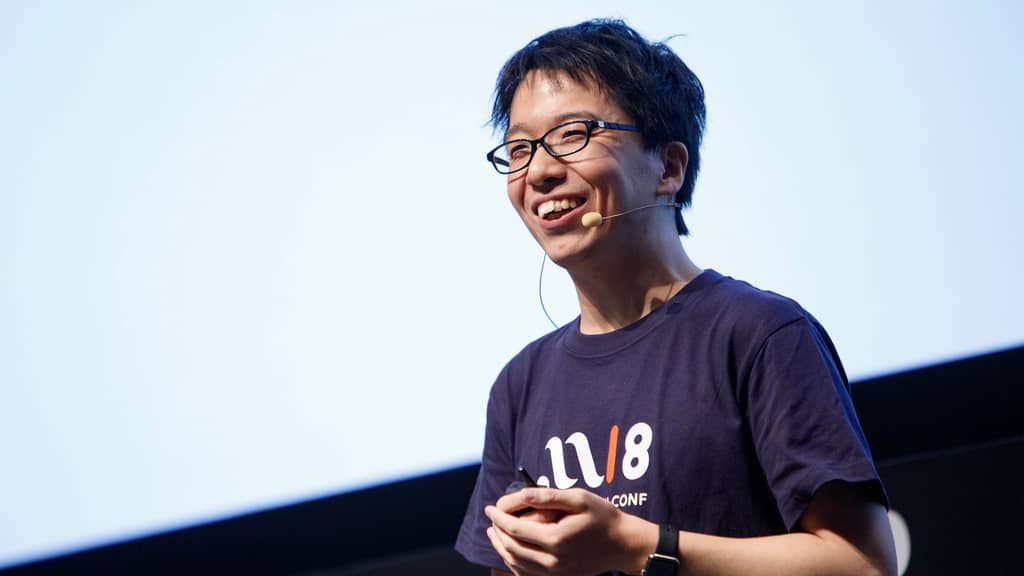 Keisuke Sogawa (Merpay CTO)
With a mission to "create value in a global marketplace where anyone can buy & sell," Mercari became a platform for exchanging value.
With that in mind, the goal of Merpay, then, is to build the trust necessary to allow as many people as possible to create that value. In other words, we want to allow people to use Mercari even without money—Sogawa explains.
"Right now, you need money in order to exchange and create value on Mercari. But we believe that getting rid of that requirement by building a kind of trust that can be used in place of money could result in something truly ground-breaking." (Sogawa)
Achieving Merpay's mission will help achieve Mercari's mission. In doing so, we can create a "seamless society" where more people can engage in value exchange, buy the things they want, and achieve the things they want.
Creating a trust score from transaction data
The idea of trust came up previously in theopening talkby Yuki Hamada, Mercari's CPO. As services like Uber and Airbnb demonstrate, two complete strangers need some sort of trust in order to carry out a transaction. Trust is a necessity for C2C services; you could even say it's an absolute imperative.
We've been using the phrase "building trust," but "trust" itself is a highly abstract word. It refers to whether or not one person can believe in another person, but can also carry the meaning of lending and borrowing, as well as that of money and currency.
Given that, how is Merpay attempting to create trust? Sogawa's answer: "Creating a trust score from transaction data."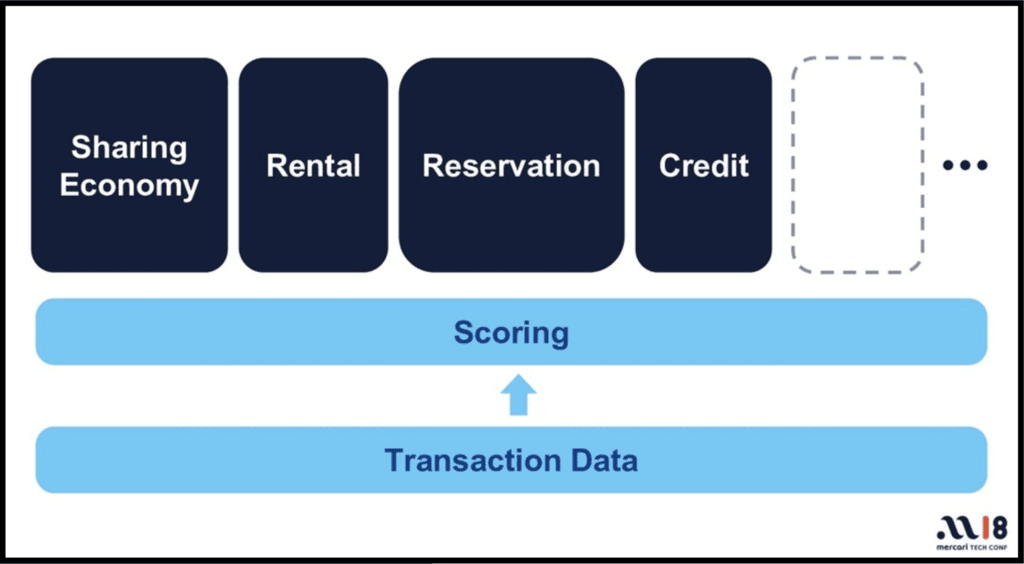 Merpay's vision of "building trust"
"We want to create a scoring system which can serve as the foundation for all kinds of applications. This could be used for sharing economy systems, rentals, making reservations… and also credit. Traditionally, credit is determined by larger factors such as salary or occupation, but we think we can create a credit system based on smaller factors. And the story doesn't end with Merpay; we want to make it an open platform with the entire Mercari Group, our partners, and all the engineers out there involved. That's our goal." (Sogawa)
The problems lurking behind the idea of value exchange—is trust the key?
After talking about trust, Sogawa moved on to value exchange.
"With the introduction of currency and building trust, we've grown so accustomed to business transactions that transactions between two people has become a norm of life. But think about it: is it really that easy? The exchange of value between two arbitrary people is innately a complicated matter." (Sogawa)
When you engage in a transaction, you don't know the other party. Will they actually ship the item? Will the item you receive be authentic? A number of issues stand in the way of a safe and secure transaction.
To solve these problems, Mercari introduced an escrow system, making safe and secure transactions between two strangers possible.
"Of course, there are other issues that arise in a transaction between two people. Trust and currency are two things that we take for granted, but imagine a society where these things don't exist, or never even existed in the first place: the problems are even harder to solve. If we lose trust and currency as an intermediary, we have no choice but to return to the days of the bartering system." (Sogawa)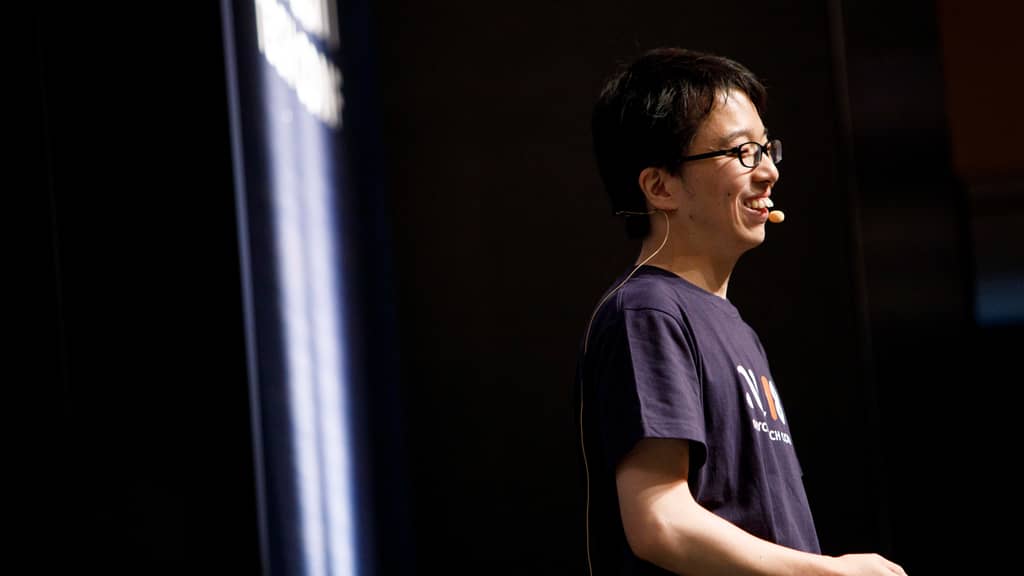 When two people attempt to barter, you must have something the other person wants, and the other person must have something you want. If that isn't the case, the value exchange cannot take place. In economics, this is called the "double coincidence of wants."
"I think most people can intuitively understand that it's extremely hard to make this happen at any given time. It's a fact that exchanging value is difficult, and so is trying to resolve the double coincidence of wants," Sogawa explained, and raised the following question.
"But did this state of no trust and no currency actually exist in society?" (Sogawa)
In chapter 2 of Debt by David Graeber, he called this "the myth of barter." Graeber claims that no matter where or when you look, this culture of bartering never actually existed—it's nothing more than a fictional societal concept envisioned by economists.
"Debt states that the double coincidence of wants is a myth originating in the era of Adam Smith's contribution to the academic discipline of economics. I'd love to explain this to you all in more detail, but so much is shrouded in mystery—where did currency come from, and where is it heading?—that I'll leave it for another time." (Sogawa)
After answering the question of what trust is, and how the seemingly simple concept of value exchange is actually very difficult, Sogawa explained, "Trust is closely related to value exchange. The two are inseparable."
Sogawa believes that the two have grown in tandem, and will remain so as they continue to develop in the future.
"Those of you who are starting to think, 'Well, this sounds like blockchain…', hold on just a little longer. Let's finish this topic first." (Sogawa)
Mercari exists as a virtual community on the internet that helps people barter through the mediums of trust and currency. Stemming from that, Merpay's goal is to build a new medium for value exchange—trust.
"The first step is getting rid of the need for physical currency, like bills and coins. Then, we want to draw out a hidden force in the form of trust for those who don't possess value in the form of currency, and allow them to use Mercari and to create new value through exchange." (Sogawa)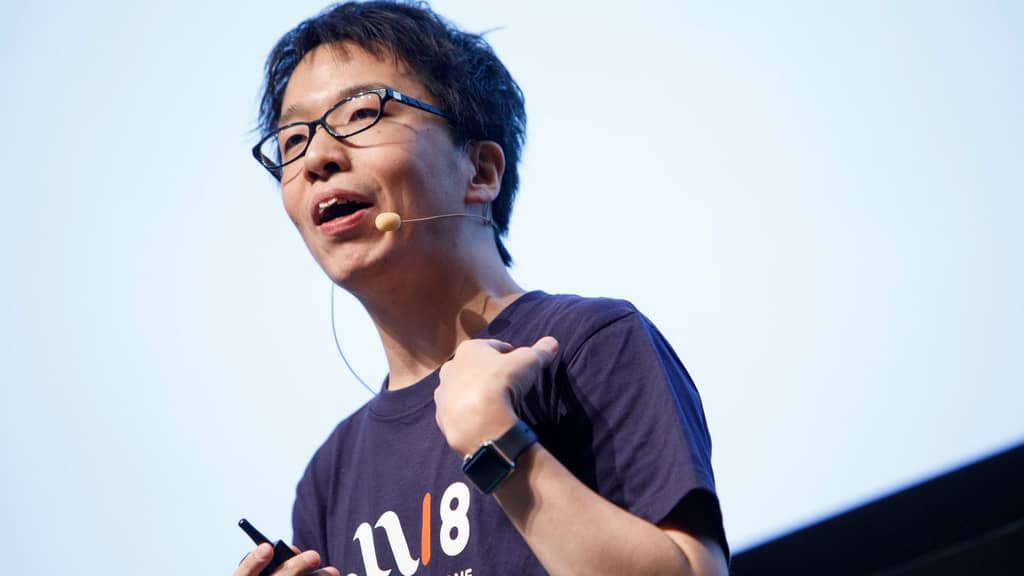 A new model of value exchange and the project to make it a protocol: Mercari X
After talking about the two major themes of trust and value exchange, Sogawa unveiled a top-secret project.
"Introducing our top-secret project: Mercari X." (Sogawa)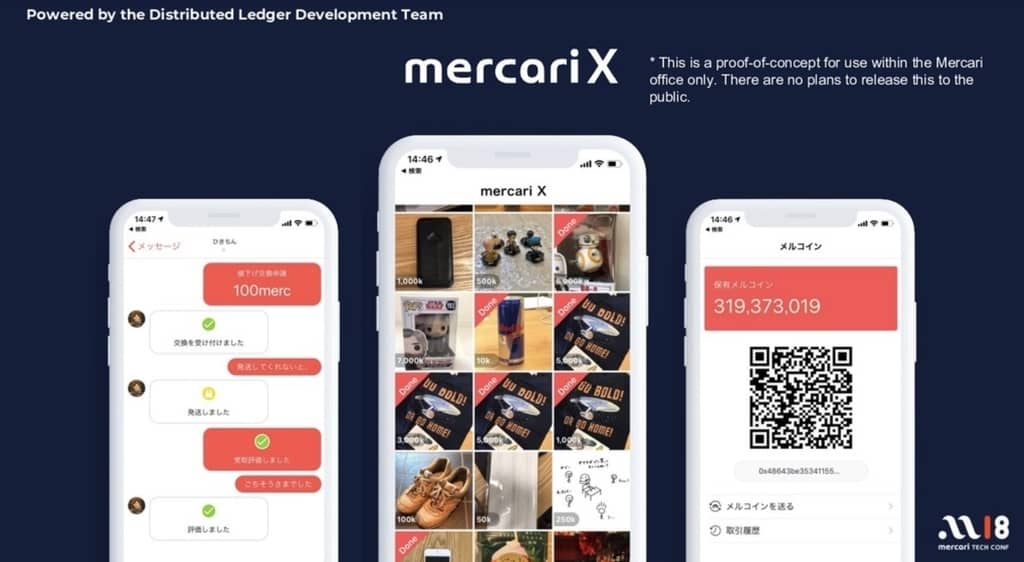 Screenshots of Mercari X
Mercari X was developed as a concept model of a next-generation Mercari, using technology like blockchain. It has an item listing feature and an escrow system, and users can make basic C2C transactions.
Mercari X, which is available for use amongst Mercari employees, uses a unique currency called "Mercoins" for transactions.
Sogawa explained, "This product was developed for experimental purposes only, so we don't plan to release it to the public," and moved on to explain how Merpay is using blockchain. Right now, Merpay is conducting research and development in three areas: blockchain's core technology, cryptocurrency security, and blockchain applications.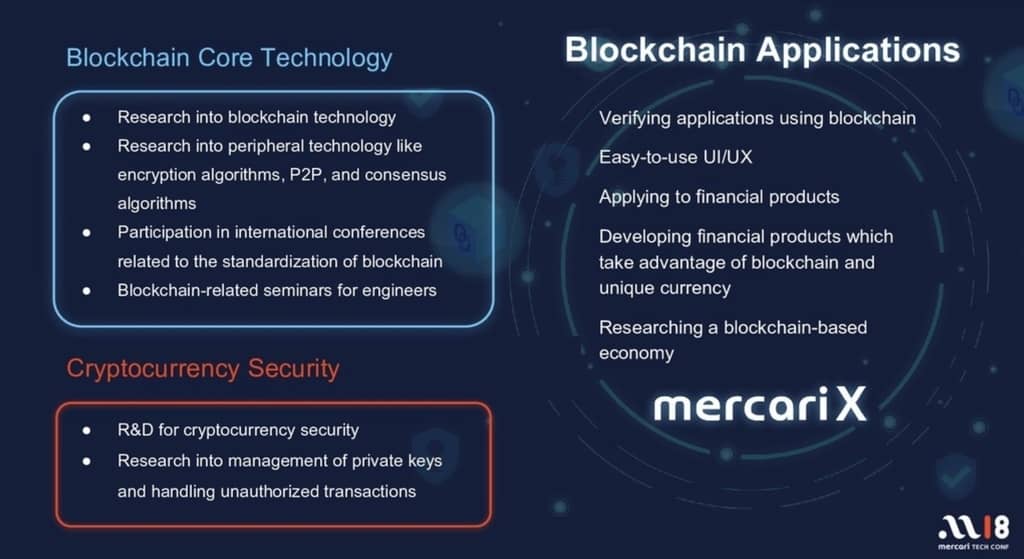 The 3 areas of Merpay's blockchain-related research and development
The research into blockchain's core technology involves basic research into blockchain technology, research into related technologies like encryption algorithms, P2P and consensus algorithms, as well as participation in international associations for the standardization of blockchain.
Sogawa continued, "When dealing with blockchain and cryptocurrency, security is one of the most important technologies," and explained how Merpay is taking on cryptocurrency security. In addition to individual security topics, Merpay is also conducting analysis on the management of private keys, dealing with fraudulent transactions, and methods of attack using blockchain and cryptocurrency.
"We're also doing research into other blockchain applications similar to Mercari X. Mercari X defined listing and escrow—two functions necessary for the exchange of value between two people—as protocols, and aims to establish a model for value exchange." (Sogawa)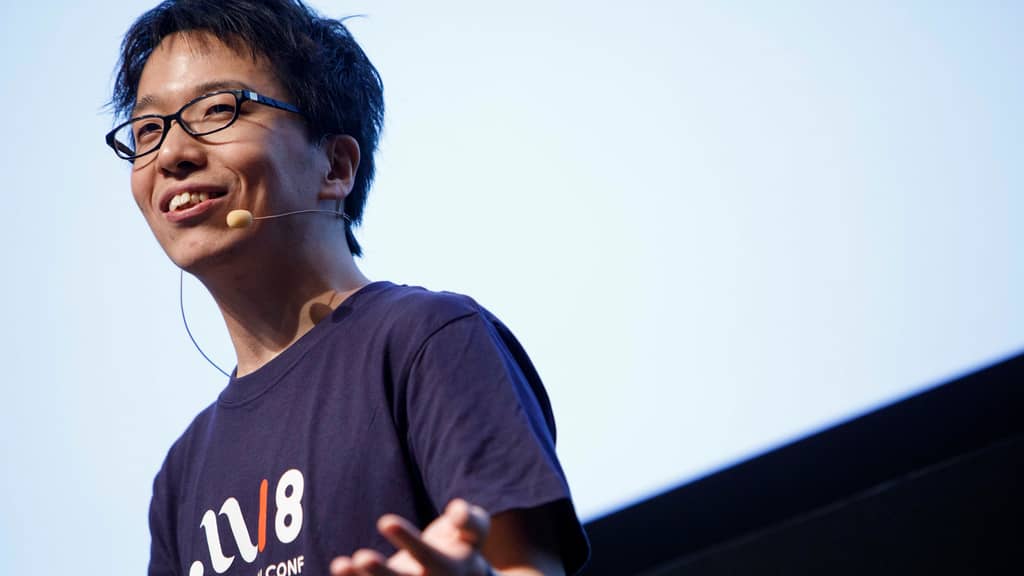 Merpay's first anniversary is coming up soon, and all of Merpay's members are working hard to provide everyone with a service that can become the next Mercari. We hope you look forward to Merpay's launch and future developments!
Speaker Profile
Keisuke Sogawa

Keisuke Sogawa completed his studies at the Graduate School of Informatics at Kyoto University in 2011, and went on to launch WebPay at FluxFlex in Silicon Valley. As the Chief Technology Officer of WebPay, he developed the service infrastructure for credit card payment services. He also worked on the LINE Pay business as part of the LINE Group. He assumed his current position as CTO of Merpay, Inc. in November 2017.
Presentation Video
youtu.be
Related job positions Here are some of our open positions! 🙌