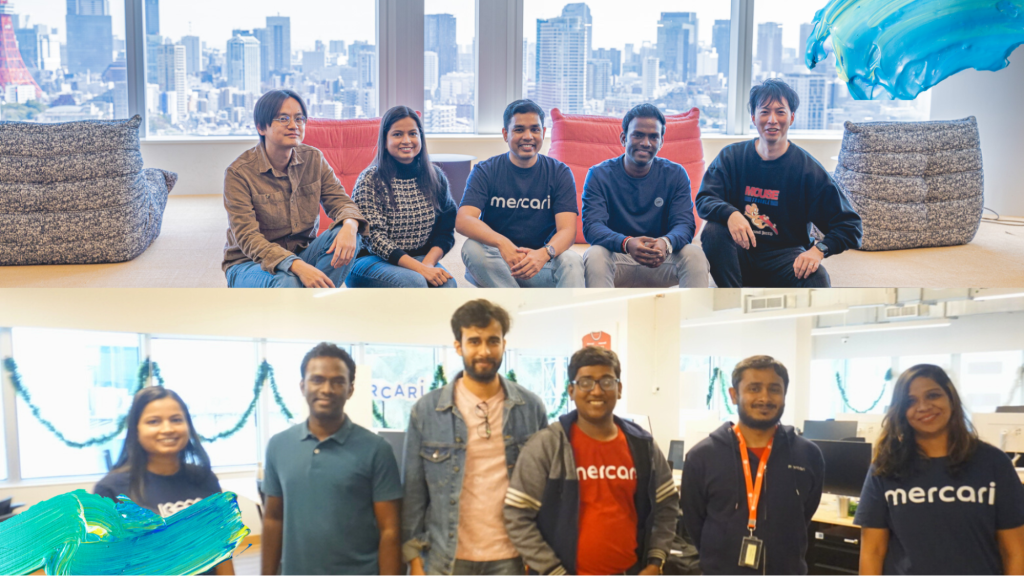 How Did the First India-Japan Office Collaboration Succeed? An Interview with the TnS Team
Hello, everyone. My name is Kayo, and I am leading Employer Branding at Mercari India. Mercari is the largest C2C platform in Japan and growing rapidly as an e-commerce brand, with more than 3 billion products listed and serving more than 20 million users every month. We are an engineering-led organization with a vision to "Circulate all forms of value to unleash the potential in all people."
We began our operations in India in June 2022 to build teams that can help our operations in Japan. Spending 8 months in India, we are now a team of 20 extraordinary people. Since we are operating in India, we have endeavored to create an office where people not only work but develop themselves, come together as a team, and create memories.
Today I would like to introduce you all to Kenta Shimada (Engineering Manager, Mercari Japan), Nikinsha Kesharwani (Tech Lead, Mercari Japan), Anandha Natarajhan Shanmugam Poonkunran (Senior Software Engineer, Mercari India), Sidhant Singh (Senior Software Engineer, Mercari India), and Srajan Agarwal (Engineering Manager, Mercari India) from the Trust and Safety Team. Our Tns Team is the first team to successfully work on a joint development project split between the teams in India and Japan!
We're so grateful to have these wonderful people on board and to hear about their experiences at Mercari and how they think about the organization.
Without further ado, read on and get to know Mercari a little better!
Featured in the article



Kenta Shimada

Joined Mercari in 2018. He is currently an Engineering Manager in the TnS domain, managing multiple teams from various domains such as machine learning, backend, and frontend. He also worked as a full-stack engineer for more than 10 years in Japan and the US before joining Mercari.




Nikinsha Kesharwani

After graduating from IIT Madras, India, in 2016, Nikinsha started her career as a Software Engineer in a significant network company where she worked on SAAS products. In 2019, She moved to Japan and joined Mercari. She has been working in the Trust and Safety domain. She is a Technical Lead in the TnS team which develops systems to provide a safe and reliable marketplace platform for customers.




Anandha Natarajhan S P

Anandh is a back-end developer with around 8+ years of experience. Before joining Mercari India as its first employee in June '22, he worked at Temenos (a leading core banking solution provider in Europe) as Microservices Framework developer. Prior to that, he was working for some of the leading companies in the banking and insurance domain, such as RBS & MetLife. Currently, he is a Senior Software Engineer at Mercari India and is one of the core members of the Marketplace – Trust & Safety (TnS) team.




Sidhant Singh

Sidhant is currently working as a Tech Lead at Mercari India and is a member of Marketplace – Trust & Safety (TnS) team. He has a total experience of around 7+ years working mainly in Backend and Web3 technologies. He started his career with Envestnet Yodlee and later worked for Cleartrip and Walmart Labs before joining Mercari.




Srajan Agarwal

Srajan is a 15+ years experienced software professional across multiple domains and technologies. She has previously worked at Harman, S&P Capital IQ, and other companies building efficient Client/Server/Web/Enterprise applications. She joined Mercari India in Nov 2022 as an Engineering Manager, where she leads the TnS Team.
What did you think about the news that Mercari would be setting up a Global Center of Excellence in India?
Kenta: It was exciting news; I was very excited to hear that we are expanding a team in India.
Nikinsha: It was good news as we had already been hiring talent from India and bringing them to Japan. Opening an office there gives us direct access to that talent. On a personal note, I felt nice knowing that if I want to move to India sometime in the future, it will be an easy move. It was good news.
What was good and what was difficult about starting recruitment in India?
Kenta: One good thing is that it gave us hope for more diverse talent. I remember the first time I saw the resume of a person working at Nike. I'd never met someone before who worked as a software engineer at Nike. It left an impression on me, and now that we've decided to open an office in India, I look forward to meeting more software engineers from different backgrounds.
Hiring for Japan is a bit different, as well. I mean, hiring for the Japan office has the expectation that candidates move to Japan, but hiring for India is a bit different.
Nikinsha: Hiring has mostly been fine. As for bad points, I can't think of a lot. But as an interviewer, I feel because of the difference in time zones, a lot of candidates are available during the early morning or late evening in Japan. This might make it somewhat difficult scheduling the interviews. In the beginning, all the interviews involved the Japan side. I was not that much involved in hiring at that time, so I am not sure how difficult it was.
What was it like to be the very first employee in the India office?
Anandha: I had a few offers from other companies as backup, but in the end, I rejected all of them and decided to join Mercari India. Then two days before my joining, I had a meeting with Mohan (Head of Engineering) and Mikako (HR) where they told me that I will be the first employee at Mercari India. I was surprised and excited. How were things going to go with the company itself being pretty new.
I got a great welcome from various teams in Japan. It was a really good onboarding, as well. Like, once every 10 days, there would be some members joining us from Japan, so even though I was the only employee from India, I never felt alone and enjoyed the company of engineers from Japan. Also, when I joined TnS, my mentor Sugan flew from Japan to India, and I got in-person mentoring, as well. So that was really good.
Before I joined, the TnS stand-up was at 8 AM IST in the morning. But after I joined, they moved the stand-up to match the time in India, so now it's held at 10:30 AM. Work-wise, it has been pretty good. Onboarding was pretty smooth, too.

A photo of Anandha's first day at Mercari India!
Why did you ultimately decide to join Mercari?
Anandha: What made me join Mercari was the fact that the company was working on the latest, cutting-edge technologies in the software industry, and I also heard about the company's work culture. I got to speak with 2–3 people from Mercari Japan, and I got good feedback from them, as well.
How did you learn about Mercari?
I honestly didn't know anything about Mercari until I got a call from my recruiter. They briefed me about the company, and I shared the company profile. Then I Googled and saw YouTube videos where Mohan and Wakasa (Managing Director) explained the company and the work culture. I also went to the engineering blog, and I found out about how they encourage people to make open-source contributions, etc. I liked those kinds of things about Mercari, so I decided to join.

How was onboarding remotely?
Anandha: The initial phase was general onboarding tasks, which Ai was in charge of. We had an initial Google Meet session, and after that, I had meetings with my mentor, Sugan. Those lasted for one or two weeks. We also had a daily 1-on-1. Mohan was my manager back then, and he was constantly asking me for feedback to implement at Mercari India, which was good. So even though it was remote, I didn't feel any lack of communication or anything. Every week, I was accompanied by some engineers from Japan, as well. It was Rupesh from Marketing at first, then followed by Sugan, Ai, and Manas.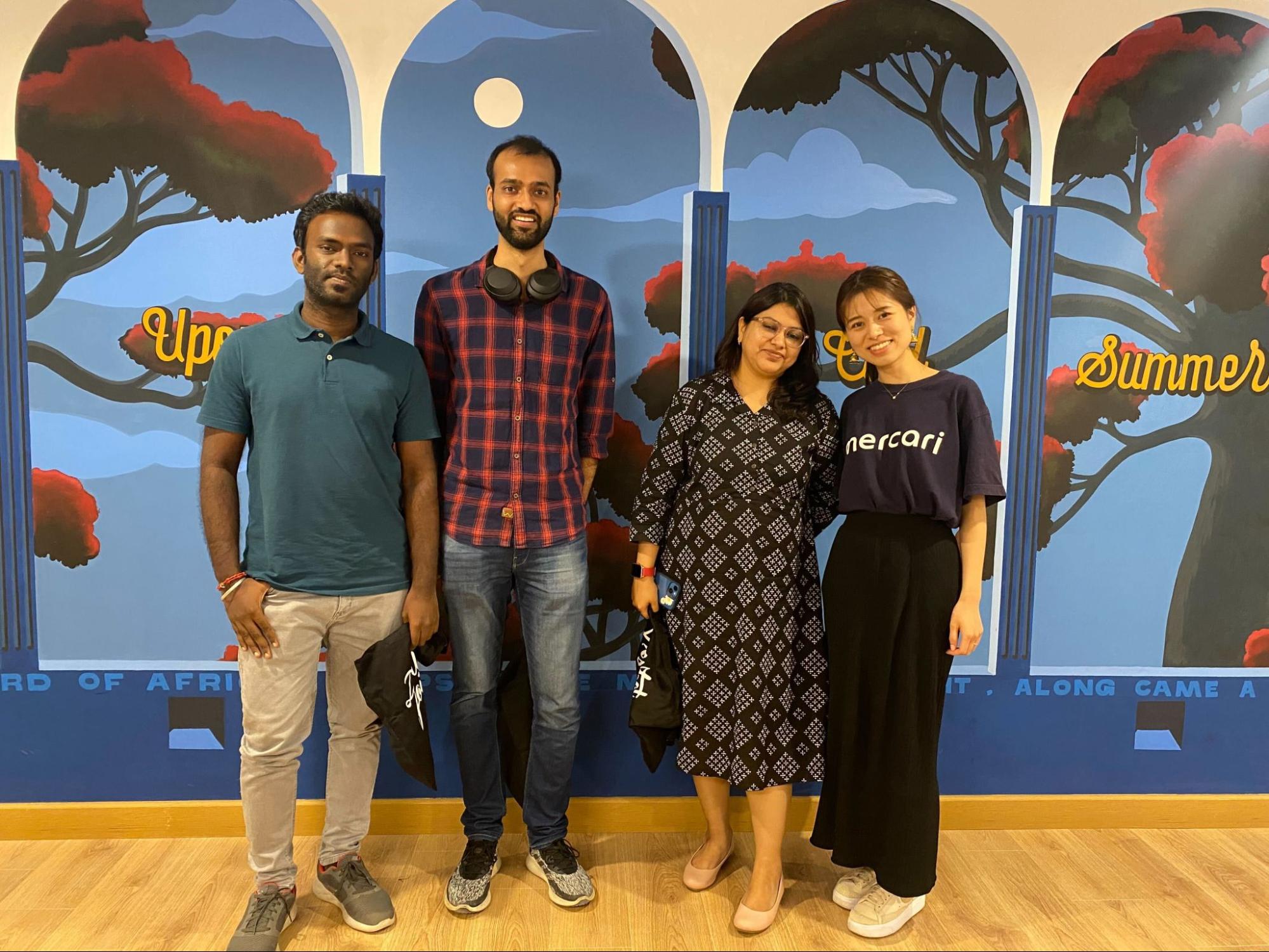 How was onboarding remotely for you, Sidhant?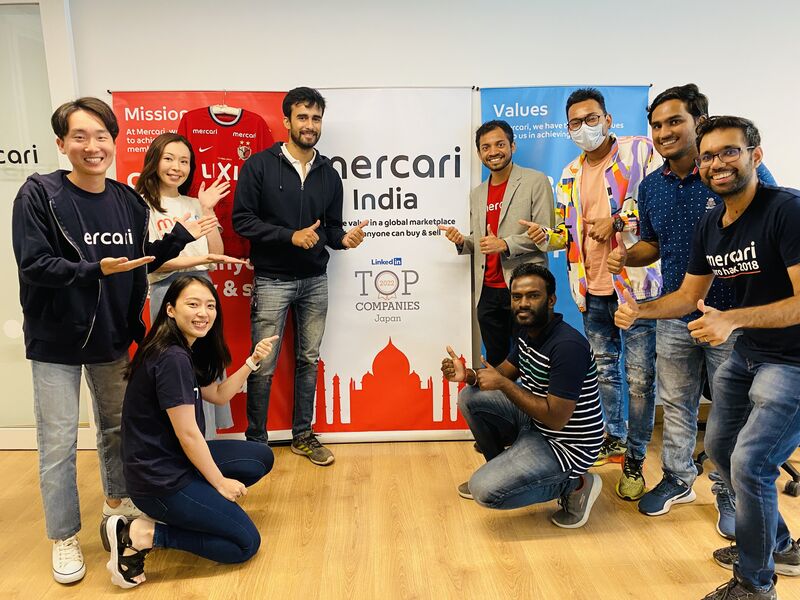 A photo of Sidhant's first day at Mercari India
Sidhant: For me, most of the onboarding was not so remote. I was the fourth employee here, and most of the team was already here. Anandha was my mentor. We were in the office most of the time. I even had regular meetings with members from Japan. So I didn't feel like something was lacking there. Apart from the team onboarding and technical onboarding, we also had a lot of dinners and lunches, which was something unique about the company. I was feeling comfortable within a few days.
How was onboarding remotely for you?
Srajan: There was initially no plan for me to join TnS. I was going to be part of the Growth Platform Team. Keigo already had a position matching round with me, and he was very much impressed and wanted me in his team.
At that time, there was another engineering manager scheduled to join the team. That person ultimately did not join, however, so TnS and Growth Platform were both lacking engineering managers. I was given the choice between them. Since TnS was already an established team, I thought it would be a good idea to lead here in TnS rather than in the Growth Platform. I thought I could contribute here first and make it a fully-fledged team. We already had three senior members—Sidhant, Anandha, and Rakesh—and they were already working independently, so I might not need to stay here for too long. That is how I ended up here in TnS. I never ever felt it was a new team. The India-side team members were very grateful that they had a manager now, and they were ready to help me out in my onboarding. I know my onboarding should be from the Japan team, but I think the India team members equally helped me to onboard, helping me to understand the system and looking for feedback from me.
In terms of Japan members, of course, Nikinsha was playing a very good role already on the technical side, and I still go to Kenta for small things. I ask him so many questions. But I think there has been no gap or issues. I think everybody is very collaborative and very open to communication, and I think maintaining the documentation helps each and every person to understand. This is something I'm learning here at Mercari. Actually, we didn't usually write documentation at my previous companies. That kind of communication was more often verbal. But now I have also gotten used to it. I speak less, and I write more. That helps me to clear my thoughts before I speak, so I think it is a good thing that I have learned here so far.
Remote onboarding did not feel remote. My days just start a little earlier now so that I can get more hours with the Japan team to collaborate. Other than that, it has been very smooth.
What was it like being the first engineering manager, Srajan? How was your experience working with the Japan team?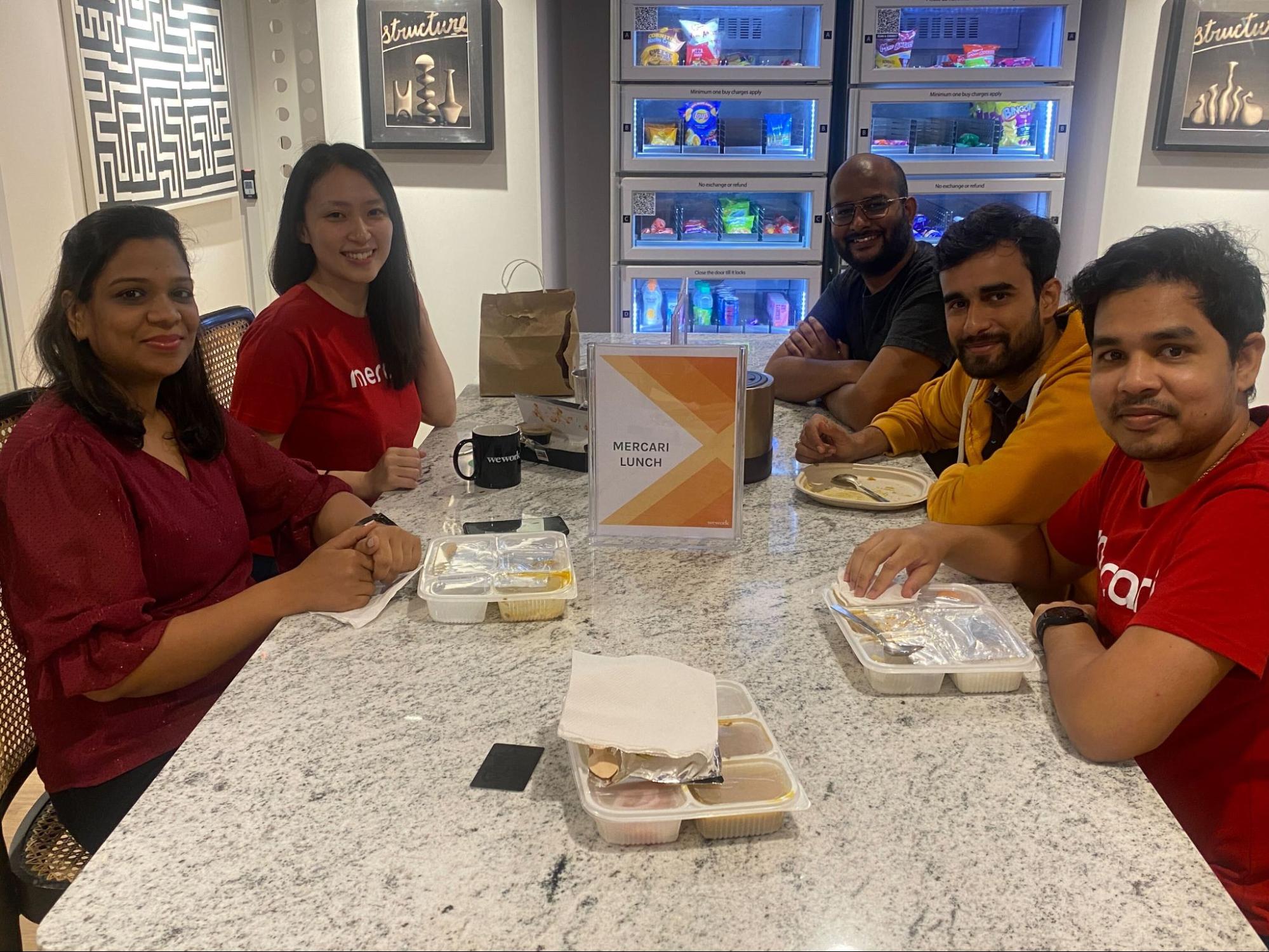 Srajan: I had post-offer meetings to connect with Mohan, and he had clearly mentioned what my role would be going forward. There was no gap in that area; I was pretty much ready for my role even before I joined. So mostly, I just felt great as the first engineering manager. Everybody wanted to communicate with me, and everybody wanted to make me feel good about my new role. They wanted to know how my experience was. Everybody was trying to be as helpful as possible and was making sure that I was comfortable enough. I received a very good response from everyone, even from Wakasa himself. I think that the major reason that I joined Mercari was because of these post-offer meetings where I could connect with members. I also had a different offer, but during these meetings, I met Mohan, met Kayo, met Wakasa, and I felt that since we are setting up a new India Division, I would be able to leverage my experience to help create a very good development center here.
Coming from a varied background—from multinationals to startups to product-based or service-based businesses—I have had a lot of experiences over my 15-year career, with the last 7 years spent in Bangalore. I thought that at Mercari, I would be able to contribute to creating a good development center, and I think I got what I expected.
How was your experience when you visited our Bangalore office?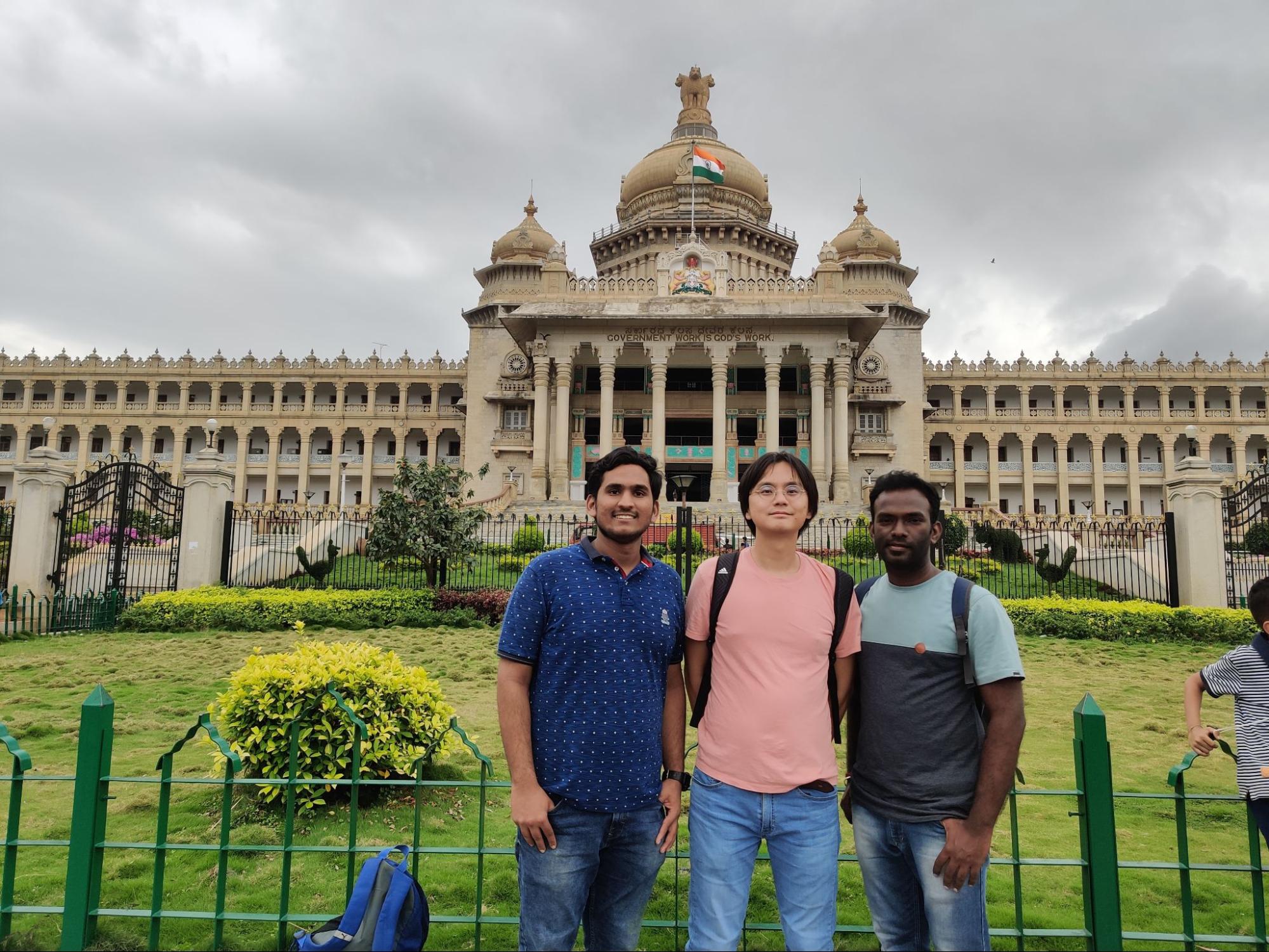 Kenta: I started by going to Embassy GolfLinks Business Park to check in at the Hilton hotel. It was a decent area and gave me the impression that I was in America. But once I got into the town, I saw what I had heard about India. The traffic was crazy, but people are nice, and the food is nice. I enjoyed staying in Bangalore overall. A good point for me is the good beer. Even in the airport, there are some good beer bars.
Nikinsha: It was nice, and the Mercari office is in a nice area of Bangalore. And working from the Mercari India office was fine, too. I feel that in-person communication is better than talking on a long-distance call. I think it's great that Mercari Japan is sending some of us to the India office to collaborate and share our culture from Japan with our colleagues in India.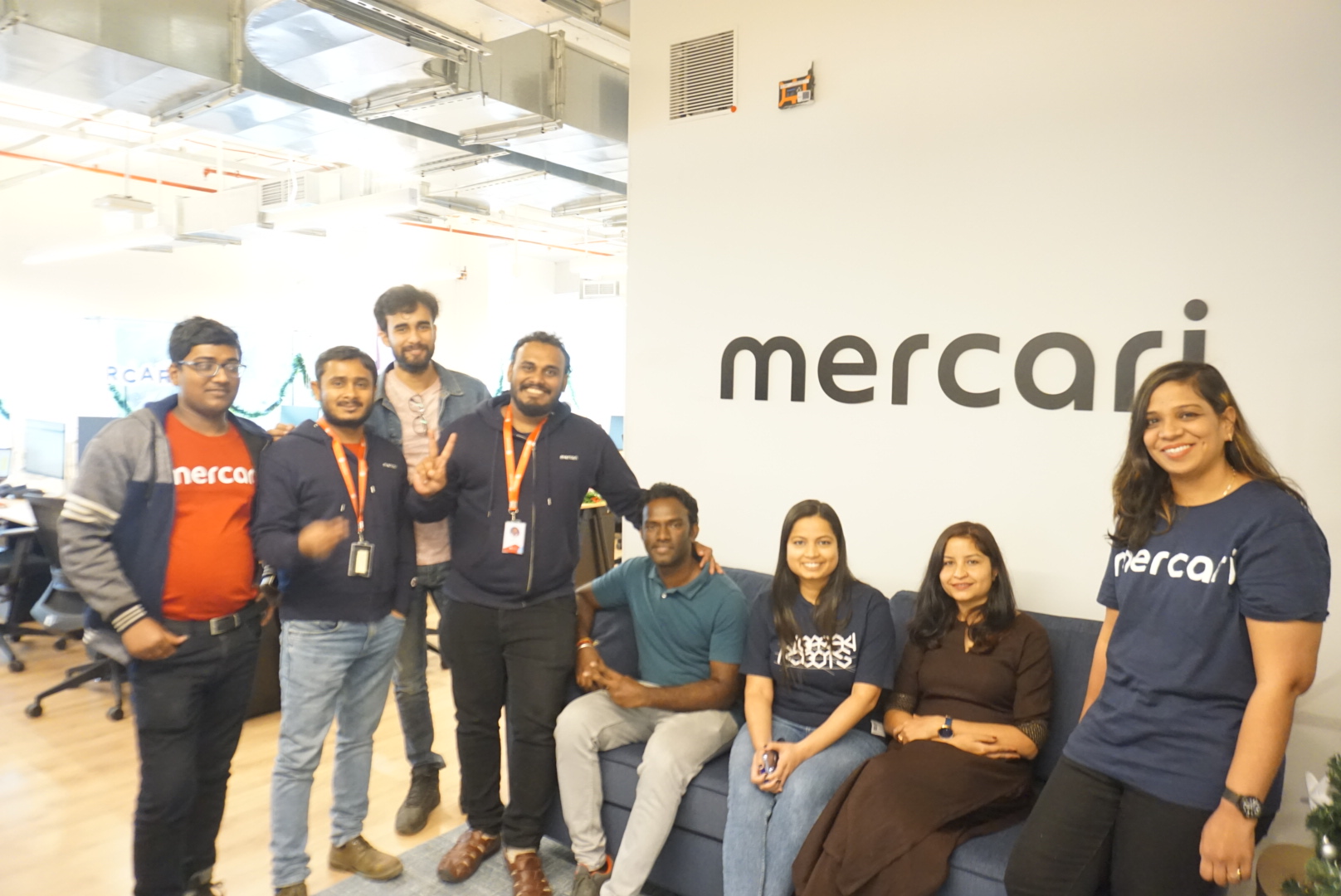 How has it been so far with Mercari India? What is good about working for Mercari India, and what should be improved?
Srajan: I think Mercari India is evolving, and right now, the team members are working in silos somewhat. There has been no Mercari India up until now—it was like Mercari TnS or India TnS, or India Growth Platform or India Core Team. We're like sub-divisions. But now we are becoming a fully-fledged Mercari India with a new HR, a Site Lead, and everything else. Now we have to work on cross-team collaboration.
I think the Site Lead has vast experience, and he has already started taking the initiative to make changes. I think he will be a great contribution to Mercari India, and he will be able to achieve what I think is Wakasa's hopes for Mercari India. I think that vision will be more streamlined now, and we will be able to achieve it in a better way. We are growing, and we will keep on growing, but we have to put a face and a structure to it, to facilitate collaboration and more independence for Mercari India.
Sidhant: I believe the major challenge until now was the lack of leadership. Mercari India was growing with a bottom-up approach. They hired the developers first, then hired the managers, and then finally hired the leaders. Whenever you had some issue, you had to go through a long cycle of people, but now think that problem is solved as all our managers and our Site Lead have joined. We even have our own HR person, so that problem is solved as well. Now, going forward, the challenge will be to sustain this thing and grow our numbers.
Anandha: Compared to day one, there have been a lot of changes in terms of the physical appearance of the office and the changes in the hierarchy, and the number of people involved. I can see Mercari India is growing, and as Sidhant mentioned, as we grow we have to make sure we can sustain this process and make sure that Mercari Japan and its culture are maintained here in India, as well. I think that will be the biggest challenge.
Srajan: Just to add one thing: I think since we have worked with the Japan team, we understand the culture, and we have our past experience with Indian companies. I think now we are at a place where we can get the best of both worlds and try building the best version of Mercari India. Some policies in Japan are very good, but so are some at Indian companies. Now we have the opportunity to bring our own culture and collaborate to go beyond expectations. We would create the best of both worlds and try to create maximum benefit for everyone—companies and employees alike.
What do Indian engineers know about Mercari Japan? What is their impression of Mercari?
Sidhant: When I started the Interview process, I did not know about Mercari at all. So I found whatever was there on the internet, but I was skeptical. We have a very different perception of Japan here. We think that people are working long hours, but Mercari turned out to be exactly the opposite. Joining the company was like a leap of faith that paid off.
Anandha: Mercari is famous among the young student community. I got a lot of messages on LinkedIn and requests for referrals, etc. Most of them are fresh graduates or those who are pursuing engineering currently. This is true among mid-career people, as well. I have been to two or three Golang meetups in India after joining Mercari. When I introduced myself and said that I come from Mercari, they said that they were already quite aware of the company. The company's name is quite popular—at least in the tech circles in Bangalore and in Pune. When I went to the Golang meetup in Pune, I got to speak to the organizer and had breakfast with him. He was also excited to meet me when I told him I was from Mercari, and he asked us to become sponsors the next year.
What kind of collaboration are you aiming for in the future?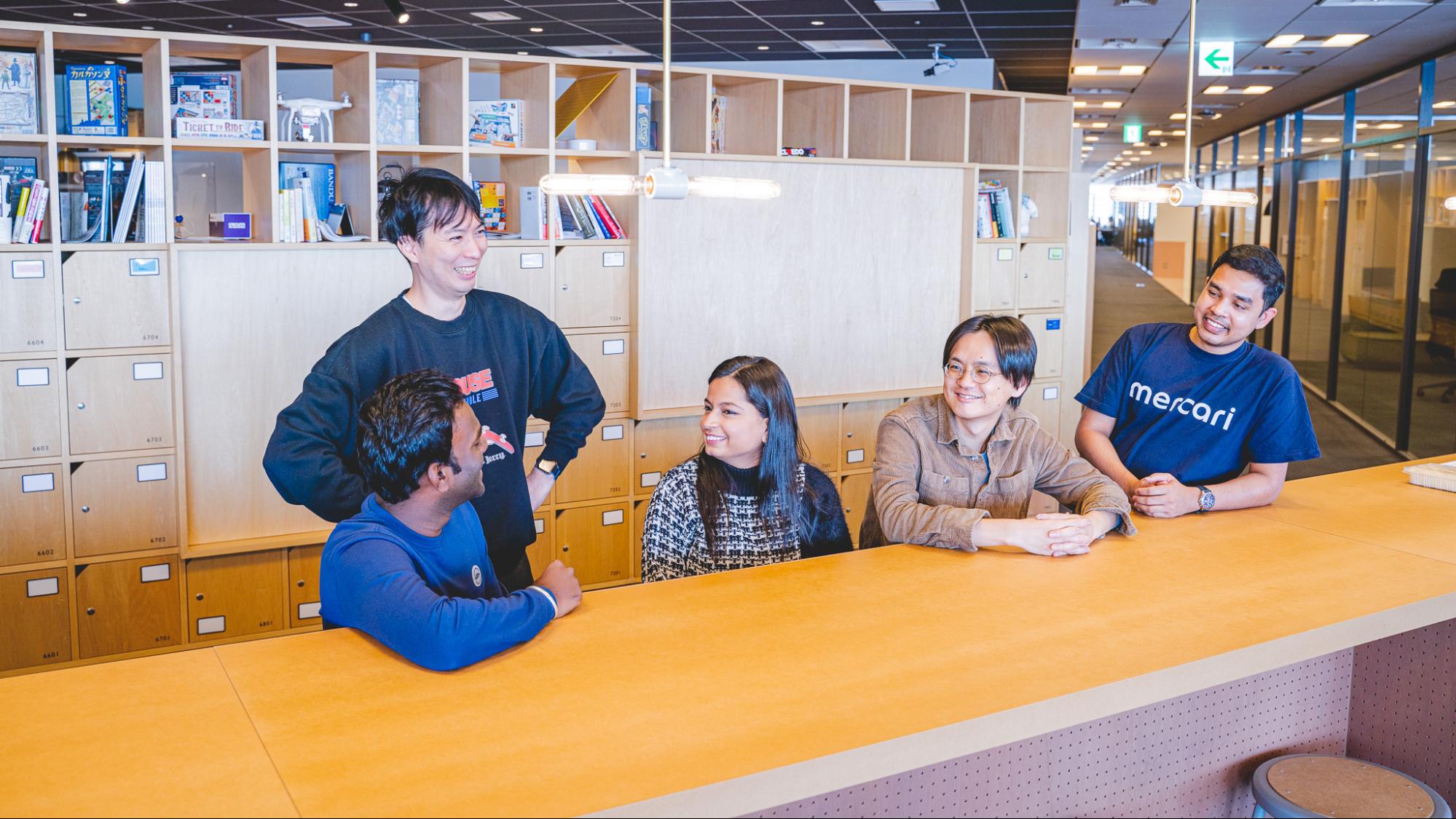 Anandha: I think occasional trips or business visits will help with that collaboration. From Japan, we had Kenta and Nikinsha traveling to India. Likely, I will be traveling next week. Apart from this, we already have monthly meetings, team lunches, or team dinners, where we join online and discuss over lunch or a meal. More activities like that would be good.
Kenta: Like Anandha said, regular business trips would be great. Also, regular knowledge sharing might be a good collaboration technique.
Srajan: Of course, face-to-face communication is very important. Having more knowledge-sharing sessions and domain-specific meetings as Kenta said, would help us understand how we work as a team and the overall Mercari business. I know we are trying to do a lot right now, but our scope is too wide. We need to get more into the details and specifics since that will help us to collaborate better.
Kayo: Thank you, everyone, for sharing your views, experiences, and journey at Mercari. This will definitely help our readers to understand Mercari better. Together with the extraordinarily talented people we interviewed today, we are developing our Global Center of Excellence in Bangalore and growing as a team. Join us at Mercari India!
https://about.in.mercari.com/