All for Victory: Fifteen Players from the Kashima Antlers Visit Mercari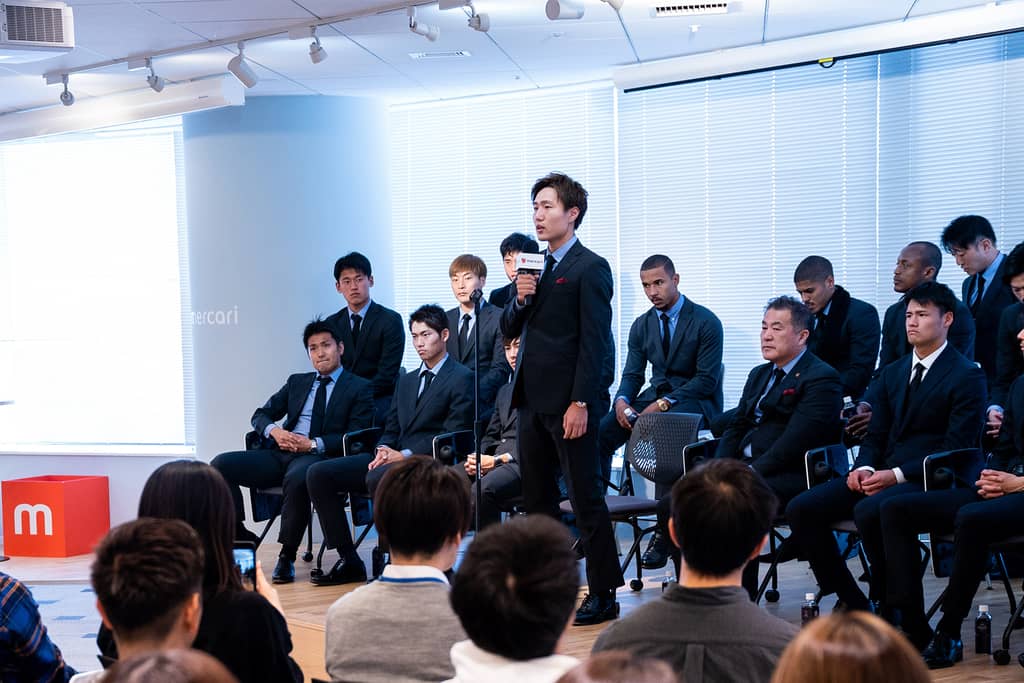 The Kashima Antlers, a soccer club sponsored by Mercari, is one of the top clubs in Japan. Last season, they placed third in the J1 League and won their first Asian Champions League title to reach an impressive 20 major titles throughout the club's history. The Antlers have also participated in the FIFA Club World Cup and played against the world-renowned club Real Madrid, and have become one of Asia's representative club teams.
We had the chance to meet some of the players from this unstoppable team when they visited the Mercari office! Fifteen players, including Kento Misao, Shoma Doi, and Hiroki Abe, were given a warm welcome by Mercari employees. Today, I'll be reporting on the event. With a trivia competition, a Q&A session, a "first bite", and more, we were able to strengthen the bonds between the Antlers and Mercari. The reception was only 40 minutes long, but it was 40 minutes full of love for the Antlers and enthusiasm rivaling an actual game!
Taking on Asia, and then the world
This event was held at Mercari's Tokyo office to strengthen the bonds between the Antlers and Mercari. As the start of the event approached, hardcore Antlers fans streamed into the event space. By the time the 15 players made their appearance, the enthusiasm could be felt in the air, just like a soccer game itself.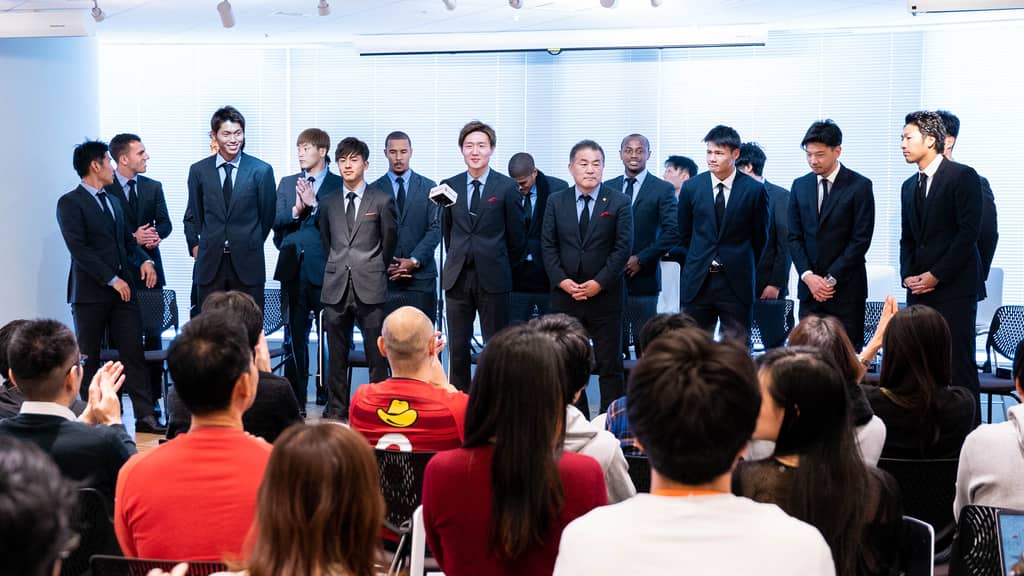 The Antlers
The event started with greetings from Mercari's COO, Koizumi.
Koizumi: Thank you all for coming to Mercari today. And congratulations on winning the ACL title. I've been a fan of the Antlers since I was 13, during my first year of middle school. In fact, I'm such a huge Antlers fan that I went to see the opening match at Kashima Stadium in 1993, so I'm thrilled to have so many players here at our office. The Antlers have conquered Asia and are now working towards victory on the world stage, and we at Mercari are also working every day towards becoming a global tech company. Our fields may be different, but as we have similar global aspirations, we take inspiration from the Antlers. I know you're taking time out of your busy schedules to visit us, and you'll be heading directly to a training camp after this, so I hope this will be a valuable time for all of us. Thank you!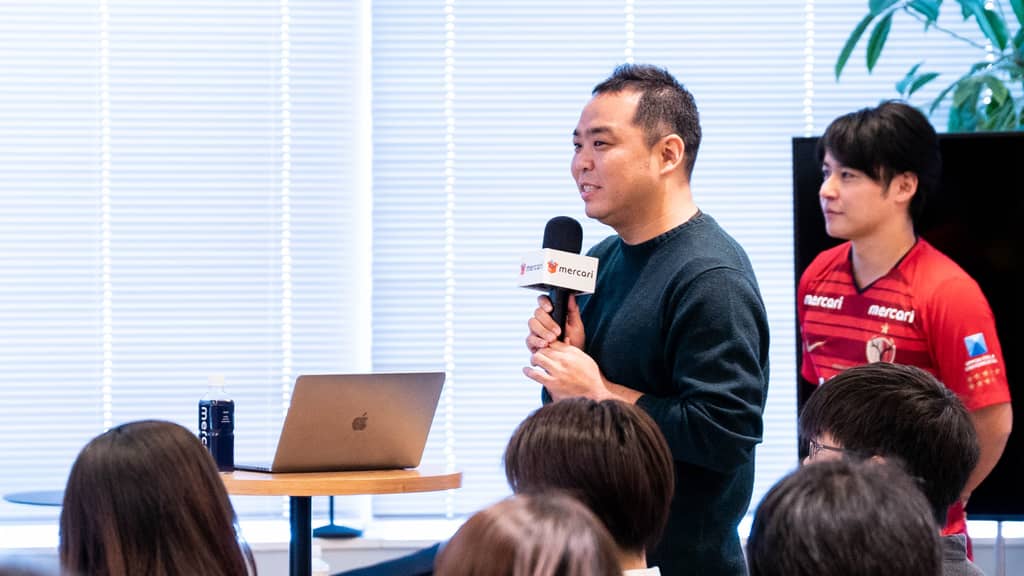 Fumiaki Koizumi (COO)
After Koizumi's speech, Mr. Mitsuru Suzuki, the Antlers' Managing Director and Head of Development, gave a few words.
Mr. Suzuki: Hello, everyone. I'm Suzuki, the Head of Development for the Antlers. Thank you very much for organizing this event today. Last year, we were finally able to achieve one of the club's dreams, winning the ACL title, and become the top club in Asia. I think we were only able to do so because we had the power of the Mercari logo on our uniforms. We can't thank you enough for your support. That said, it's been two years since we won a title within Japan. None of our players can sit still and let themselves be satisfied with this. Under the guidance of our new captain Atsuto Uchida, and with the support of all of our staff, we will take back the J League championship. Of course, we also plan to hold onto our ACL title for a second year and take on the veteran clubs around the world that lie in wait beyond. We're aiming for success both in Japan and around the world, so we hope for your continued support in the future.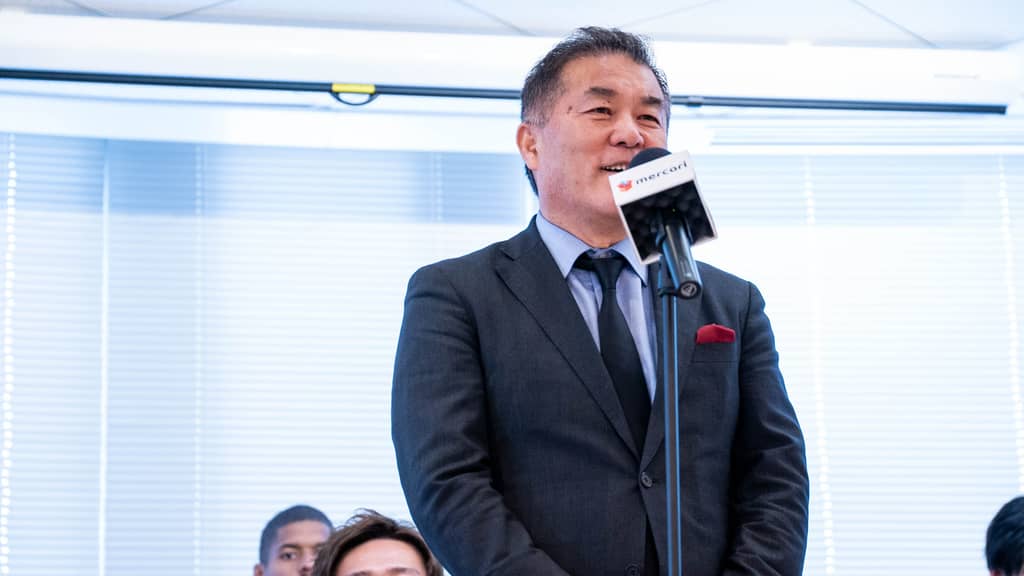 Mr. Mitsuru Suzuki (Managing Director and Head of Development for the Antlers)
After Mr. Suzuki's speech, Mercari surprised the team with a cake to further strengthen the friendship between Mercari and the Antlers. The cake was decorated with the logos of both Mercari and the Antlers—and even the Antlers' mascot, Shikao! Mercari's creative team designed this cake for the occasion.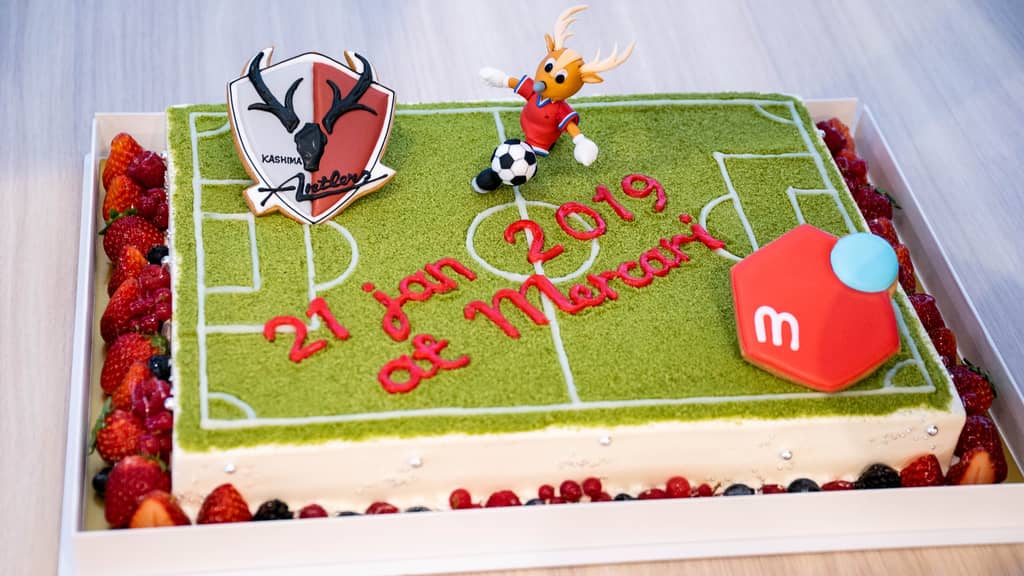 The cake presented to the Antlers as a surprise gift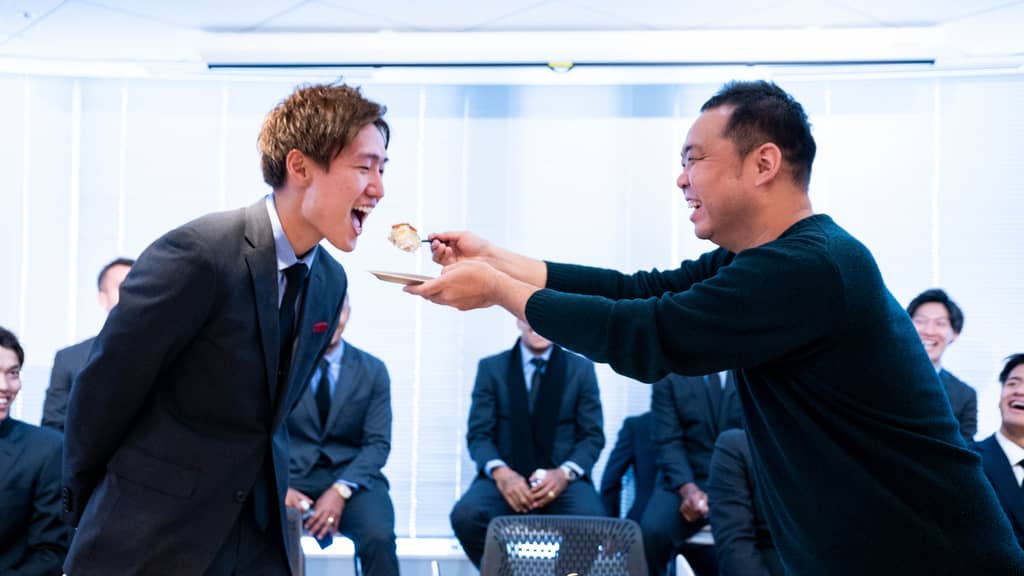 Koizumi feeding Kento Misao the first piece of cake
Dedication and the importance of teammates: What guides the Antlers to victory
After the surprise cake from Mercari, the Antlers held a trivia competition with a special prize for the winners. Shoma Doi and Hiroki Abe represented the team and posed questions testing the attendees' knowledge of the Antlers and the players themselves.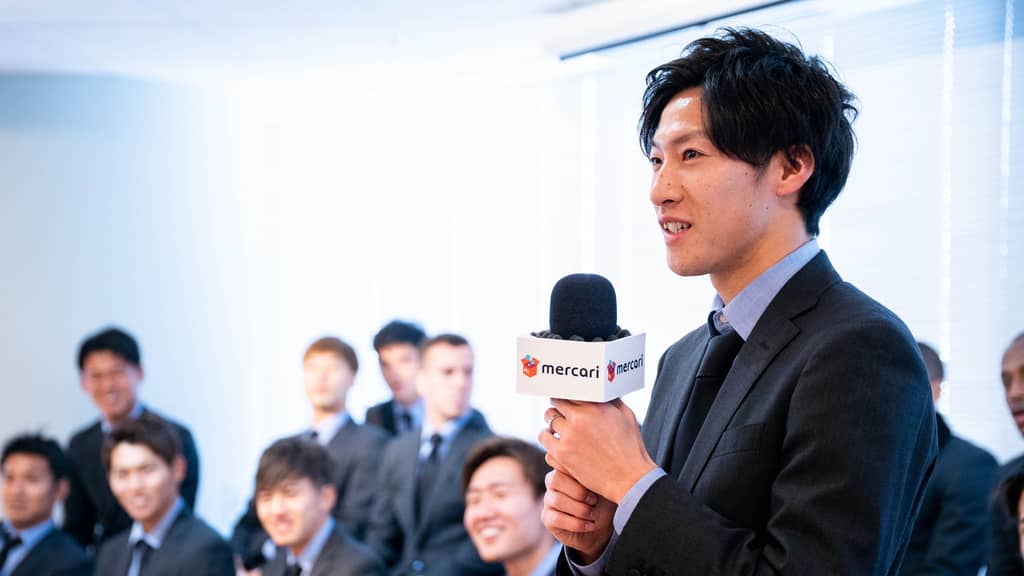 Shoma Doi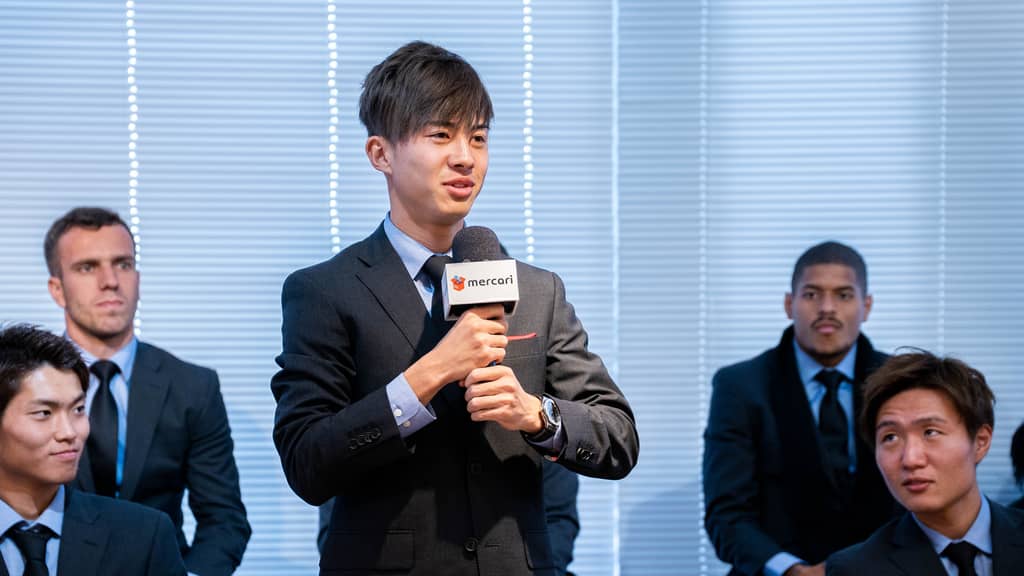 Hiroki Abe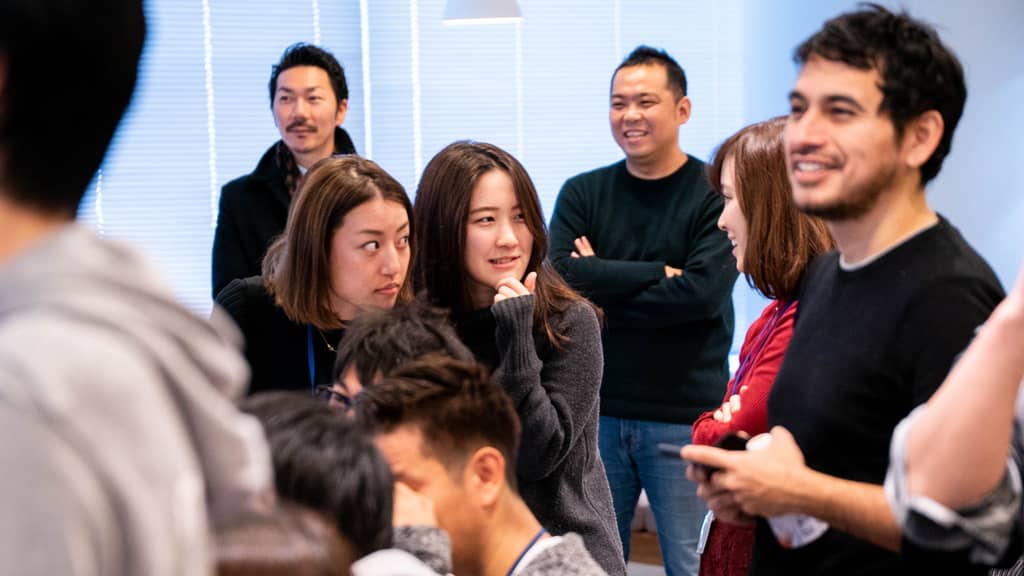 Mercari members racking their memory for the answers
The rules of the trivia competition were simple—only the members who got each question right could move onto the next round, and at the end, only those remaining could win a prize. But we had so many hardcore Antlers fans in the room that almost everyone was still standing at the end! Unfortunately, there weren't enough prizes for everyone, so we switched to a rock-paper-scissors competition to determine the winners. The three members who came out on top each won a signed uniform and soccer ball!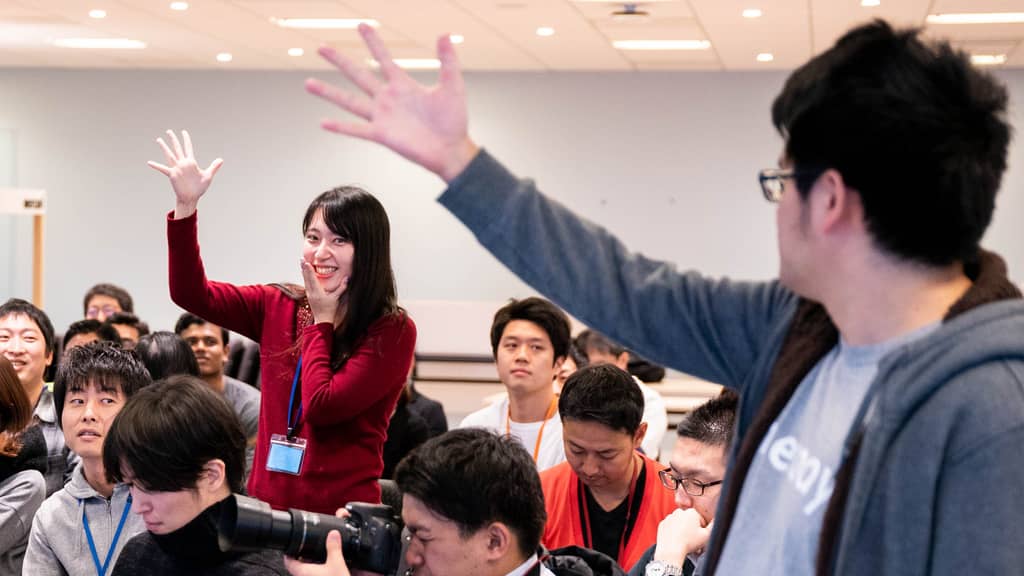 Mercari members with their eyes on the prize
The trivia competition turned rock-paper-scissors competition was a huge success. After that, there was a Q&A section for Mercari members to ask the Antlers players anything. It was clear everyone had been waiting for this exciting opportunity; hands went up as soon as we asked for volunteers.
Mercari member (HR): At Mercari, we work hard every day to create a strong organization and team under our value All for One. Are there any actions you consciously take or expressions you think are important for creating a strong team?
Hiroki Abe: When we're in meetings, the word "dedication" comes up a lot. I believe that having the attitude of "what can I do for the team?" is vital to creating a strong team. I think this is true of any organization or group, not just sports teams.
Mercari member (IT): This is a question for the new members, Ito, Shirasaki, and Sekigawa. Is there any team in particular you don't want to play against this season?
Sho Ito: Well, all teams are our rivals, so it's hard to narrow it down to just one… But I transferred to the Antlers from the Yokohama F. Marinos, and I have a lot of respect for them, so I'd have to say the Marinos.
Ryohei Shirasaki: Similar to Ito, I think it would feel rather strange playing against my former team, Shimizu S-Pulse, so I would say the S-Pulse.
Ikuma Sekigawa: I'm new, so I don't think I really have one. (laughs) If I had to say, I'm looking forward to games within the team. I'd like to enjoy every game we have.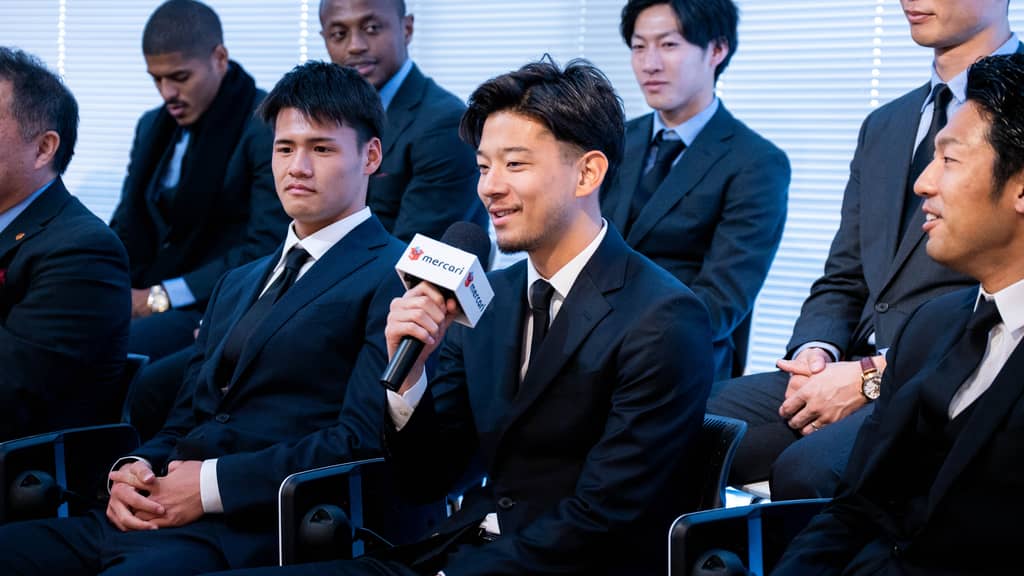 Ikuma Sekigawa
Mercari member (engineer): What does the word "victory" mean to the Antlers? What do you think is necessary to achieve victory?
Yasushi Endo: To me, I think victory is a duty. Everyone expects nothing short of victory for the Antlers. It's rather strict, but I want to accept this as our duty and focus on winning. To answer your other question, I think appreciating your teammates is necessary to achieve victory. Soccer can't be played with just one person, or even eleven. The sport only comes together because of all of our teammates—not just the players, but all of the staff working behind the scenes and all of our supporters. The players on the field need to work hard for all of our teammates off the field too. That's why I think that appreciating your teammates is really important.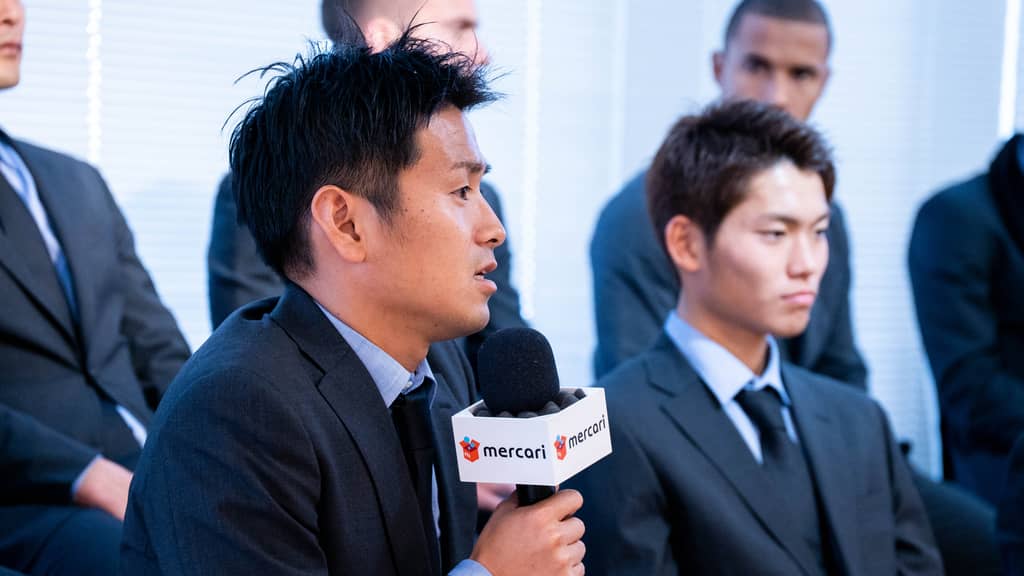 Yasushi Endo
Mercari member (CS): This question is rather personal to me, but…I want to help my son become a soccer player who can play on the world stage. For the non-Japanese players on the team, do you have any advice for becoming an international soccer player?
Suntae Kwoun: I would say have him play soccer in Spain from an early age. That said, I have a son as well, and honestly, I don't want him to play soccer. (laughs) Well, really, I think anything's fine as long as he himself enjoys it. Becoming an international soccer player is great, but what's most important is letting your children do what they think is fun.
Audience: (round of applause)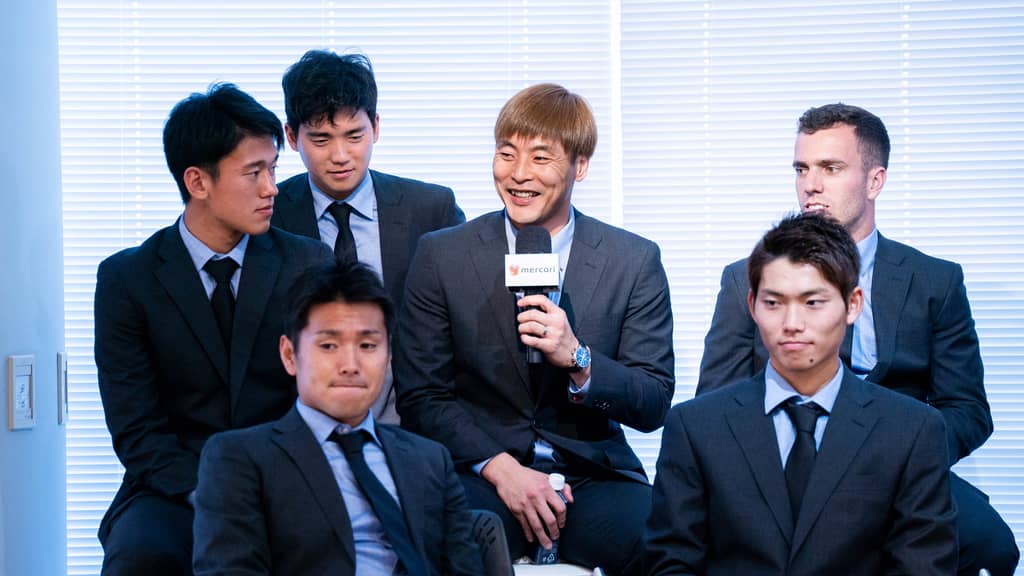 Suntae Kwoun
Holding onto the ACL title and taking back the J League championship
Suntae Kwoun's answer was met with a large round of applause from the audience. There were still a number of members raising their hands to ask questions, but unfortunately, we were out of time. To close the event, Kento Misao, appointed as the new player representative from this year, gave a short speech.
Kento Misao: I'm Kento Misao, the player representative as of this year. At first, I was very nervous to make my appearance here, but everyone was so welcoming that it was easy to relax. Thank you all very much for hosting such a fun event. Last season, we were finally able to achieve the ACL title we had always dreamed of. We had many players injured and unable to play, and it was really difficult to play as many games as we did, but we were still able to win thanks to each and every one of us working hard to prepare. I also think it's thanks to all of you here, who supported us no matter what happened. We can't thank you enough. One of Mercari's values is "All for One," and similarly, the Antlers have our own saying: "All for Victory." This season, we'll take these words to heart and aim to defend the ACL title as well as take back the J League championship. We'll do our best to spread both the Antlers' and Mercari's names throughout the world, so we hope for your continued support this year too.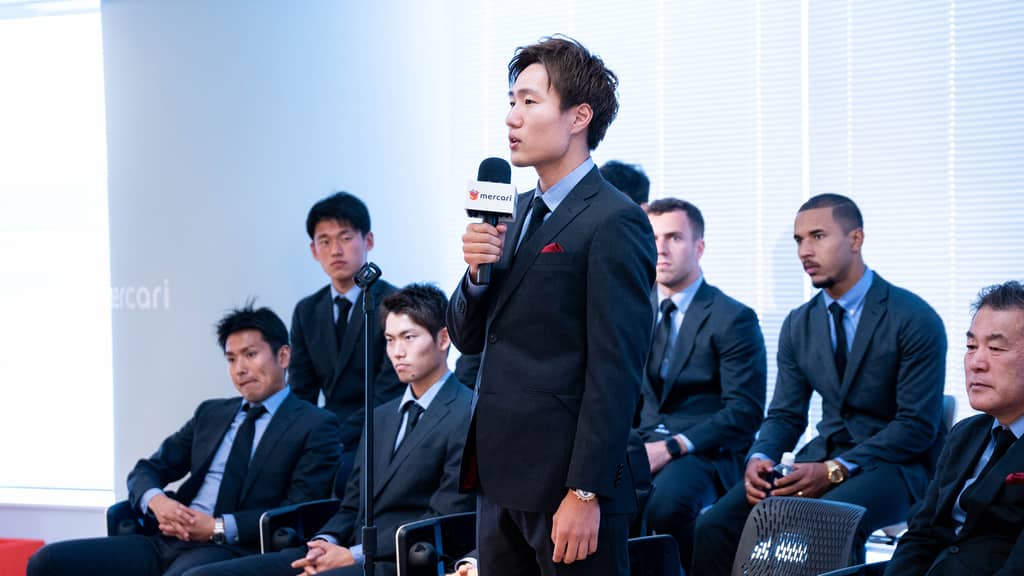 Kento Misao
After everyone enjoyed the fun and friendly atmosphere for about 40 minutes, the reception was over. The phrases the Antlers mentioned, like "dedication," "appreciating your teammates," and "all for victory," touched upon some of Mercari's values and provided a profound learning opportunity to the Mercari members in attendance.
To all the Antlers players, we wish you the best of luck and good health this season, and we can't wait to see you achieve victory again with your impressive play! Mercari will continue to support the Kashima Antlers in 2019!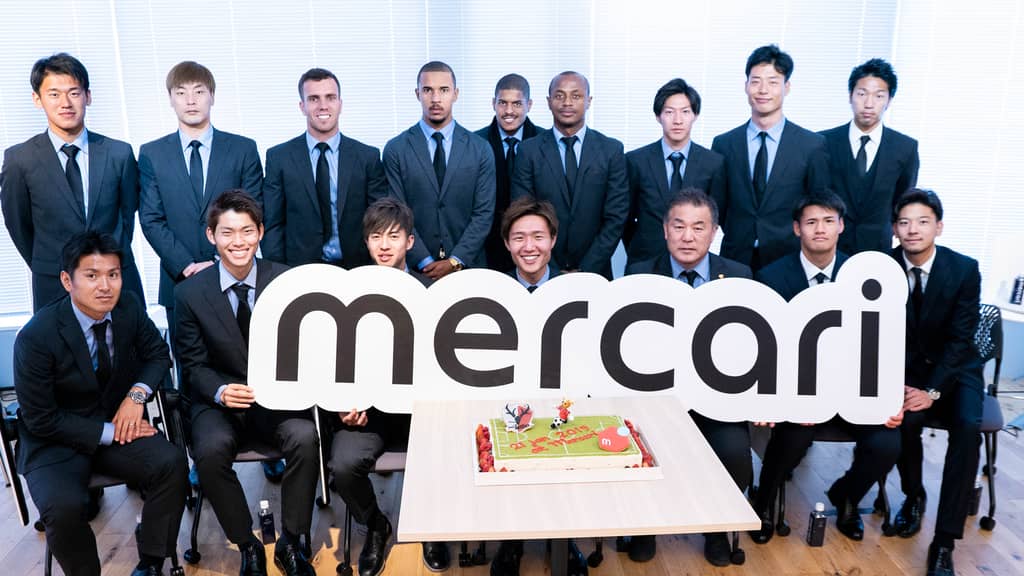 Kashima Antlers