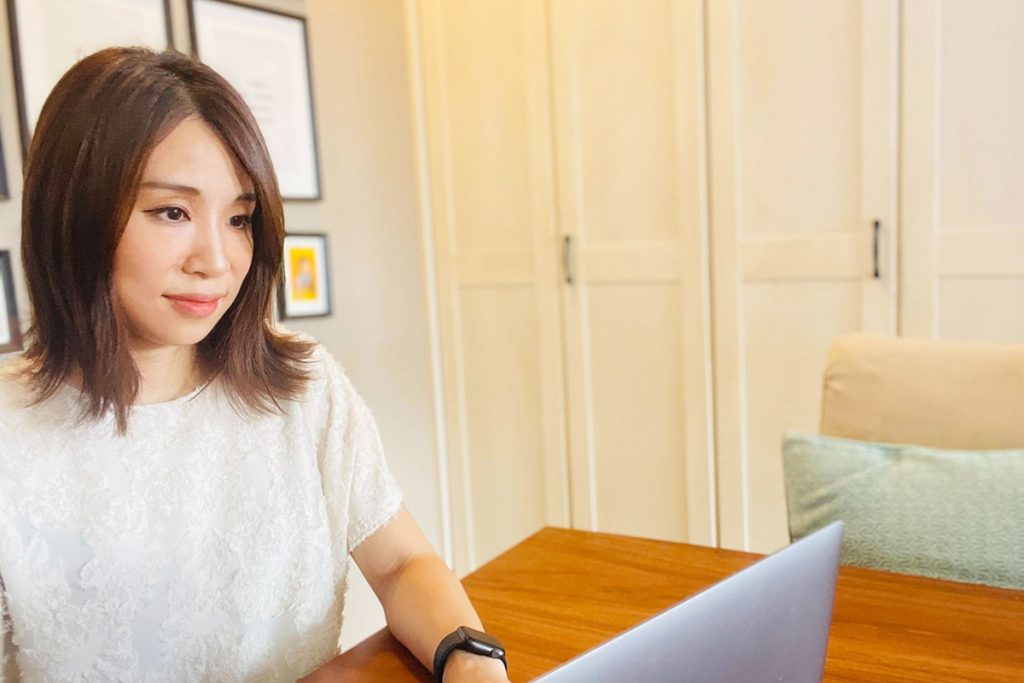 I Can Stand by My Son And Be True to Myself—Your Choice Shifted My Life Into High Gear
At Mercari, we introduced the "Your Choice" policy to allow each individual and team to choose the work style that enables them to most easily demonstrate value and leads to the highest performance for them and their organization.
A year since introducing Your Choice in September 2021, we have started this series of feature articles called "All For Your Choice" to ask some of our employees who have made the most of the program about their individual working styles and how they view their work. In this first article of the series, we meet Mercari HRBP Sachie Urabe (@sacci), an Osaka native and resident balancing parenting with her professional life.
Featured in this article



Sachie Urabe (@sacci)

As a new graduate, Sachie joined a major manufacturing company and then left the company when she married. She then fulfilled her wish to move to Canada, spending the last half of her twenties overseas. Returning to Japan at the age of 30, she had a six-year gap in her career, was caring for a newborn baby, and had to start her life over from square one. Sachie joined Mercari as an HRBP in January of 2022. She is dedicated to building a stronger organization as CPO HR partner for the Product Division, an organization that is home to talent sourced from around the globe.
The difficulty of building a career while raising a child outside of a major city
──Tell me about your life in Osaka.
Sure. So, I'm originally from Osaka Prefecture, and I still live in Minoh City, the same city as my parents. When people picture Osaka, they think of Osaka City, but Minoh is a small city lush with natural scenery, and it's a great place to raise kids. That said, it's about a 30-minute train ride from Osaka City, and it has good access to Kyoto and Kobe as well, so my six-year-old son and I take trips out that way. One of the great things about living where we do is that I get to have the best of living in the country and the city.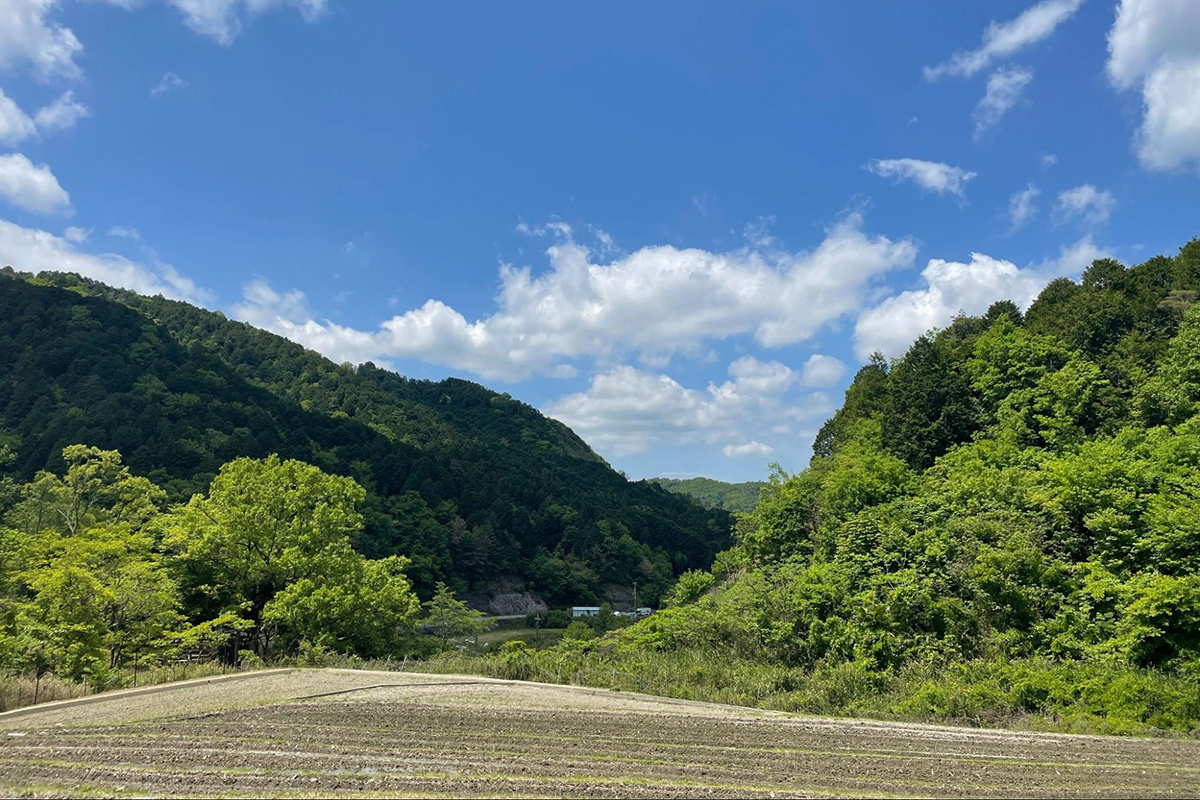 The wilds outside of Nose Town
──When you put it that way, I can't help but feel a little jealous! I wouldn't want to ever leave a place like that. So, I understand that you joined Mercari in January of 2022, right? Were you working in Osaka before then?
Yes, at my previous job, I worked in Osaka as an HR consultant. I found it exciting to work together with clients to resolve HR issues, and I really felt like the work I was doing was worthwhile. But at the same time, operations are everything to HR, so I had this growing sense that I wanted to take responsibility for implementing issue resolution, and that's when I started to think about changing jobs to work in an in-house HR position.
──What were the main things you were looking for in your next workplace?
The one thing I did not want to change under any circumstances was my location. My son was barely an infant, so I wanted to live close to my parents, and I wanted to live somewhere that was good for raising our son; I still feel this way. At the same time, I didn't feel like giving up on having a career. I had experience working with global talent and had lived overseas, so I wanted to find a job in HR where I could use English, but there aren't many companies like that in Osaka; most of them are concentrated in Tokyo. It took a lot of searching to find a job that let me continue to build my career while raising my son outside of a major city. I came face to face with the reality of how hard it can be to find what Your Choice provides.
──I see. So given that few jobs matched the conditions you were looking for, how did it feel when you found the job posting for your position at Mercari?
It felt like new possibilities had suddenly opened wide up. While I was looking to switch jobs, I had felt heartbroken more than once. I just couldn't see the light at the end of the tunnel. But when I found the job posting for HRBP at Mercari, I told myself that working here would allow me to take care of my son without having to give up on myself. It was a huge relief for me.
Since I joined Mercari, I'm able to take care of my son, get my work done, and enjoy my hobbies to my heart's content. My daily schedule goes like this: After I take my son to catch the bus for kindergarten, I go for a jog, and then start work.
7:00 Wake up and get dressed
7:30 Get my son his breakfast (I don't have time for a slow, sit-down breakfast. I just swallow down a few quick pieces of fruit.)
8:00 Drive my son to the bus stop where the kindergarten picks him up (When you have a small child, getting around in a car is really convenient!)
8:30 Go for a light jog in Senri Chuo Park (a large park three times the size of the Tokyo Dome)
9:00 Start work
12:00 Lunch (I take out whatever leftovers I can find in the fridge, arrange them into a meal, and have a quick bite to eat.)
17:30 Pick up my son
18:00 Prepare supper
18:30 Eat with my family
21:00 Go back to work
22:00 Sign off
23:00 Go to bed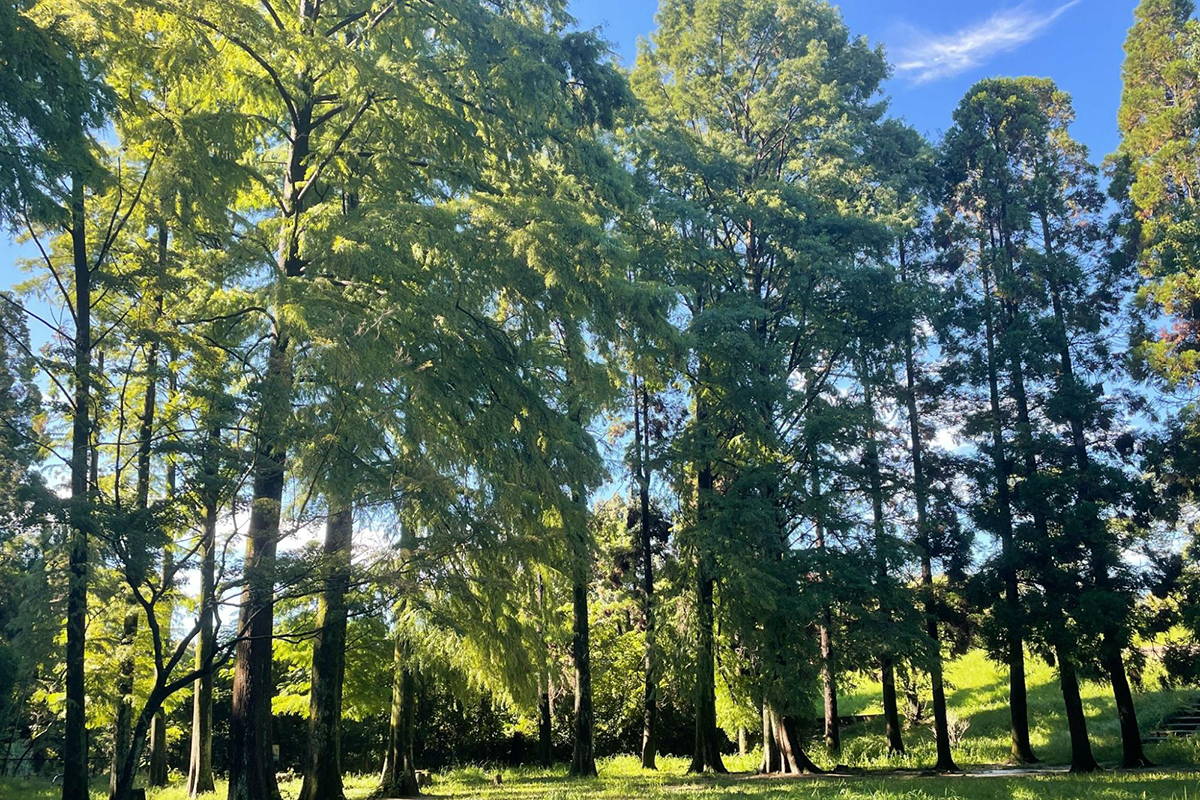 My jogging course through Senri Chuo Park
The options for my child's education as well as my life options have opened up
──What is something that you have been able to do specifically because of Your Choice?
In my private life, I would say that the options for my child's education have opened up. I think that a lot of parents who work full time put their children in daycare. There are some kindergartens that offer extended-hour daycare services, but places like that are still in the minority. Before I joined Mercari, I also used to send my son to daycare.
But now that I work under a full-flex system (flexible working hours with no core hours) my time is malleable, so I don't have to be limited by the single choice of putting my son in daycare. Instead, I have some options and I can choose where I send him. My son now goes to an international kindergarten.
I also staunchly set aside 6:00 to 9:00 PM for family time. I want us to communicate with each other, and the fact that I can work while still making sure I can enjoy this valuable time every day is something I credit to Your Choice.
By not being tethered to a set location or set working hours, there's no need for me to put the brakes on my career, and I can proactively take on the challenges I want to pursue. It goes without saying that my son comes first, so there have also been a lot of cases where I'd actually like to risk trying something new, but I have to hold back. There were a number of times when the missed opportunities started to pile up, and I thought I had no choice but to quit working. But now I have more control over my circumstances, including where and when I work, so I can keep pushing the envelope on my career without hesitating. Thanks to Your Choice, I feel like my life options have expanded.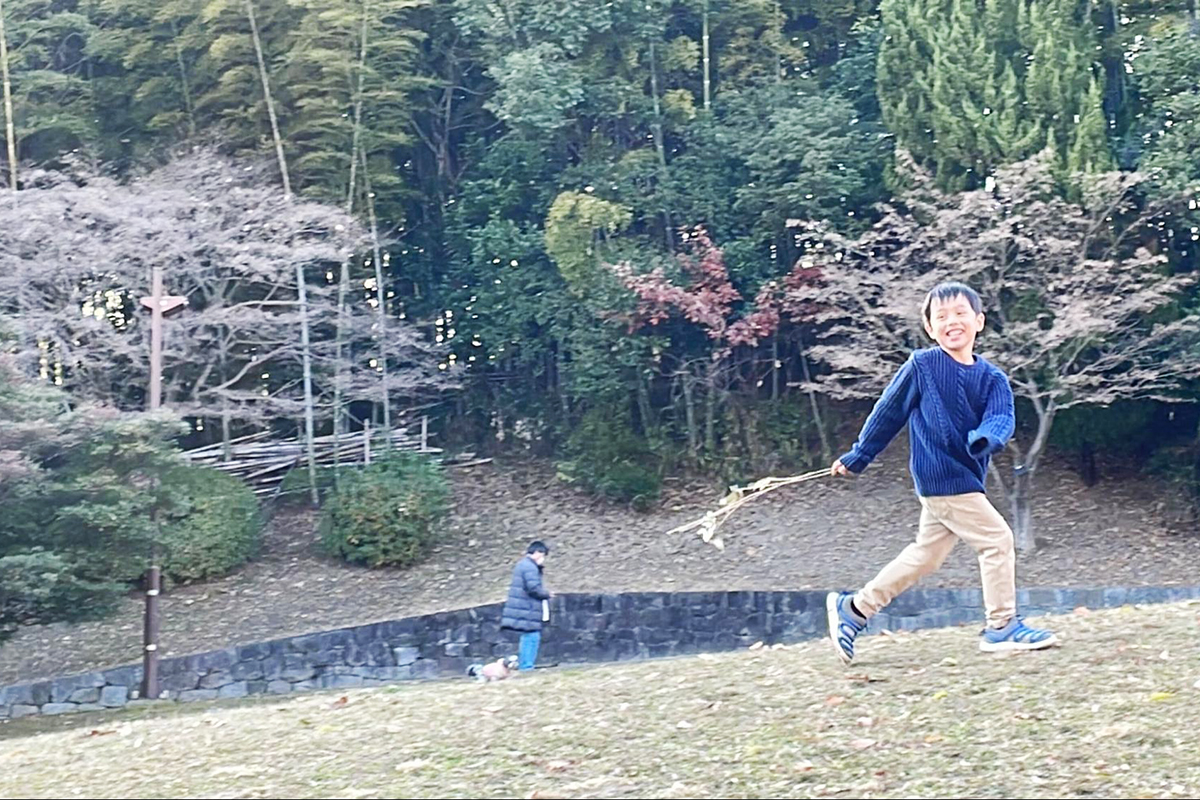 My 6 year old son loves to play in nature
──So, what do you think of the issues that come up when work communication is mostly taking place online?
Somewhat predictably, when it comes to an online environment, there are a lot of situations where I feel that it's hard to communicate and collaborate. When I used to work in an office face-to-face with people, I was able to discuss matters with ease. But if you work online, you have to set up a meeting each time you want to talk to someone, so there are more obstacles to having a conversation. What's more, when it comes to holding a meeting, you have to prepare some sort of materials, like an agenda. I think it's inefficient to go to those lengths just to have a short conversation. So recently, I've been trying to find innovative ways to communicate with people, such as using Slack's huddle meeting feature, which allows you to have voice-only meetings with the click of a button.
Working online is really convenient, but I think it's important to recognize that there are limitations. Personally, I think that team building and meetings to let off a little steam go more smoothly when you are face to face with people. That's why my team regularly gets together at the office to have offline meetings. Naturally, attendance is not mandatory. Whether or not a person decides to go to the office is a personal choice. Whenever there are team members who are not in the office that day, we have a hybrid meeting, with members joining both online and offline. In addition, I think there are a lot of ways of looking at going to the office, so we have a Work Style Sync within our team where we each share our own ideal workstyle to deepen our members' mutual understanding of each other.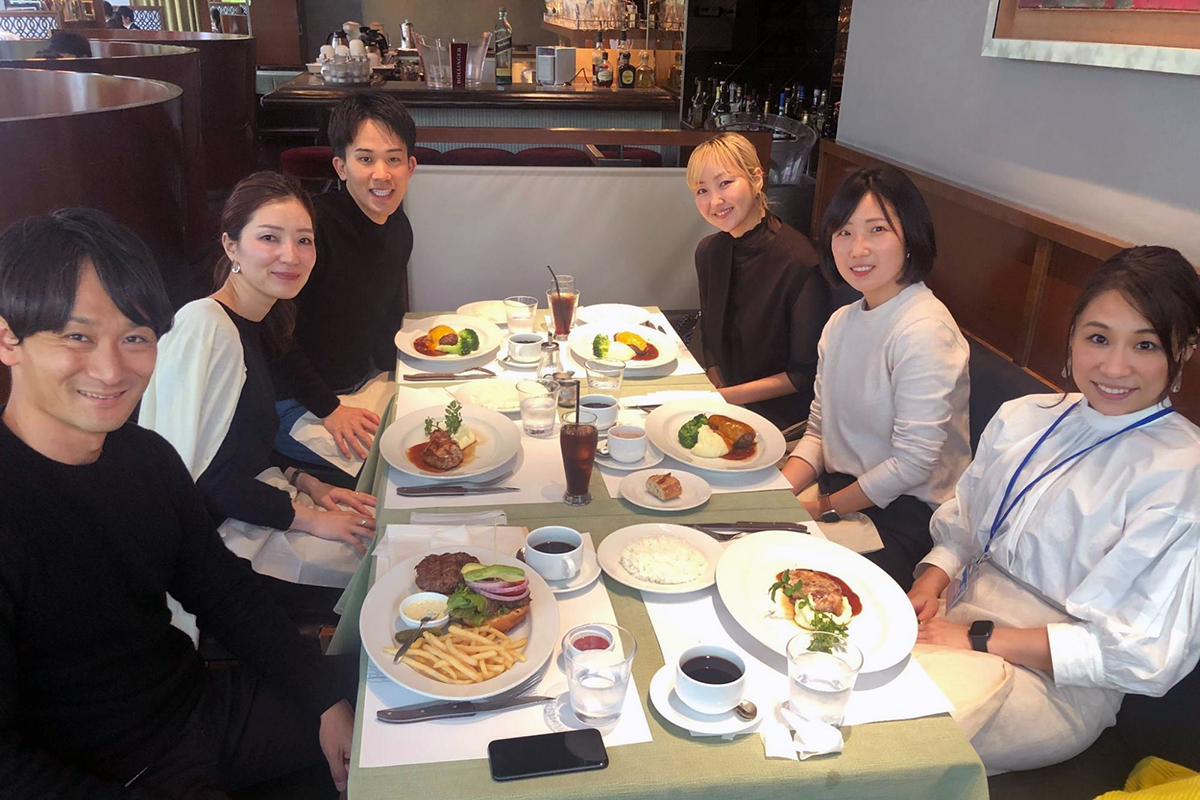 On a day when Sachie's team members were at the office, they went for lunch together♪
──Just like you said, the concept of the ideal workstyle differs from person to person, which is why we have the Your Choice program at Mercari. So to close out our interview, could you tell me what Your Choice is to you?
If Your Choice did not exist, I think my life would have probably moved in a different direction. It's because of this program that I don't have to give up on spending time with my son or give up on myself. I don't think it's an exaggeration to say that Your Choice shifted my life into high gear.
If more companies start offering programs like this, I think that eventually, everyone will be able to walk the career path of their choosing, regardless of their background. Also for that reason, as a person working in HR, I have to face the issues typically encountered with remote work and how to overcome them. Going forward, I want to hone my knowledge of this topic and continue working with everyone on this.