Mercari-Style Intercultural Communication—From Individual Learning to Team Learning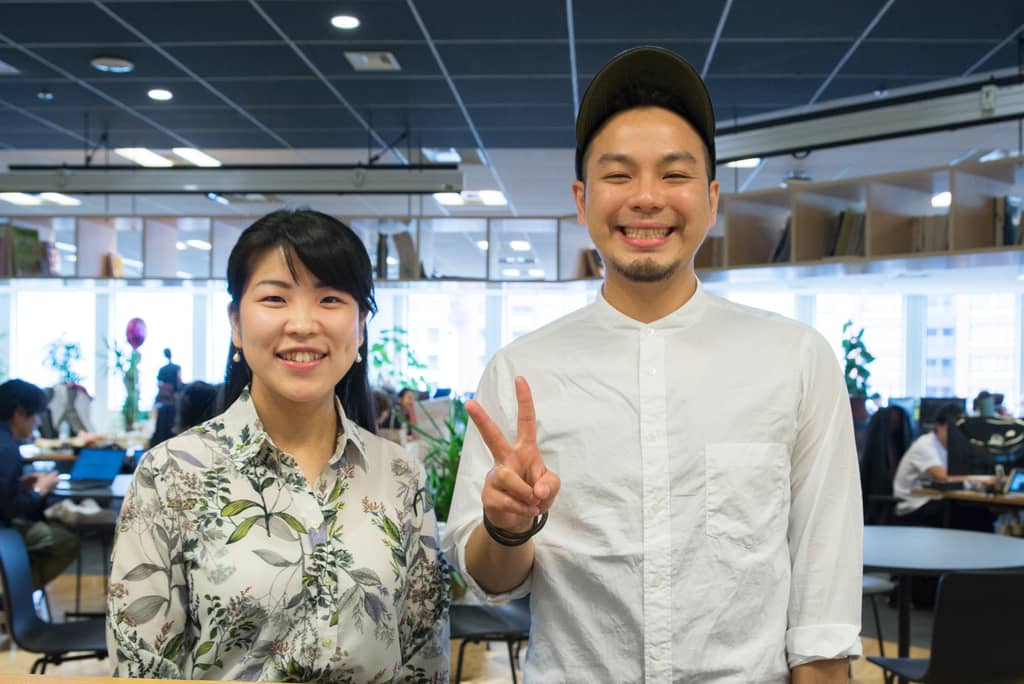 Hello! I'm Hirona from the Global Operations Team (GOT).
Let me start by posing a question: if you were in a team with members from various countries with different cultures and languages, what would you do to get a better understanding of each other?
My team, GOT, handles exactly that: in order to create an environment where members from all different backgrounds can Go Bold in their work, we provide translation/interpretation support, develop language-learning programs, and carry out many other Diversity & Inclusion initiatives for the diverse members of the Mercari team to get along and work together fairly.
Within GOT, I'm in charge of intercultural communication initiatives, which aim to help Mercari members of different cultures and nationalities understand each other and comfortably work together. Since September, I've been working with Jasper from the Mercari CEO Office to introduce a new initiative called Intercultural Team Building (ITB). Today I'd like to introduce ITB to all of you!
How can we link individual learning to team learning?
From the very beginning, Mercari has recruited members from overseas. We have a number of initiatives in place to encourage mutual understanding, including onboarding for new global members.
But mutual understanding isn't something that happens overnight. When it comes to communication, "good" and "bad" is subjective, and even if one person learns something, that doesn't automatically spread to their entire team. The programs we offered didn't have much of an effect on work as a whole, and we constantly faced issues with the scalability of training programs and the motivation of our employees.
I wanted the knowledge each person gained at the intercultural communication seminars to spread to their teams. I also wanted a training program that could scale with the size of the company. So I asked Jasper, a UX researcher who uses design-oriented thinking to solve various problems, for help. We decided to work together and tackle both Jasper's desire to make better and more productive teams and my desire to define what makes a multicultural/multinational team able to effectively, efficiently, and comfortably work together. ITB, a combination of intercultural communication and team building, was the result.
The best part of ITB? It's team building!
In ITB, we break up into teams and go through the following steps:
– Before the workshop, come up with answers to the question "What kind of team do you want to be?"
– Carry out the workshop
– After the workshop, discuss in teams what you did and what issues you had with communication
What makes ITB unique is that it's a team-building workshop, and that the workshop contents change every time to suit the team participating. We even keep the content a secret until the day of the event—none of the participants know what they're getting into, which means that everyone is on the same footing at the start of the day, and everyone has to work together to complete the tasks.
One other important point is making sure the participants have a meaningful experience. Before the workshop starts, we ask the teams to discuss what kind of team they want to be, and what strategies they can use to complete their tasks and work towards that goal. With that discussion in mind, participants start thinking carefully about every action they take.
After the workshop ends, we look back on how the team worked together. The teams discuss each member's contributions, strengths, weaknesses, and cooperation, and once again try to answer the question of how they want to work together as a team in the future. Once they've done that, the workshop is over.
ITB #1: Mystery cooking!
The very first ITB was held with Mercari's iOS Team. We gave each of the 4 teams (16 people total) a recipe none of them had ever cooked before and posed a challenge: to make the recipe matching the sample image…which each person only had 30 seconds to see. With limited resources, each team gave it a shot.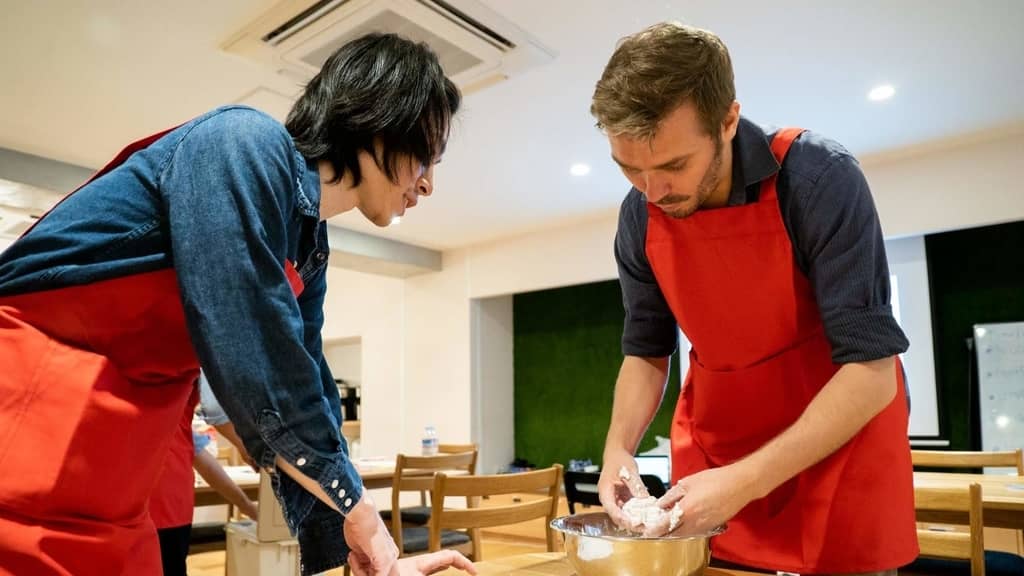 Members of Mercari's iOS Team taking on the mystery cooking challenge
As facilitators, Jasper and I got a lot of questions during the workshop, like "Where's the ladle?" or "Are these ingredients supposed to be shared with the other teams?" But instead of providing the answer, we told the participants to figure it out among themselves. Even if no one knows the answer, they have to struggle to find it together. Though there was one unexpected problem where the breaker tripped and the rice cooker stopped working…oops. But the process of working it out for themselves is full of valuable communication that helps the participants understand each other's backgrounds.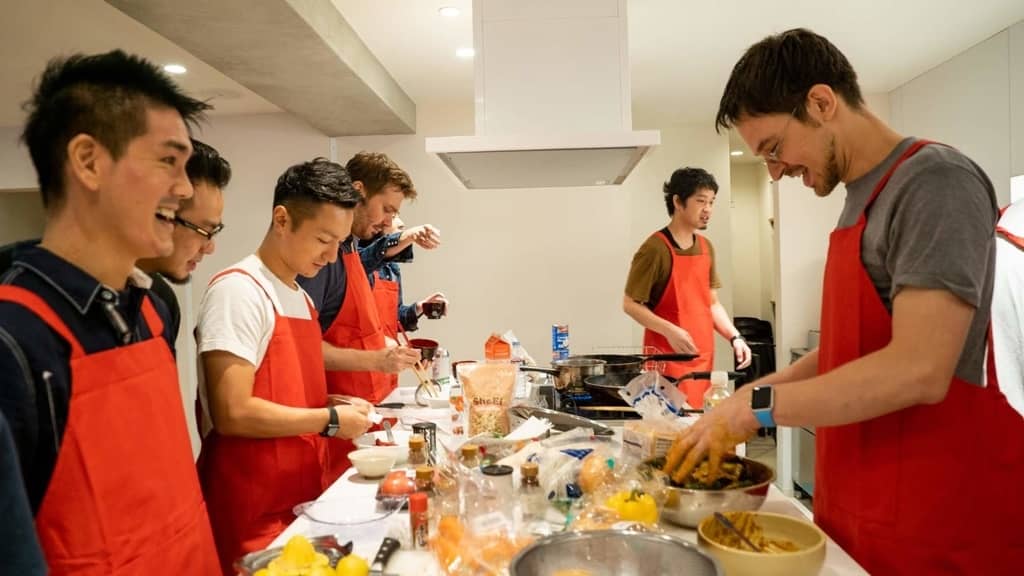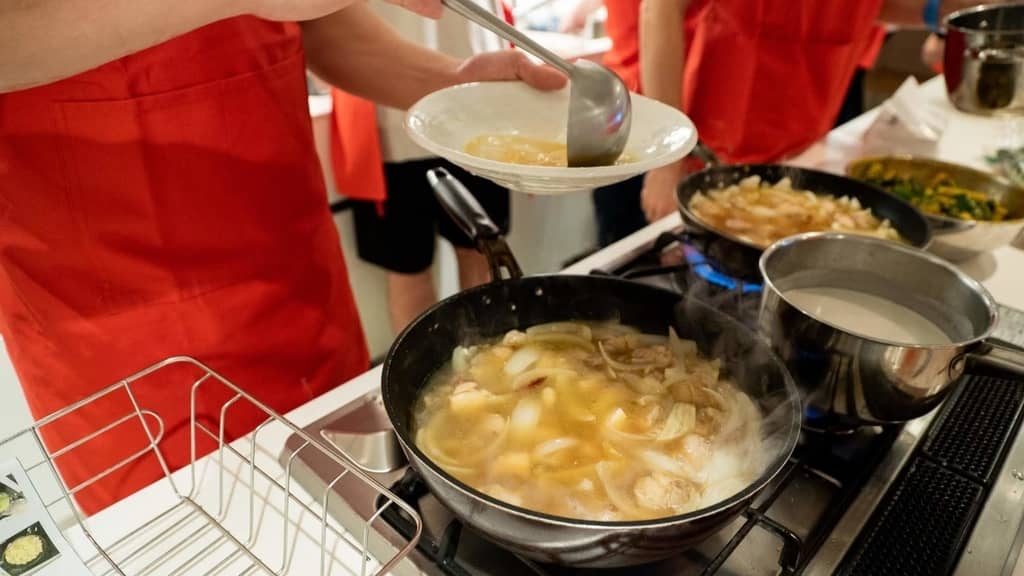 After eating, we looked back on how each team handled their tasks. In addition to the process itself, we asked the participants to discuss anything they noticed or learned, like their thoughts towards the process (the "how") they used to achieve their task of cooking (the "what").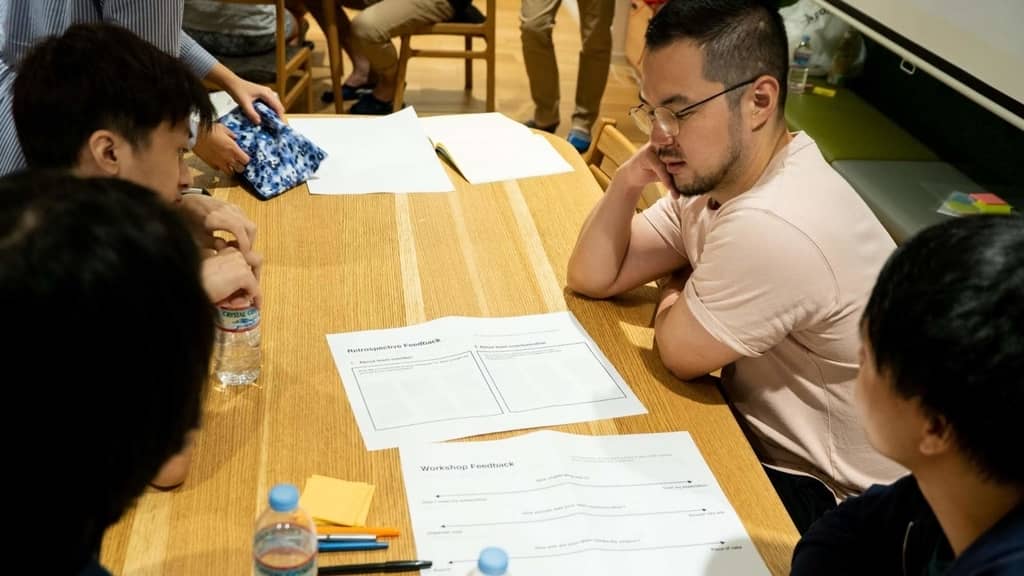 Looking back at their cooking process
With that, the training was over. We received a lot of positive feedback from the members who participated: "I did feel like there was a language barrier, but I didn't feel any cultural differences." "Getting to experience actual communication issues and trying to overcome them was way better than just sitting and listening to a lecture. We were all trying to meet in the middle to get our words across, and I feel like we overcame the communication barrier a bit."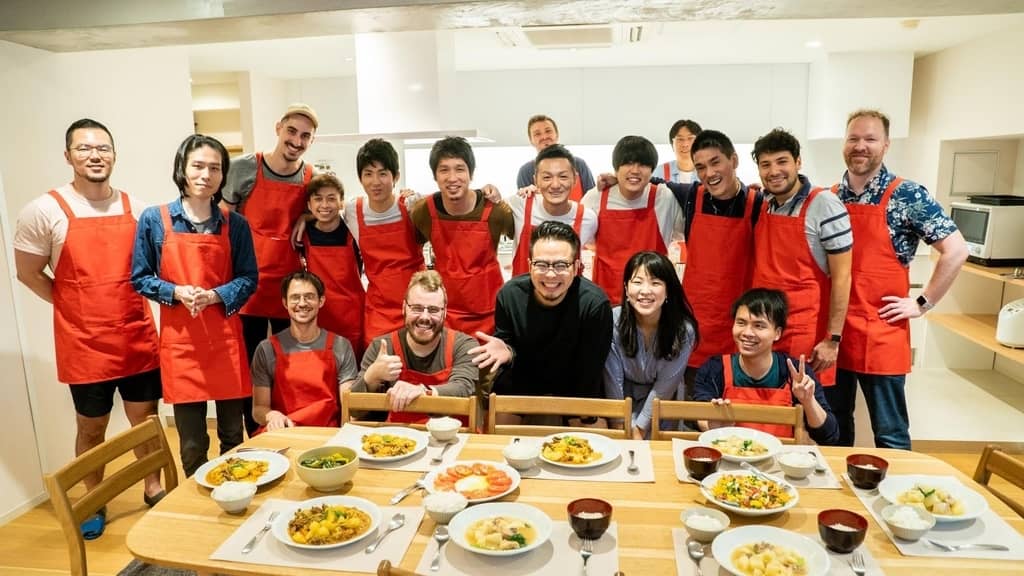 We took a group photo at the end!
Creating an ecosystem for learning
The goal of ITB is to help team members know more about each other's backgrounds and create an ecosystem for learning. By seeking the reasons behind another's thoughts, you can form a common language and understanding. If you then share what you learned with your team, you can form a cycle where this mutual understanding grows even deeper.
Honestly, I know a lot of people think that you don't need to understand each other that much to carry out your work. But I believe that a deeper understanding and relationship between diverse members makes the product development process much faster. When I proposed ITB to my manager, he told me, "Get out there and Go Bold to make a better place to learn!" I was really happy to get his support!
That said, ITB is still just a prototype, and there are a few aspects that could use improvement. Mercari is constantly growing towards our goal of becoming a global tech company, and the intercultural communication initiatives Jasper and I are working on are getting more and more exciting. In addition to scaling ITB, we have a number of other communication initiatives in the works. Keep an eye out for updates in future Mercan articles!
Profiles
Hirona Hono

After deciding to become involved with talent development in the field of intercultural competence (the ability to work effectively in an international office), Hirona entered SIT Graduate Institute in the US and trained to become an intercultural communication trainer. Following her graduation, she worked as the program director for VIA, an educational nonprofit organization in San Francisco, and as an Intercultural Training Specialist at University of California, Berkeley. She returned to Japan and was involved with design and management of global training at a major IT company before joining Mercari in May 2018.

---
Jasper Wu

While studying at d.school, a design-oriented program offered by Stanford University, he worked on projects involving design research and HRI (Human Robot Interaction), and began his career as a design-thinking workshop facilitator. After that, he worked as a design engineer at Samsung Strategy and Innovation Center, and joined Mercari, Inc., where he is currently a member of Mercari's CEO Office.