Women at Mercari Discuss Time Management Techniques, Role Models, and More in Panel Discussion #MercariDays
Hi! I'm @harunak from the Talent Acquisition Team (Hiring Team).
No more than a few days ago, we held "Mercari's Women in Tech vol. 5"!
Women in Tech is an online event that focuses on women who work at tech companies and aims to provide opportunities for people to exchange information and knowledge with each other.
Our special guest this time was Ms. Rina Sato, who works as a manager for Accenture Interactive, a division of Accenture. Amid her work promoting global products, she is also involved in her company's I&D* initiatives. In particular, she is active as a member of a management committee involved in promoting cross-cultural activities.
*: We often hear of D&I [Diversity and Inclusion], but Accenture uses the term I&D [Inclusion and Diversity].
Acting as moderator was @Maz, who is in charge of Yasashii Communication initiatives at Mercari. Representing Merpay was @micchie, who has worked as a Backend Team engineering manager since March 2021, and @maya, an HRBP and mother.
For this fifth volume of Mercari Women in Tech, @Maz broke the ice by introducing Mercari's business and talking about Yasashii Communication. Following this, three speakers, women working as managers for Mercari Group, engaged in a four-topic panel discussion. (And sure there may have been a few unscripted accidents, but hey that's showbiz.)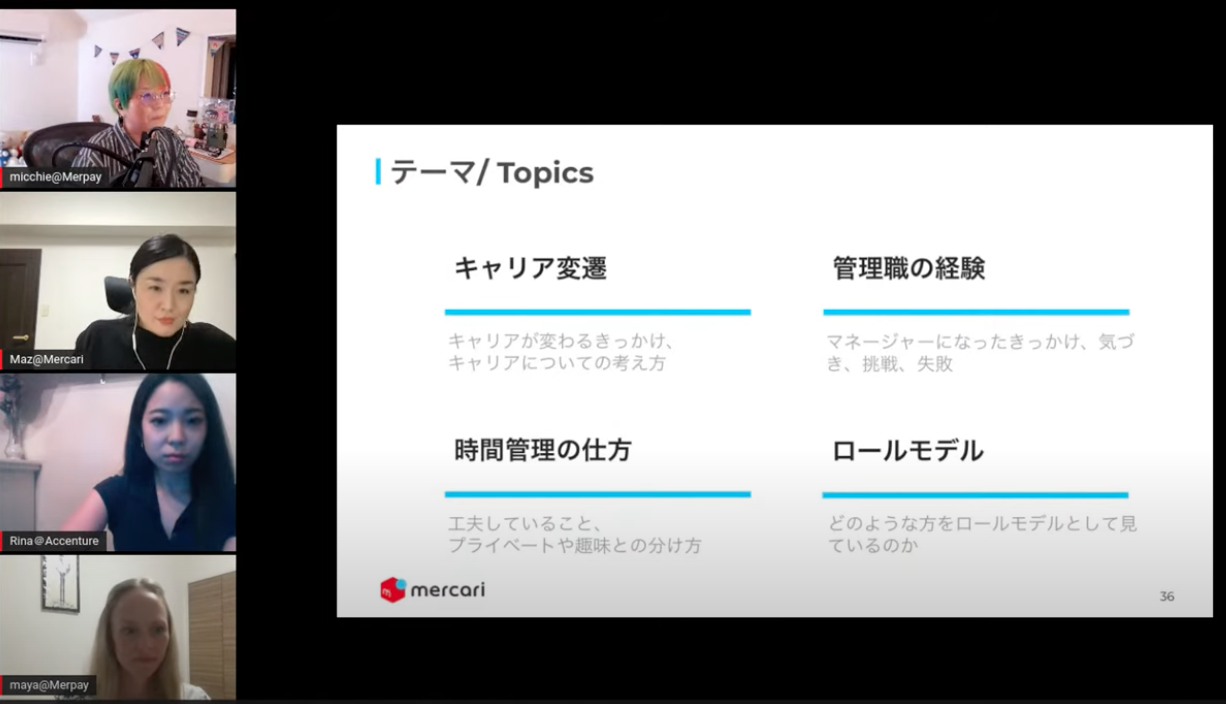 The panel discussion looked at four topics: Career transition, management experience, time management techniques, and role models.Here, we would like to shine a spotlight on the one topic that left an especially deep impression on the session participants: role models.
@Maz: So what sort of people do all of you look to as role models?

@Rina: A role model… is someone who can help make you become a better person."Everyone thinks about role models in their own way. Some people even say they have a hard time finding role models. My role models have really been a driving force for me over these past five years. A role model does not necessarily have anything to do with one's career. To me, at the core of what makes a person a role model is the universal and unwavering nature of their person. There are also people who believe that to find a role model is more than just finding someone who will shape your career, but rather someone who can help make you a better person.

@maya: "It's better to have a lot of role models…" It's better to have a lot of role models rather than just one. I think it's great if you can find a variety of role models who each bring something beneficial and feel right to you without limiting yourself to one person or a single gender.

@micchie: "A role model… is someone you respect" You could also say that if you limit your role model down to one particular person, or look for your role model based on what's familiar to you, it really narrows down the parameters. At the most basic level, a role model has to be someone you respect. There are a lot of people I respect. I feel like I want to embody the greatest and best parts of a variety of people.
Following the discussion, the moderator @Maz made some very insightful comments. Watch the full video here to catch it all!
The open-minded take on role models expressed here is just what you would expect from the people leading D&I at Mercari.
This session was not limited to women or the tech industry, and people from a variety of fields and backgrounds took part. During this fast-paced session, we received questions from some of the more than 80 people attending the event via live chat. The agile discourse of Mercari speakers and the warm and welcoming tone of our facilitator carried the session. The curtain then closed on what was a highly successful event.
I'm already excited to see what topics will be featured at the next Women in Tech!
Here are some more articles related to past Women in Tech events:
See you next time for more #MercariDays!