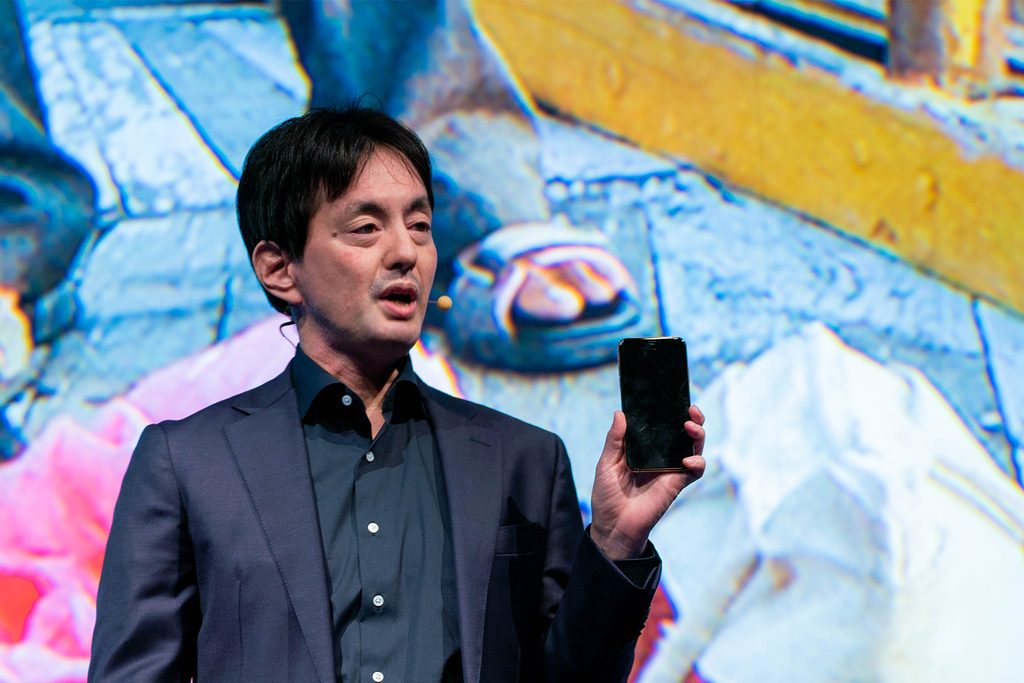 Empowering Individuals and Businesses: The Future Shintaro Yamada Envisions for Merpay
On February 20th, 2019, Merpay Conference 2019 was held at Shibuya Hikarie Hall. The conference marked the official launch of Mercari's mobile payments service Merpay. Mercari, Inc. CEO Shintaro Yamada took the stage to kick-off the event.
In his presentation Shintaro spoke about the history of the Mercari Group through to the present and the future he envisions for the group going forward. How did Mercari come to be? What is Merpay aiming to do? Shintaro answered these questions while laying out his vision for Merpay to improve the liquidity of money through innovation.
The Origins of Mercari: Scarce Resources in Developing Countries
"I used to run a mobile gaming company."
Shintaro started off his presentation reflecting on his past career and the background that led to him establishing Mercari.
"After selling Unoh, the mobile gaming company that I established, I decided to travel around the world. During my travels, I visited many developing countries and found that despite the efforts of people living in these countries to live more fulfilling lives, they suffered from a lack of resources to do so."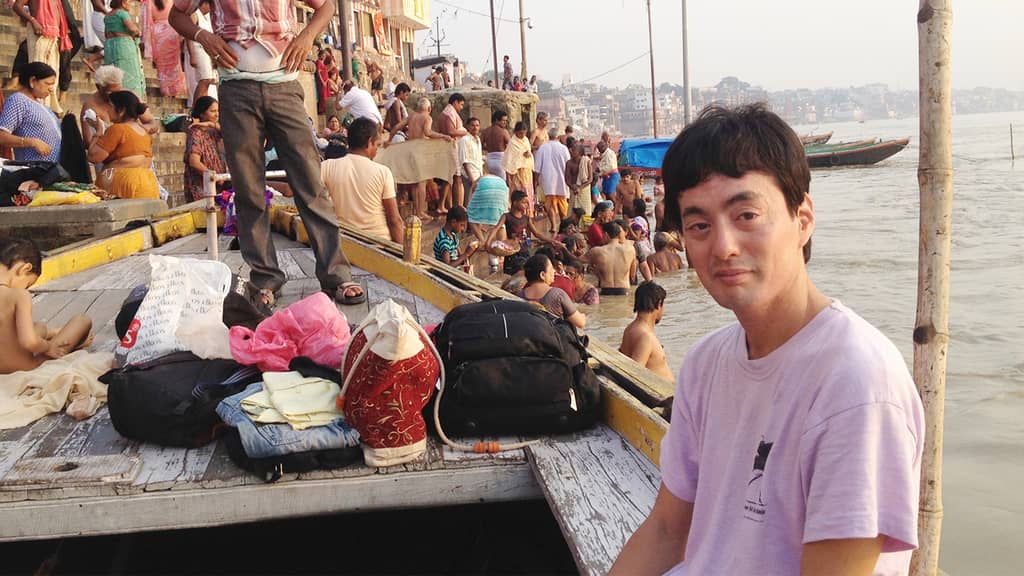 Shintaro on his trip around the world
With the challenges he saw in other countries still engraved clearly in his mind, Shintaro made his way back to Japan, where a certain sight led him to an epiphany.
Shintaro: "After returning from my round-the-world trip the thing that struck me most was the widespread use of smartphones. When I saw everyone around me holding their smartphones, I realized just how powerful of a tool they could be if more widely available to people in developing nations and throughout the world. I felt that by connecting people with one another through smartphones, everyone would be able to start to place greater value on the resources provided to them, helping to improve their quality of life."
This was the idea that went on to form Mercari. A world where clothes left in the back of the closet and other unwanted items that would be thrown away, could now find value in the hands of others, and a marketplace that made such transactions possible on a global scale. This is the true meaning of Mercari's mission to "create value in a global marketplace where anyone can buy and sell."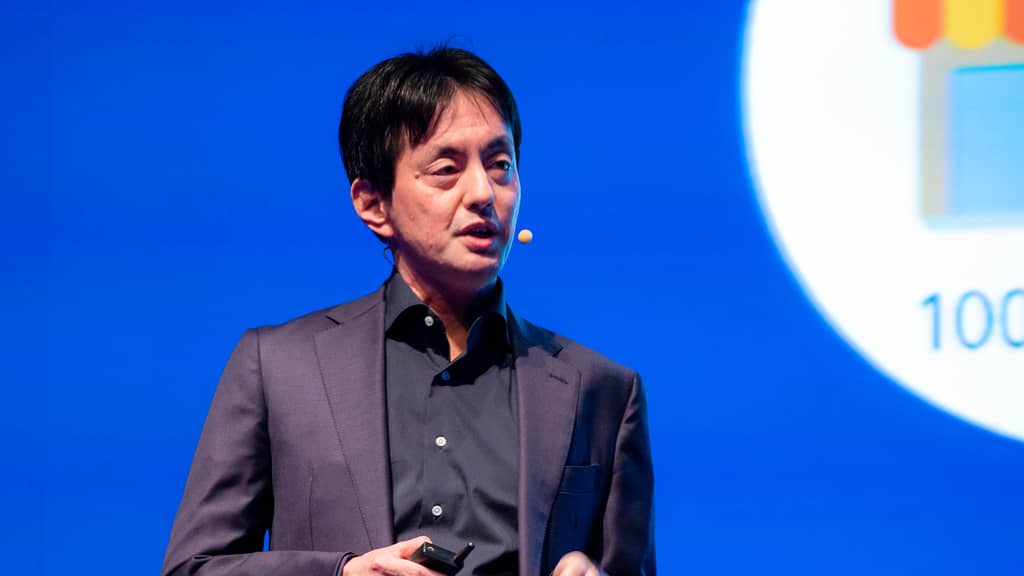 Shintaro Yamada (Mercari, Inc. CEO)
Making Mercari a Part of Everyday Life
Looking back on the six years from the initial launch of Mercari's service, Shintaro went on to discuss the current state of the service.
Shintaro: "Our monthly GMV is now over 40 billion JPY. The monthly average usage time per user is 5.3 hours, putting us up there with social media services. We have over 12 million monthly active users, and a total of over 1.1 billion items have been listed on the app."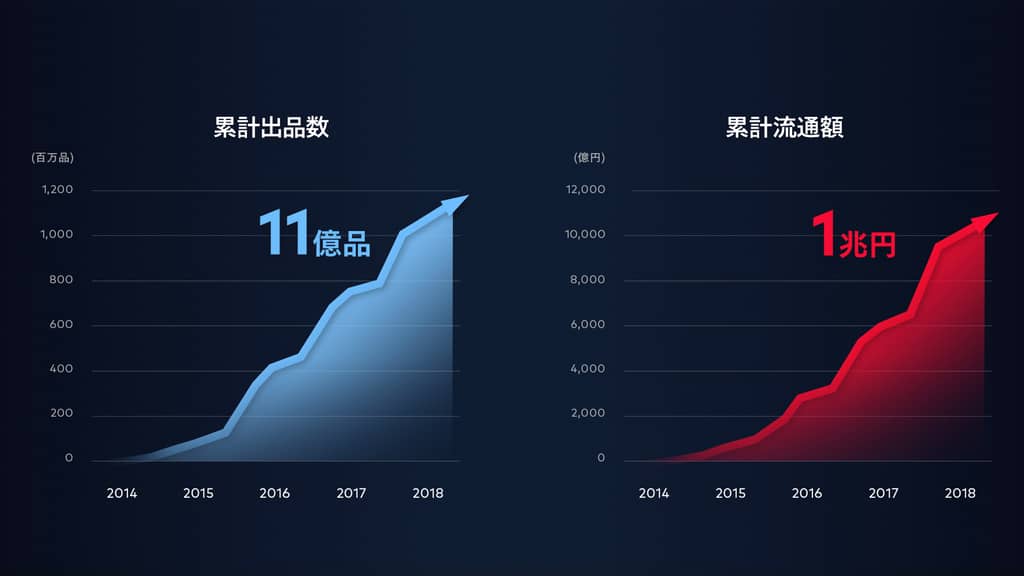 Total number of listed items:1.1 billion JPY (left), total GMV: 1 trillion JPY (right)
Shintaro: "We have seen an increase in the number of men using our service, and our users span a wide range of ages from teenagers to those in their 50's. Recently, there was the story of an elementary school student who made arts and crafts with their mom to sell on Mercari, learning about economics in the process. There was also a 79-year-old woman who became popular by putting her knitting skills to use, sewing handmade clothes to sell on the service. These kinds of stories really make me feel that Mercari has become a service which forms a part of people's daily lives."
Shintaro went on to discuss a new trend in consumer behavior brought on byMercari and other marketplace apps.
Shintaro: "Recently, you see more people buying things with the intention of eventually selling them later on. More and more people are checking how much they can sell something on marketplace apps for before they even making the purchase."
The advent of marketplace apps has also led to a boom in the use of related services. People are purchasing more packaging materials from dollar stores, paying to mail their items at post offices and convenience stores, and even taking items for cleaning or repair to patch them up before shipping. According to research supervised by Professor Hikaru Yamamoto of Keio University, this has led to an economic ripple effect of 75.2 billion JPY annually.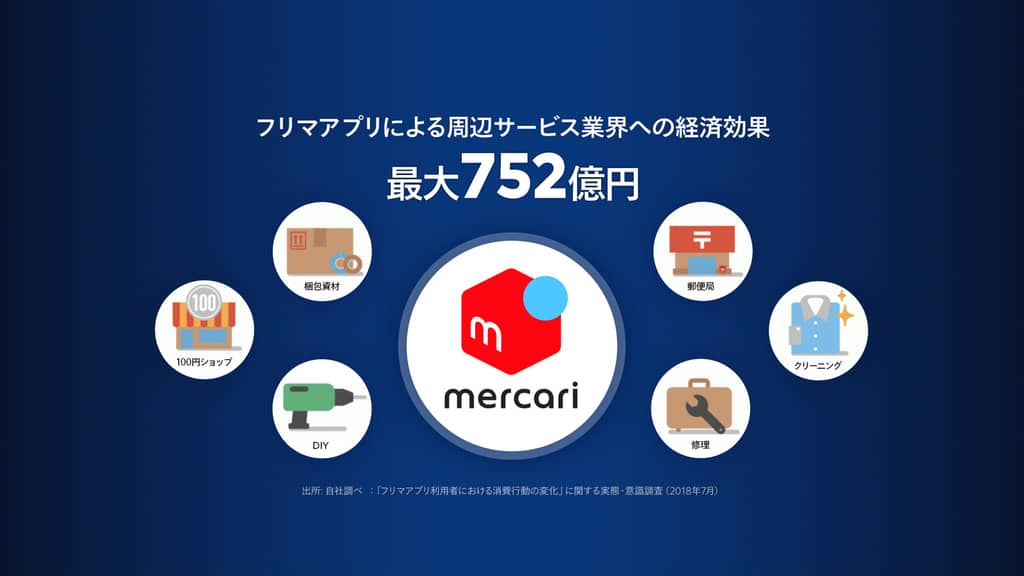 The economic effect of marketplace apps on related service industries
Merpay's Goal: Innovation to Improve the Liquidity of Money
Building on the success of Mercari, Merpay aims to take the service to the next level through mobile payments. Shintaro laid out this vision in his presentation to "create innovation to improve the liquidity of money."
Shintaro: "While providing a more convenient method of payment is one of our goals for launching Merpay, we want to go beyond that, using payment data to change the very flow of money itself. Our payment platform forms the basis for us to create a closer connection with users across industries, such as when they buy clothes, eat out at restaurants, and through other retail purchases. In doing so we hope to be able to create new value for our users. We don't want to form a closed economy, but want our service to be an open ecosystem that we build together hand-in-hand with business partners and stores."
Shintaro went on to talk about how Merpay will also lead to the evolution of Mercari itself.
Shintaro: "Up until now Mercari was limited to the listing of used items and C2C transactions. Now that users have the ability to use their Mercari sales balance through Merpay at physical stores, we expect to see a major change in the entire flow, from primary distribution to secondary distribution. This is exactly what we mean by changing the liquidity of money and the mobility of goods."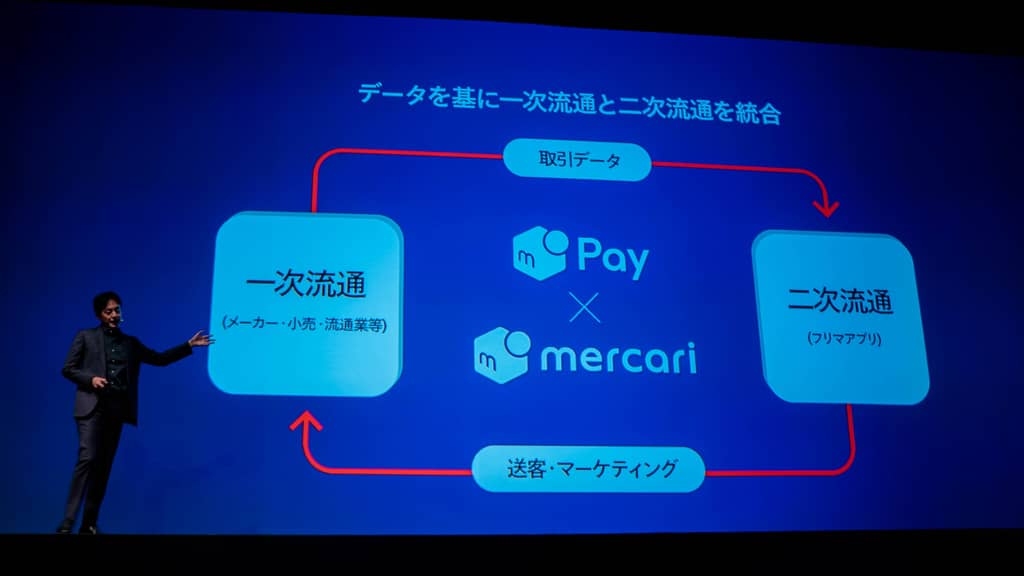 "Of course, making sure we pay due consideration to the personal information of our users is a prerequisite to this vision," added Shintaro as he wrapped up his session of the conference.
Shintaro: "In the future we hope to be able to use the data accumulated on Mercari and Merpay to help our business partners build their customer base, support them from a marketing perspective, and provide them with useful information to develop new products.
Up until now Mercari has been a service about empowering individuals, but through the launch of Merpay we also hope to become a force for empowering businesses as well."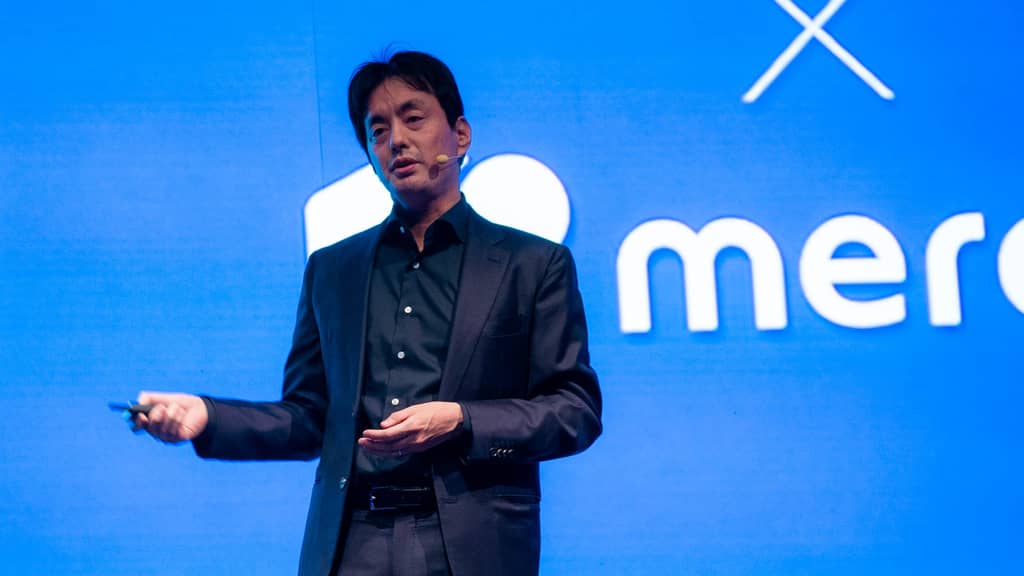 Why did Shintaro take this time to reflect on the path that led to him launching Mercari and the future that awaits the service? The answer lies in the challenges he saw facing the world during his time travelling through developing countries. The lessons learned from a step-by-step approach to bringing Mercari to the daily lives of its users, will surely help Merpay in bringing forth new innovation. Mercari and Merpay will continue to Go Bold in taking on new challenges!
Presentation
MERPAY CONFERENCE 2019 English from 株式会社メルカリ on Vimeo.
Shintaro Yamada

During his time studying at Waseda University, Shintaro launched Rakuten Auction as part of Rakuten, Inc. After graduating from university he established the company Unoh Inc., where he was responsible for launching various internet services such as 'Eiga Seikatsu' (a movie information site), 'Photo Zou' (a photo community site), and 'Machitsuku!' (a city-builder game). In 2010, Shintaro sold Unoh, Inc to the mobile games company Zynga. After leaving the company in 2012, he travelled around the world before returning to Japan and founding Mercari, Inc. in February 2013.