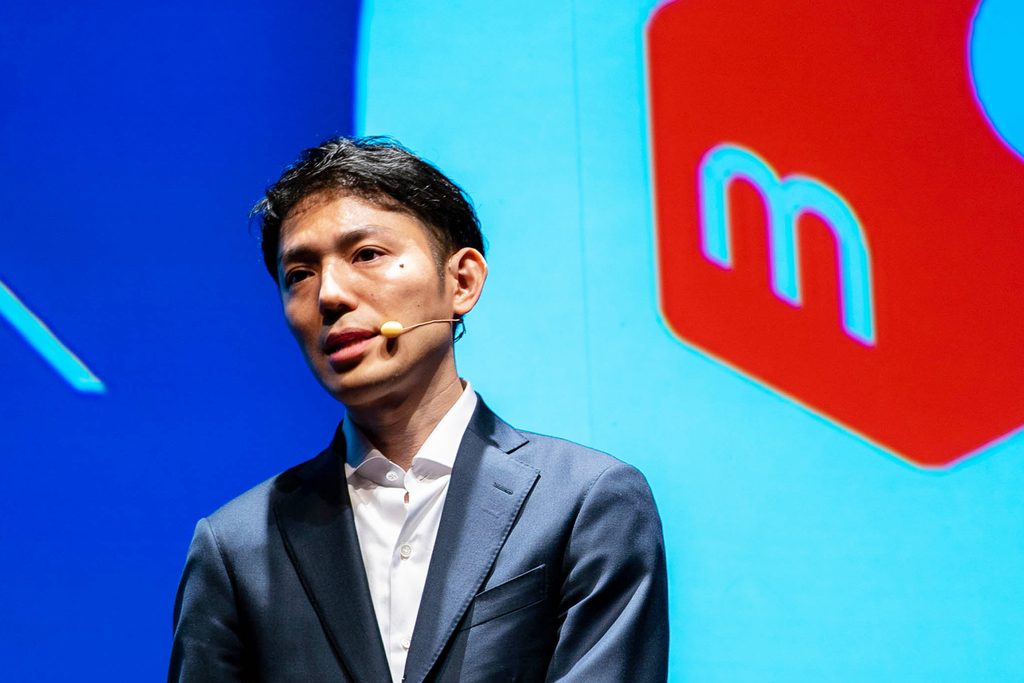 More Than Just a Payment Method: Naoki Aoyagi's Vision for Merpay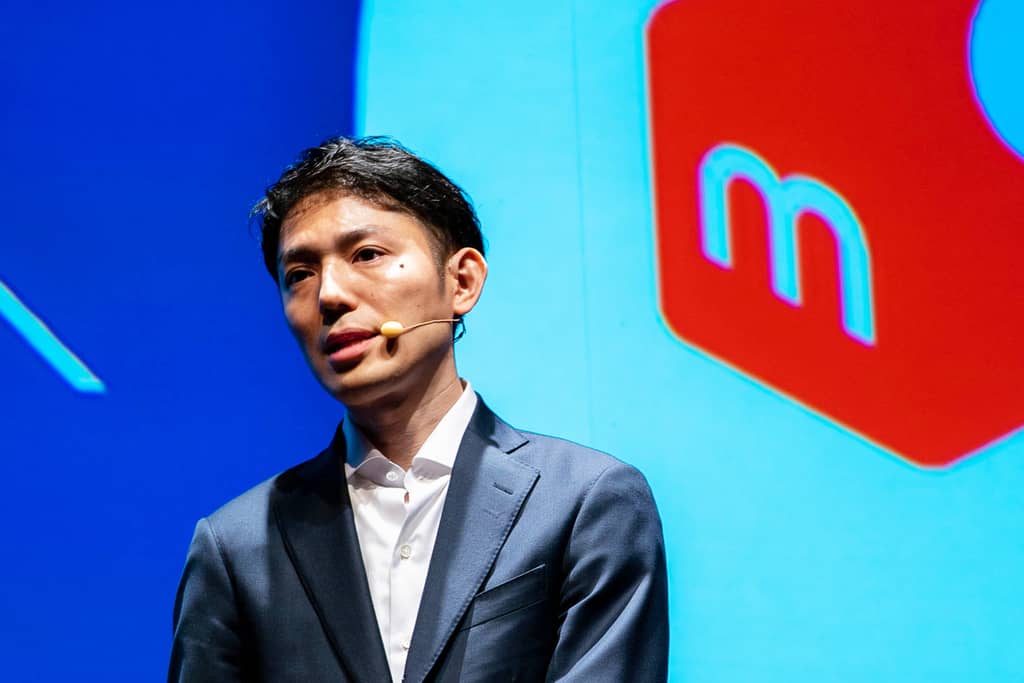 Merpay Conference 2019 was held on February 20th, 2019, marking the official launch of Mercari's mobile payments service Merpay.
Following the opening session by President and CEO of Mercari, Inc, Shintaro Yamada, Naoki Aoyagi, CEO of Merpay, Inc. took the stage. In his session, Naoki laid out his vision for Merpay's business and partnerships going forward.
"We want to be more than just a payment method." These were the words that formed the core of Naoki's speech, but how does this vision connect to Merpay's mission of "building trust for a seamless society"? The answer lies in Merpay's goals and the society it strives to create.
Three Reasons Merpay Will Become Part of Everyday Life
The Japanese government has begun proactively pushing for a cashless society, and the time is ripe for businesses hoping to bring cashless to Japan. However, the reality is that there are still very few places that accept mobile payments, and Japan's move towards a cashless society still lags behind current trends. With this reality in mind, Naoki put forward what he believes separates Merpay from other players working towards creating a cashless society.
In order to tackle the challenges of creating a cashless society, Merpay must first become a payment service used as a part of daily life. We are building Merpay with the same customer-centric perspective as Mercari, in order to make it a service that forms a part of user's everyday lives.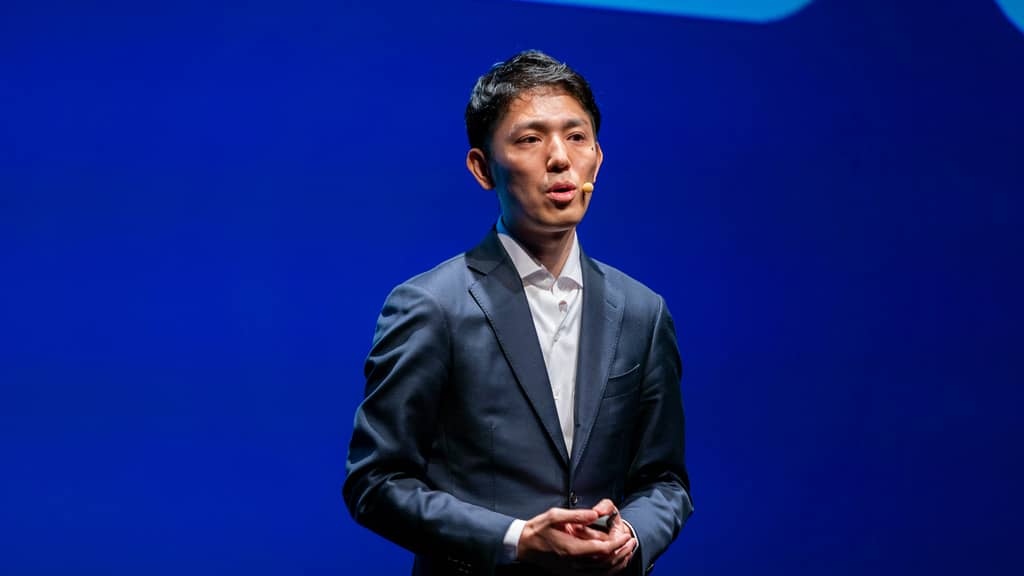 Naoki went on to speak about the main reasons he believed so strongly in Merpay's potential to become a part of people's everyday lives.
There are three main reasons Merpay has the potential to become a widely used service. First, our customers can sell their unwanted items on Mercari, and without having to transfer their sales balance earned on the app to their bank account, use it to make purchases at stores through Merpay. Second, from the very launch of the service, with a wide range of payment methods and compatibility with iD contactless payments, customers can use Merpay at over 900,000 merchant stores nationwide. Finally, existing Mercari users don't need to download a new app; they simply have to update their Mercari account settings to be able to use Merpay's mobile payment feature.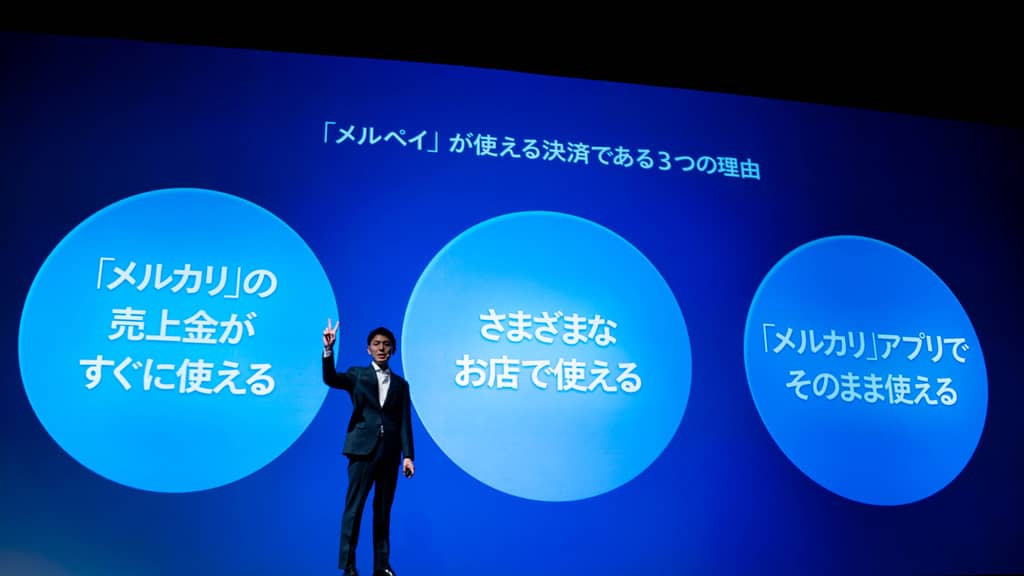 "We want to help promote a cashless society by changing the flow of payments. Our goal for Merpay is to create a world where people can sell things on Mercari and use the earnings to make payments through the service," continued Naoki, as he went on to talk about how Merpay intends to attract those to Merpay that don't have a sales balance on Mercari or have yet to even use the service itself.
Merpay is open to all, including even those that have not used Mercari. Our customers simply have to register their bank account on Merpay in order to charge directly from their bank account on the spot. Customers can enjoy a much more convenient experience by registering their bank accounts on the Mercari app. Doing so not only takes away the deadline for making payout requests, but also removes the need to convert their sales balance into points to make purchases. From the very launch of Merpay, users can connect to over 30 different banks including all of Japan's major banks, with this number expected to grow to over 60 different financial institutions.
Available Nationwide at 1.35 Million Stores
Naoki went on to discuss the role of code payments in achieving Merpay's goal to become a widely used service, and how code payments could help Japan transition to a cashless society.
By providing code payments as a method of payment on Merpay, we will be able to offer the service at a wider range of stores, beyond just those with iD contactless payments. For the initial code payment launch, our customers can make payments by scanning a code at the cash register. However, we want to expand this to offer other payment methods. In order to become a truly widely used payment service and to promote Japan's shift to a cashless society, we cannot rely solely on iD contactless payments. This is why we decided to offer code payments as well.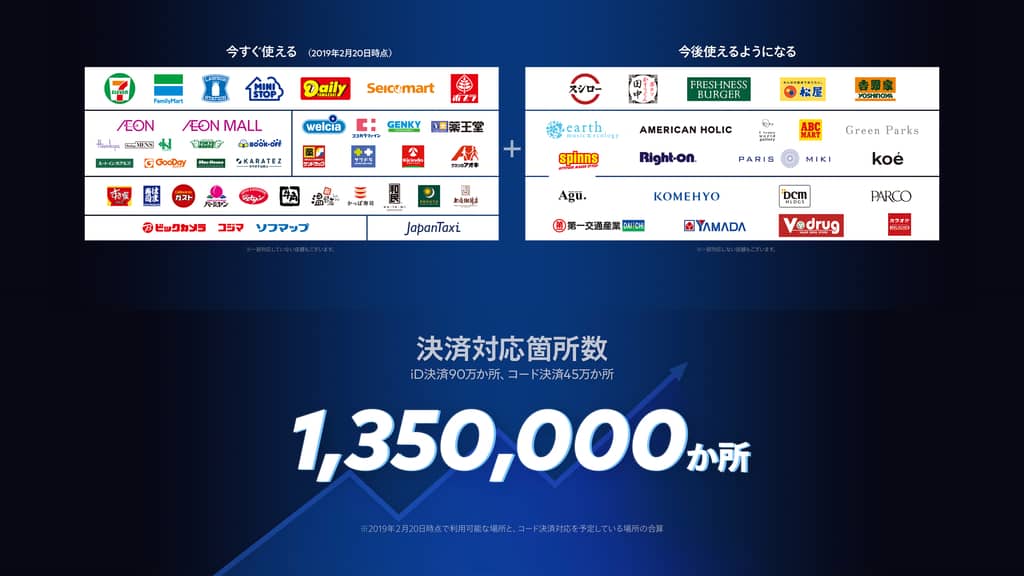 To what extent will code payments impact the number of stores that support Merpay?
At launch, Merpay will be available at 1.35 million stores nationwide. Customers can enjoy the service at a wide variety of shops such as convenience stores, drug stores, shopping malls, and fast food chains. We will continue to roll this out to an even wider range of industries, such as fashion, home centers, restaurants, karaoke, and beauty salons.
Naoki also spoke about the changes he noticed in communicating with corporations.
Thanks to the boom in code payments we saw in the later half of 2018, and government initiatives to promote cashless payments in light of the consumption tax increase to be implemented in October 2019, more and more stores are deciding to implement code payments. We want our service to be available at 2 million stores by the end of 2019.
Our partnership with Sumitomo Mitsui Card Company, Ltd was invaluable in expanding the number of merchants using iD contactless payments. During the conference Yukihiko Onishi, President, COO & Representative Director of Sumitomo Mitsui Card Company, Ltd, took to the stage to talk about this partnership."In order to promote a cashless society, it is important for people to experience the convenience of using cashless payments in everyday life, which is exactly where Merpay really shines."Seiichiro Ishibashi, an executive director of SEVEN-ELEVEN JAPAN CO.,LTD. also took to the stage as a representative of merchants using iD contactless payments."We believe that Merpay will bring an even greater level of convenience for consumers who are already using Seven Eleven for payments, packaging, and shipping for transactions on Mercari."
A Payment Service that Works for Both Customers and Merchants
Naoki went on to talk about Merpay's vision and plans for partnerships in the future. With ever more companies launching mobile payment services and joining the race to achieve a cashless society, users of these services can find themselves lost in a sea of apps, and merchants can find themselves overwhelmed by the different operations required for each service. How does Merpay see the situation?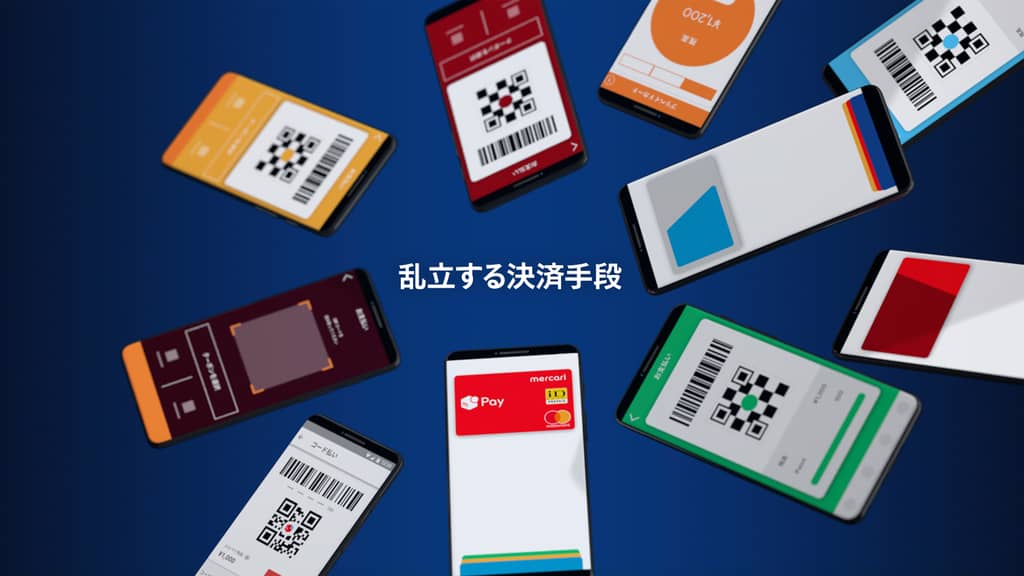 The push for a cashless society has been more or less left up to private businesses. However, if we continue doing things the way we are, we risk losing customers and merchants along the way, ultimately resulting in a chaotic mess of different codes for different payment methods, and competing services throwing points at customers to try and gain traction. This is the worst case scenario for Japan's move to a cashless society.
In that case, what should we as a mobile payments provider do to prevent this situation?
Merpay should not work alone in building its network of merchants. We should form partnerships with other payment service providers to further accelerate the shift to a cashless society.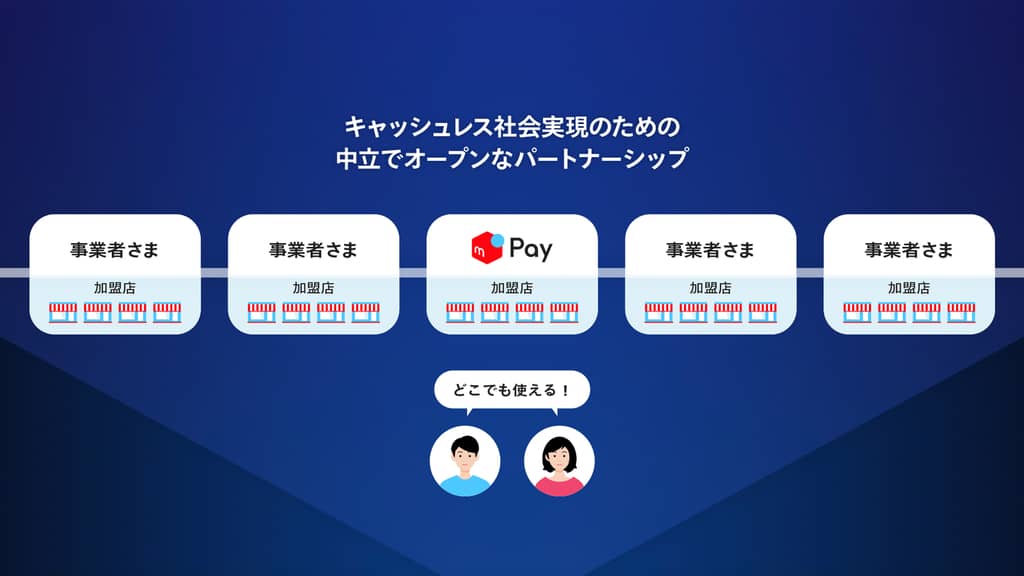 Building a network of merchants from scratch takes a huge amount of time and energy. By building partnerships with various enterprises and creating a neutral payment infrastructure, we hope to keep the initial burden of investment low for payment service providers, and see a wave of cashless payments surge throughout Japan. What should we do to make it easy for our customers to know which mobile payment service they can use at the register? Naoki shared one keyword to answer this question.
Payment services form the very basis of our social infrastructure. As part of this infrastructure, Merpay hopes to collaborate openly with other service operators to build meaningful infrastructure for payments. The keyword in achieving this is 'openness.' I believe that creating a truly cashless society the way we intend to requires neutral and open partnerships between business operators.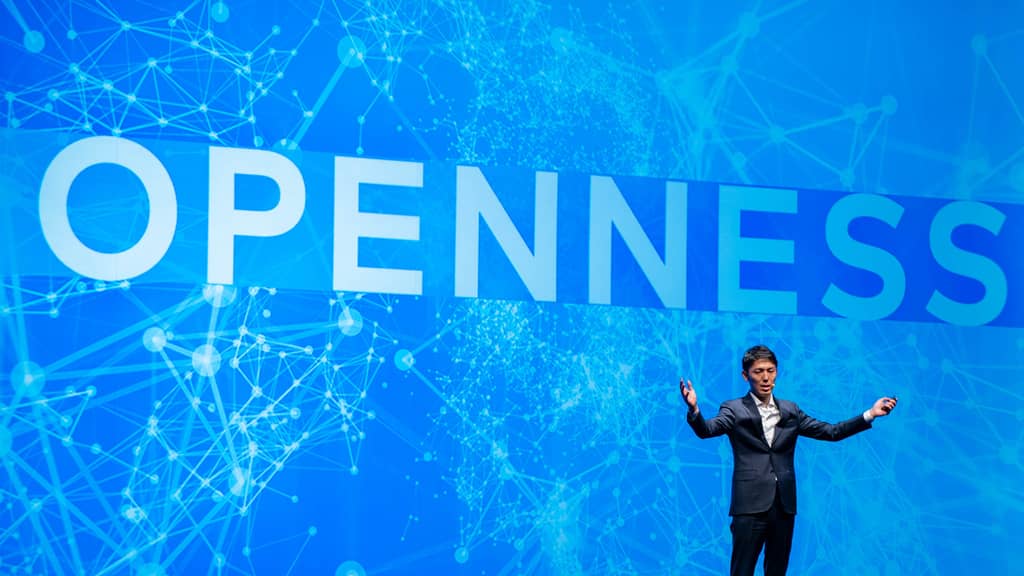 Both JCB and KDDI gave their endorsement of Merpay's open attitude towards partnerships. From JCB, Yasuhiro Maeda, CEO, Senior Executive Officer, and head of the company's sales division took to the stage to reveal the background behind their endorsement. "Not only do we expect to see an increase in sales by taking in Mercari and Merpay's user base of over 12 million monthly active users, but we also believe it will help with initiatives towards achieving a cashless society."Furthermore, Merpay and KDDI reached a general consensus on collaboration in expanding the number of merchants offering cashless payments, preluding the scheduled launch of KDDI's new service au PAY in spring 2019. "We want to create a new type of cash flow through the sales balances of Mercari and au WALLET balances."
Building a New Form of Trust with Merpay
What do we need to do to ensure cashless payments become widely used throughout Japan? Naoki shared part of his vision for Merpay.
Merpay's mission is to 'build trust for a seamless society.' In order to achieve this mission, we are working on forming a strong and open infrastructure for payments, and creating an ecosystem that we can build together with Mercari users, Merpay users, and the customers of our partners.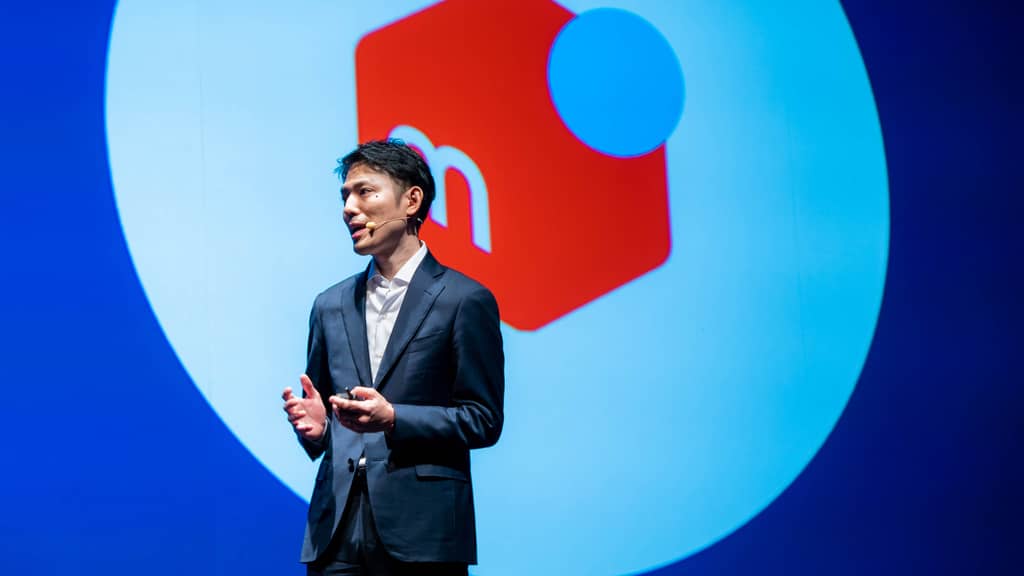 However, our challenge doesn't end there. We want to make use of the transaction data from Mercari, Japan's biggest marketplace app, and the new wave of economic activity brought about by Merpay to create a new form of 'trust' for our customers, by looking closely at transaction data and purchase behavior."
This idea of trust is different from the conventional concept of credit, Naoki continued.
But how exactly does it differ?
A new form of trust. What we envision is a world where people can achieve their goals and do what they love, even if they don't have the cash immediately at hand to do so. Mercari launched its monthly deferred payments service in 2017, allowing customers to make purchases on Mercari using credit and make the actual payment in the following month. We plan to renew this service around spring 2019, renaming it Merpay Deferred Payments, and make it available for deferred payments outside of Mercari itself at both online and offline stores.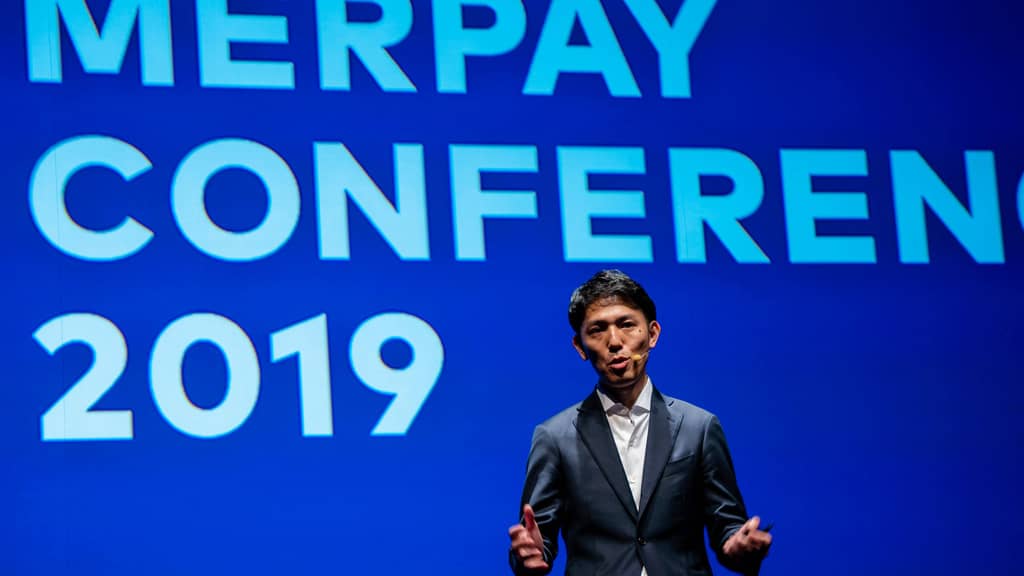 Merpay aims to build a world where people are able to rely on a new form of trust to achieve the things they want in life even if they don't have the money to do so on hand at that time. Naoki wrapped up his presentation by touching on his ideas on how people interact with money.
We are offering more than just a payment method. Creating a new ecosystem starts with developing the foundation for a cashless society. By changing the very way in which people interact with money, we can create a more fulfilling, convenient lifestyle for all. This is the kind of society we want to make a reality.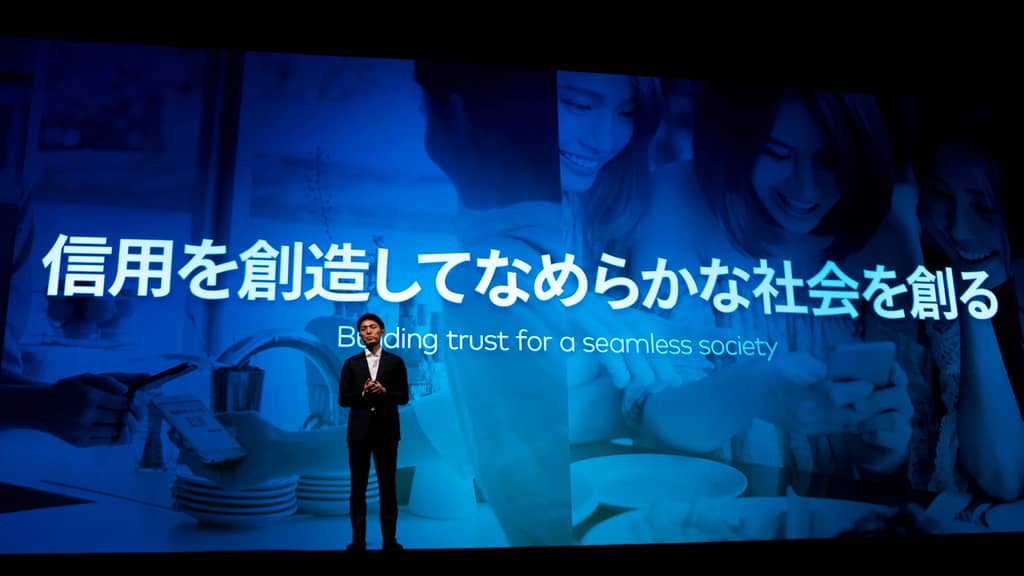 In this way, Merpay has really set itself apart from other mobile payment services. Perhaps
as a result of the launch of Merpay and the birth of this new form of trust, we will see more people in society going on to achieve their dreams. We believe that Merpay's mission of 'building trust for a seamless society' will serve as a pillar of support to achieve Mercari's very own mission to 'create value in a global marketplace where anyone can buy & sell.' Please follow us on this journey to create the world we envision at Merpay.
Presentation
MERPAY CONFERENCE 2019 English from 株式会社メルカリ on Vimeo.
Personal Profile
Naoki Aoyagi

Joined GREE, Inc. after working in the Investment Banking Division of Deutsche Bank. Experienced roles as a member of the Board of Directors, CEO of GREE's US corporation, and director of GREE's business division before leaving GREE in September, 2016. Started his current role at Merpay, Inc. in November 2017. Using his expertise and insight on global finance and the tech industry, led the development of Mercari's payments and finance business. Became a member of the Board of Directors for Mercari, Inc. in September, 2018.