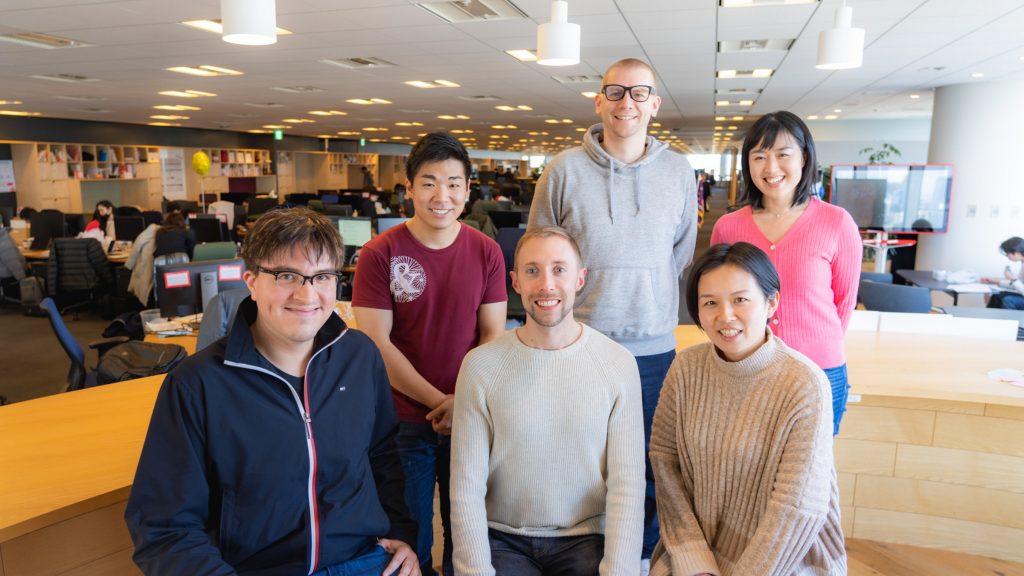 Mercari's unique language support: Creating inclusive communication where Japanese speakers and English speakers can meet halfway
To achieve our mission to create value in a global marketplace where anyone can buy & sell, Mercari is aiming to build a diverse organization where people from all over the world can thrive.
Right now, employees from overseas make up approximately 40% of Mercari's engineering organization. English is particularly crucial for communication in product development. To keep up, Japanese members in need of English skills take on the language learning programs offered by LET (Language Education Team).
But the goal of these programs is not only for all Mercari employees to be able to speak English fluently; the team aims to create an environment where all employees can communicate with each other regardless of nationality or language. In this article, we talk to LET to learn more about their initiatives supporting communication at Mercari, including English education, Japanese education, and "easy & kind communication" seminars for employees.
Creating an inclusive communication environment across languages
ーFirst, can you explain LET's mission?
Marc: LET's mission is to create an inclusive communication environment. We provide language learning programs tailored to each individual's level so that all members of Mercari's diverse organization can communicate smoothly.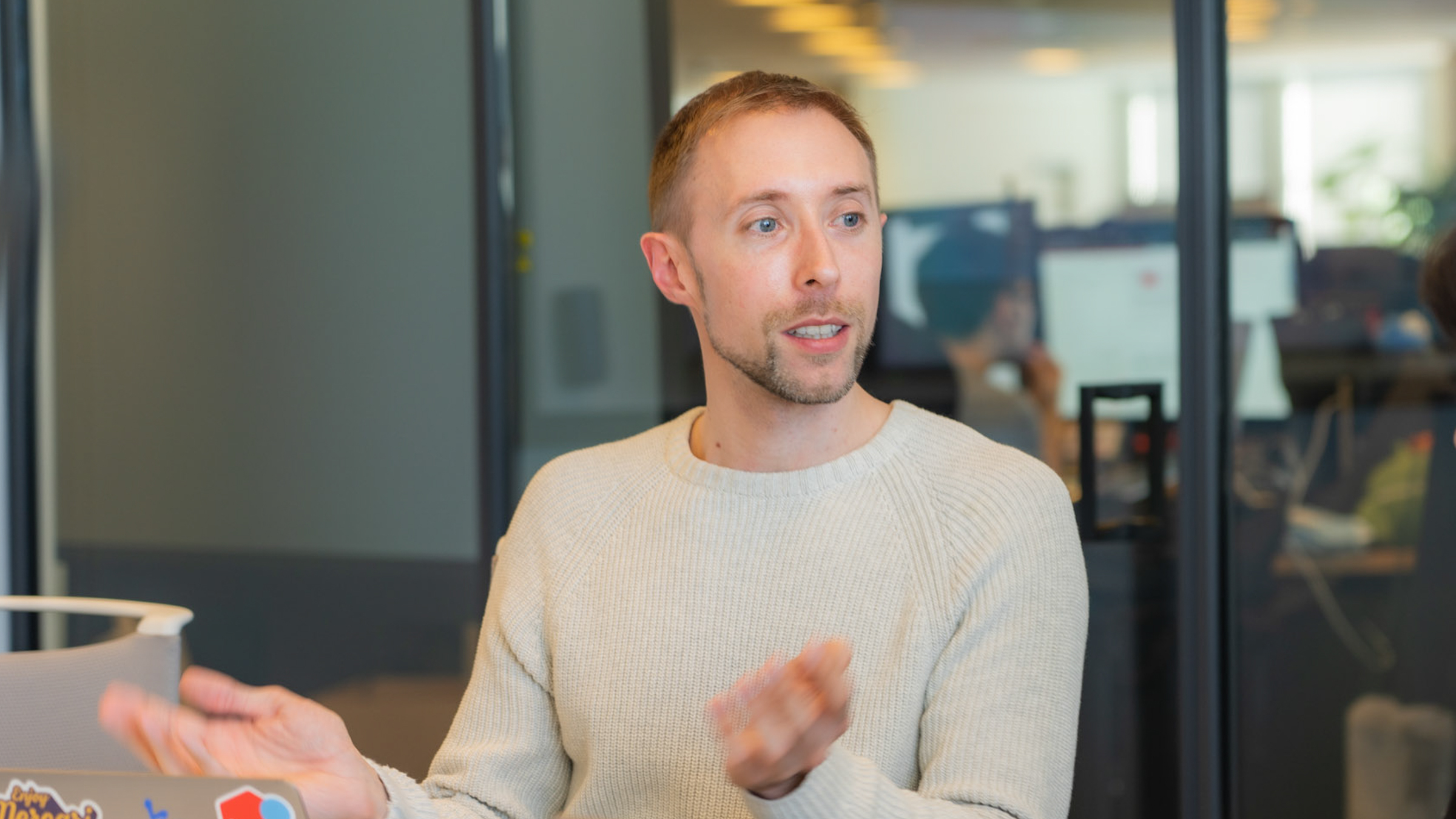 Marc Anderson (LET manager)
Marc: Our language learning programs are based on CEFR (Common European Framework of Reference for Languages; an international standard for describing language ability), which is the same for both Japanese and English.

Marc: Japanese employees work hard to learn English, and non-Japanese employees work hard to learn Japanese. But while working hard and showing results is important, that's not our only goal. What's most important here is that all Mercari employees can communicate with each other smoothly, regardless of nationality.
ーI've heard LET runs "chat lunch," a system where members are put in random groups each month to casually chat in English and Japanese.
Marc: Chat lunch is a system where every month, we randomly assign members to groups of four people, and have them go to lunch together up to four times within the month. English chat lunches must be in English, and Japanese chat lunches must be in Japanese. In addition to giving members opportunities to practice their speaking skills, it also encourages social interaction.
ーThis is a really popular system within the company. It's particularly Go Bold that the company covers all costs of the lunch, isn't it?
Marc: The chat lunch system was started in May 2018 for employees who struggled to find opportunities to practice speaking the language they've been learning. We wanted to provide opportunities for learners to practice foreign languages casually over lunch, as a supplement to English and Japanese lessons. When chat lunch first started, there were only about 30 participants, but now we have more than 400.
Understanding different cultures and mastering English as a universal language
ーAs the Mercari organization expanded rapidly, the number of members from overseas also shot up. Did the expectations other teams had of LET change as a result?
Marc: The demand for English changed a lot! LET was formed in October 2018, and most of the members taking lessons were Japanese speakers. However, over the past year and a half or so, the number of non-Japanese engineers working on Mercari JP has grown to approximately 40%, and more and more of the communication in the engineering organization needs to be done in English. As a result, the number of members who suddenly found themselves needing to learn English has increased.
ーWhat kind of English training do you provide?
Riley: We mainly focus on EMs (Engineering Managers), engineers, PMs (Product Managers), and other members who particularly need to use English in their work within the company. We offer three English study courses: Foundation Course, Communication Course, and Manager Course.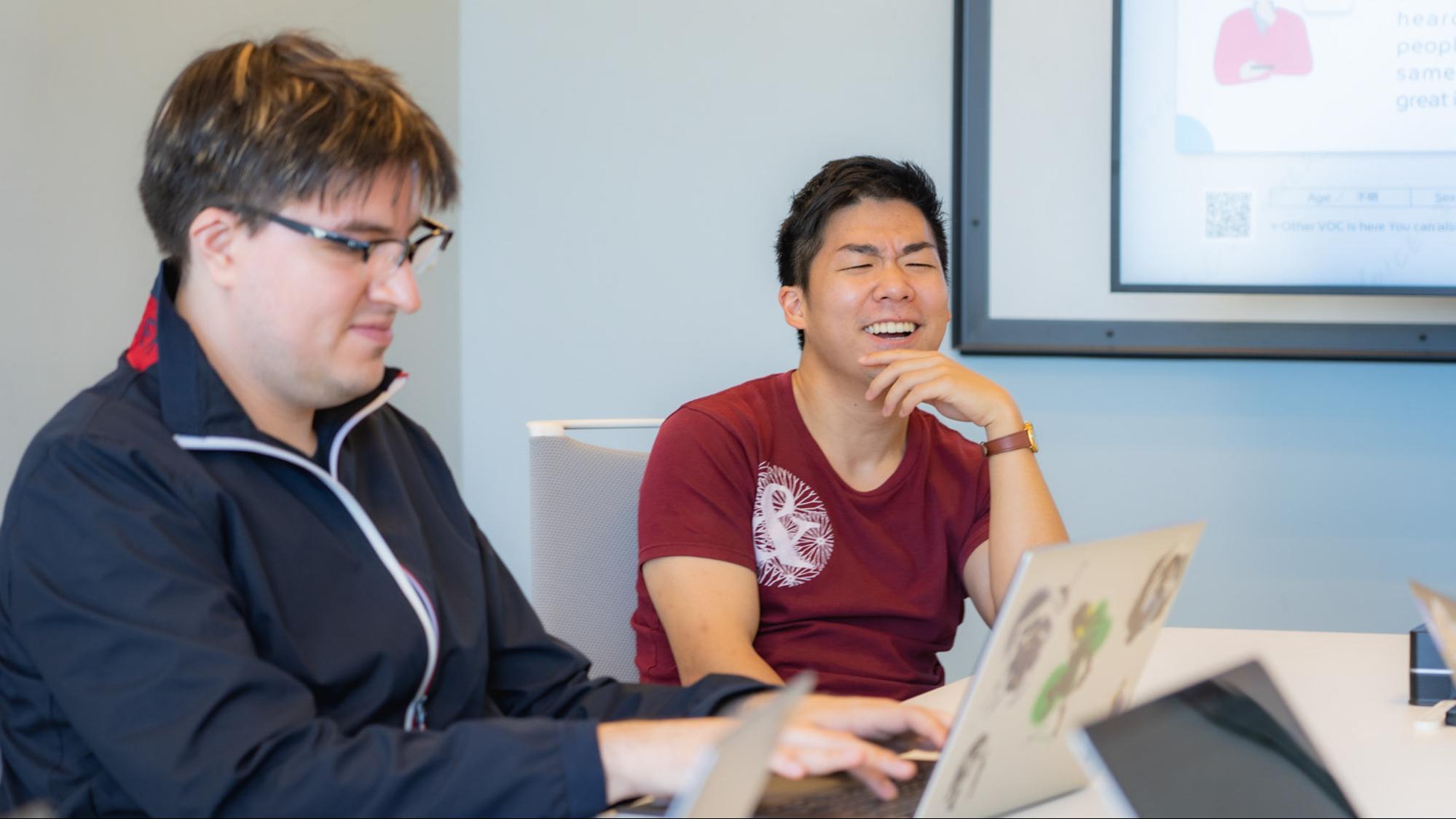 Front: David Guerrero (LET English trainer/coach and business coach), back: Riley Masunaga (LET coach and program coordinator)
David: The goal of the Manager Course is that participants can handle management work in English without needing any translation support. To do so, they must master advanced-level English skills.
Riley: The core of the Manager Course is self-study, so we mainly provide coaching. We need to make sure participants study ten hours a week, after all! LET members become their coach, and create learning schedules, provide homework, offer consultations, manage progress, give feedback, and more to completely support them in learning English. We reach out to them on Slack to check in a few times a week, correct things they've written, and help them out whenever they have questions or concerns.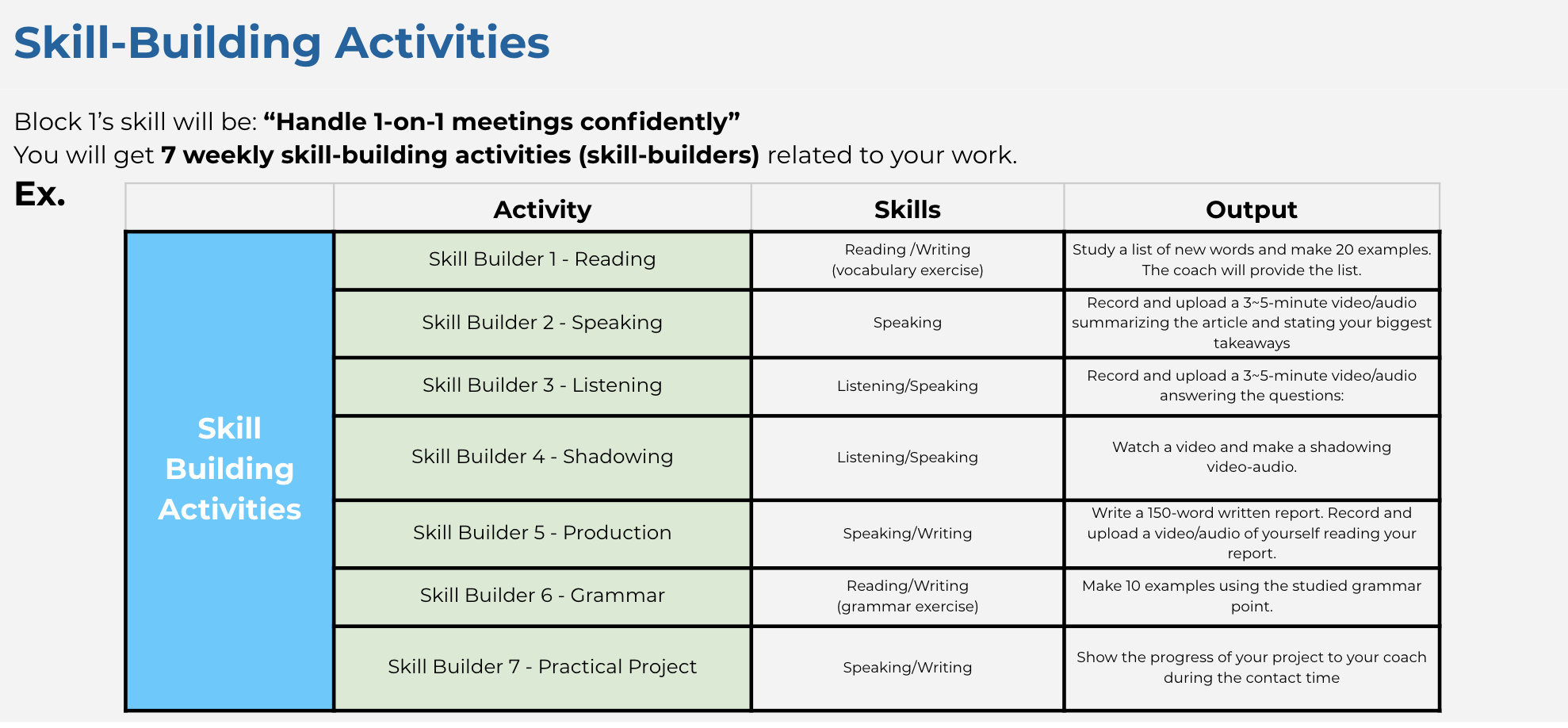 David: The other courses are mainly self-study as well. We created the teaching materials used in the Manager Course ourselves to match the vocabulary and communication styles used at Mercari.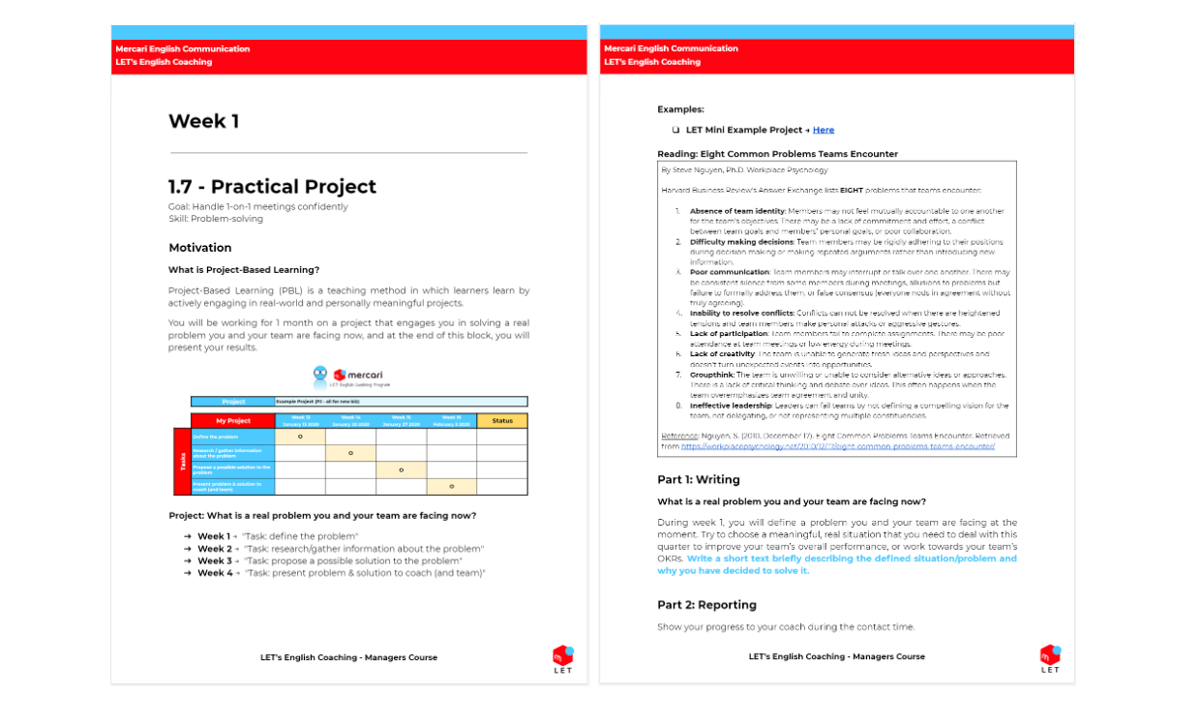 ーJust one look at LET's materials and I can already tell that they're full of practical content for working at Mercari. Have the employees taking your English learning programs shown improvements?
Marc: 93% of members who have taken our English learning programs have improved their English. Also, the speed of learning is about 30–50% faster than that of general English training programs.
ーThat's amazing! LET offers Japanese programs as well, right? What are the Japanese classes at Mercari like?
Asako Tanaka: We run a Japanese training program called "MerClass." The employees who come from overseas to work at Mercari are all at different levels of Japanese. Generally, it's said that it takes Japanese learners 2.5–3 years of study to reach B1 (the level at which one can independently communicate while going about their daily life), but on average, MerClass participants reach B1 level in about a year. Our internally-developed Japanese learning program consists of two hours of Japanese group lessons per week and 1.5 hours of self-study per day. Right now, there are about 60 employees from overseas taking MerClass.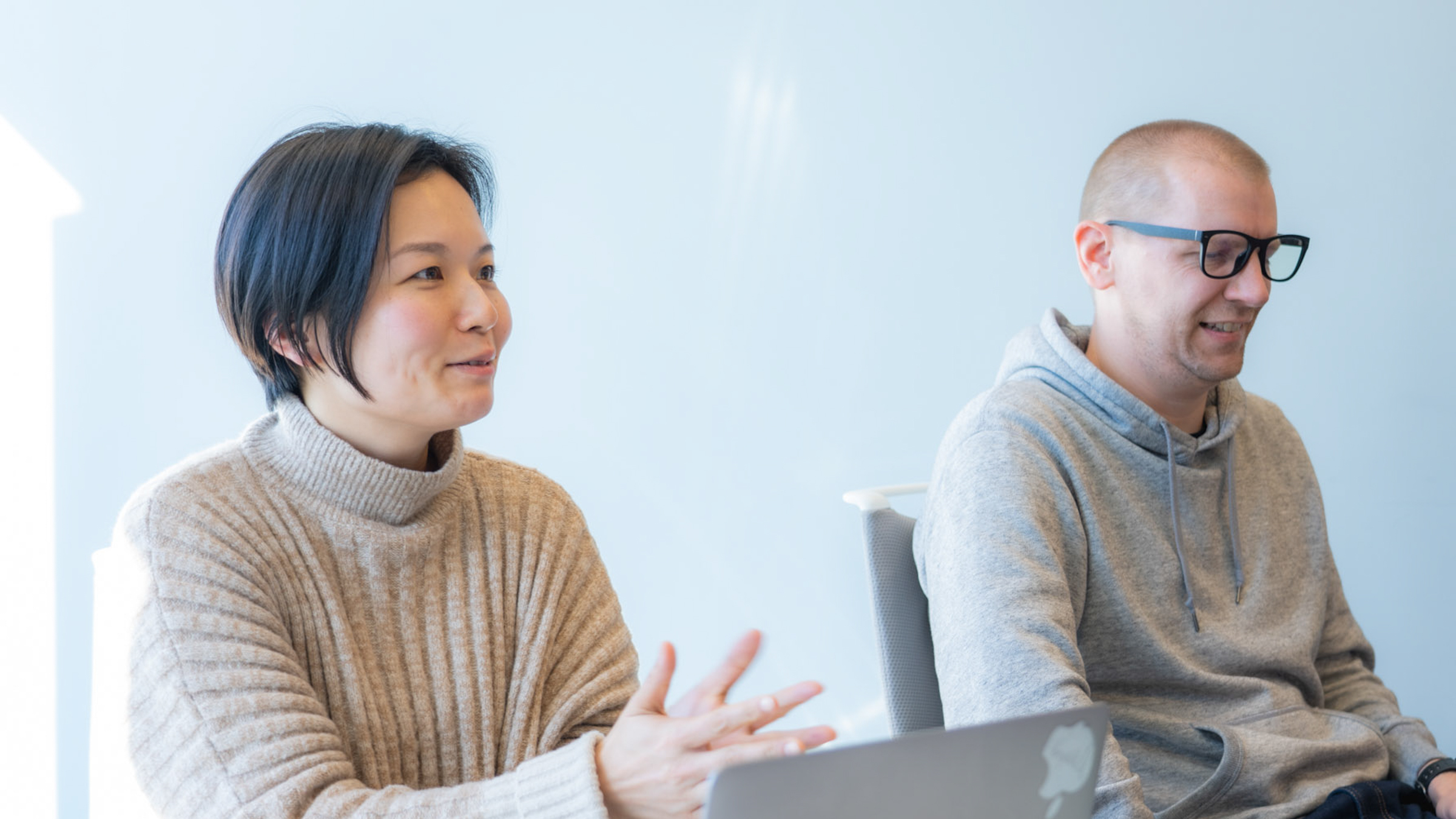 Front: Asako Tanaka (LET Japanese trainer)
ーWhat makes MerClass so special?
Asako Tanaka: We emphasize learning language necessary for communication between employees, so our participants learn Japanese more than three times faster than the average native English speaker learns Japanese.
Masayo Wilson: For example, we had employees coming from India who studied at a Japanese language school eight hours a day for a total of eight weeks before moving to Japan. But they had just memorized unnatural Japanese phrases, and could only do simple greetings. Once they started taking MerClass, their Japanese abilities changed completely. After only one class, they could say greetings like "otsukaresama" in a natural-sounding way, and after two or three classes, they could make a reservation and order food at a restaurant. We hear a lot of positive feedback from MerClass participants, too: "I made a reservation over the phone!" "I was able to ask the waiter for no tomatoes!"
Using Mercari's unique "Yasashii Communication" to help English speakers and Japanese speakers meet halfway
ーIn addition to English and Japanese, LET also focuses on "Yasashii Communication" ("Easy & Kind Communication"), where both sides make effort to meet halfway. This isn't something you hear very often from other companies; can you explain what it is?
Masayo Wilson: We developed our own Yasashii Communication seminar combining "easy & kind English" and "easy & kind Japanese." This is a 1.5-hour seminar that we've been putting on for individual teams at Mercari since July 2019.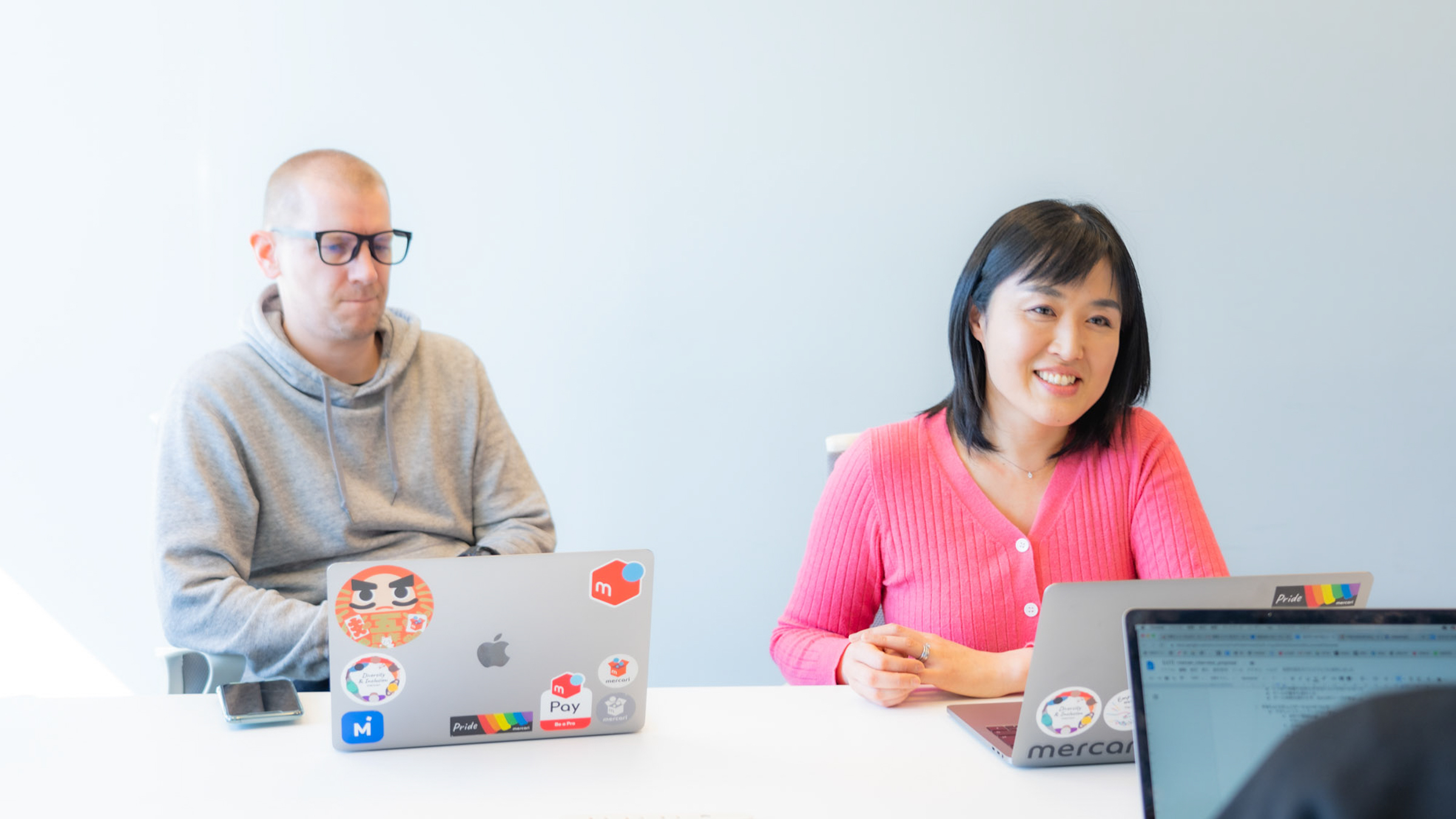 Left: John VanSomeren (LET English trainer/coach and Yasashii English trainer), right: Masayo Wilson (LET Japanese trainer and Yasashii Japanese trainer)
ーWhat inspired you to develop this seminar?
Masayo Wilson: As mentioned earlier, we provide both Japanese and English learning programs at Mercari to boost language ability, but learners on both sides have to communicate while they're still learning. Instead of putting the burden of keeping up on the learner, native speakers and advanced speakers meeting learners halfway makes communication so much easier. To encourage that, we developed Yasashii Communication.
John: The goal of the seminar is for teams to find best practices for communicating within the team. I speak in English, and Masayo speaks in Japanese. We use "easy & kind" language as much as possible in the seminar.
ーCan you give some examples of Japanese and English that isn't "easy & kind"?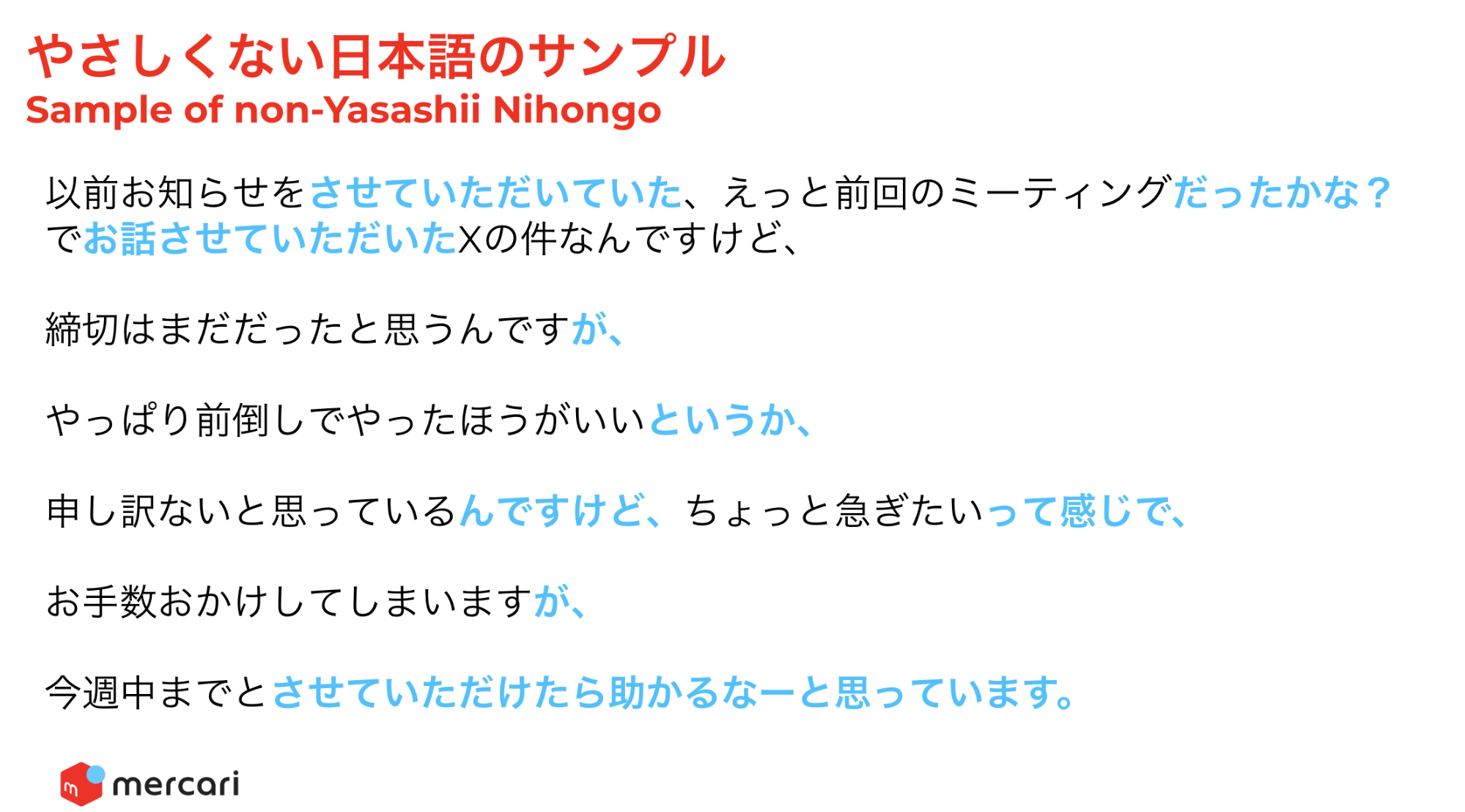 Masayo Wilson: For example, all of these are sentences that were actually said in meetings, but most Japanese learners hear these and can't tell what the speaker is trying to say. There are a number of problems here: long sentences, ambiguous phrases, unnecessary formalities, indirect requests, etc. Phrases with giongo and gitaigo (onomatopoeia) and expressions using abbreviations and slang are also difficult to understand.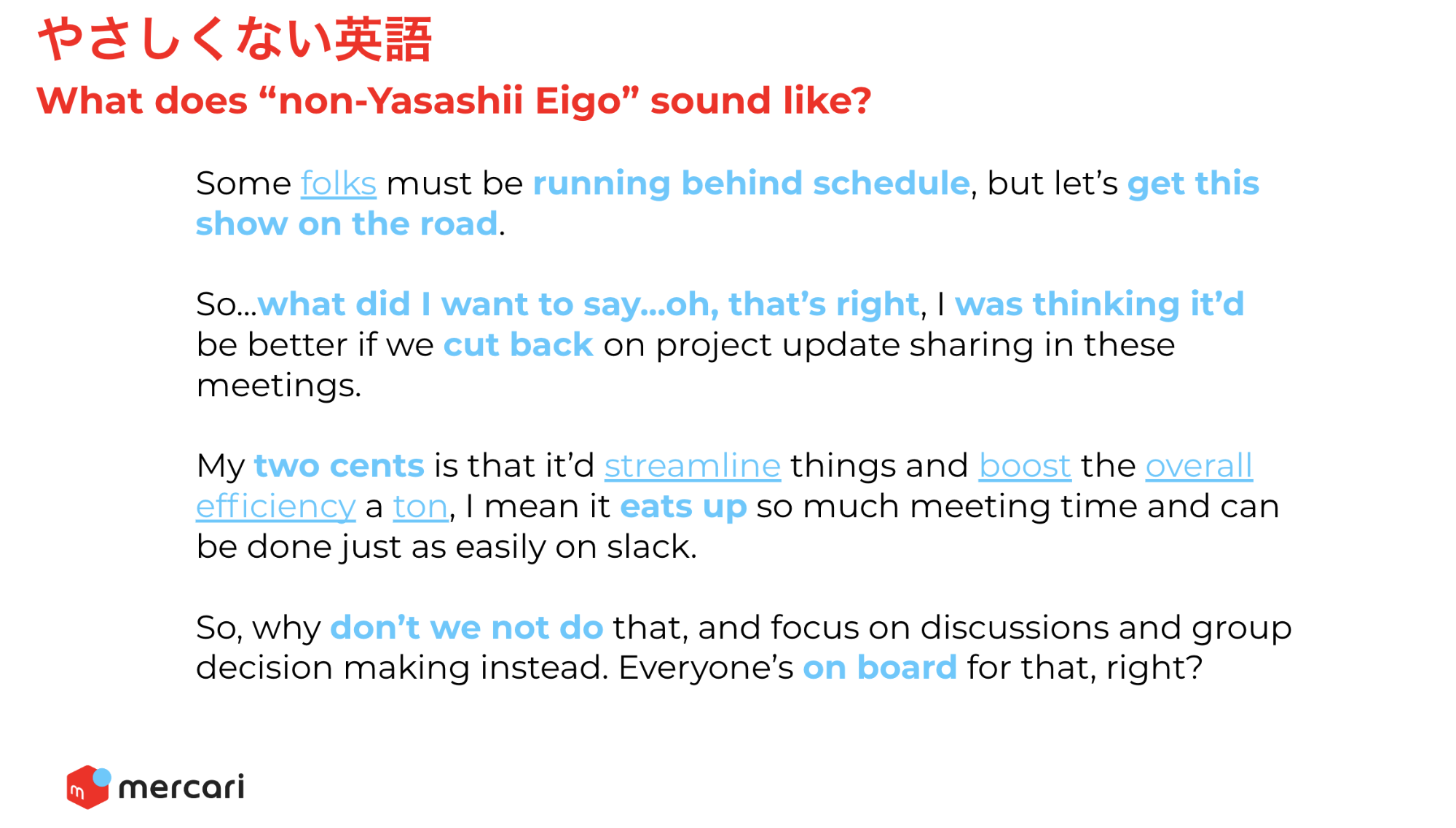 ーWhat kind of feedback have you received from teams who have taken the Yasashii Communication seminar?
Masayo Wilson: Japanese speakers have told us that it has helped them be less hesitant about speaking English. They feel safe knowing that even if they make a mistake, they won't be judged for it, and so they're able to speak more in English. We also heard from new-grad engineers from overseas that they've been asked to repeat themselves less frequently.
ーWith programs to boost English and Japanese language ability, Yasashii Communication seminars, and even chat lunches, it's clear that LET provides communication support for Mercari's diverse members on many different levels. Thank you for your time!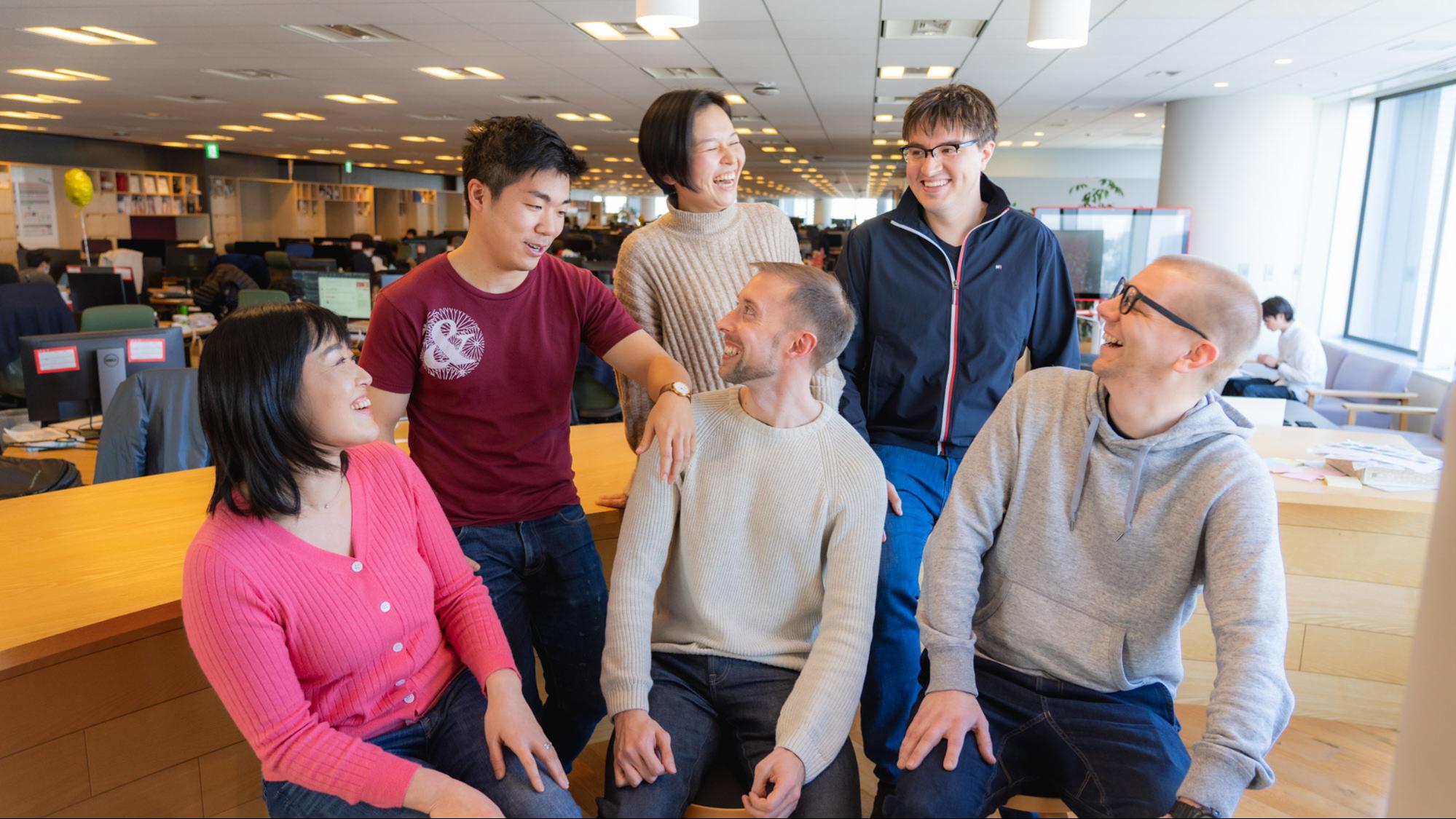 Marc Anderson (LET manager)

Marc, from Scotland, has worked as a Business English trainer in DeNA, and also in the field of international exchange at Aoyama Gakuin University and Kagawa University. He joined Mercari in February 2018 as a GOT member before becoming the manager of LET later that year.

David Guerrero (LET English trainer/coach and business coach)

Colombian-born David Guerrero is a trilingual (Spanish/English/Japanese) language trainer/coach and business coach. He worked for five years as an English trainer in Japan before assuming his Business English Coach position at Mercari, where he leads development of the Manager's Course. David is also a founding member of the International Language Coaching Association (ILCA).

Riley Masunaga (LET coach and program coordinator)

Born and raised in Hawaii, Riley has worked in tech startups around the US and Japan as a marketer and strategist since 2012. As a coach and program coordinator at Mercari, his main area of focus is analyzing program data and implementing process improvement for the team.

Asako Tanaka (LET Japanese trainer)

After working in sales at Recruit Co., Ltd., Tanaka made the decision to become a Japanese trainer. She has been in charge of Japanese training for overseas exchange students, businesspeople, embassy staff, and their families. At Mercari, she develops and carries out Japanese programs and speaking tests.

John VanSomeren (LET English trainer/coach and Yasashii English trainer)

Since he began working as an in-house Business English trainer in 2010, John has worked at Zynga, DeNA, and most recently joined Mercari in May 2018. In addition to his role as a Language Coach, he is responsible for co-leading the Yasashii Communication initiative.

Masayo Wilson (LET Japanese trainer and Yasashii Japanese trainer)

After working at a foreign international distribution company, Wilson began working as a Japanese trainer in 2013. She has been in charge of Japanese education for overseas exchange students, businesspeople, and future nurses and caregivers. She joined Mercari as a Japanese trainer in July 2018, and develops and carries out Japanese programs and speaking tests. Wilson also leads the Yasashii Communication in-house training program as a Yasashii Japanese trainer.