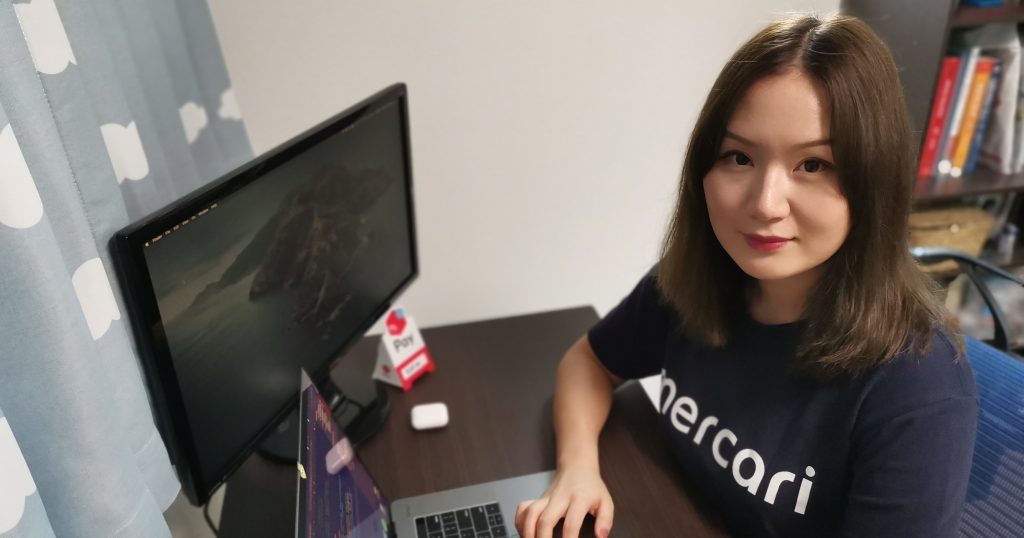 How "Trust and Openness" reflects on engineering culture at Merpay: Meet iOS Engineer Celia #WeMakeMercari
Mercari has grown to become Japan's largest marketplace app, where anyone can buy and sell. However, our journey does not end there. To fulfill our goal of creating a "global marketplace," we have welcomed talents from all over the world to Mercari's Tokyo office—around 40 countries and counting.
In the #WeMakeMercari series, we would like to introduce you to some of the remarkable talents in the company. In this episode we sat down with Merpay iOS engineer Celia. Merpay is a mobile payment service within our marketplace app Mercari, which allows our users to use the sales balance they earn from selling things on the app at stores nationwide. Read on to hear more about why Celia joined Merpay, the current challenges she is tackling, and our engineering culture.
Disclaimer: This interview has been conducted online. All Mercari employees are currently working from home as stated in our CEO statement in regards to the novel coronavirus.

In this interview




Yunjie Li (@Celia)

Celia is an iOS engineer working at Merpay. She has been developing iOS apps since 2013, and has worked on a variety of projects for social media, education, health, and mobile payments. She can speak Chinese, English, Japanese, and a little bit of Korean. She enjoys writing Swift code, helping her team to increase productivity with fastlane, GitHub actions, and CircleCI. She also developed tools for team collaboration using GitHub and Slack API. She is currently learning illustrating in Procreate using iPad and Apple Pencil in her spare time.
---
"I strongly believe in the vision of creating a product that solves real-life issues."
ーTell us about your career journey so far.
After graduating from university I started my career at a company that runs a medical community website. I did not have a clear idea of what I wanted to do back then, and since most people choose web development, I decided to go with the odd choice and started iOS development. I learned iOS development mostly through self-studying and online Stanford courses. I then worked at a payment service company and then eventually moved to Japan, looking for a new challenge where I can utilize my Japanese language skills that I gained in university.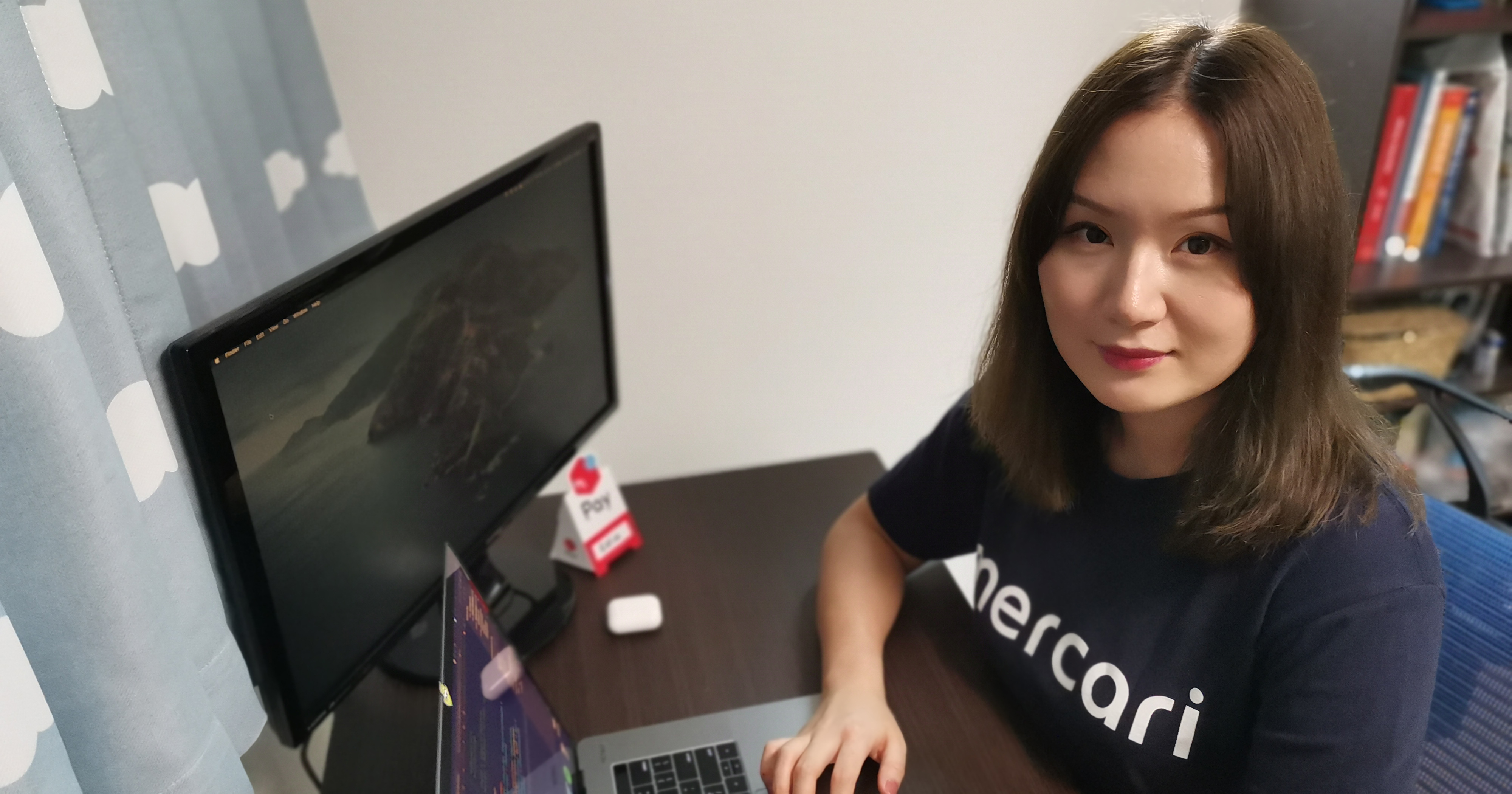 ーWhy did you decide to join Merpay?
To be honest, I was not actively looking for a career change, but after talking to a few of the Merpay members, I became curious to find out what the future of Merpay entails. In China, where I am from, you can go out with just your mobile phone and basically go anywhere. In Japan you still have to carry cash around a lot of the time. When I first heard about Merpay, our product was not launched yet, and I wanted to experience being part of bringing a product to life from scratch, and seeing how that would affect society and benefit others. Working on a product from scratch of course had its challenges, but being able to be there when the product was released and being able to celebrate with my teammates was one of the most exciting moments in my career.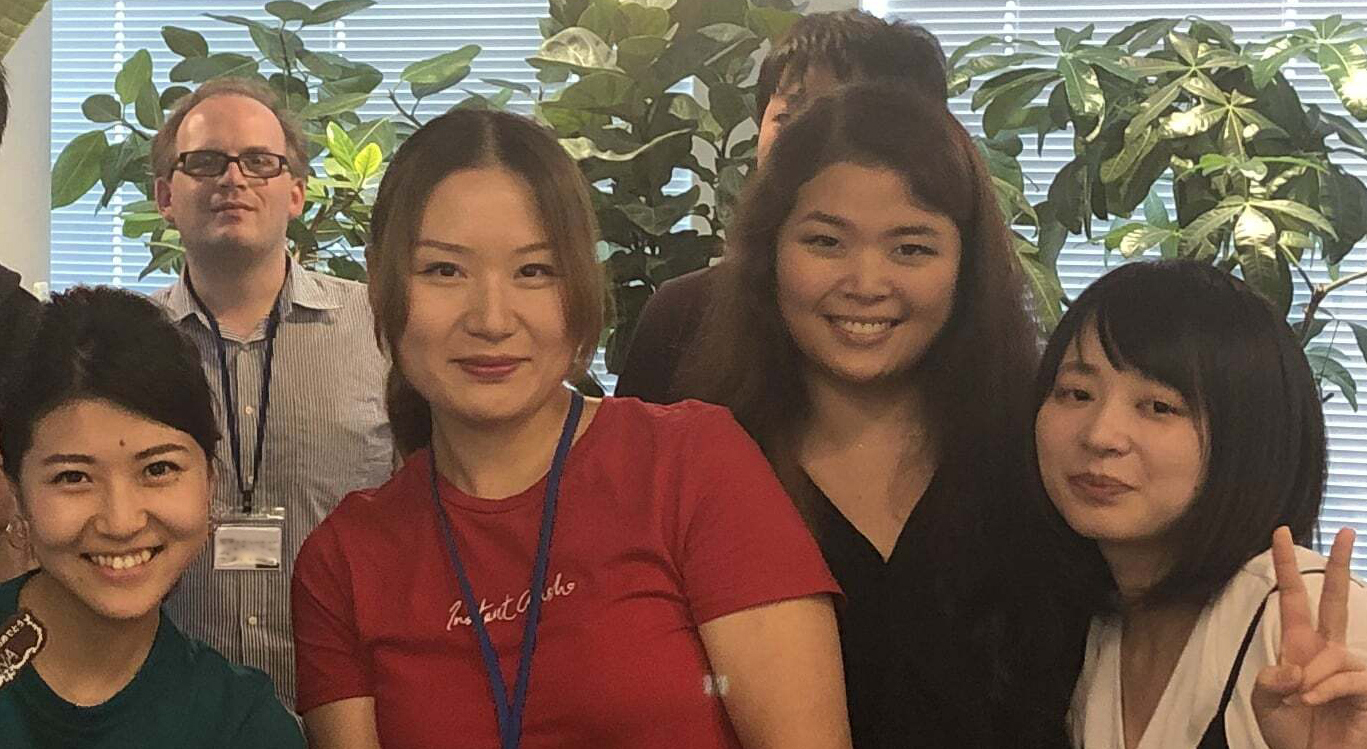 I also resonated with the philosophy of the Merpay product, of trying to create something that is useful and makes the lives of our users more convenient. The starting point of Merpay was to create a payment system in order to enable our users to be able to use the sales balance they earn from selling items on the Mercari marketplace app, not just within Mercari but at physical stores nationwide. The idea of the payment service itself came from a user-first approach. I strongly believe in the vision of creating a product that solves real-life issues, and allowing it to grow organically, rather than creating something based on a one-sided vision just for the sake of it. I've also seen many products grow widely through that approach back in China too.
The engineering culture at Merpay requires members to be able to work autonomously and proactively take ownership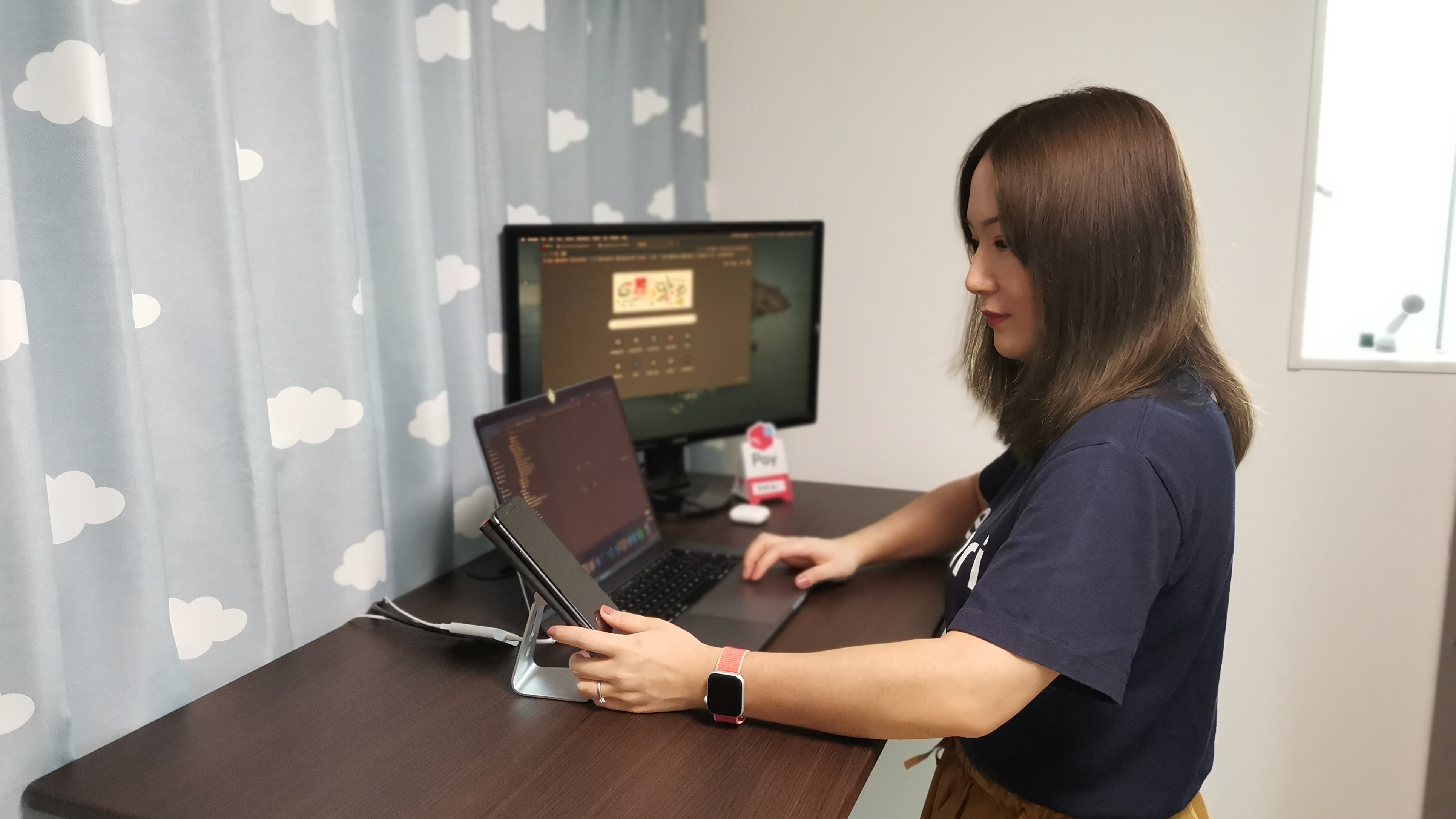 ーWhat is your main role at Merpay as a tech lead?
I'm currently iOS Tech Lead of the eKYC project. The eKYC feature in Merpay allows our users to take photos of themselves with ID documents, and it uses machine learning to identify that the face in the photo matches the face on ID documents, so the user can open an account to use services like Smart Payments. It's similar to when you are opening an account at a financial institution; they need to know who you are. By using eKYC, the entire process can be completed electronically in our app, and the screening process is shortened from weeks to a matter of days. My role as tech lead is to adjust assignments for iOS team members for development tasks, communicating with product managers, designers, and so on to make sure our progress is on schedule, and also provide feedback on product design from an engineer's perspective to improve user experience.
I also work on improving engineering productivity for the iOS team, by creating tools or writing scripts to automate repetitive tasks that we do as iOS engineers. For example, recently I led a project to create a Slackbot that can integrate the latest Merpay iOS code into the Mercari app's codebase. It's 10 times faster than our old approach, and it's fully automated so engineers no longer need to do the work manually. You can find details about it in my tech blog entry!
ーWhat are some of the biggest challenges of working at Merpay?
The engineering culture at Merpay requires members to be able to work autonomously and proactively take ownership to find and solve issues. For instance, for the automation project mentioned above, the objective of our team was to "improve engineering productivity" and it was up to me to figure out what the issues were within our engineering process, design solutions, and learn new technologies along the way of solving that issue.
Also, because our team members come from diverse backgrounds, some members prefer English and some prefer Japanese. When I see a gap in team communication, especially between different roles like product manager, designer, or engineer, I need to be in their shoes, understand what the problem is, and explain it in a way that's easy for everyone to understand. It gets more difficult when we move to working from home, and I'm still practicing it. But it's also an excellent chance to learn how other roles think, and it's one of the most important things I learned from being a tech lead.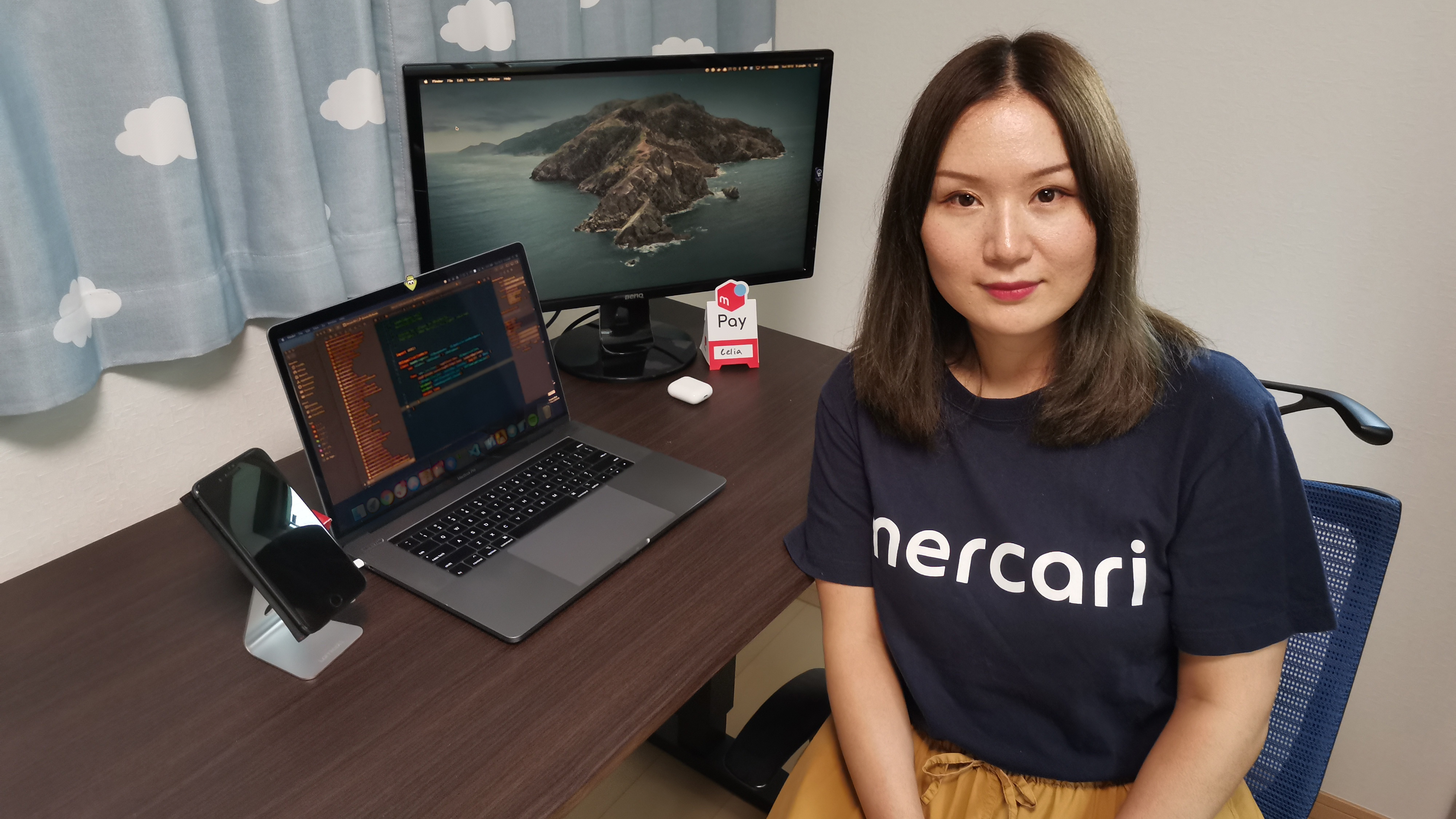 ーHow would you describe the engineering culture at Merpay?
"Trust and Openness" is a huge part of our engineering culture, and I think the company believes in the basic goodness of people. This means that the engineers are trusted to be able to operate independently and therefore given a high level of freedom without any strict rules to follow.
As tech lead I never have to worry about making sure that the other members are on schedule, since everyone is self-motivated and proactive.