Now Accepting Applications for Mercari Summer Internship 2021! #MercariDays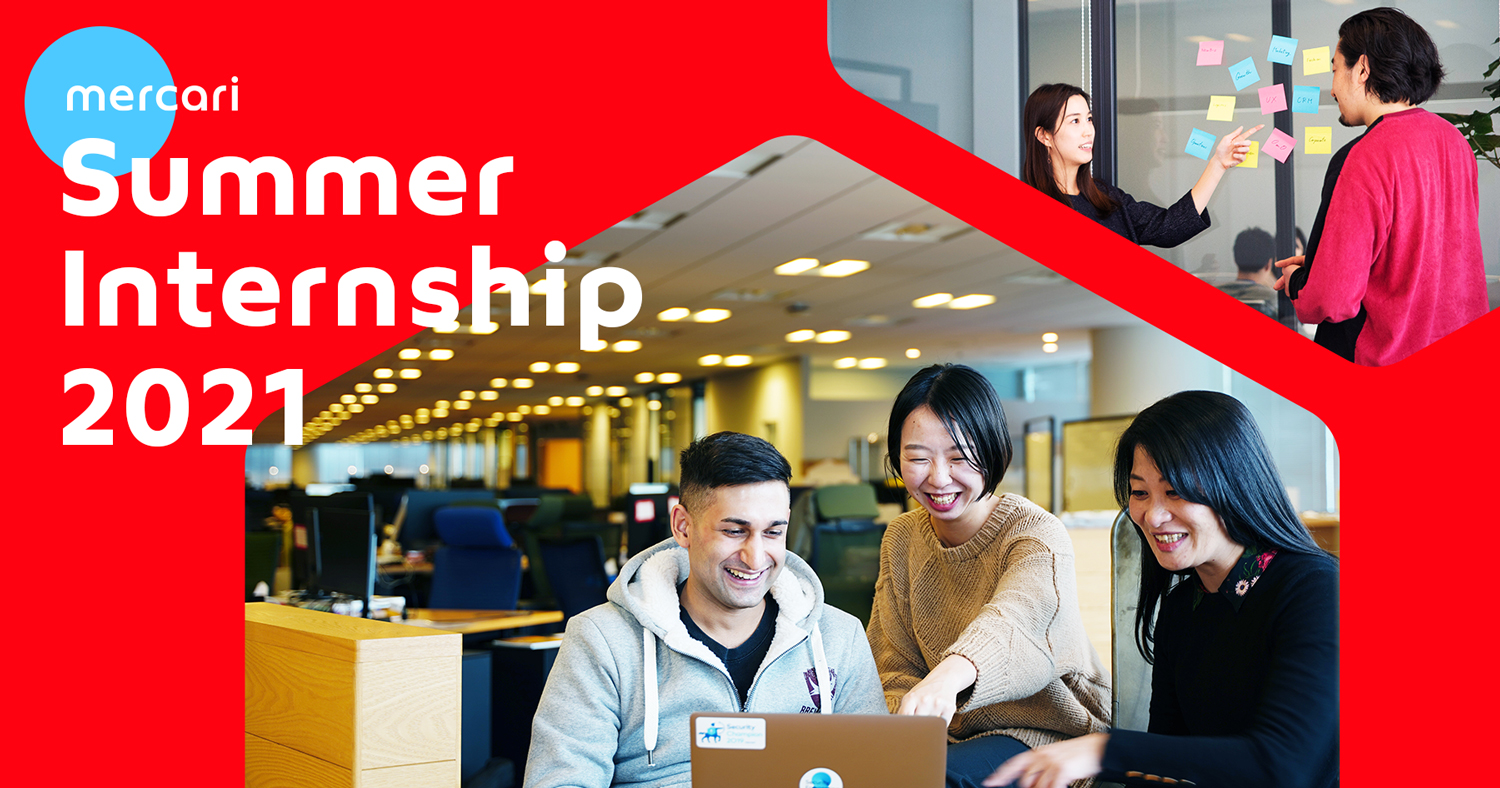 Hello, I'm Aoi. I'm in charge of recruiting new graduates at Mercari.
Starting today, we are now accepting applications for Mercari Summer Internship 2021.
We are looking for not only software engineers but also data analysts for this year's summer internship.
In 2021, our summer internship will be conducted online and give you the opportunity to work in a team on actual projects.
Our internships allow you to join a development team or a data analysis team and work with our software engineers and data analysts on real development and data analysis tasks for the Mercari marketplace app and Merpay's mobile payment feature.
Specifically, you will be working on different kinds of tasks such as refining the search screen in order to improve the UX for both listing and buying with the help of existing Mercari/Merpay members.
In 2019, we held an event where past interns presented their projects and the results they achieved during their one-month internship. Here are some of the projects and results shared at the event.
<Software Engineer (1)>
Their project
As a contributor to the CRE (Customer Reliability Engineering) Team and the Mercari app, they worked to achieve the following goals: take on re-architecture tasks for Android, complete all the tasks they were assigned during sprints, identify/work on points of improvement for UX on their own.
Results
They submitted 16 PRs, worked on 6 tickets, and implemented a feature to improve the UX.
<Software Engineer (2)>
Their project
Having joined Merpay's Coupon Team, the intern developed a lottery coupon system to distribute coupons to the target users more effectively. Specifically, the intern developed and maintained the coupon feature on the dashboard screen using Typescript, Nuxt.js, and Protocol Buffers.
Results
The intern contributed to developing new projects such as Onboarding Modal, creating/designing UI for Win Animation, and Nuxt.js Migration.
<SRE>
Their project
In an effort to improve the performance of a proxy server called Chocon, the intern designed/implemented benchmarks for this system.
Results
The intern increased throughput from 1.2X to 2X.
You can find presentation materials produced by past interns embedded in the following Engineering Blog article.
What is unique about Mercari's internship is that we don't put a limit on what you can do just because you are an intern or a student. You will have the same privileges as Mercari employees and be able to access internal information. You can also participate in company events such as all-hands meetings and study sessions. In other words, this internship allows you to grow exponentially by giving you an opportunity to work with Mercari employees.
Please apply for the internship if you are interested in getting involved with development/analysis work for a service that has 18 million users per month, challenging yourself in an environment where you can have the same latitude as employees, or working together with great people you can learn from each other to move forward!
Open positions
Software Engineer
・ Android ★Actively recruiting
・ Backend
・ Frontend
・ iOS ★Actively recruiting
・ Machine Learning
・ Microservices Platform ★Actively recruiting
・ SRE ★Actively recruiting
Data Analyst
*Note: Due to the spread of COVID-19, the internship will take place in an online environment.
Application overview
Starting from:
Software Engineer
・ August 2 (Mon) or August 16 (Mon), 2021
*You can choose to start on either August 2 (Mon) or August 16 (Mon), 2021.
*The internship will last for from 1 to 3 months, depending on your wishes.
・ At least 3 days a week, for at least 1 month
Data Analyst
・ July 2021 onwards
*For those who can work for 1 to 2 months
*At least 3 days a week (more than 20 hours a week)
Application deadline
・ Software Engineer: May 19 (Wed) → extend the deadline to May 26th (Wed)
・ Data Analyst: April 30 (Fri)
Screening Process
・ Document screening/Technical assessment → Two rounds of interviews
*Only those applying for software engineer positions will have to take the technical assessment.
*The number of interviews may change depending on the situation.
Please check the link below for more information on the application.
We look forward to receiving your applications!