"Technologies to Support Trust and Safety" Mercari CS/CRE Tech Talk #2 Engineering for Trust and Safety ー Event Report #Mercari Days
On July 14, Mercari hosted CS/CRE Tech Talk #2 Engineering for Trust and Safety. The event, which was held exclusively online, highlighted the contributions that our Customer Reliability Engineering (CRE) and Customer Service (CS) teams make to our company.
At Mercari, the CRE (Customer Reliability Engineering; at Mercari, we use the term CRE to describe the team to which our product managers and software engineers belong) team works to improve user experiences based on the inquiries we receive from our users and also ensures the safety and security of our marketplace. In addition, the CRE team contributes to the creation of a system and platform to assist our Customer Support (CS) team's work to improve customer confidence.
Mercari CS/CRE Tech Talk sessions aim to share Mercari's activities in these areas to a wide audience. This time around, the event was held in English and drew participants not only from Japan, but also from Korea and Australia, to name just a few places.
After welcoming and breaking the ice with participants, @kentan explained a number of aspects of CRE at Mercari including our mindset, initiatives, and team structure to give a good warm-up and lead into the event's lightning talk sessions.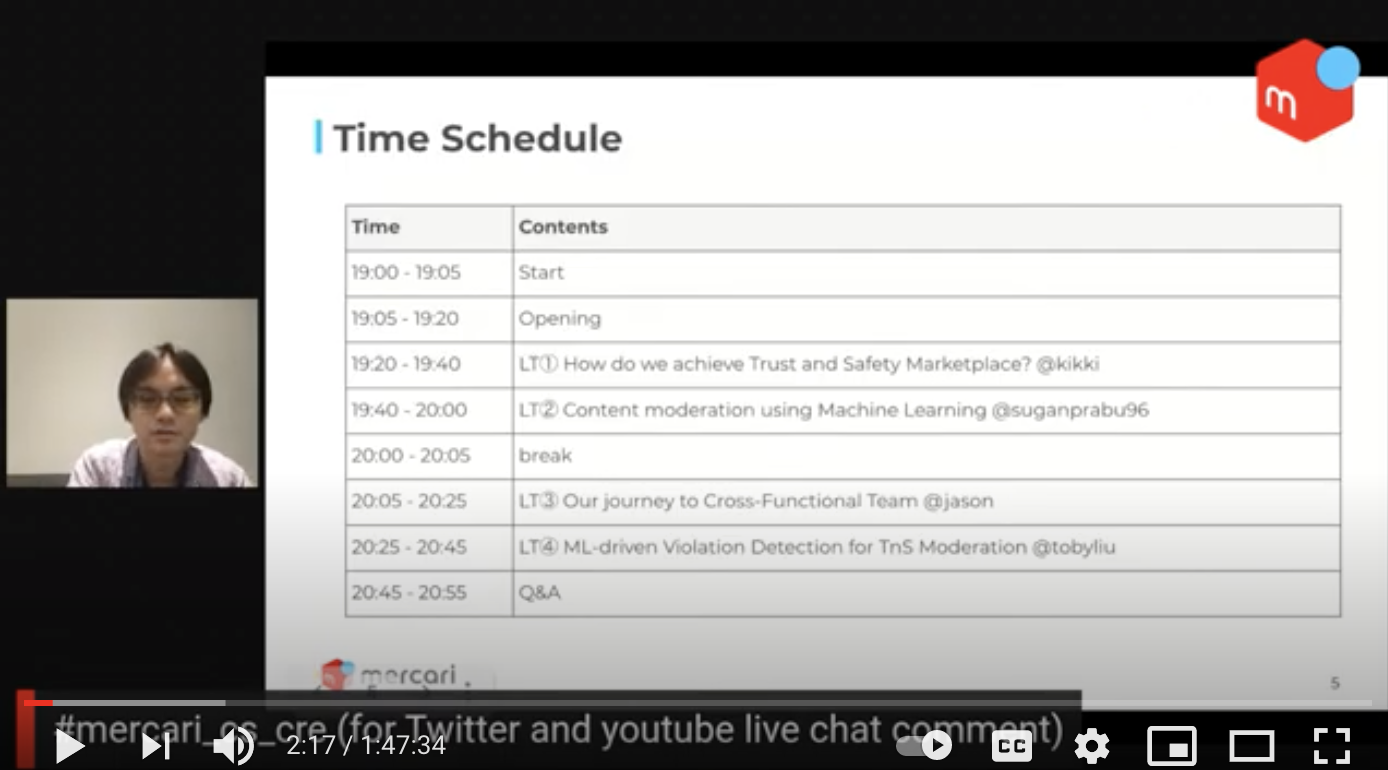 This event was structured into 4 lightning talks and used the chat function to receive questions from participants in real time to make the online event more interactive. You can watch the video of the event here!
Now, let us share a short summary of each lightning talk session!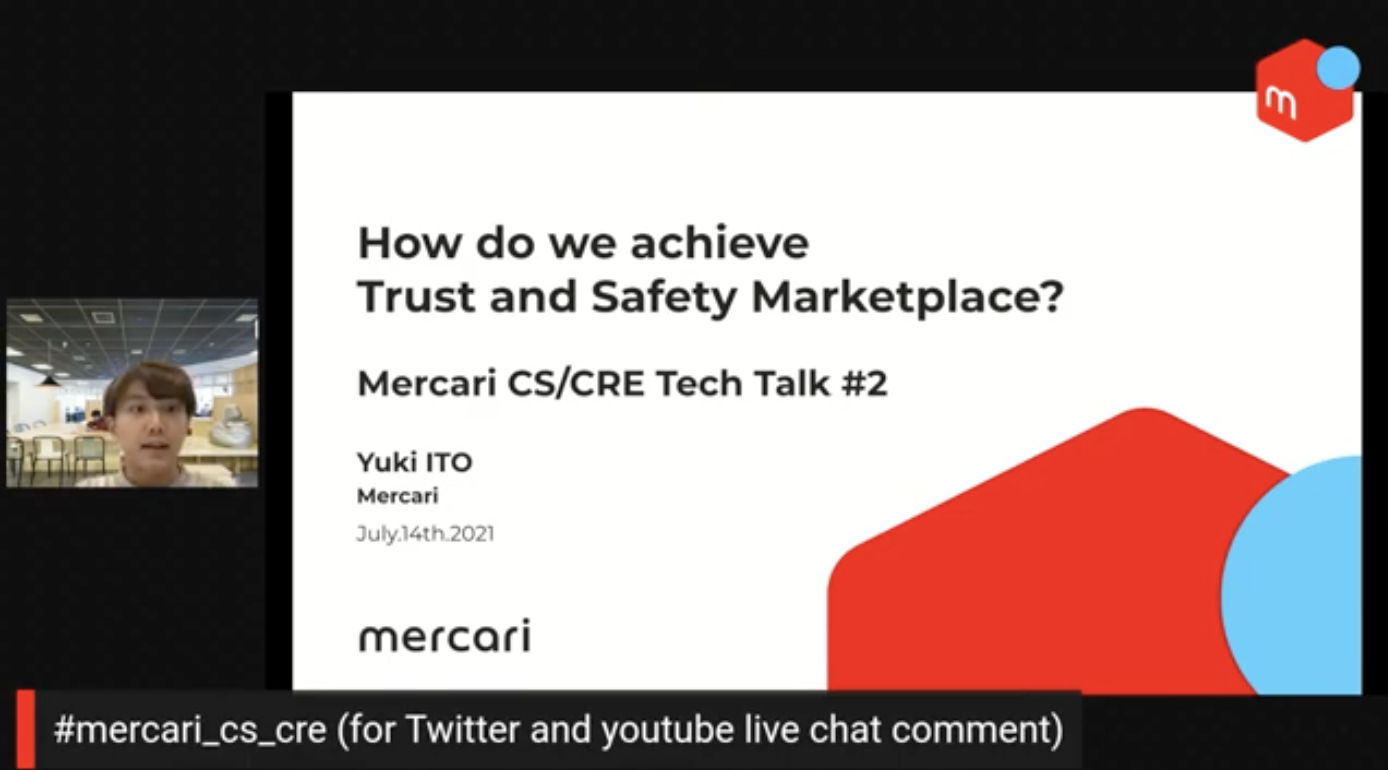 First, @kikki explained how Mercari has been working to ensure a safe marketplace.
He showed what Mercari considers to be marketplace violations and also shared the three principles on which our service's rules are based, namely being safe, trustworthy, and humane. He also described three approaches that Mercari takes in order for our users to have a sense of Trust aNd Safety (TnS). Each approach—prevention, detection, and better communication—was explained separately. Although he expressed that managing this area grows more challenging as the number of listings on our service rises, he also said that Mercari provides a marketplace that our users can trust and where they can feel safe.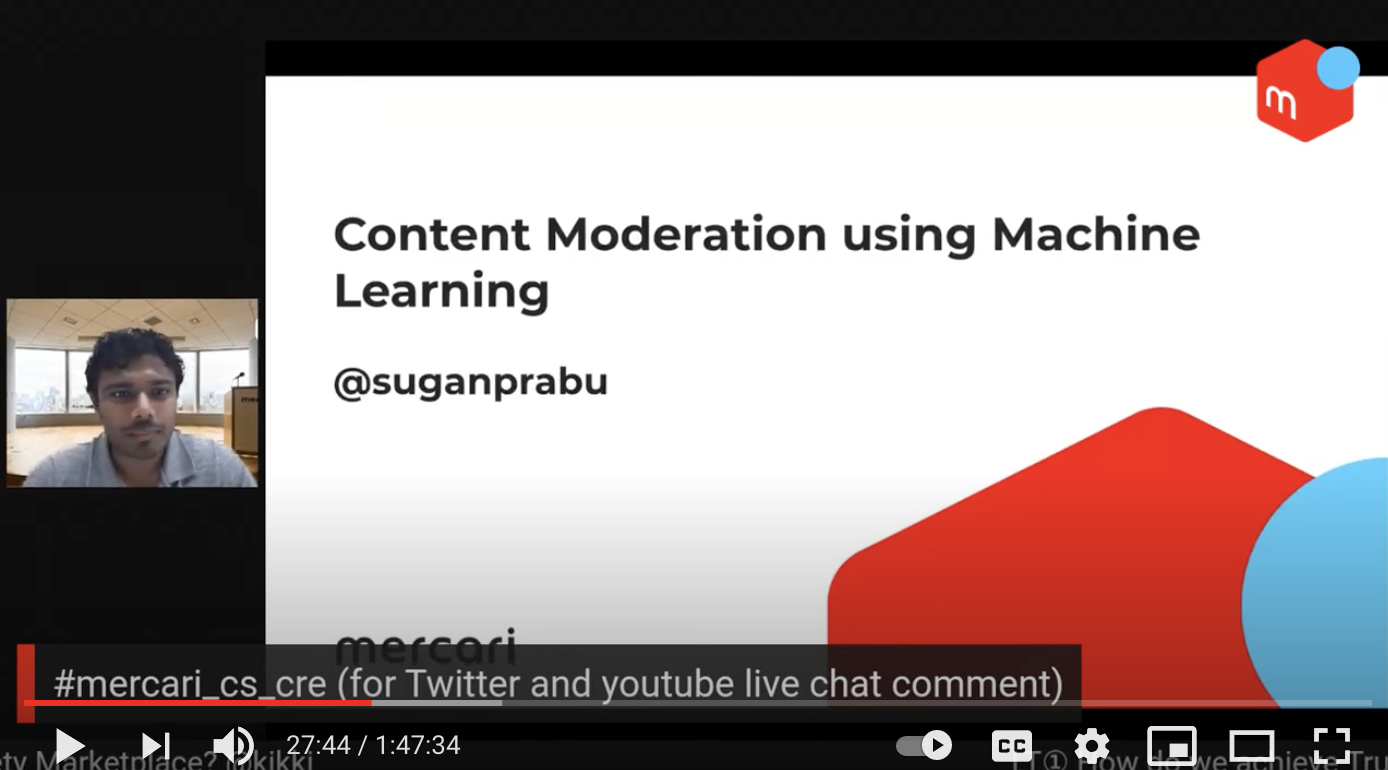 In the next presentation, @suganrubu96 spoke about how Mercari uses machine learning (ML) to moderate our content.
After giving an overview of content moderation at Mercari, he shared with the audience that, in addition to rule-based systems that operate on the user side both before an item is listed and after the listing is complete, we also use ML systems.
In this session, the easy-to-follow flow charts were effective at explaining the architecture behind Mercari transactions and prompted the audience to actively ask questions.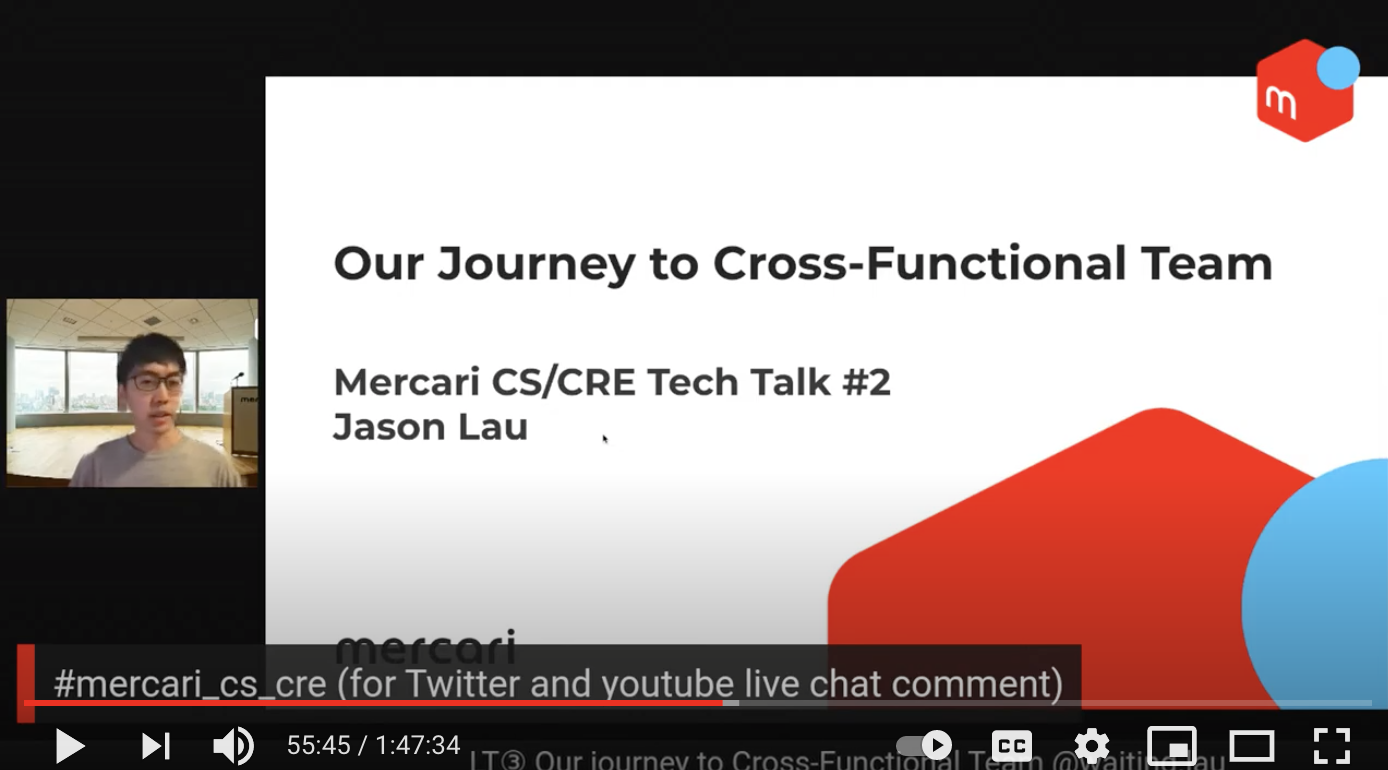 @waiting.lau delivered the 3rd lightning talk, in which he shared the journey Mercari took to create cross-functional teams.
Customer Support teams were initially project-based; however, to support Mercari's rapid growth, we needed to form cross-functional teams. To this end, we formed a cross-functional team to achieve three things: share goals, collaborate, and reduce the time to market, but there were challenges on the way. There were no frontend engineers two years ago. With the lack of frontend knowledge, we prepared effective on-job training and re-organized the scrum team with a dedicated product owner who is familiar with the business domain and feature priorities. We were able to release Moderation Tool and Authorization Tool without much delay, thanks to the newly organized cross-functional team. The details were elaborated on in the event.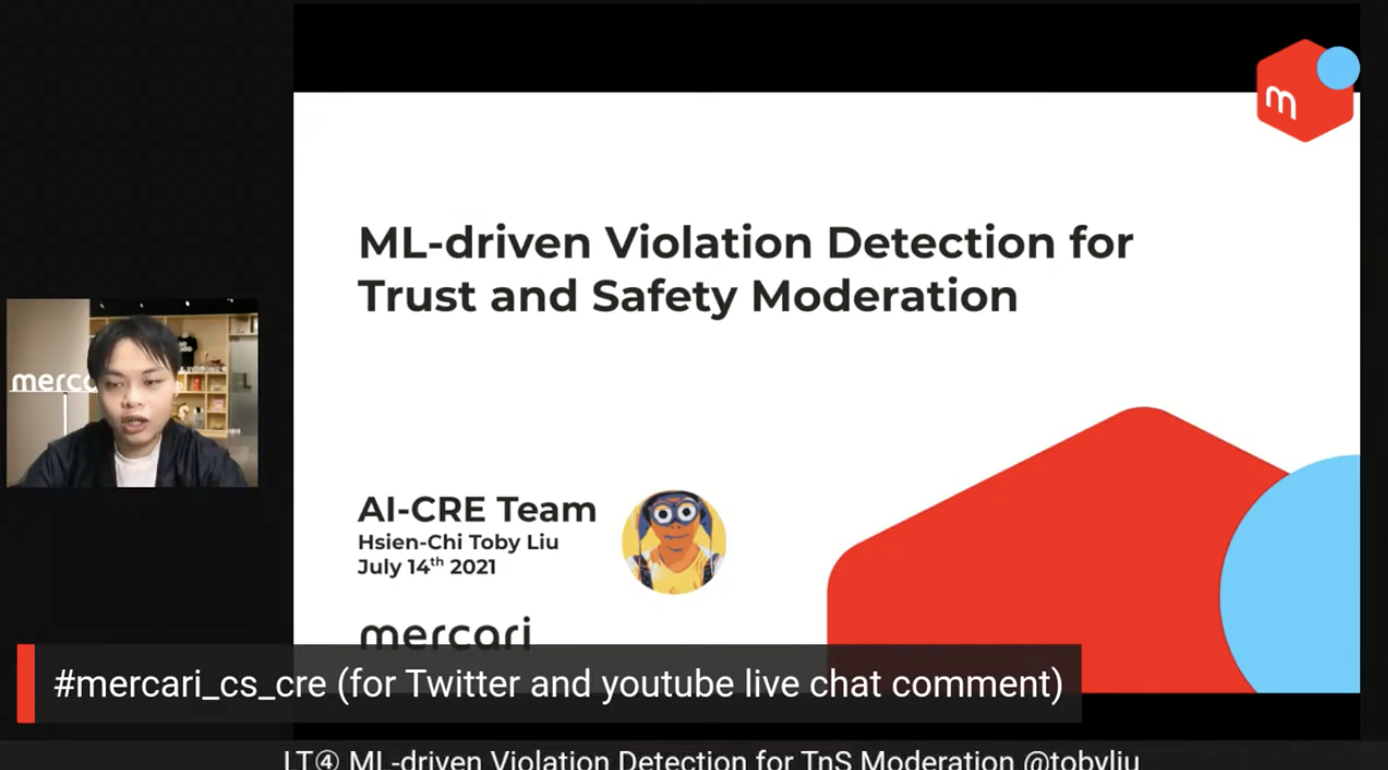 The final lightning talk, delivered by @tobyliu, was a deep dive of the first lightning talk regarding violation detection.
At Mercari, we use both rule-based and ML-based approaches to detect violations of our policies. These detect three domains of violation: inviting users to conduct transactions outside of Mercari, pressuring users for ratings, and other prohibited behavior. In the presentation, @tobyliu went on to explain how violation detection actually works and detailed Mercari's continued efforts to improve trust and safety.
The event had active participation by participants via chat, and there were many learnings for all. We would like to thank everyone who joined the session. Please look forward to the next CS/CRE Tech Talk!
See you all at the next #Mercari Days!
※Mercari CS/CRE Tech Talk #1 (Japanese)