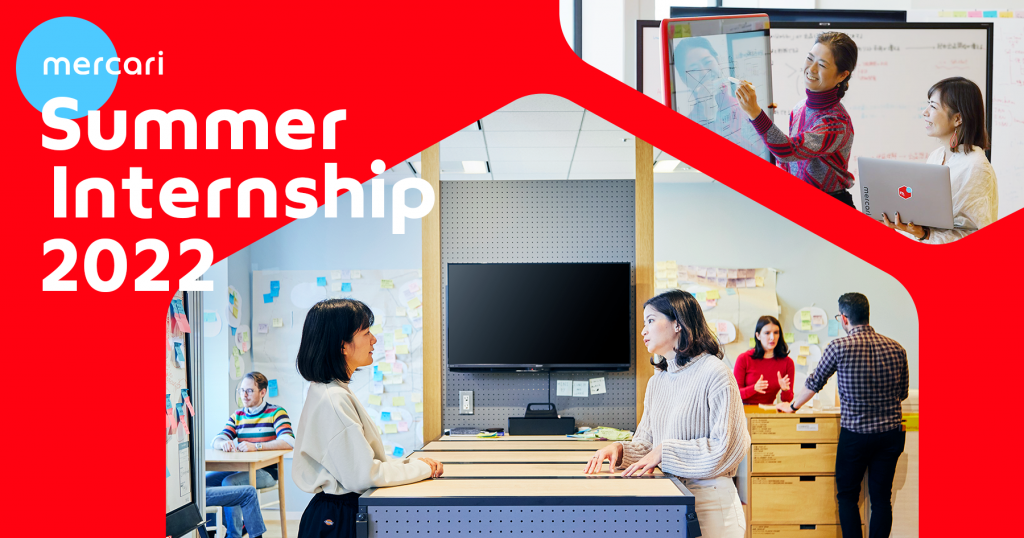 Now Accepting Applications for Mercari Summer Internship 2022! #MercariDays
Hello, I'm Aoi. I'm in charge of recruiting new graduates at Mercari.
Starting today, we are now accepting applications for Mercari Summer Internship 2022.
Up until now, we've been offering internships for software engineers and data analysts at Mercari and Merpay, but this year, we're also looking for summer interns at Souzoh as well as US@Tokyo, the team in charge of developing the US version of Mercari!
Mercari's summer internship program is a paid internship. You will be assigned to one of our teams and tasked with various challenges as a member of that team.
For more information on the work you'll be doing, please see the overview of each position.
As a Mercari intern, you will have access to many of the perks that Mercari employees get to enjoy, including invitations to internal events and workshops as well as participation in regular all-hands meetings. You can experience first-hand what it's like to work at Mercari!
Since you'll be working closely with our members, you will also have the opportunity to receive their feedback and support.
Want to be a part of the development/analysis team of a service with over 20 million monthly users? Looking to gain experience working in a global environment? Or, maybe you want to put your skills to the test at a fast-paced, freshly founded company like Souzoh. If any of these sound like you, we would love to hear from you!
Group Companies Recruiting
・ Mercari
・ Merpay
・ Mercari US (this position is for US@Tokyo, Mercari US's Tokyo-based development team)
・ Souzoh
Open Positions
・ Software Engineer
 ・ Backend
 ・ Frontend
 ・ iOS
 ・ Android
 ・ Mobile App [React Native] (US@Tokyo only)
 ・ Machine Learning
 ・ Security (Mercari only)
 ・ Microservices Platform (Mercari only)
 ・ Expert Team (Merpay only)
 ・ Site Reliability (Mercari and Merpay only)
・ Data Analyst (Mercari only, Native-level Japanese is required)
Overview
Starting Date
・ August 1 (Mon) or August 16 (Tue), 2022
*You can choose to start on either August 1 (Mon) or August 16 (Tue), 2022.
Application Deadline
・ Software Engineer
 ・ May 16 (Mon)
・ Data Analyst
 ・ May 9 (Mon)
*If internship slots fill up, we may close applications before this deadline.
Screening Process
エンジニア
・ Technical assessment → Document screening → Two interviews
*Only those applying for the Software Engineer position will have the technical assessment.
*The process for those applying for the Machine Learning position will be Document screening → Technical assessment → Two interviews.
*The number of interviews may change depending on the situation.
Please check the files below for more information on each position.
Summer Internship 2022, Software Engineer [Internship]
Summer Internship 2022, Data Analyst [Internship]
We look forward to receiving your applications!