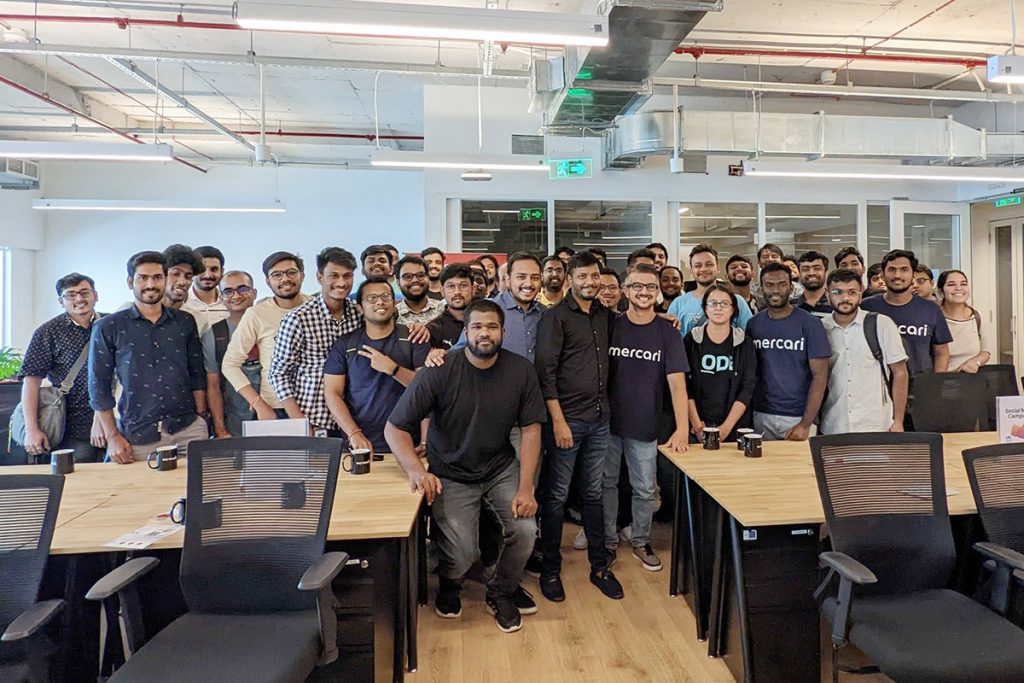 Golang Bangalore Meetup Summary
Hi, This is Anand from Mercari India, hereby presenting a brief write up on Mercari India's first sponsorship event – Golang Bangalore meetup #69.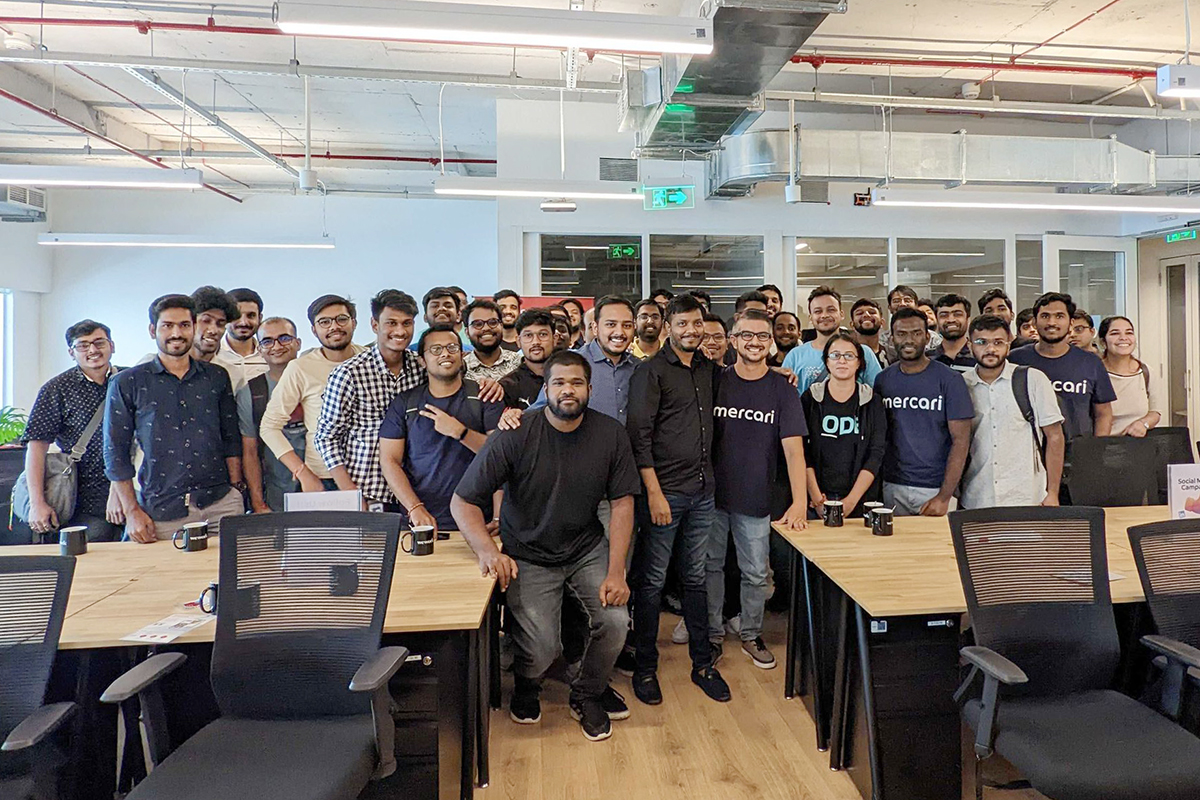 On 3rd September, 2022, Mercari India hosted the Golang Bangalore Meetup #69.
Golang Bangalore is a Bangalore based meet-up group, for GO programmers (Gophers), to discuss about the Go Programming Language. It's a public group with over 6,568 active members and is a part of the Go Developers(global) meet-up group.
At Golang Bangalore, the meet-up events are held on a monthly basis, mostly on Saturdays. Events will be either online or offline, depending on the circumstances. No entry fee is charged for the event and is beginner friendly. Most meet-up events will have talks followed by discussions. And, some events will have dedicated workshops on GO. The usual "talk" based meet-ups will go on for 3 hours from 10 am to 1 pm. And, the workshop time may vary based on the topic, sometimes it may go upto 7-8 hours.
Golang Bangalore Meetup #69 was a talk based offline meet-up event and it took place in our WeWork office, located at Embassy Sunriver, Embassy Golf Links park, Domlur. The event had over 150 registrations and around 70+ participants turned up for the event.
The meetup event was conducted by Shreya Kumar. It had 3 talk sessions on the following topics.
1) Provisioning infrastructure in Go with Pulumi – Avinash Upadhyaya
2) Adventures In Optimizing The Kubernetes API Server – Madhav Jivrajani
3) A scalable Metadata Ecosystem powered by Golang – Marco Ganci
After a brief self-introduction from organisers and participants, the event started off with the first talk session by Avinash.
Provisioning Infrastructure in GO with Pulumi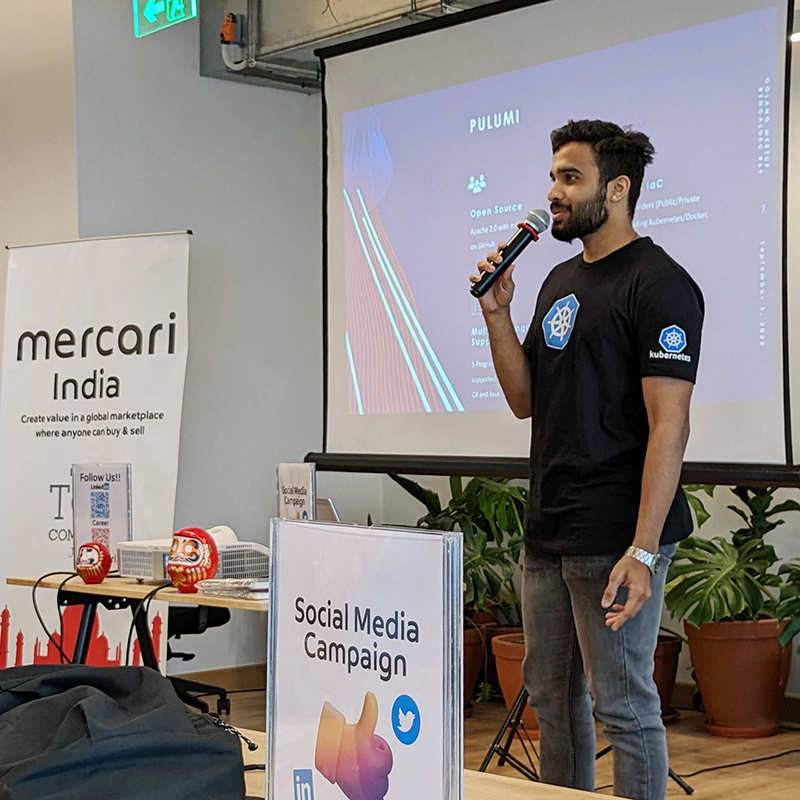 Avinash's talk was on Pulumi, which is an open source infrastructure as code SDK, that enables it's users to create, deploy and manage infrastructure on any cloud, using various languages. It's quite similar to Terraform and has some advantages over Terraform. More about Pulumi can be found here.
Adventures In Optimizing The Kubernetes API Server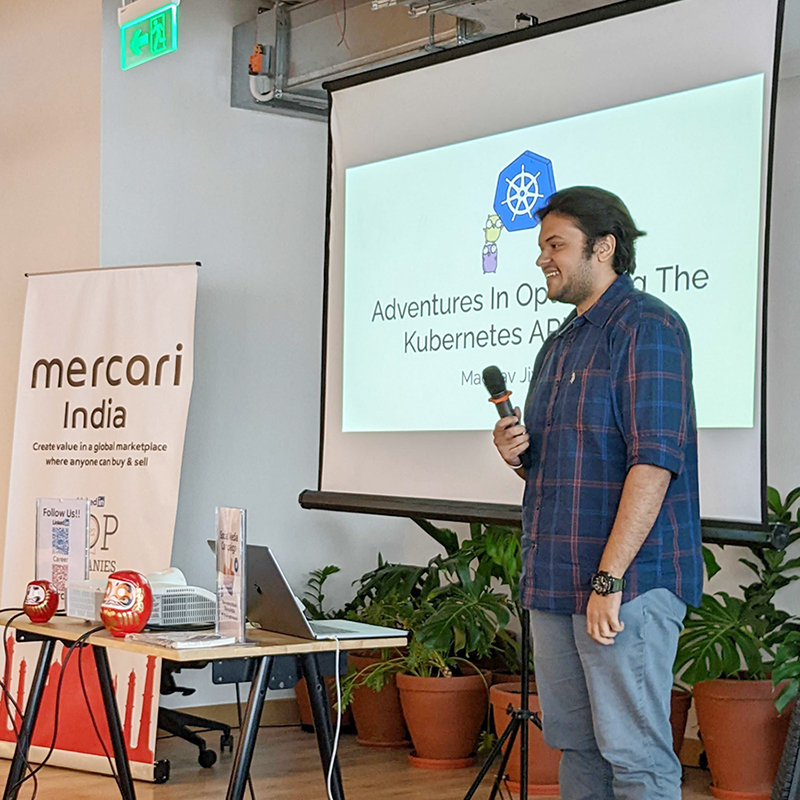 The second topic was about the ways to optimize the kubernetes API server by Madhav. The topic was well researched and quite informative. The session covered the internal working of Kubernetes API server and it's caching mechanism (watch cache) in complete detail. Slides presented by Madhav can be found here.
After a short snack break, the event resumed with the next talk.
A scalable Metadata ecosystem powered by Golang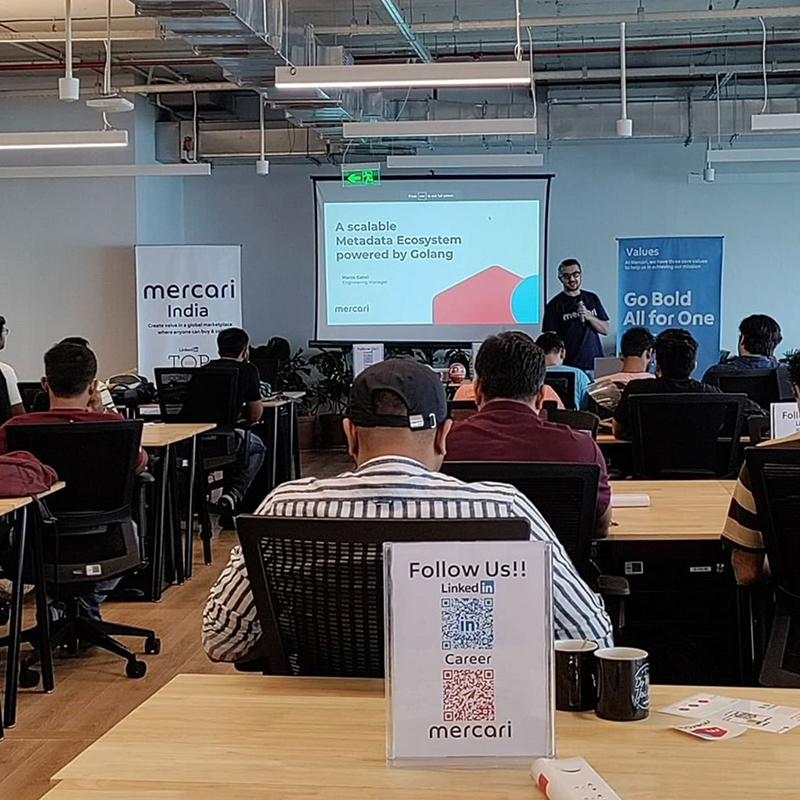 The third & final topic for the day was presented by our very own Marco Ganci (Engineering Manager at Mercari JP). It was an interesting session on how Mercari leverages it's business & product, using the metadata generated/collected from the listings on Marketplace, using GO. Slides presented by Marco can be found here for reference.
The event also had giveaways for the speakers and participants, who took part in the Mercari India SNS campaign, which was curated by Kayo-san / Marco to promote Mercari India as a brand and to create brand awareness amongst the Indian Tech community.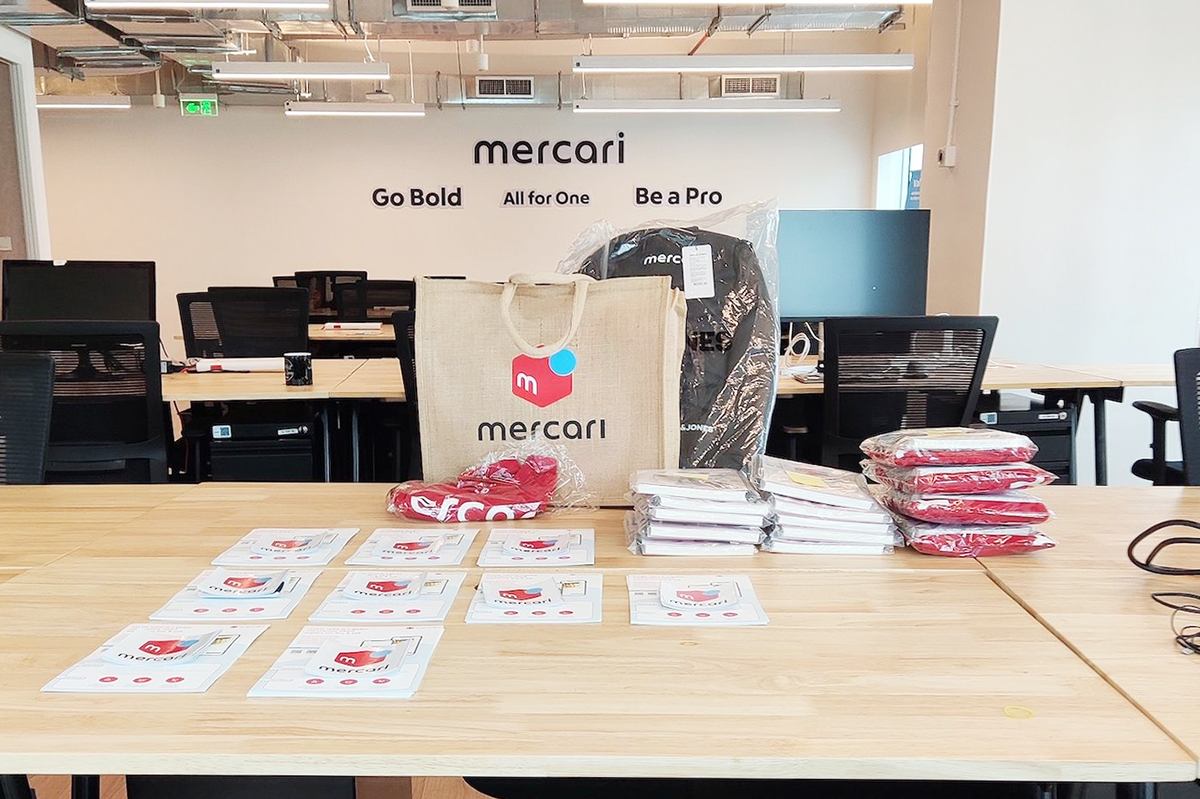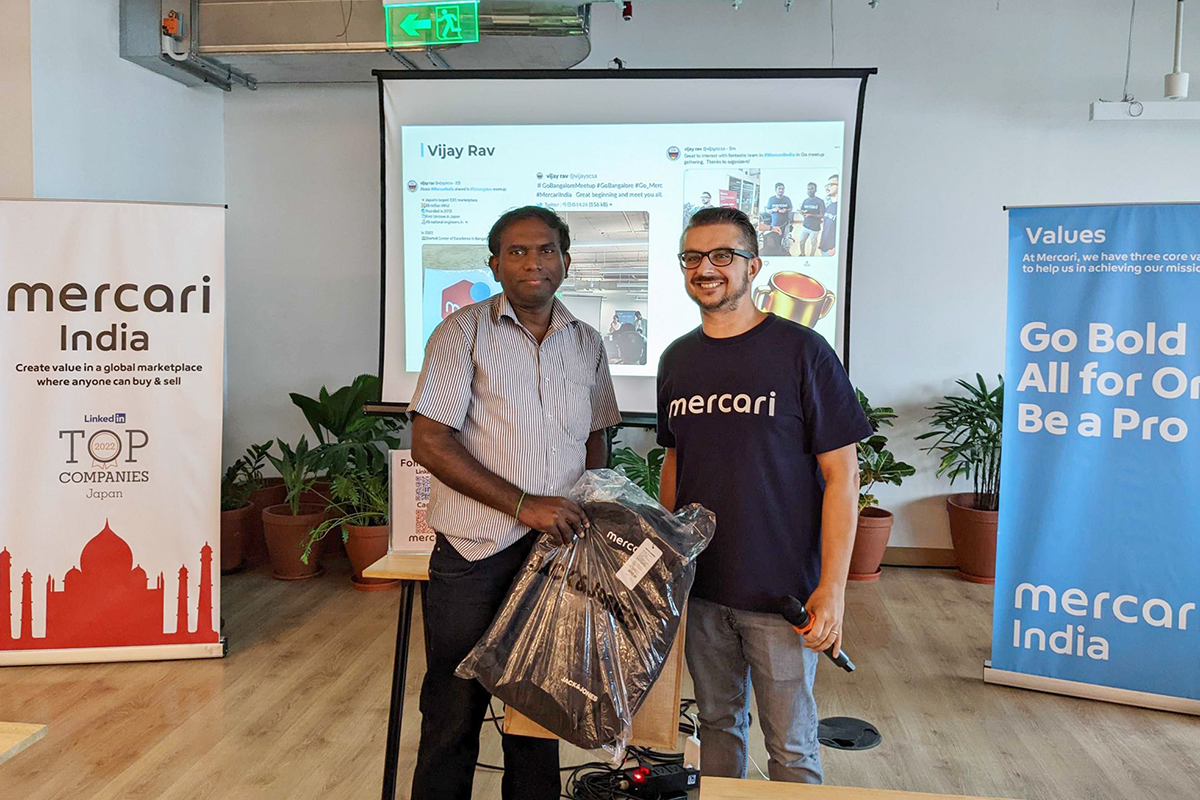 This, being the first technical meet-up event hosted by **Mercari India**, the event had a turn up of over 70+ participants from various companies and diverse backgrounds. Thanks to all the participants, organisers, speakers for making this event a great success.
Hoping to see and participate in many more similar events by Mercari India, in the coming months.
We are currently hiring for the following positions:
https://careers.mercari.com/hello-india/