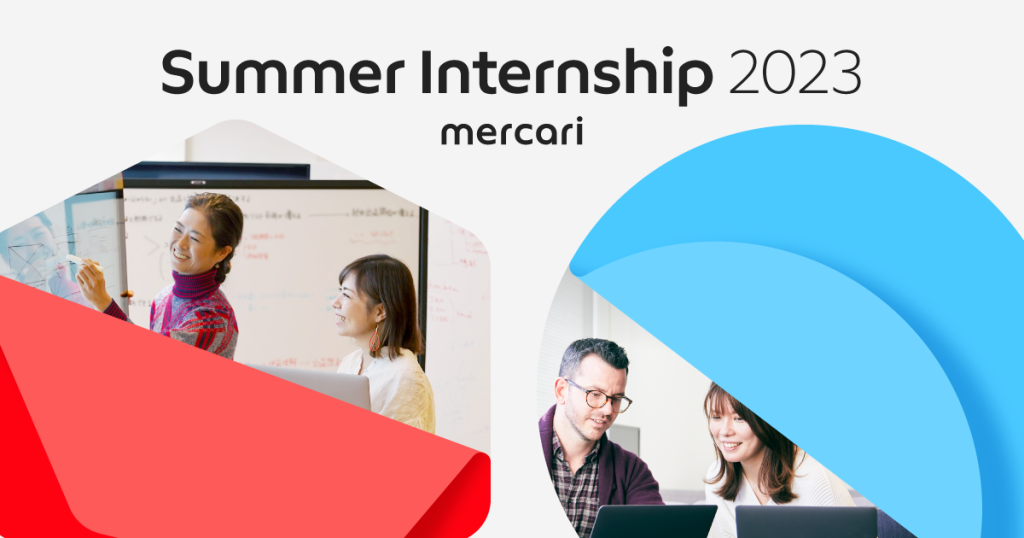 Now Accepting Applications for Mercari Summer Internship 2023! #MercariDays
Hello, I'm Maashi. I'm in charge of recruiting new graduates at Mercari.
Starting today, we are now accepting applications for Mercari Summer Internship 2023.
Up until now, we've been offering internships for software engineers and data analysts at Mercari,Merpay and Souzoh.
About Mercari Summer Internship
Mercari's summer internship program is a paid internship. You will be assigned to one of our teams and tasked with various challenges as a member of that team.
For more information on the work you'll be doing, please see the overview of each position.
As a Mercari intern, you will have access to many of the perks that Mercari employees get to enjoy, including invitations to internal events and workshops as well as participation in regular all-hands meetings. You can experience first-hand what it's like to work at Mercari!
Since you'll be working closely with our members, you will also have the opportunity to receive their feedback and support.
Want to be a part of the development/analysis team of a service with over 20 million monthly users? Looking to gain experience working in a global environment? Or, maybe you want to put your skills to the test at a fast-paced, freshly founded company like Souzoh. If any of these sound like you, we would love to hear from you!
Group Companies Recruiting
Open Positions
Software Engineer

Backend
Frontend
iOS
Android
Machine Learning
Security(Mercari only)
Microservices Platform (Mercari only)
Site Reliability
Corporate Engineering (Mercari only)

Data Analyst(Native-level Japanese is required, Mercari only)
"Your Choice" is Mercari Japan's work style policy. It allows each individual and team to choose the work style that best enables them to demonstrate value and optimize their performance.Each employee can choose whether they want to work in the office, go fully remote, or some hybrid combination of the two.
Overview
Starting Date
August 1 (Mon) or August 16 (Tue), 2023
*You can choose to start on either August 1 (Tue) or August 16 (Wed), 2023.
Application Deadline
Software Engineer
Data Analyst
*If internship slots fill up, we may close applications before this deadline.
Screening Process
Engineer
Technical assessment → Document screening → Two interviews
*The process for those applying for the Machine Learning position will be Document screening → Technical assessment → Two interviews.
*The number of interviews may change depending on the situation.
Data Analyst
Document screening→1st interview→Technical assessment→2nd interview
*The number of interviews may change depending on the situation.
Please check the files below for more information on each position.
Past Participants
Mercari Data Analyst
Company/Team: Mercari Product & Insight Analytics Team (Data Analyst)
Slack name: @Geda

I conducted analyses to increase the number of listings made from the Mercari website. First, I identified the user segments that would have the biggest impact on the number of listings made on the web. Once I identified these segments, I conducted surveys and analyses to figure out what is necessary for these users to list more items on Mercari. It was a very valuable two months, during which I was able to experience what it is like to work as an analyst and learn the importance of establishing a clear goal and structure when carrying out analysis.
Souzoh Backend
Company/Team: Souzoh Product Team (Backend)
Slack name: @nanri

Souzoh is a Mercari Group company that is currently taking on the challenge of developing a new business. I was involved in team-based development for Mercari Shops as a software engineer in Souzoh's Product Team. In my presentation, I shared how I performed the tasks assigned to me in team-based development sprints to improve different Mercari Shops features, talked about my own user experience, and proposed strategies that take into account the current status and future outlook of Souzoh's product.

At Souzoh, there is a real emphasis on "moving fast"—especially since the company is aiming to develop and further accelerate the growth of Mercari Shops. It was a great experience being part of a team of such skilled professionals. Since everyone is so talented, it fosters a healthy level of competition that encourages members to bring out the best in each other. Also, everyone on the team is very welcoming and supportive of interns, creating an environment where even a student like me with no on-the-job experience can dive in head first. I think an internship at Mercari is a great fit for students with a strong sense of ownership who want to increase their technical expertise and are looking for opportunities to contribute to a growing product.
Mercari Machine Learning
Company/Team: Mercari Recommendation Team (Machine Learning)
Slack name: @nabe-ryo

I was part of Mercari's Recommendation Team, and I worked on developing and making improvements to the machine learning model used within the systems that optimize the layout of the Home screen on the Mercari app. The internship was filled with firsts and learning experiences, since I had never used the Scrum development method or analyzed data using Google BigQuery before. It gave me the chance to contribute to development tasks that directly impact the product, which was a very valuable experience for me.
You can see the comments from participants last year here. If you want to know more details, please check it out.
We look forward to receiving your applications!