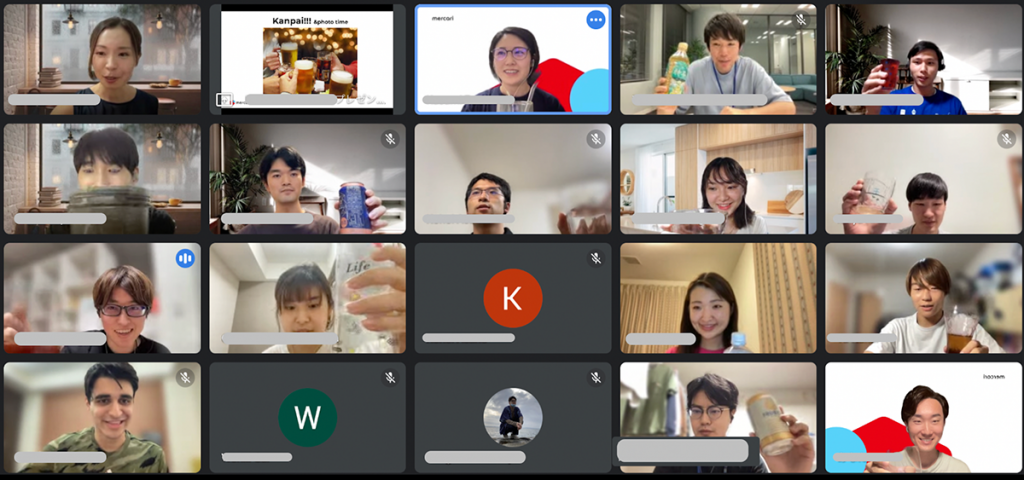 What Did Our Interns Gain During Their Two Months at Mercari? A Recap of Mercari Group's Internship Presentations!
Hi, everyone! I'm Kasumi from the New Grads Team.
In 2022, Mercari held several paid internship programs, including our year-round internship program, this year's Build@Mercari (aimed at providing an entry to IT for groups underrepresented in the industry), and our summer internship program. In these programs, interns got the chance to work and develop features alongside the software engineers at Mercari Group. What did they work on? What did they learn and gain from the experience? In September, we held a wrap-up event where the interns presented a report of the results of their internship experience with us. Today, I'd like to share how the event went and showcase some of the materials they presented!
For this year's wrap-up event, a total of 26 summer interns shared the results of what they worked on over the roughly two months they spent at Mercari to managers, mentors, and directors.
After each presentation, there was some time for Mercari directors to give their thoughts and feedback, followed by a lively Q&A session. Throughout the event, we also saw managers and mentors acknowledging the interns' hard work and thanking them for their contributions. It was a great and meaningful way for the interns to close this early chapter of their careers!
Although we couldn't include everyone in this article, we will introduce the work of seven of the interns we had this year, along with a comment from each of them.
Mercari Security 
Company/Team: Mercari Security Engineering Team
Slack name: @hi120ki
I worked on re-evaluating Sysdig Secure, which is used for attack detection in the Kubernetes environment. One of the things that impressed me most during this internship was the culture of the Mercari Security Team and their commitment to properly verifying whether a code is "truly safe." During my internship, I got to experience the entire security process at Mercari, while thinking about and executing each step of the process in order to provide safe and secure services to users.

I wrote about my experience in more detail on the Mercari Engineering Blog. Please give it a read!
Souzoh Backend 
Company/Team: Souzoh Product Team (Backend)
Slack name: @nanri
Souzoh is a Mercari Group company that is currently taking on the challenge of developing a new business. I was involved in team-based development for Mercari Shops as a software engineer in Souzoh's Product Team. In my presentation, I shared how I performed the tasks assigned to me in team-based development sprints to improve different Mercari Shops features, talked about my own user experience, and proposed strategies that take into account the current status and future outlook of Souzoh's product.

At Souzoh, there is a real emphasis on "moving fast"—especially since the company is aiming to develop and further accelerate the growth of Mercari Shops. It was a great experience being part of a team of such skilled professionals. Since everyone is so talented, it fosters a healthy level of competition that encourages members to bring out the best in each other. Also, everyone on the team is very welcoming and supportive of interns, creating an environment where even a student like me with no on-the-job experience can dive in head first. I think an internship at Mercari is a great fit for students with a strong sense of ownership who want to increase their technical expertise and are looking for opportunities to contribute to a growing product.
Mercari Data Analyst 
Company/Team: Mercari Product & Insight Analytics Team (Data Analyst)
Slack name: @Geda
I conducted analyses to increase the number of listings made from the Mercari website. First, I identified the user segments that would have the biggest impact on the number of listings made on the web. Once I identified these segments, I conducted surveys and analyses to figure out what is necessary for these users to list more items on Mercari. It was a very valuable two months, during which I was able to experience what it is like to work as an analyst and learn the importance of establishing a clear goal and structure when carrying out analysis.
Merpay iOS 
Company/Team: Merpay iOS Team
Slack name: @kubomi
I was in charge of coming up with and developing new features for the dashboard screen as a member of Merpay's iOS team. I had the chance to get technical guidance and feedback from other team members through code review and pair programming. I learned a lot about developing a large-scale app over these two months. It was also an amazing experience being able to work with such a diverse group of people. For example, there were many opportunities to communicate in English with employees of many different nationalities and work with people in other fields like PMs and designers. The internship was a meaningful experience that gave me a taste of what it is like to work at Merpay.
Mercari Corporate Engineering 
Company/Team: Mercari Corporate Engineering Team
Slack name: @takeyoshi
I was part of the Corporate Engineering Team, which is the team in charge of developing internal products. As an intern, I developed and implemented new features for the UX and UI of Mercari's internal AI tool "Hisashi." Hisashi is a chatbot-style app that is mainly built using Python and DialogFlow. Specifically, I improved the user experience by adding features like a home screen and modal UI with actions. I learned a lot by working among people with such high levels of expertise!
Merlogi Frontend
Company/Team: Merlogi Frontend Team
Slack name: @a-kumar
I was involved in the development of the MOH admin platform at Merlogi . I fixed some bugs, tested the front end, introduced some features to the platform, worked on the back end, and created APIs to be used in different microservices and the front end. I learned new technologies and languages such as Golang, typescript, GCP, Next.js, and Spanner. The thing I loved most during the internship was how my manager and mentor focused on my learning, not the results. I was given something new and different to try, got the chance to experiment with it, and see what I liked the most. The best thing about being an intern at Mercari is that you get to meet some brilliant people of different cultures and countries. It was an excellent experience for me. I loved being a part of Mercari.
Mercari Machine Learning 
Company/Team: Mercari Recommendation Team (Machine Learning)
Slack name: @nabe-ryo
I was part of Mercari's Recommendation Team, and I worked on developing and making improvements to the machine learning model used within the systems that optimize the layout of the Home screen on the Mercari app. The internship was filled with firsts and learning experiences, since I had never used the Scrum development method or analyzed data using Google BigQuery before. It gave me the chance to contribute to development tasks that directly impact the product, which was a very valuable experience for me.
Thank you to our seven engineering interns for sharing their experiences, and also for allowing us to share their presentation materials with our Mercan readers! We'd next like to highlight some of the comments from Mercari employees who attended the event. What were their takeaways from the presentations?
Comments from Mercari members who attended the event
"Work is just one part of our lives, but I believe the failures we experience in the workplace can teach us many lessons. These lessons not only help the company and product grow, but also help us grow as individuals. I think Mercari is a workplace that can provide this kind of opportunity for growth." ー Mercari Director  

"One of the major benefits of Mercari's internship program is that the interns get a chance to perform some of the tasks that our teams are actually working on. Through this kind of hands-on experience, interns can learn a lot and get a feel for what it's like to work at Mercari. Our interns are also given access to almost everything that employees have access to, so I think it's easy to find information and work with very little limitations." ー Merpay Backend Engineer
A big thank you and otsukaresama to everyone who participated in our 2022 summer internship programs! Mercari aims to continue holding internship programs and events to provide meaningful experiences and learning opportunities to students. 
Interested in joining us? Mercari, Merpay, and Souzoh accept applications for interns and new graduate hires all year round. Please note that for many positions, it is a requirement for new graduates to participate in our internship program before moving on to the selection process. You can refer to the link below for more details.
Intern/New Graduate Recruitment
Software Engineer (Internship) – Mercari Group