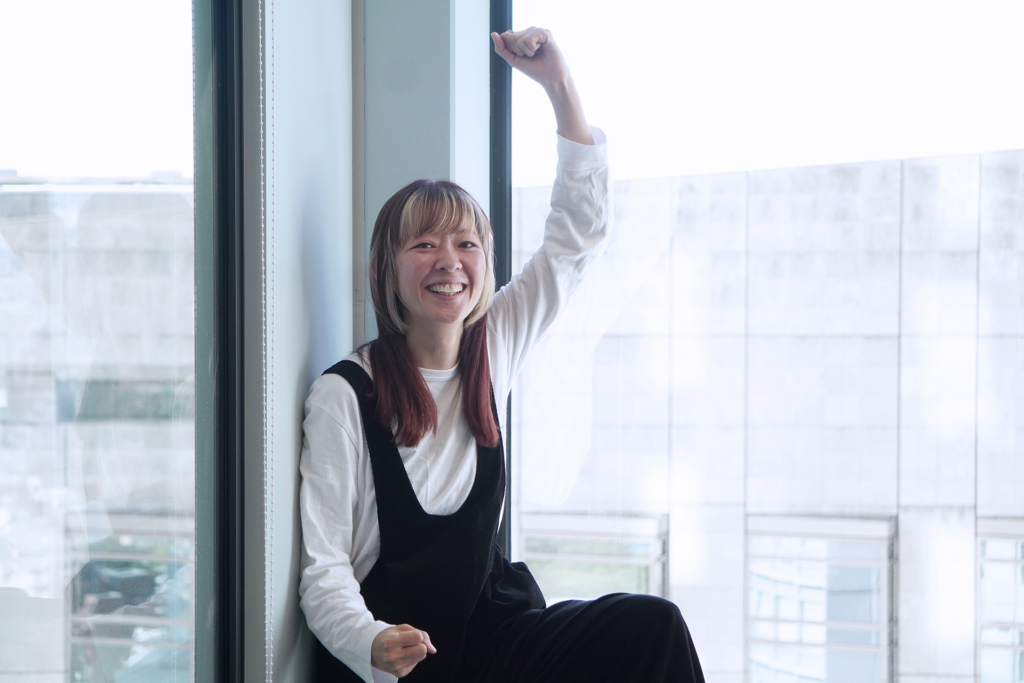 No Words of Wisdom, but Lots of Love to Give: Surviving Job Changes to Find My Life's Work—Why I Work Here (Kaori Yamagishi)
When I left my last job, one of my senior colleagues told me, "I hope you do so great at Mercari that your work gets covered in a Mercan article."
So now as I settle in behind my computer screen, my nostrils flared with determination, I tell myself, "the day has finally arrived!" I was asked to be a part of the Mercan series, "Why I Work Here," and I'm in charge of writing the second article. Okay… I'm all fired up, but for some reason, the words just don't flow.
But why not? Does this mean I don't actually want to work at Mercari?
My deadline already came and went a full two days ago. The Mercan editing team was eerily forgiving when I asked for an extension. Did they ask me to write for them assuming that I wouldn't make the deadline? When I contacted them, they showed no signs of distress and just said with a smile that they'd wait.
As the sweat trickles from my brow, it hits me: "My relationship with Mercari is so much a part of my life, that I struggle to verbalize it." Then as my deadline stress starts to move into the realm of frustration, epiphany strikes, "I work here because I like Mercari!"
It's clear to me that I cannot come up with anything beyond this simple statement of adoration, so I'm hoping, dear reader, that you'll forgive this lede for sounding somewhat like a cringe-worthy diary page confession and read on.
Featured in this article



Kaori Yamagishi (@yamachan)

Kaori joined Mercari in 2019. After working on content planning and direction for Mercari's owned media, such as Mercari Magazine and the company's official X account (formerly Twitter), she became a PM for promotional campaigns for growth. She is now the leading director of Group-wide mass marketing strategies such as TV commercials and out-of-home (OOH) ads.
Job hopping for three years before landing at Mercari in 2019
I currently work on the Mass Marketing Team, which focuses on promotions outside of the app in order to support Mercari's growth. I'm in charge of offline advertising including TV commercials and transit advertising.
My job working on offline advertising is good fun. I feel like my job is equivalent to shouting at the top of my lungs for Mercari, a service that I really love, so I find the work really exciting! Having said something so plain more or less guarantees that internal and external stakeholders, including partner companies, will needle me for my lack of depth. However, I've learned a lot by gathering knowledge and continuing to think about the questions on marketing professionals' brains, namely "Who is our audience, and what do we want to tell them? Moreover, why is it necessary for us to convey our message in the first place?" I feel this action makes me continuously re-examine my own evolving perspective and thought processes.
Because my work is publicizing a company I love, it feels somewhat like kiss and tell (in the most transcendentally broad sense possible, of course). The job is one of trial and error that involves trying every way possible to get people to love Mercari as much as I do, so how could such work be anything but fun?
On the other hand, if I had been put in charge of offline advertising when I first joined the company, I probably wouldn't have been able to say—the way I am saying it now—that this work is fun. I think that if I had been inexperienced and unable to do the work well, more than likely I would have been unmotivated and unable to get a response from people.
On December 1, 2019, I joined the company to take the reins of our owned-media publication Mercari Magazine. My idea was to keep scaling higher and higher professionally, so by the time I joined Mercari, I was already on the seventh company of my career. I wanted to have the experience of producing various types of output, so over a three-year span, I joined and left a string of companies. I worked in information magazine publishing, film production, online media, as well as editorial and advertising content creation. At my previous job, I worked on planning and diction in the content marketing field, so when I joined Mercari I had intended to once again shoulder the work of fostering service interest through online content.
I was in charge of growing the company's official X account (formerly Twitter) and large-scale brand promotional campaign centered on digital media, while also being in charge of managing Mercari Magazine. Leveraging my previous experience, in other words, my editorial mindset, I conceptualized, produced, and released projects. Most of our content and communications spanned a long period of time, as we aimed to get users to share our feelings and love for Mercari.
I was working in a field where I could put my strengths to task and produce output voraciously. Then, at the end of 2021, I experienced the greatest, most unforgettable turning point of my work life.
"Hello, @Anyone"
One day someone asked me, "How would you like to become the PM of a promotional campaign?" The promotional campaign in question was focused on an incentive program for point-back rewards, a highly important element of growth for the service. The role required the PM to work on everything from strategy design to implementation, required a head for numbers, and would also require leading a sizeable pool of stakeholders. I would be working with a small army of members such as analysts, UX researchers, designers, and members of the legal, CS, and PR teams. It felt rare to be offered to take on a challenge like this so soon after joining a company and without any previous experience. I took it to be a golden opportunity and decided to change job positions.
Although my mind was made up, not having experience in this job type was brutal, haha. My anguish was so heavy that I could talk about my struggles for ages. I feel like I relearned what it means to learn a job. I absolutely could not close my eyes and pretend that what I did not understand was not really there, and for the first time in a very long while I experienced the process of raising a cry of "I don't understand" and asking for help.
As I fought my way through the work, I became reacquainted with members I had never worked with before, and their active willingness to help me became my lifeline. There was always someone that helped me out. No one ignored me when I said I was having a hard time. It was quite the contrary; I found that people went out of their way to prioritize helping me and providing all the support they could.
When I posted a question on Slack that started "Hello, @Anyone," more often than not I would receive a reply back within 30 seconds. I just might have the Mercari record for "member who has received the most help from random people around the company." In the days when I was working on that project, I felt incredibly lucky to be surrounded by so many professionals with impressive experience and abilities at Mercari. At the same time, my feelings of gratitude were humbling and frequent reminders that I could do nothing on my own.
I found that taking on the question "what can I do in order for even more users to take part in the promotional campaign and take action?" while I received this bounty of help was a very important experience. Analyzing numbers is a given, but in order to improve the promotional campaign, it was also important for us to conduct interviews with users to hear directly from them. Why do some people use Mercari while others don't? Everyone has a reason. I saw first-hand how there are as many reasons for using Mercari as there are lifestyles. In other words, I gained a deep understanding of Mercari in terms of its growth as a service, and I was able to learn about the importance of problem setting.
After that, I learned about a project that was aiming to use TV commercials to inform even more people about our promotional campaigns. I volunteered to be in charge of mass marketing for the project, which was something that I had been interested in for quite some time. Once again, I was working in an area where I had no experience, but I figured that the work would be the culmination of my collective experience.
Now knowing how growth worked, I wanted to try to convey a simple message that even more people would understand instinctively. Specifically because I had learned how Mercari's growth worked via my job on the promotional campaign for the app, I felt I had a sharper understanding of who my audience was and how to talk to them.
The message conveyed should resolve a business problem, so I hypothesized the problem and a strategy for tackling it, and then I would come up with TV commercials and transit advertising based on those hypotheses. Together with the members on my team, I examined the reasons why we had to advertise to the public in the first place and suggested concepts of what information we should convey in our ads. I think it was my experience working as a growth PM that enabled me to see that the goal was not launching advertisements, but rather thinking from the standpoint of why we needed to advertise.
Maybe I work at Mercari because I have no reason to quit
I guess I'm repeating myself, but my work on offline advertising like TV commercials and transit advertising is good fun. Work that oscillates between logical thinking and intuition is extremely difficult, but that's its appeal. And most of all, I like Mercari and I like the people who work at Mercari. I can't say that I have any sort of edgy reason for working at Mercari. Maybe it's more like I haven't found a reason to quit. Every day is busy, my days are filled with work I want to do, and there are also opportunities for growth. For better or for worse, things come up, so I'm never idle or bored.
A recent project that really galvanized these feelings was the Mercari 10th anniversary project. As a cross-team project, the approach we took involved digital content, transit advertising, TV commercials, and multiple forms of media.
Related article: Finishing the First 10 Years of Mercari and Diving Into the Next 10 With Gratitude for Our Users
For this project we also had users contribute their ideas while we visualized what it is that makes Mercari so great, and that was what made the project fun beyond comparison. Our base concept was, "Mercari is a service that our users have helped us build, so let's make this project all about saying thank you for the past 10 years." I felt that all of our members were aligned on this direction. Then in the course of our work, my respect for our members kept flowing. I was extremely busy, so there may have been times when I looked like a monster in meetings and maybe this respect did not come across at all. Sorry for how I acted at the time.
What I'm trying to say is that the appeal of working on Mercari's marketing lies in being able to collaborate with numerous professionals internally and externally, while sharing a common focus and goals centered around the service. Plus, if you want to produce even better output, you can also create your own growth. Working with people all connected through something they care about is fun even when there is friction and confusion in the room. Working that way has an unwavering and irreplaceable value. This is precisely why I feel I have found my life's work and not just a job.
I'd like to close by saying two things: At Mercari, you will be able to expand your work without being typecast by your past experience, and there is an incredible environment and great people waiting for you here.