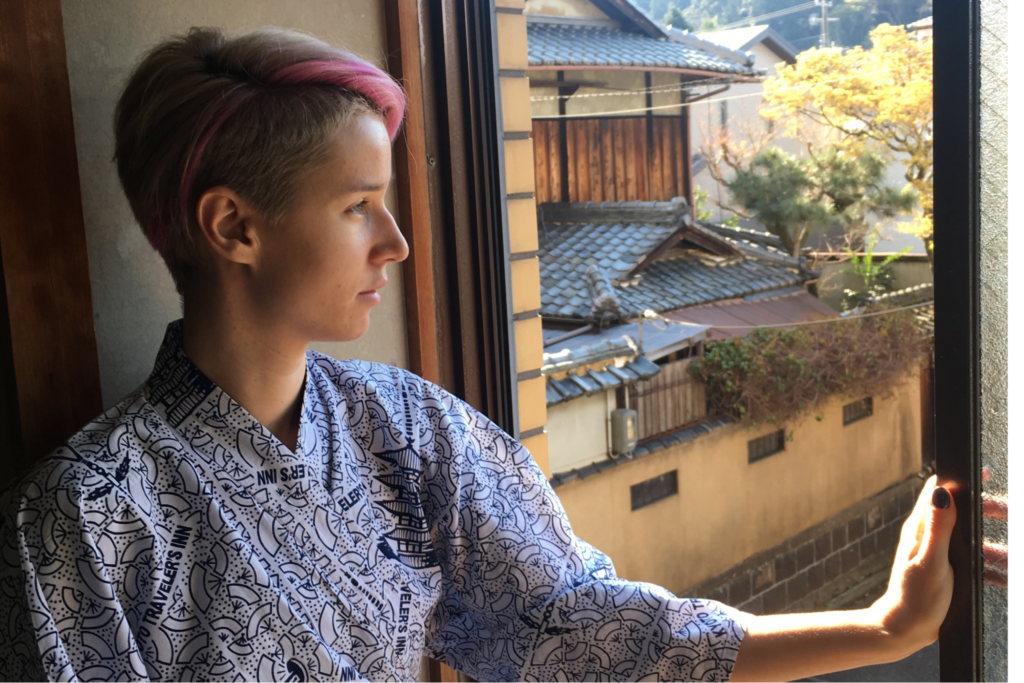 Mercari Relocation Stories: @Asya from Russia
My life in Japan in three words: Food, Nature, and Lifestyle
I moved from Russia to join Mercari and start my life here in August 2023. I had been interested in living in Japan ever since I visited for the first time back in 2019—I spent about three weeks here, and I remember feeling like the culture really fits me. Before that, I had only traveled around Europe and the US, but there was something about Japan that made me feel like it is close to what I like and how I like to live. There is a sense of respect and politeness, even among strangers, that I gravitated toward. I came back from my trip wanting to experience living here like a local, not just like a tourist.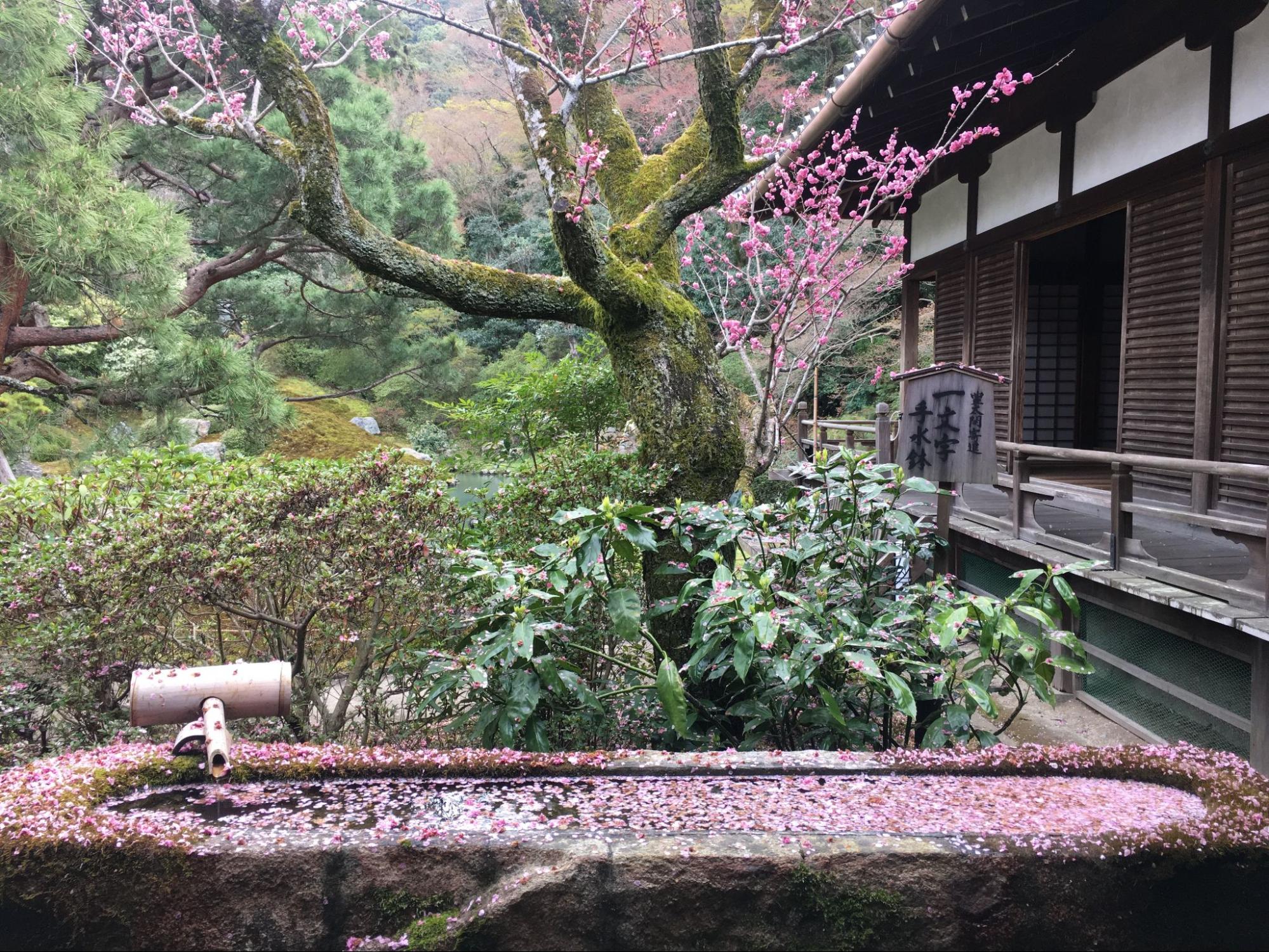 Plum blossoms from my first trip to Japan
However, at the time, I had a good job that made it hard for me to leave Russia. I chose to wait until it felt like the right time to change jobs, and once that time came, I started looking into companies in Japan. One of my former colleagues had actually relocated to Japan to join Mercari six months prior, and he had nice things to say about the company. I felt good about the positive review coming from an actual employee, so I applied to Mercari along with two other companies. In the end, I chose Mercari because of the nice people I met during the interview process, and I was also drawn to the size of the company. It felt just right in that, compared to the larger tech companies that I've worked at before, I thought I would be able to make a more meaningful impact at Mercari.
Once I got an offer, things moved pretty quickly! I was able to get both my certificate of eligibility and visa in a few weeks, and I also spent this time sending in the necessary documents to the relocation team. Mercari's relocation team made the process so much easier for me—I don't think it would have been possible without their help, because I'm not someone who is good with documents, haha. They provided English translations and sent me clear to-dos like "Can you provide us with this document?" or "Can you fill in this application?" I just needed to follow their instructions and give them what they needed. Their support also helped me navigate small bumps along the way, like when the last name on my passport did not match my diploma from before I got married. They went above and beyond, putting together a long explanation in Japanese to report the reason to the government, which I could not have done on my own.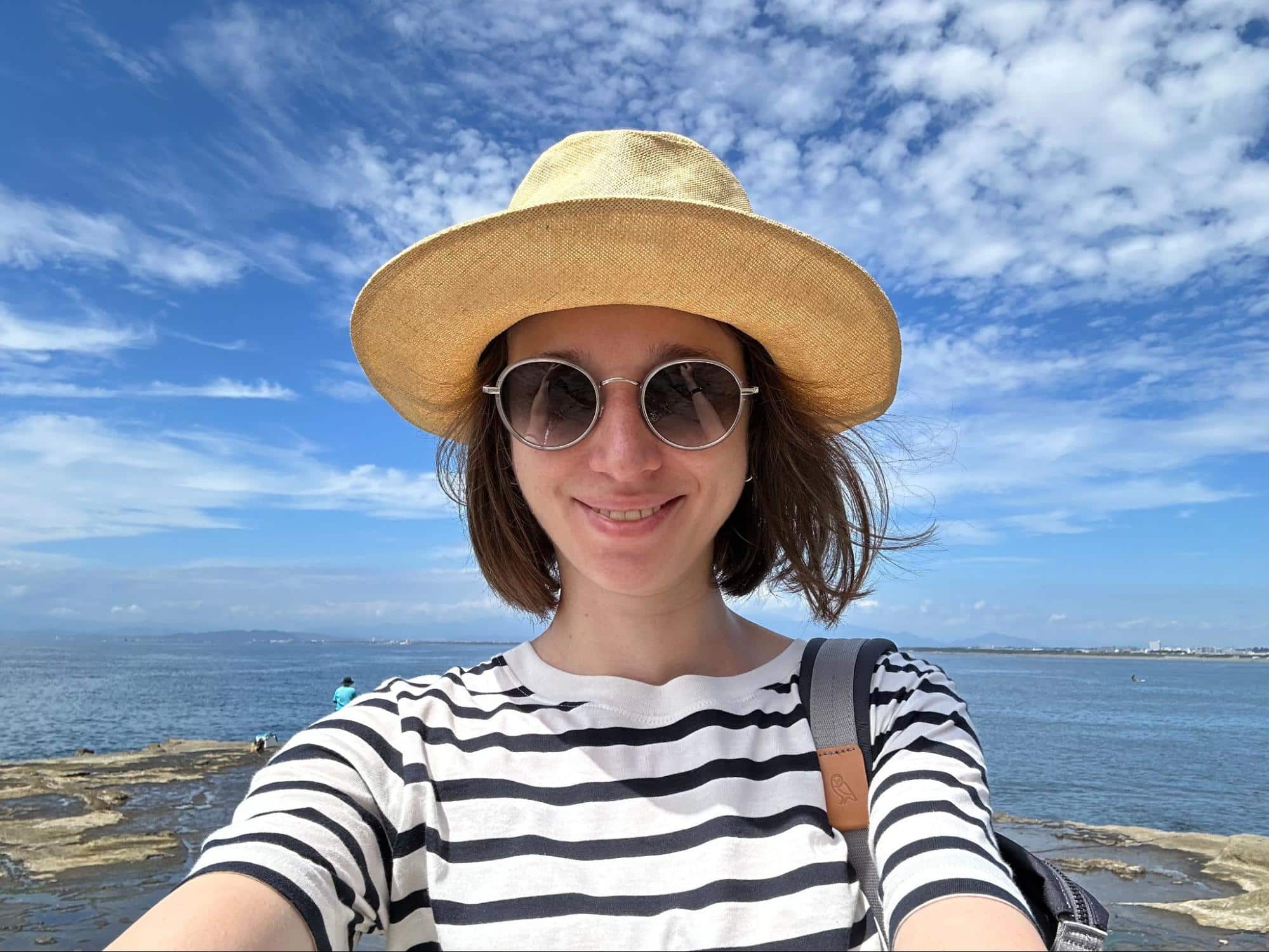 Beach day in Enoshima, a small island about an hour away from Tokyo
After I landed in Japan, Mercari also arranged an external relocation agency to help me get settled in. A lovely woman came with me to get all of my essentials set up, like registering my address at the ward office, opening up a bank account, and signing up for a phone contract. It was all done extremely fast in the first two days after I landed. One culture shock I did experience is paper mail! It is not common in Russia, because communication with institutions like banks and the government is all done via email. I was shocked to be getting bills in my mail and to need to fill out paper forms and mail them back to places. I now have a new habit of checking my mailbox every day, haha.
In terms of settling in, one thing I'm glad I did on my own is contacting a real estate agency before leaving Russia. Mercari provided a list of recommended real estate agencies in the onboarding materials, so I got in touch with two of them about a month before my move. The agencies collected some information from me to get the process going, and a few days before my flight, I was excited to get an email from one of them with several options to go through. Even though Mercari provides temporary accommodation for the first month, there is so much happening as you're adjusting to a new country and a new job. It was helpful to jumpstart the process of finding somewhere to live so there's one less thing to worry about.
I will say, I was anxious about not knowing Japanese when I first came here. However, I've found that most of the time, people are very kind and willing to meet you halfway, even if they can't speak English. With that said, I did want to start learning the language since I'm living in Japan after all, so I've been taking the Japanese lessons offered by Mercari. The lessons focus on daily phrases, like ordering at restaurants, which is exactly what I need. I also have been studying kanji on my own. Right now, the characters I see all around me just look like pictures, so it's exciting to begin understanding them as words with meaning. Kanji is very interesting in the sense that it almost feels like a puzzle. Each piece has a meaning, and you can start seeing how a lot of Japanese words are a combination of those meanings. It's a beautiful language. I'm enjoying learning it.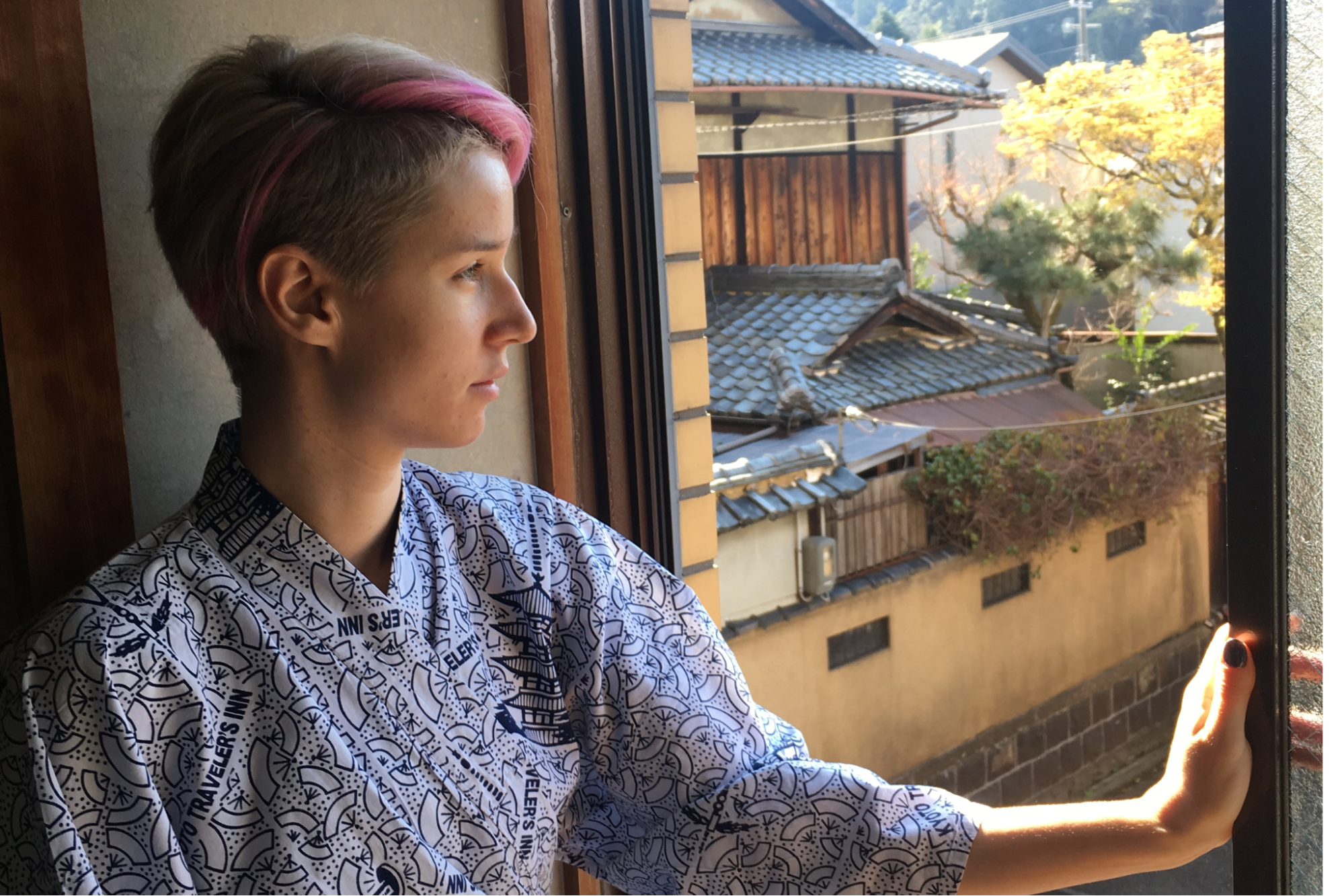 Staying at a Japanese inn in Kyoto
Another unexpected thing that has enhanced my life here is the club system at Mercari. Two of my biggest hobbies are tennis and wine. I hadn't played tennis for two years, but I brought my gear with me to Japan hoping that I might get back into it at some point. During my first week at Mercari, I had welcome lunches with different teams and mentioned tennis as a hobby in my self-introductions. The tennis club was coincidentally having an event the next week, and a bunch of people messaged me afterwards inviting me to join. I was hesitant at first, because I didn't feel like I was ready to start joining any social activities just yet. But, I realized that it's easier to just say yes than no, and a week later, there I was playing tennis at a court in the outskirts of Tokyo! It was such a nice time that it inspired me to sign up for personal lessons with a tennis coach the next day. Ever since then, I've been more open to and interested in joining different club activities. I have a sommelier diploma, so I found the wine club and joined their event a few weeks later as well, where we tasted 11 different bottles of Japanese wine. In this way, the club system has pushed me out of my comfort zone and helped me build communities in Japan and at Mercari around these two hobbies of mine.
It seems like the initial instinct I had for Japan in 2019 was right, because I haven't had much trouble getting acclimated to life here (other than the paper mail that I mentioned, haha). It was summer when I landed, and nobody can believe this, but I actually like the climate in Tokyo. Including the humidity! I like it a lot better than the weather in Saint-Petersburg, where I used to live. And, like a lot of people who come here, I've been enjoying the local food, and it's also been a pleasant surprise to learn how green Tokyo is as a city. Needless to say, there is still a lot for me to explore and discover about Japan. For anyone who is reading and interested in making the move, my piece of advice would be to give it a shot. It's much more fascinating than complicated!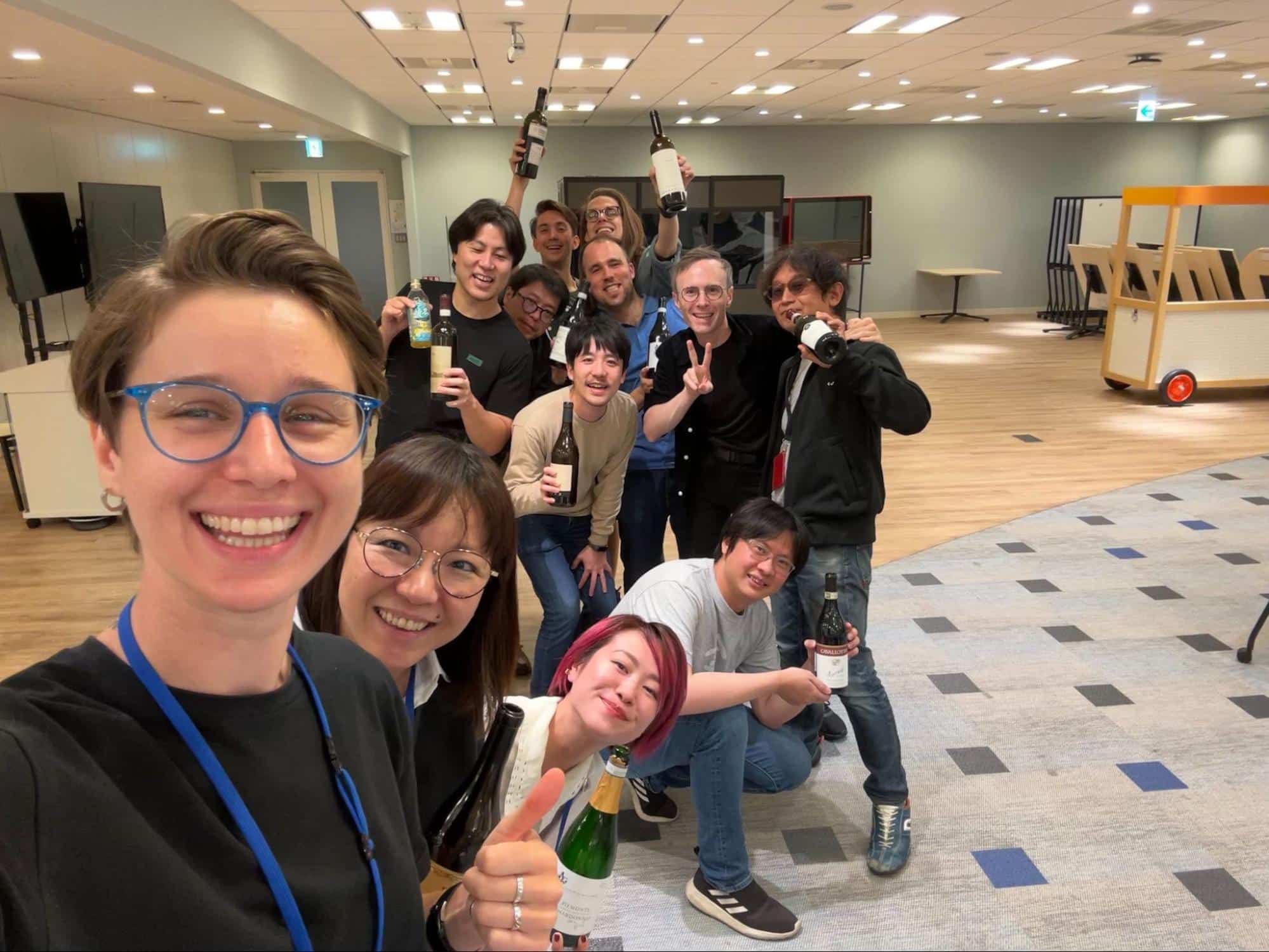 Enjoying an event with members of the wine and champagne club