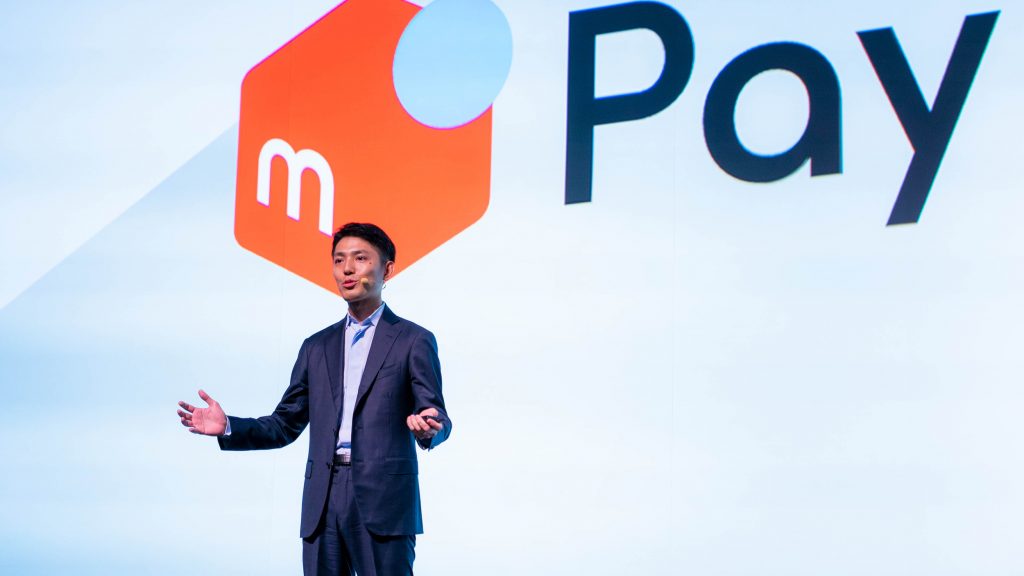 Merpay CEO Naoki Aoyagi looks back on the seven months since Merpay's launch #MPC2019SEP
MERPAY CONFERENCE 2019_SEP. was held on September 18, 2019. This was Merpay's second conference, following MERPAY CONFERENCE 2019, which was held in February to coincide with the launch of the mobile payment service Merpay.
At the conference, speakers presented on business plans and strategies to achieve Merpay's mission of building trust for a seamless society. We'll be bringing you reports from MERPAY CONFERENCE 2019_SEP. in three parts, right here on Mercan.
The first speaker to take the stage at the conference was Merpay CEO, Naoki Aoyagi. Seven months after the launch, what kind of progress has Merpay made? How will it grow in the future? Read on to find out Aoyagi's thoughts.
Creating a unique Merpay experience
"Welcome to Merpay Conference!"
Aoyagi opened MERPAY CONFERENCE 2019_SEP., welcoming the audience with a smile on his face.
In the previous conference, Aoyagi spoke about why Merpay chose the mission of building trust for a seamless society, and how the company plans to achieve this mission. This time, with the topic of "Merpay Growth History," Aoyagi talked about the progress Merpay has made so far, and the world he hopes to create through achieving Merpay's mission.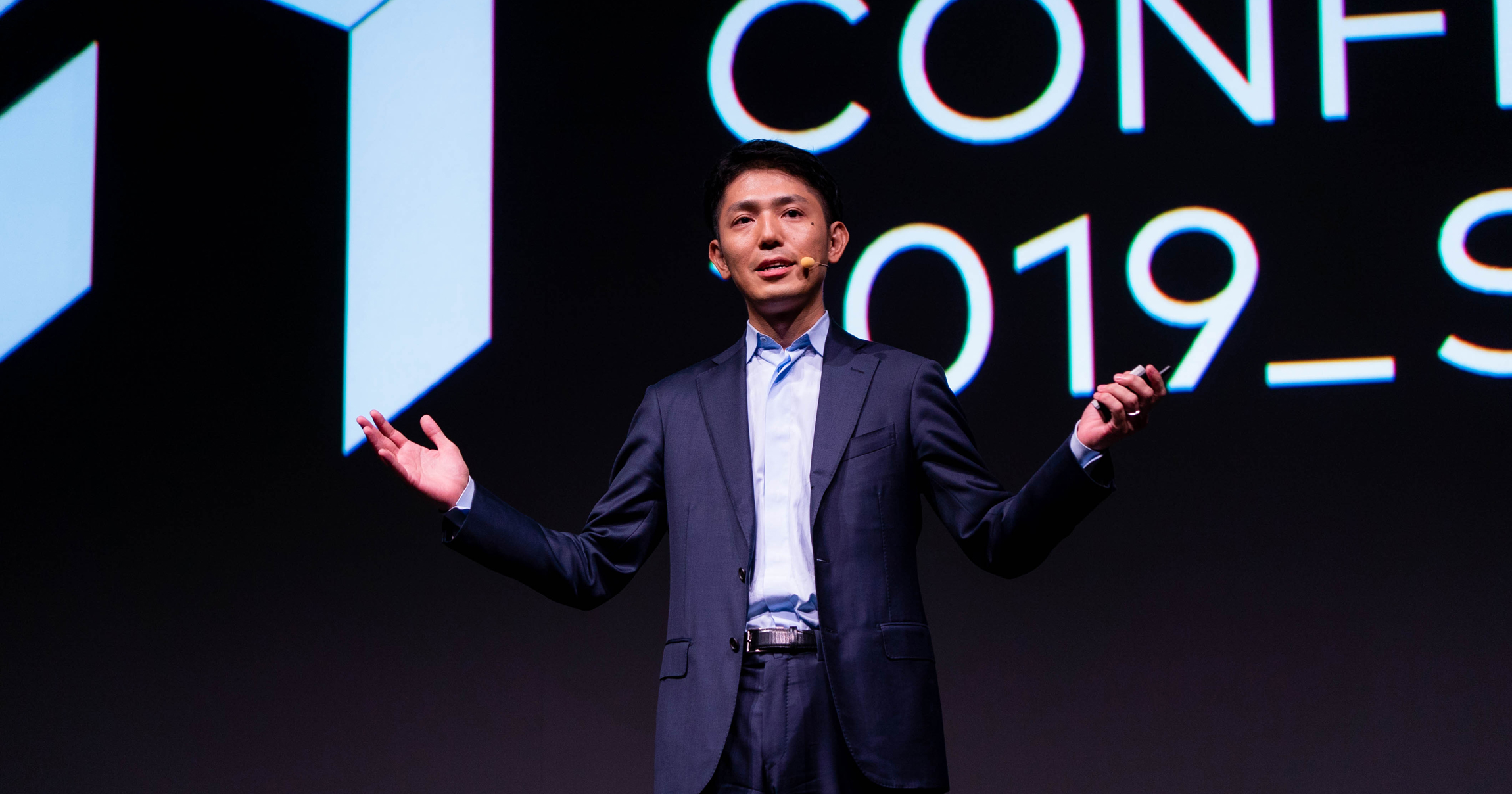 Naoki Aoyagi (Merpay CEO)
Aoyagi: Since Merpay's initial launch in February, in striving to achieve our mission, we have focused on becoming a payment service people use in their daily lives and creating a unique Merpay experience.
Aoyagi's vision of a "unique Merpay experience": a world where users can use Merpay to pay in any situation, at any time, in any place.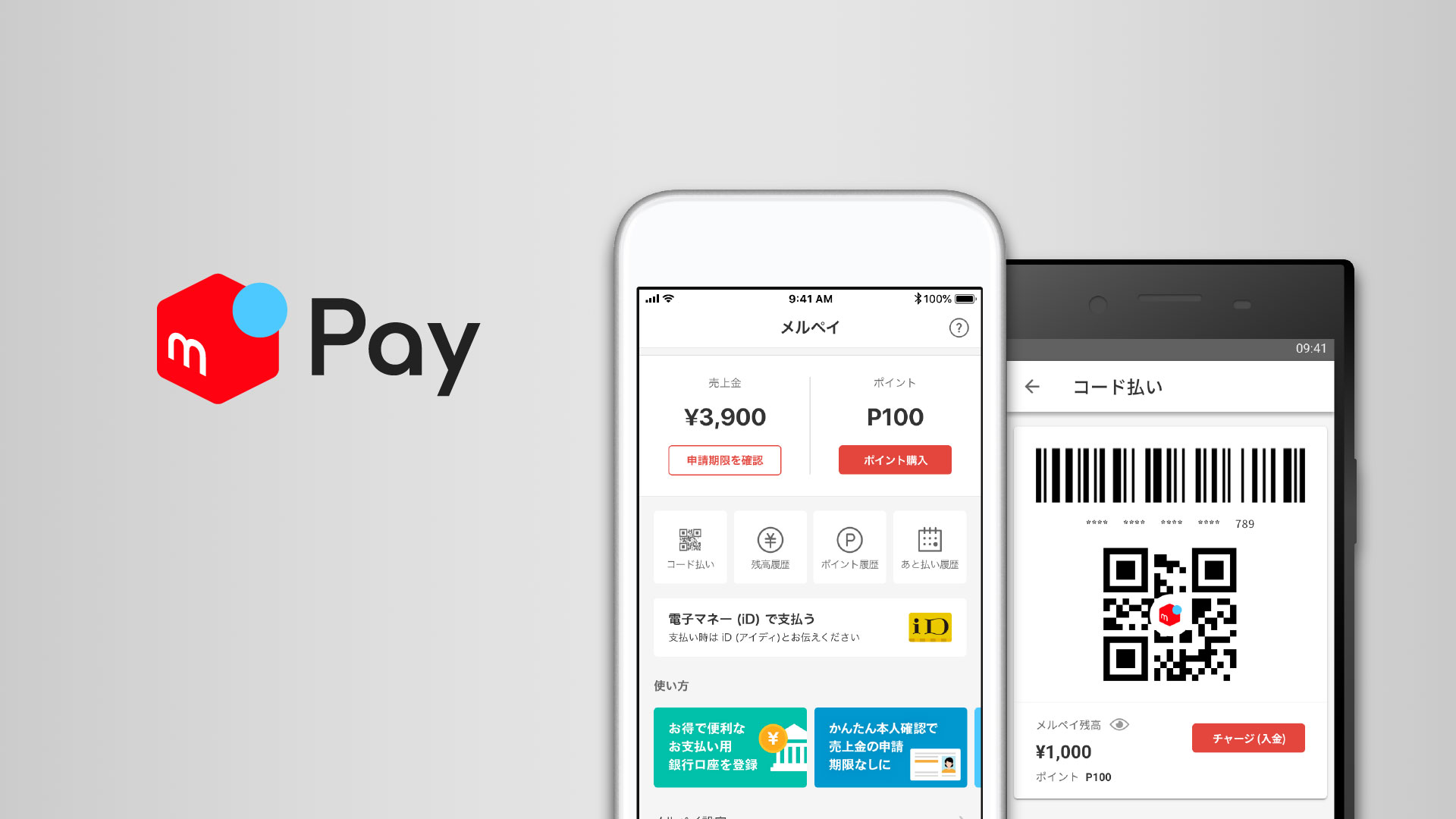 At the time of the launch in February 2019, Merpay supported iD contactless payments, and was available to use at 900,000 locations throughout the country from day one. In March, Merpay began supporting barcode payments, and in April, Merpay Deferred Payments allowed users to use Merpay without having to charge their accounts. By allowing people with no sales balance on Mercari to use Merpay, supporting online payments (launched May 2019), and more, Merpay was able to grow into a payment service used in many different situations.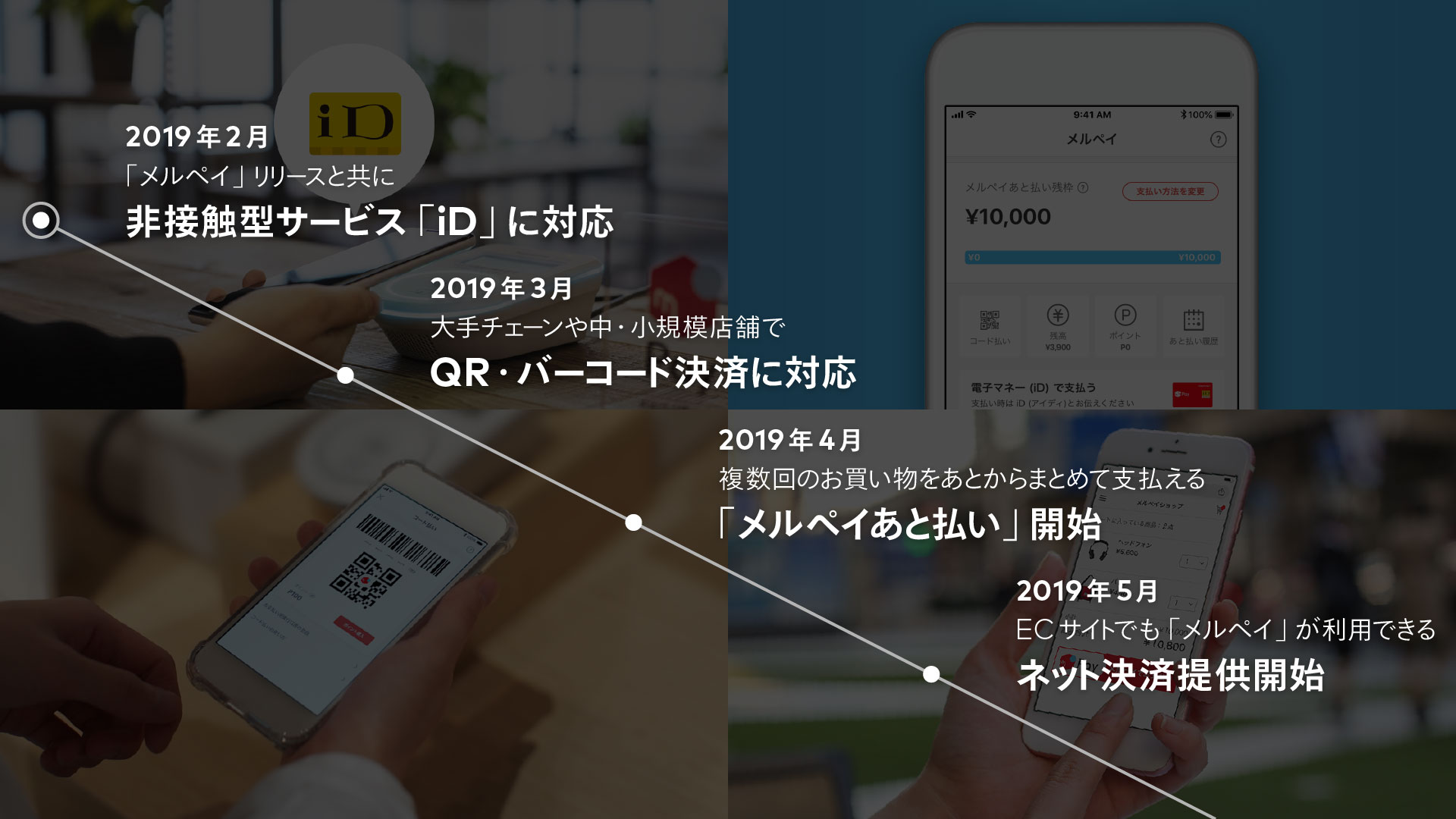 On top of that, Merpay currently has agreements to allow users to connect their accounts with 100 financial institutions throughout the country. The number of merchants has also grown to 1.7 million. Aoyagi spoke about the positive response so far.
Aoyagi: Ensuring convenience for users in more rural areas is crucial to increase usage of cashless payments throughout the country. Merpay has been working to strengthen its partnerships with financial institutions based in various regions. We're also expanding to more and more merchants faster than ever, thanks to the great sales work done by code payment companies. Merpay set a goal of reaching 2 million merchants by the end of the year, and at this rate, we believe we can realistically achieve that goal.
Given the mission Merpay aims to achieve, even these numbers are not yet enough. We have to get rid of situations where potential users want to use Merpay, but can't. To do so, Merpay has spent the last six months focusing on expanding to small-size and medium-size merchants, particularly in suburbs and rural areas.
Aoyagi: We want to make Merpay available in all sorts of everyday situations. In order to achieve that, we want to avoid the negative experience users may have when they can only use cash or credit cards somewhere, like a restaurant or a hair salon.
Finally ready to take on Merpay's mission
As a result of Merpay's continued work to create a unique Merpay experience, the service surpassed 4 million users*1 seven months after its launch. Aoyagi also spoke about the characteristics of Merpay's users. For example, continued use of Merpay after point-back promotions: according to usage data, approximately 80% of first-time users continue to use Merpay even after these promotions end.*2

*1. Aggregated number of unique users registered for Merpay Electronic Money, or used either QR Code Payments, Online Payments, or Merpay Deferred Payments as of September 2019 (overlapping users omitted).
*2. The ratio of users who paid using Merpay at an offline merchant for the first time in May 2019 and continued to use it the following month; excludes users who made their first payment entirely using points awarded for free.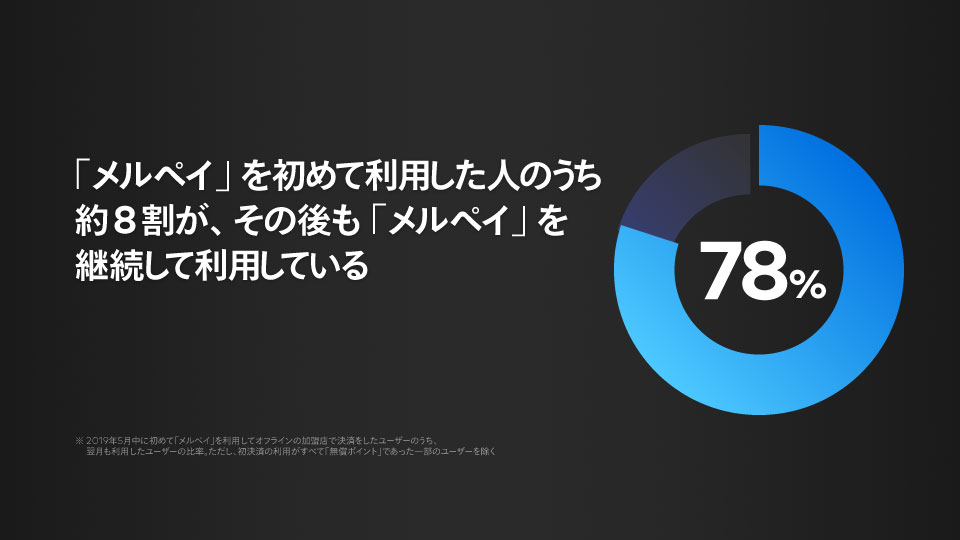 Aoyagi: We think of these numbers as a sign that people are choosing Merpay not just for the benefits they get from our promotions and the availability of merchants, but for our seamless payment options, easy-to-use app, and dedication to creating the best user experience. We have a number of promotions planned for the future, and expect to reach 6 million users by the end of this year and 10 million users next year. I think we're finally ready to start working towards achieving our mission of building trust for a seamless society.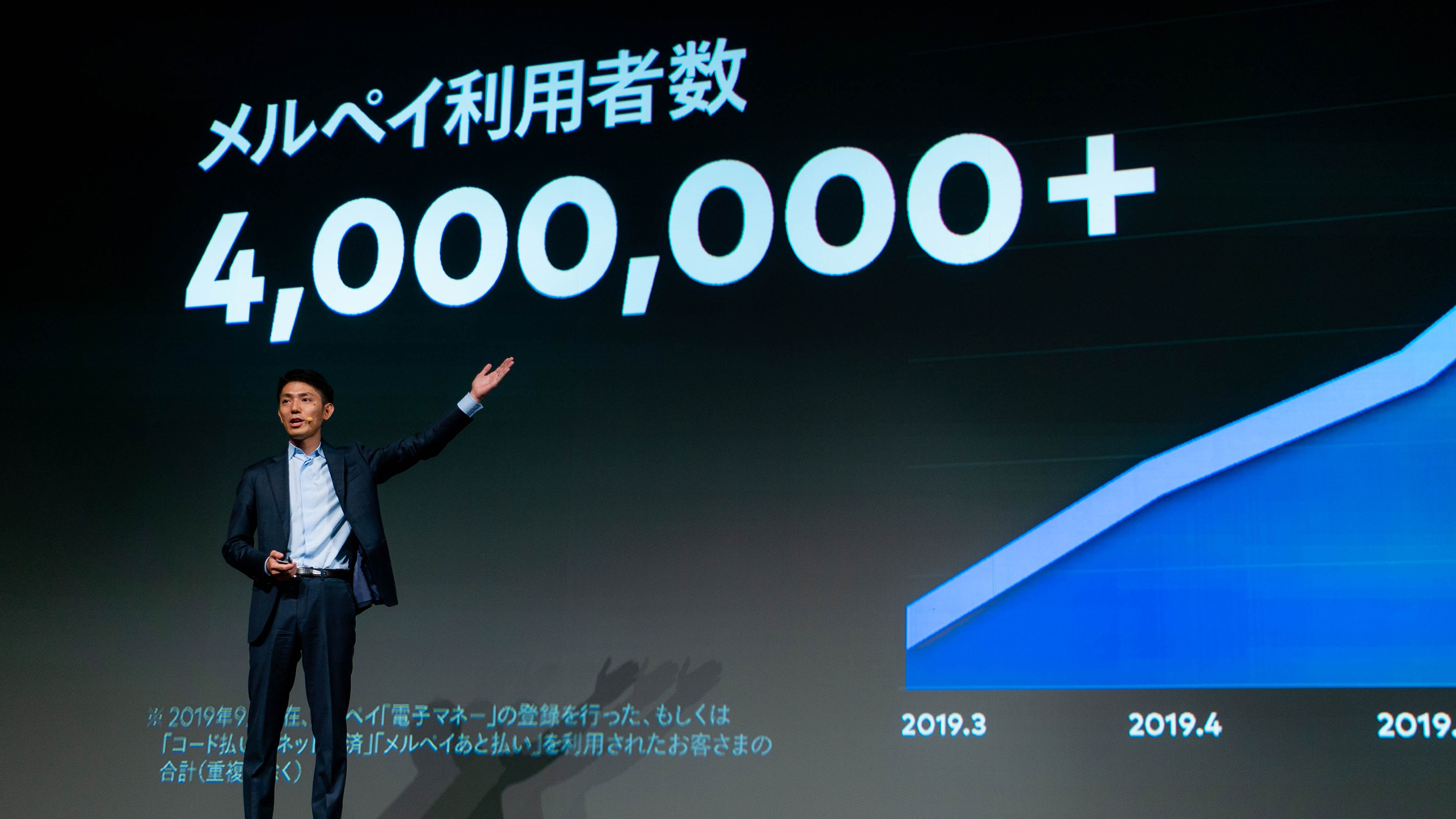 Three companies collaborating to strengthen measures against fraud
Next, Aoyagi spoke about what lies ahead for Merpay. Merpay has finished its "phase one," and is entering "phase two."
Aoyagi: In order to make the most of society's support for the cashless movement, and become a payment service used in people's everyday life, we need to answer: How unique can we make Merpay's services? Will we be able to achieve our mission?
Aoyagi continued by announcing a new strategy to promote a cashless society: strengthening measures against fraud. Merpay works to prevent fraud with authentication and identity verification when registering and using Merpay, as well as 24/365 monitoring by AI and specialized teams. In addition, the terms of service explicitly specify compensation provided in case of an incident, ensuring users feel safe and secure using Merpay. However, what's most important is ensuring that all payment services, including Merpay, are safe and secure for users.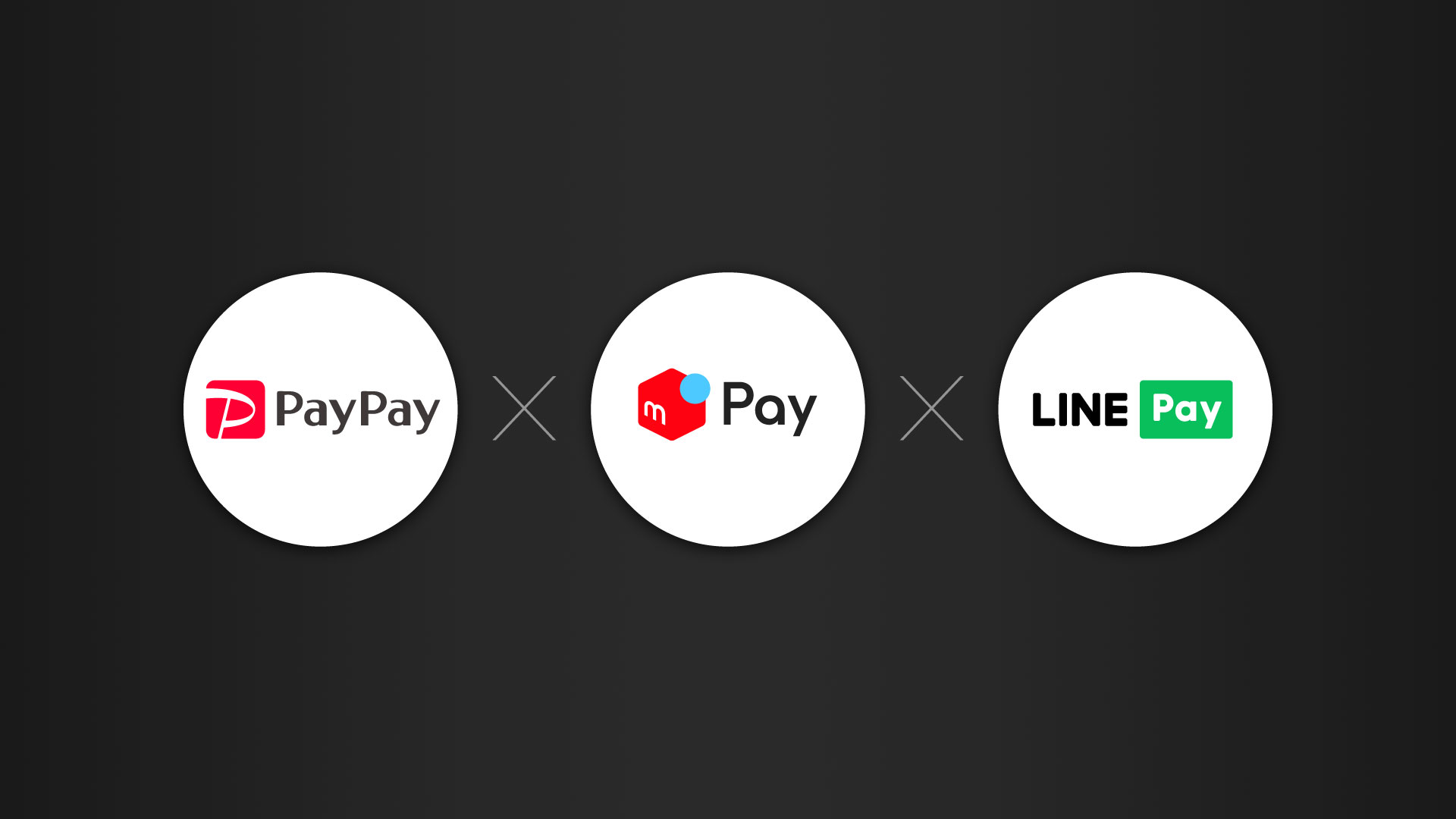 Aoyagi: Payment services carry the responsibility of social infrastructure. Even before the launch of Merpay, we worked to strengthen our security and measures against fraud. With the Point Reward Program for Consumers Using Cashless Payment starting in October, we have made it our top priority to conduct a general inspection for risks related to fraud or security. We also thought about what other measures we can take to ensure that users feel safe using our service. The more we thought, the more we realized that we need to strengthen measures against fraud across the entire industry, not just Merpay.
Aoyagi then invited Ichiro Nakayama, Representative Director, President and CEO of PayPay, and Hisahiro Chofuku, COO of LINE Pay, to the stage to announce a collaboration between the three companies to strengthen measures against fraud. As part of this collaboration, the three companies will take concrete actions such as sharing information on actual fraud-related cases, sharing best practices, and creating and sharing checklists for payment businesses to contribute to the discussion of measures against fraud in Payments Japan Association, as well as sharing information about attackers, means of fraud, and preventative measures among businesses.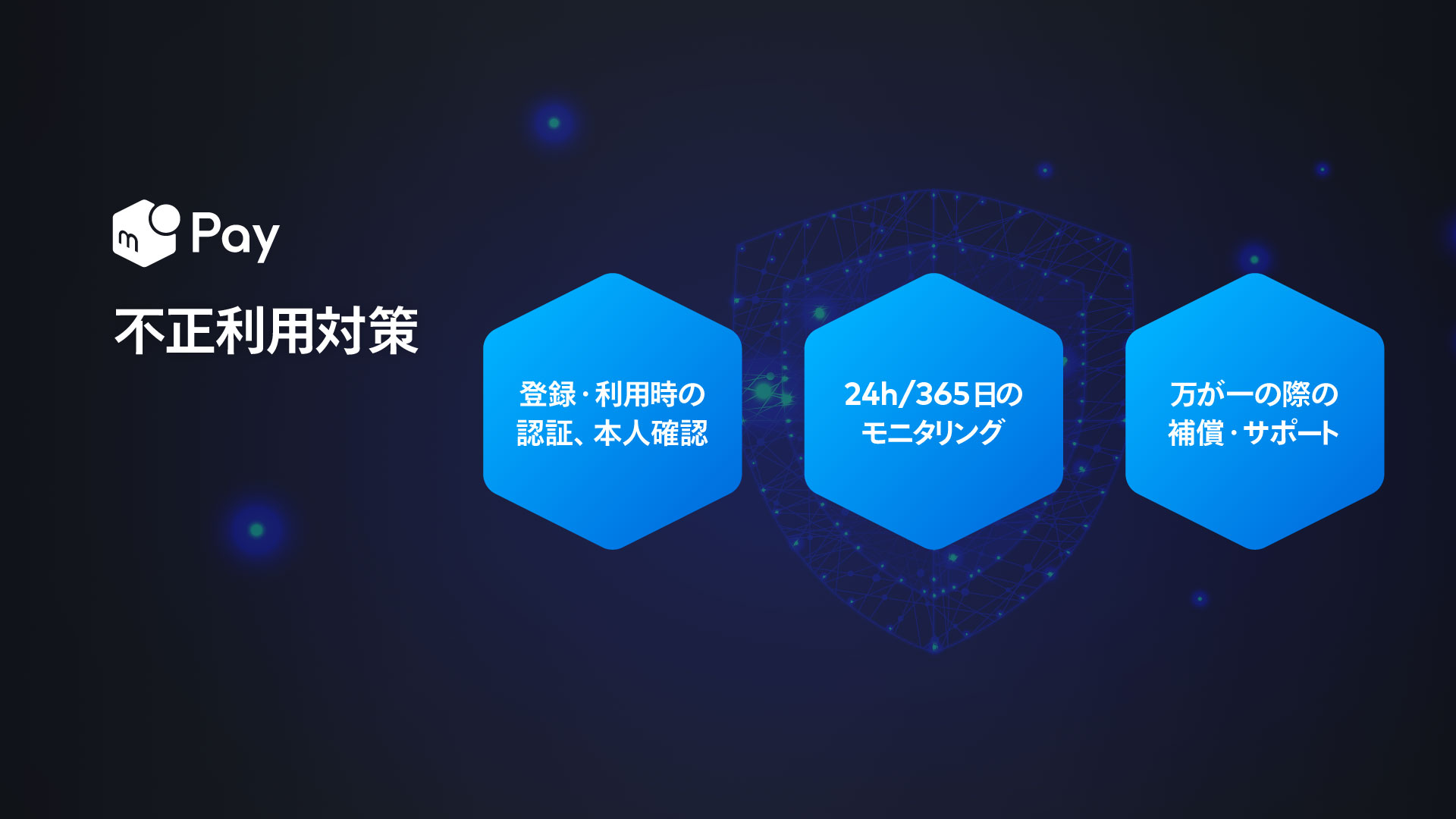 Initiatives like these are rooted in "openness," a concept very important to Merpay.
Aoyagi: The most important part of promoting a payment service is ensuring that users feel a sense of trust in payments in general. That's why we decided to announce this together, not just as Merpay.
Using a new form of trust as the foundation to create a circular economy and seamless society
After announcing the collaborative measures against fraud, Aoyagi spoke about Merpay's participation in the Point Reward Program for Consumers Using Cashless Payment. Starting in October, users will receive up to 5% in rewards when using Merpay at stores participating in the Point Reward Program for Consumers Using Cashless Payment. In addition, merchants who implement Merpay QR Code Payments by March 31, 2020 will have the payment processing fee lowered to 0% for payments made between October 1, 2019 and June 30, 2020, and receive 5% cashback for payments made using code payments.*3

*3. Applies to all merchants who implement the "Merpay Merchant App" or Merpay's "User Code Reader" code payment systems. Merchants who have already implemented Merpay QR Code Payments are also eligible.

Aoyagi: This is a bold approach unique to Merpay. This setup will not only provide a reward of 5% to users using Merpay, but to merchants as well. By implementing rewards for merchants on top of the point-back rewards from the government, we anticipate that the use of cashless payments will spread even more rapidly.
Promoting the cashless movement is an initiative for both the government and the people. Following this was a video message from Yasutoshi Nishimura, the Minister of State for Economic and Fiscal Policy and Minister in charge of Social Security Reform. Aoyagi drew the presentation to a close by giving his thoughts on the future of Merpay.
Aoyagi: We want to be more than just a payment service, using a new form of trust as the foundation to create a circular economy and seamless society. Please stay tuned for what Merpay will be able to achieve going forward.
Naoki Aoyagi

Naoki Aoyagi is the former Executive Director of GREE, Inc. After working at Deutsche Bank, he joined GREE, where he led the company's pre-IPO financing and managed the IPO as CFO. He also headed business development activities at GREE, including the launch of the company's game platform. From 2011, Aoyagi was instrumental in GREE's international business expansion in San Francisco. He held the position of General Director before stepping down from his role as Executive Director in September 2016. He assumed the role of Merpay CEO in November 2017, and the role of Mercari, Inc. Director in September 2018.
Click here for a video of the conference.