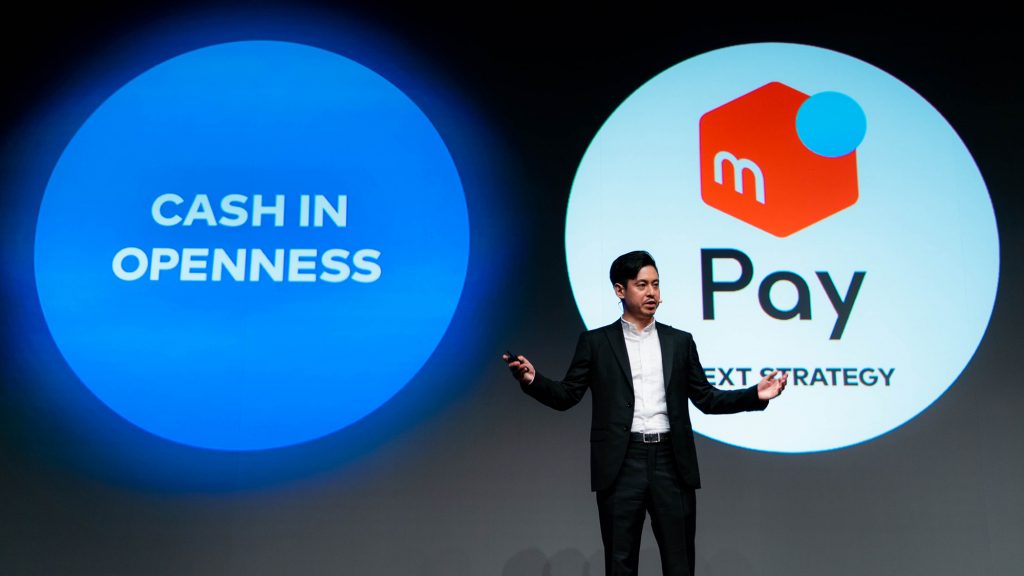 The important keywords for Merpay as we aim to become part of society's infrastructure #MPC2019SEP
MERPAY CONFERENCE 2019_SEP. was held on September 18, 2019. This was Merpay's second conference, following MERPAY CONFERENCE 2019, which was held in February to coincide with the launch of the mobile payment service Merpay. At the conference, speakers talked about the business plans and strategies toward achieving Merpay's mission of building trust for a seamless society.
Following the presentation by Merpay CEO Naoki Aoyagi, CPO (Chief Product Officer) Takeo Iyo took the stage and spoke about Merpay's evolution toward becoming the payment service that will serve as the infrastructure of society, focusing on a few important keywords. Read the report below.
Using Merpay in the Public Domain
OPENNESS
Iyo took the stage and declared with confidence Merpay's focus on "OPENNESS" as it aims to become the mobile payment service to serve as part of society's infrastructure.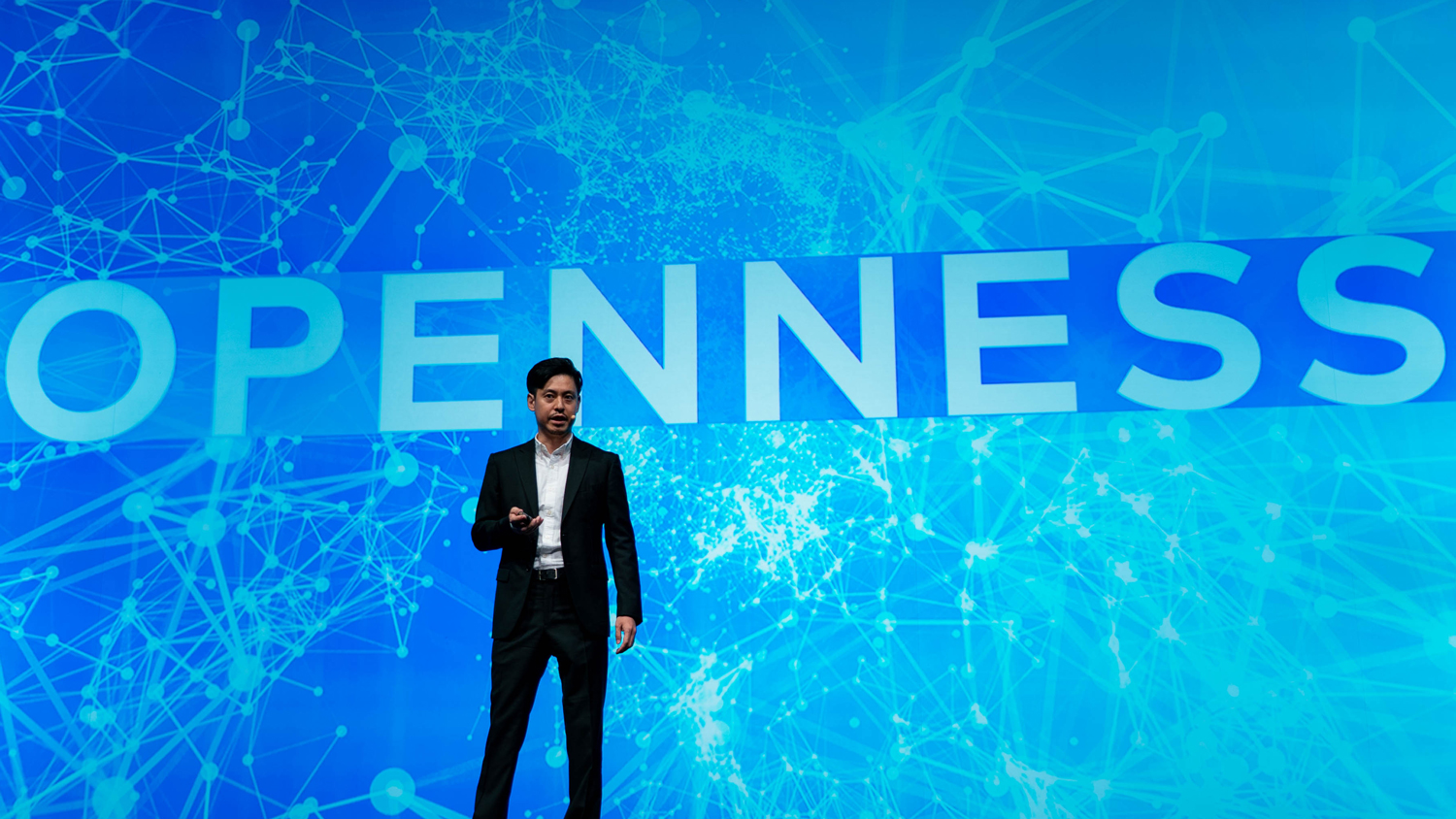 Merpay CPO, Takeo Iyo
Iyo: We believe in creating a payment infrastructure that provides value to both customers and merchants, not by enclosing customers in an economic block centered on our company's service, but by expanding on open partnerships with various other companies.
We spoke about having open partnerships with various other companies at our previous conference, but this time, we announce initiatives to further evolve Merpay toward achieving our mission of building trust for a seamless society. The key words in this presentation are the concepts of "cash in" and "cash out."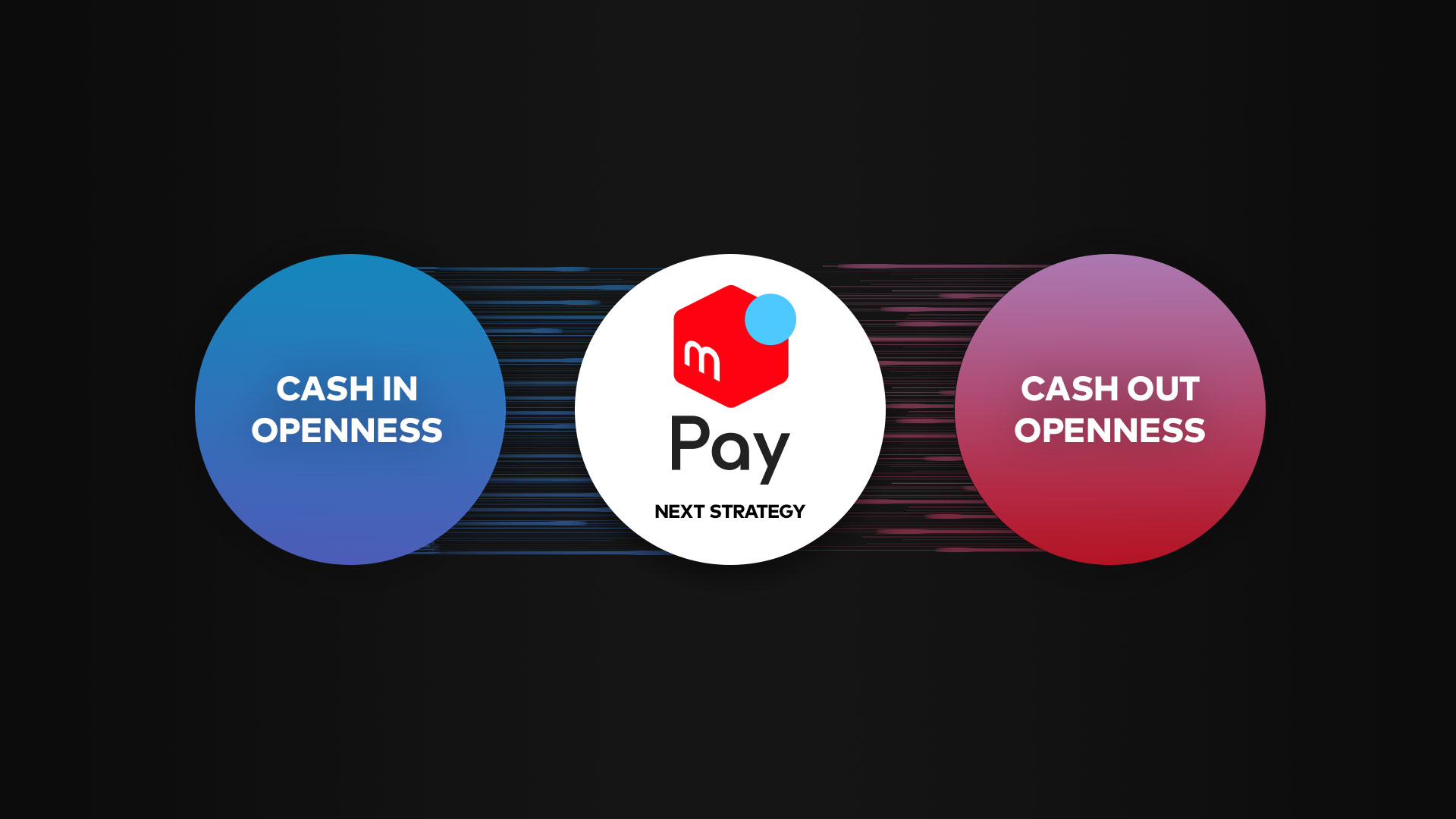 Iyo: In order to become a payment infrastructure that provides value to both customers and merchants, the most important aspects are "cash in" (increasing methods for charging your balance) and "cash out" (increasing locations and methods for using your balance).
Following this, Iyo began explaining Merpay's "cash out" initiatives. Currently, customers can use their Merpay balance to purchase items on the Mercari marketplace app and at merchant stores both online and offline. To expand this even further, Merpay has focused on alliances with merchants.
Iyo: To date, we've worked with Sumitomo Mitsui Card for initiatives regarding iD contactless payments, had a business collaboration with KDDI, and worked to support Smart Code with JCB. We also formed the Mobile Payment Alliance (MoPA) merchant alliance with LINE Pay with the goal of providing convenient mobile payment services and realizing a cashless society. NTT DOCOMO joined this alliance, as well.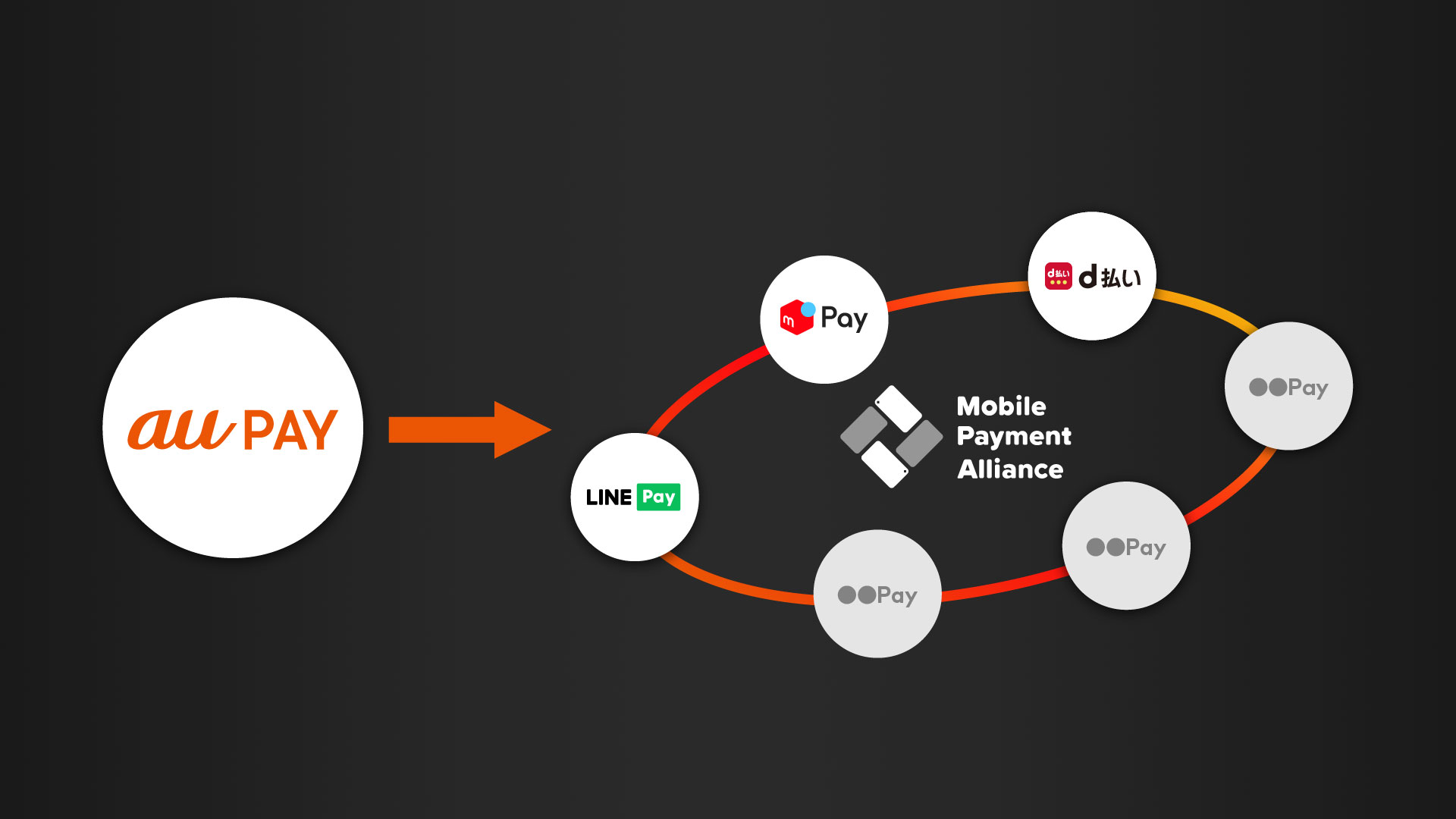 On the day of the conference, Merpay announced that KDDI Corporation would be joining MoPA, and Takeshi Nakai, Vice Director of the New Business Promotion Division and Life Design Division in KDDI Corporation, took the stage and spoke about the meaning behind au PAY joining MoPA. After Nakai's speech, Iyo continued with the following.
Iyo: KDDI, LINE Pay, NTT DOCOMO, and Merpay. With all four companies jointly driving sales, each company will be able to expand their service's cash-out locations and create an even more convenient payment experience for users. We also plan to create a system that allows merchants to apply for all services at the same time. We believe this will provide new value to our merchants by helping them implement cashless payments with much higher efficiency.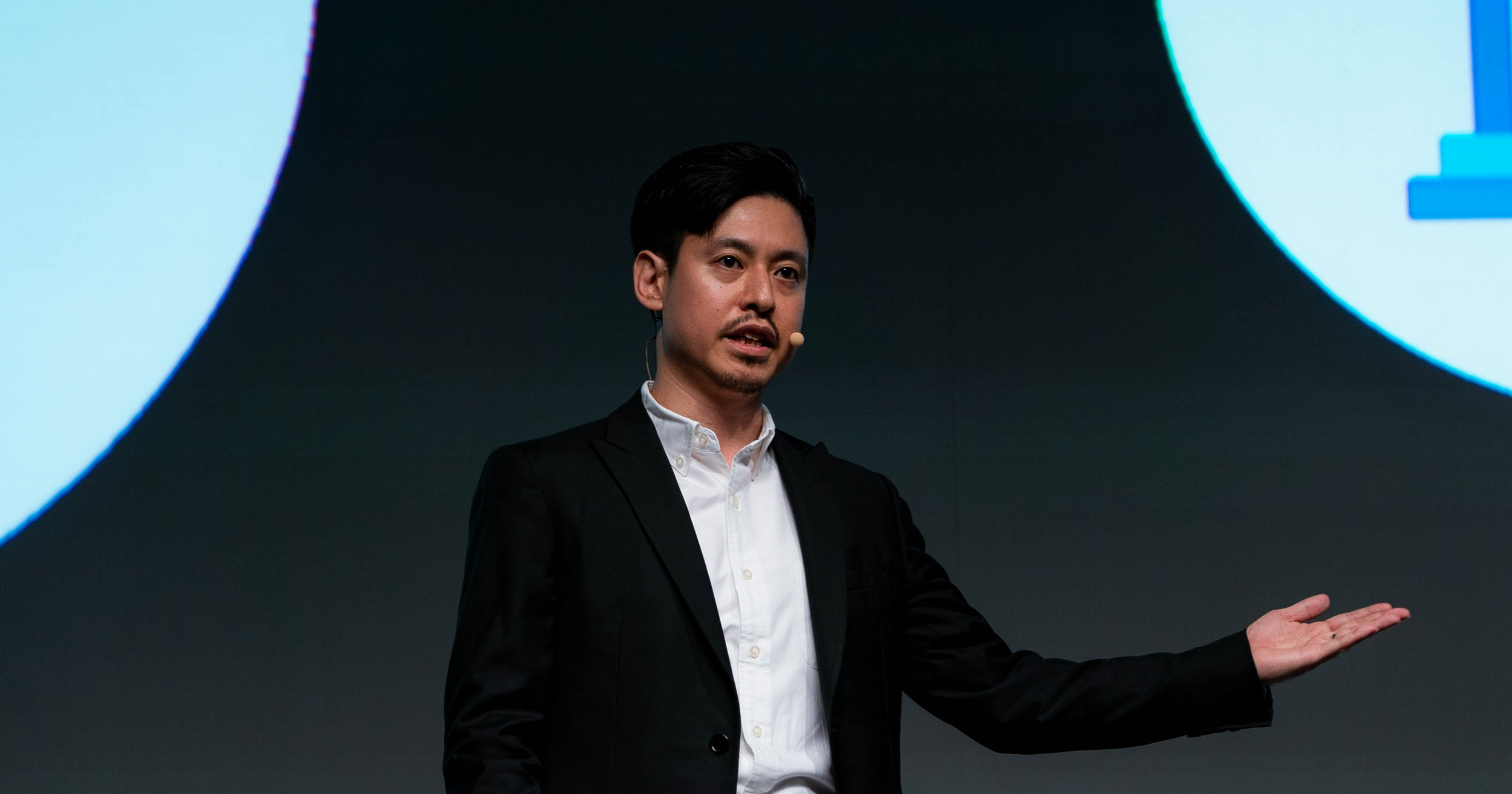 In addition to merchants stores, Merpay also announced cash-out locations in the public domain. Starting in November, Merpay will be accepted as a payment method for Japan's "benefit-your-locality" tax scheme through Furusato Choice. Additionally, the Mercari marketplace app plans to launch a new feature that will allow users to donate their revenue earned from selling items directly to a local government.
Iyo: We know that people want to provide support, but can't always find the right way to take action. We hope to make donations easier for everyone in a way that is unique to Mercari and Merpay.
Receiving Remuneration and Incentives Directly Via Merpay
Iyo: Currently, the only cash-in method for cashless payments is charging your balance by transferring money from your bank account. Users receive their monthly salary in their bank accounts, and from there, divide it as needed—housing and car expenses, tuition, mobile payments, etc. On the other hand, there's discussion happening on all sides about paying salary through digital money. We believe that by realizing the payment of salary through digital money, mobile payments will be used even more commonly for everyday life expenses.
For example, if the portion of your salary used for day-to-day purchases were paid to you through digital money, you wouldn't have to charge your account balance. On top of that, you would be able to manage your funds and check your usage history easily with mobile payments. You could still use your bank account to receive the portion of your salary used for long-term uses, like savings, paying back loans, etc., but the small amount you use in your daily life could be paid directly to your mobile payments account. This would make payments even more convenient for users. This is the future Merpay envisions.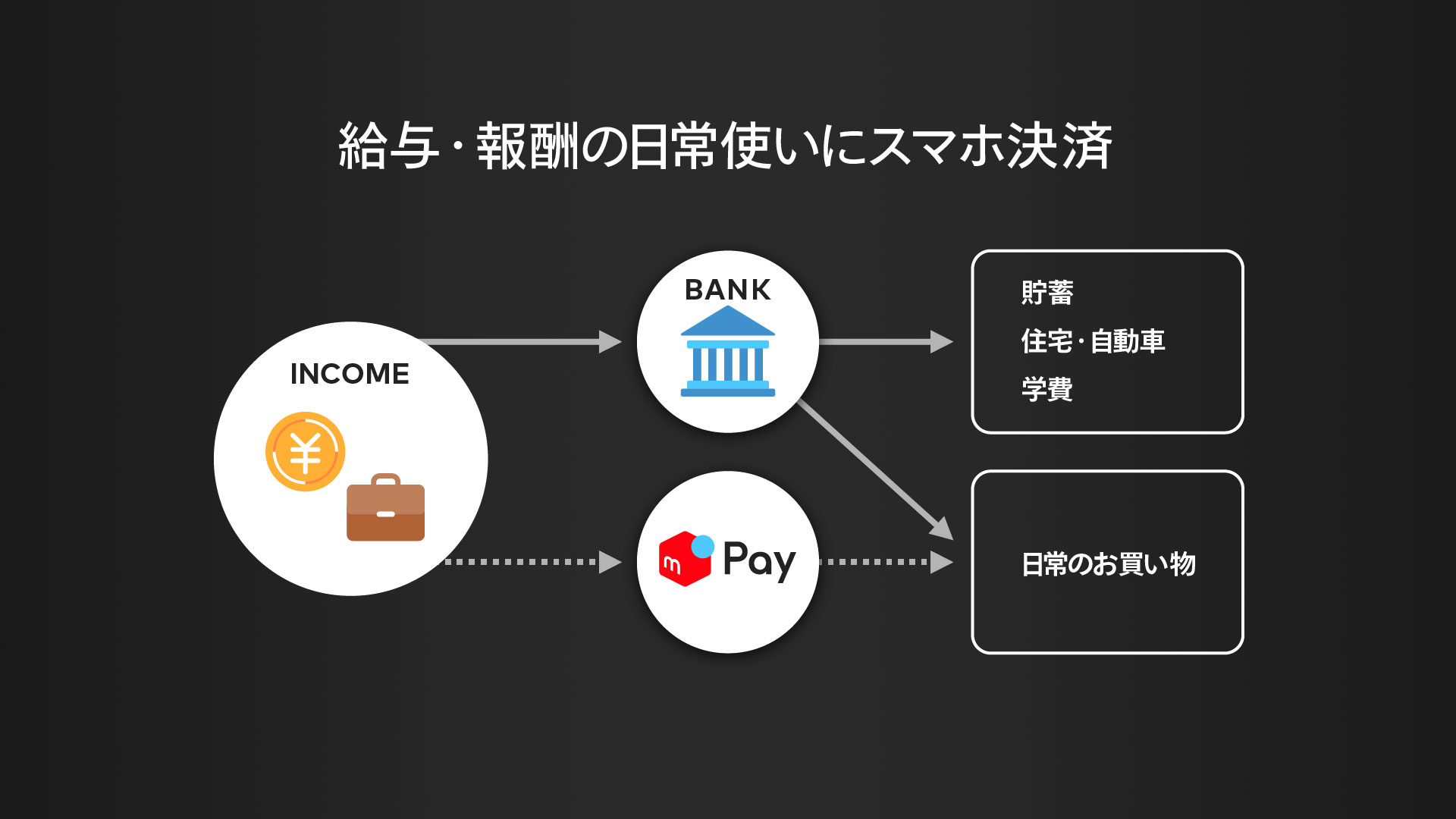 Iyo: We want to make payment of salary through digital money a reality. To do so, we will continue paying attention to the discussions of labor and management organizations and government agencies as we prepare systems and teams that ensure our customers can safely receive and use their income. However, we will first expand our cash-in methods by allowing users to directly use their sources of income besides salary, such as remunerations and incentives, from Merpay.
Iyo announced that the direct use of remunerations and incentives would be achieved by working with CrowdWorks, VisasQ, and Lancers. These are services which match individuals with businesses for work on a request basis. Users of each of these services receive remuneration and incentives through the service.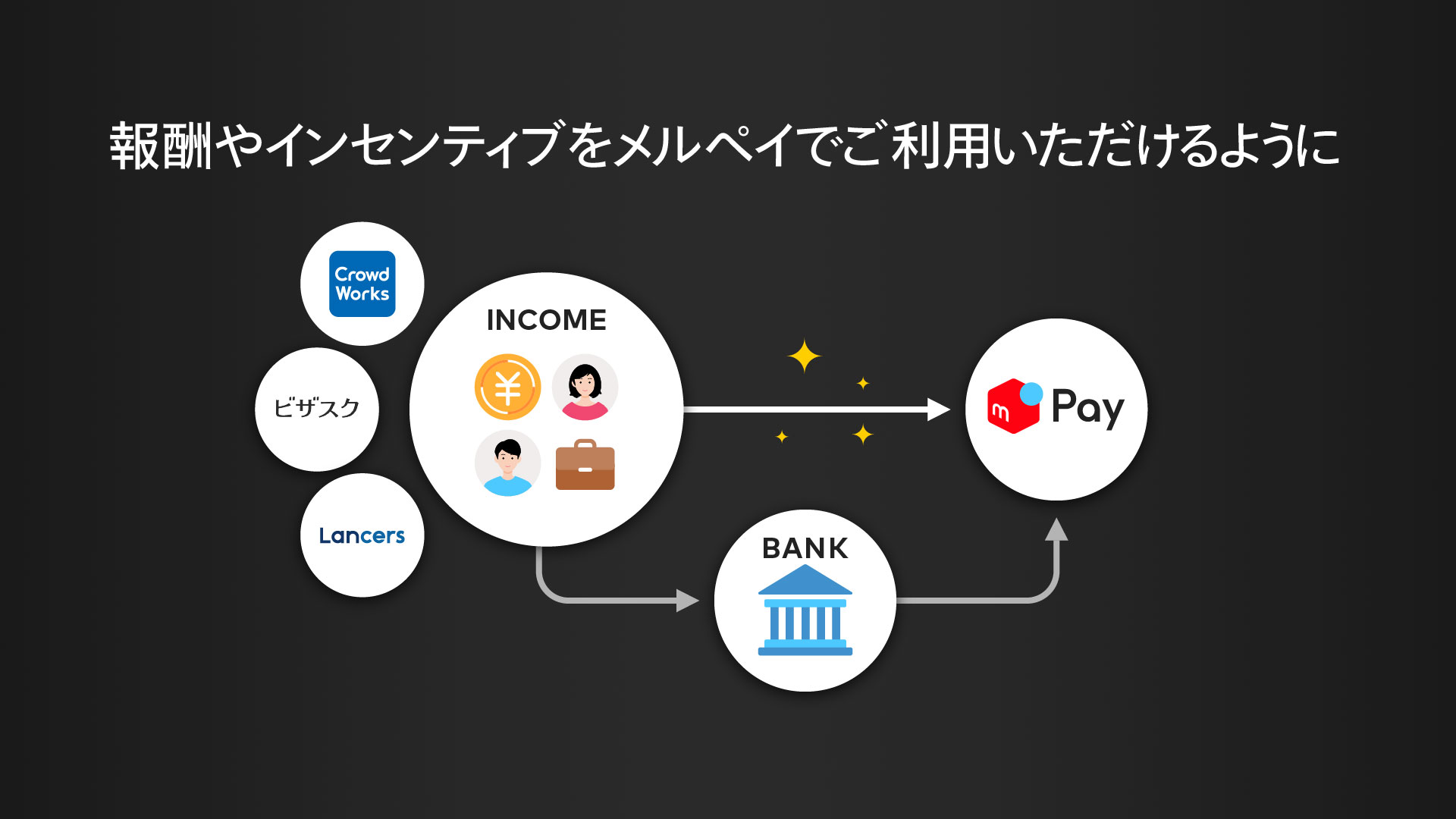 Iyo: Until now, if users wanted to use the remunerations and incentives they received through these services on Merpay, they had to send that money to their bank account, and then charge it to their Merpay balance. But with this initiative, users will be able to receive their remunerations and incentives directly on Merpay, eliminating the need to charge their balance.
Strengthening Synergy with Mercari: One-tap Listings Through Payment Information
Before assuming the role of Merpay CPO, Iyo was the Product Owner at Mercari. He revealed Merpay's plans to strengthen its synergy with Mercari and build an ecosystem centered on payment.
Mercari has grown to 14 million monthly active users, and a yearly GMV of approximately 500 billion JPY. The popularity of Mercari has also led to the normalization amongst young people of buying items with the intention of selling them, impacting consumer behavior at its core.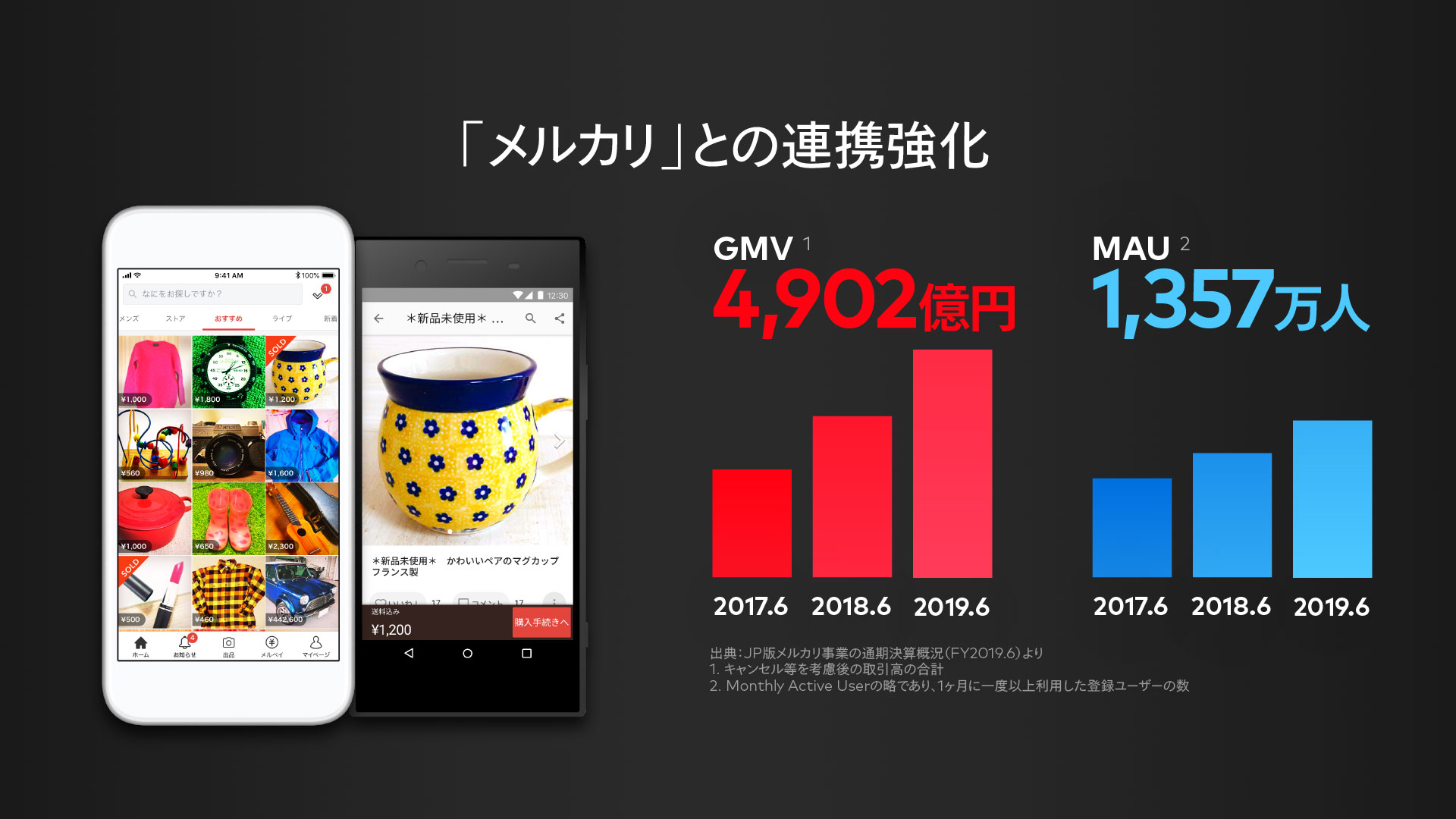 Iyo: By strengthening our synergy with Mercari, the de facto standard for the secondary distribution market, we aim to not only make payments in the market of primary distribution more seamless, but also create a seamless connection between primary and secondary distribution.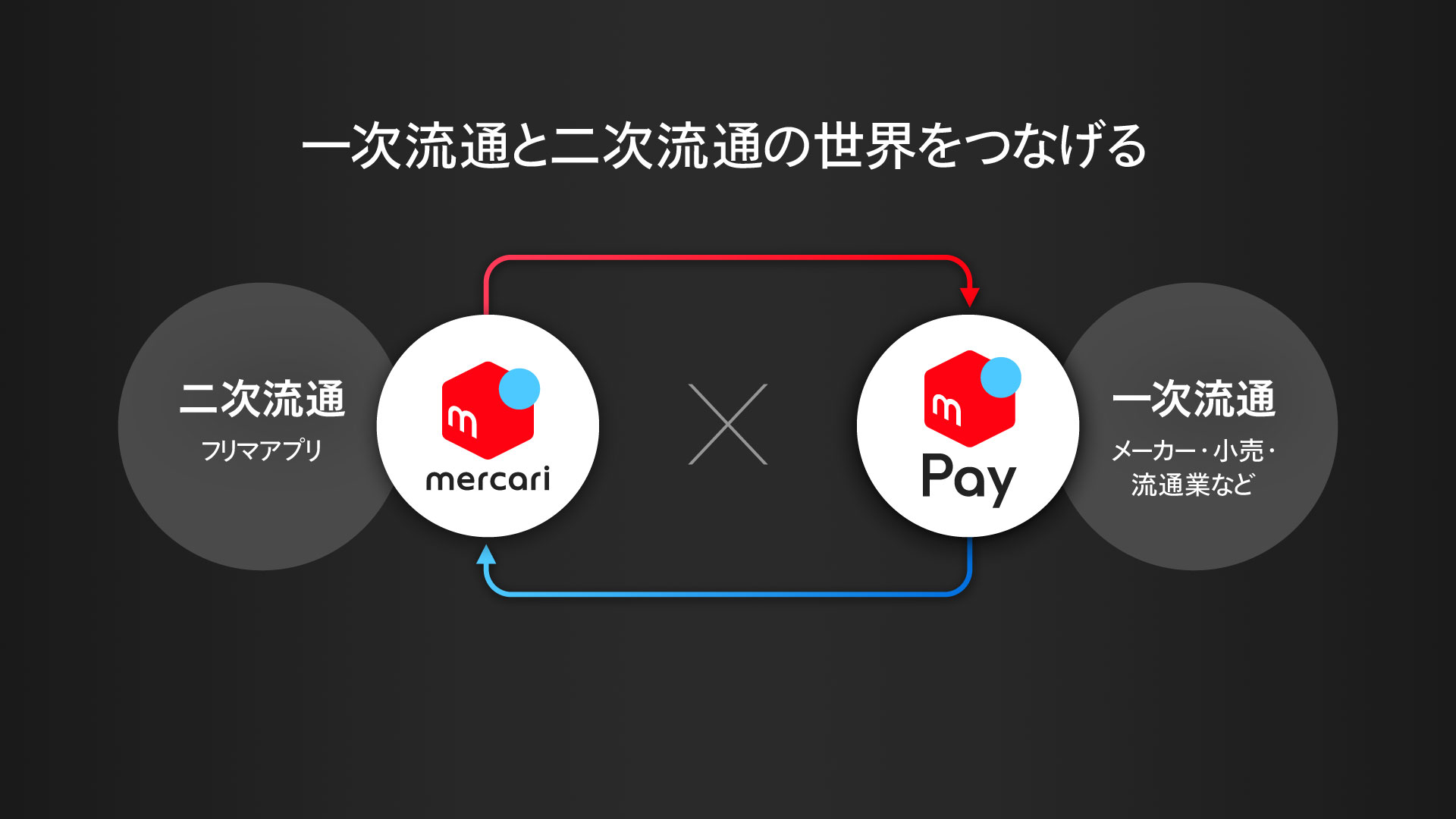 Iyo: By seamlessly selling the items you purchased, you can be your own cash-in method. This changes the flow of money and items, and is the first step toward the new ecosystem we are creating.
This feature is scheduled for release in the beginning of 2020. Iyo also announced the introduction of Merpay online payments on more than 50 new e-commerce websites prior to the release. At the conference, representatives of ANAP, CROOZ SHOPLIST, and STRIPE DEPARTMENT, three new partner companies supporting the vision of connecting Merpay payments with Mercari listings, took the stage and explained their reasons for implementing Merpay online payments.
Iyo: By linking cash in and cash out, and creating a seamless flow of money and items, Mercari and Merpay will work to realize a world in which people have even more opportunities to enjoy what they like and achieve their goals.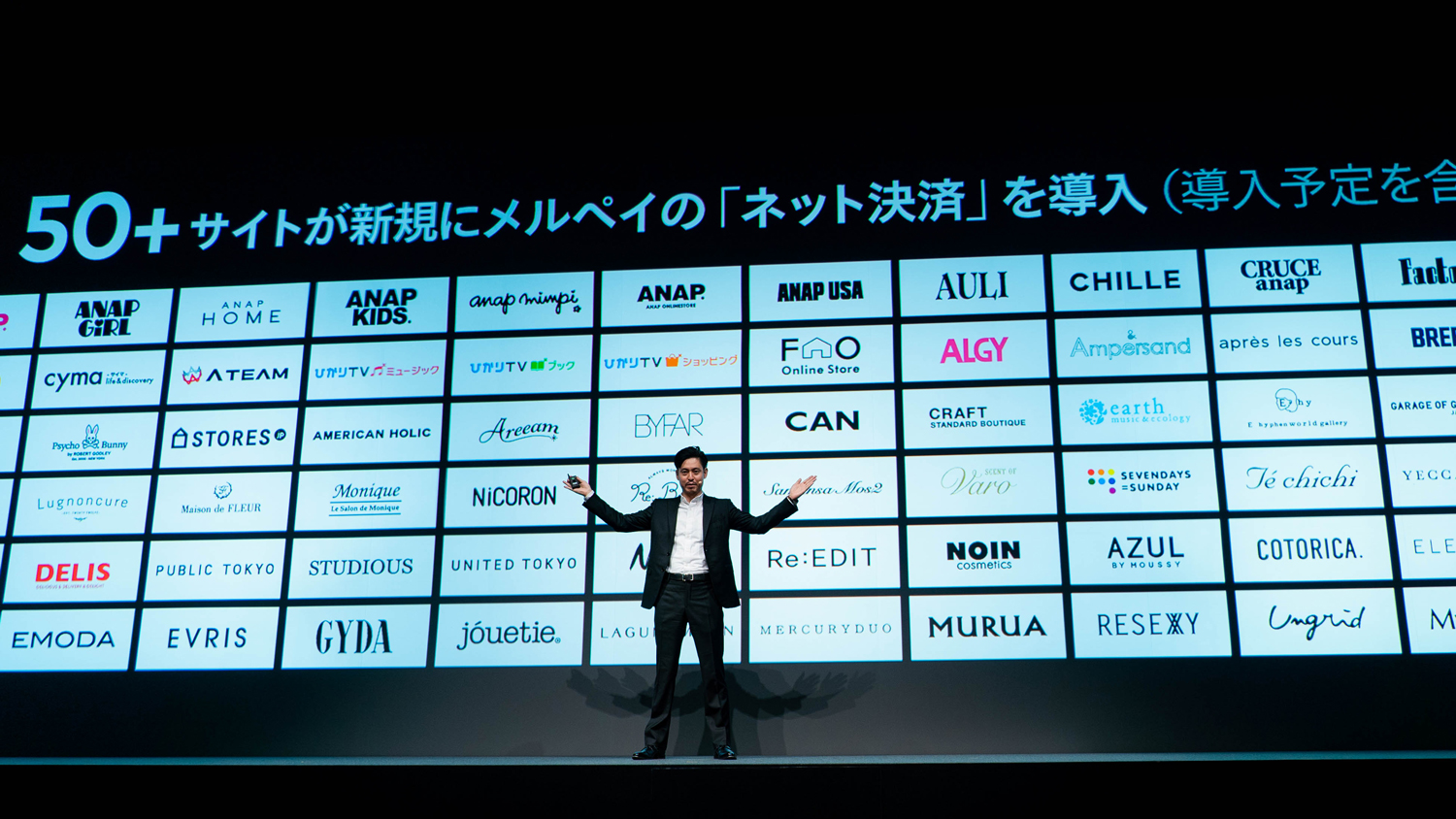 Takeo Iyo

After graduating from university, Iyo worked at Matsushita Electric Industrial Co., Ltd. (currently Panasonic Corporation) and Nomura Research Institute, Ltd. before joining Recruit Holdings Co., Ltd. in 2006. After leading numerous projects, including planning mid- to long-term strategies and developing next-generation media, he joined Mercari, Inc. in March 2015, and was appointed as VP in August 2016. He was in charge of product management for the US version of the Mercari app before assuming the role of Head of Product Division for the Japanese app in April 2017. He was appointed to Merpay CPO in July 2019.
Watch a video of the conference here.