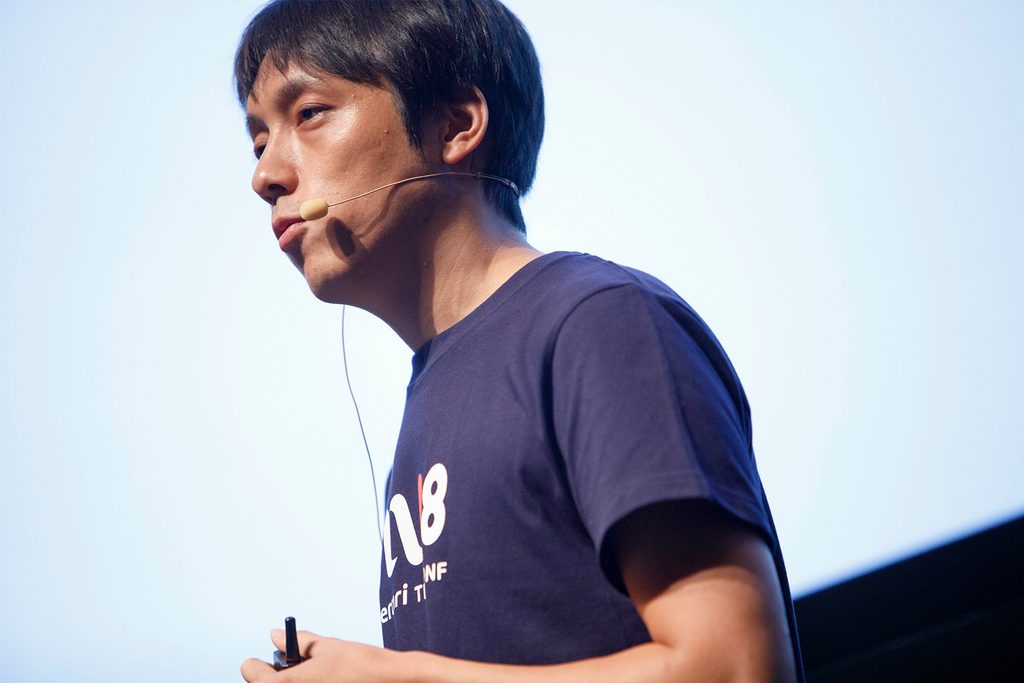 Mercari Tech Conf 2018 Report: Changes and Challenges as an Engineering Organization—Mercari's Ambition to Become a Tech Company
Mercari Tech Conf (MTC) is a tech conference hosted by Mercari that was first held in 2017. At the conference, the companies in the Mercari Group discuss their plans for the future and the technical challenges they're currently facing.
The theme of the second annual MTC this year was evolution. The speakers introduced the changes that have occurred within the Mercari Group in the past year, as well as the changes to come.
"We want to take good technology, and achieve things that nobody has ever done before," expressed Mercari CPO (Chief Product Officer) Yuki Hamada in his opening talk. What kinds of changes is Mercari trying to make in striving to become a tech company?
"Tech companies need to be constantly evolving," said Mercari CTO (Chief Technology Officer) Suguru Namura in his presentation. What does he see as the ideal organizational structure for Mercari?
Create global evolution through technology
youtu.be
"This year's theme is evolution!"
In the spirit of this year's theme of evolution, Mercari CPO Hamada kicked off Mercari Tech Conf 2018 with an exciting opening speech, first touching on the changes that have occurred at Mercari.
"We founded Mercari in February 2013. Five years later, we have reached a total of 100 million downloads across Japan, the U.S., and the U.K. The number of domestic registered users MAU (monthly active users) has exceeded 10.75 million, and we have achieved an annual GMV of over 370.4 billion." (Hamada)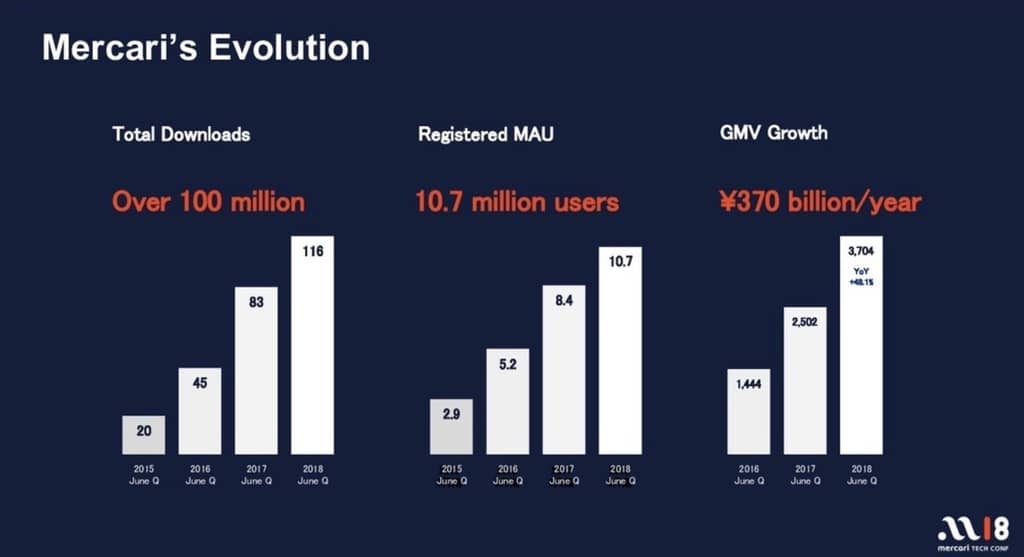 Mercari's total downloads, MAU, and GMV over the years
Mercari has achieved this level of growth by making rapid improvements through usability tests and development of an analytical platform, strategic online marketing, and going bold in its strategy for TV commercials.
"By placing particular emphasis on UI/UX, and pursuing proactive marketing strategies, we have made Mercari into an easy-to-use service familiar to all." (Hamada)
After sharing the changes Mercari has seen over the years, Hamada spoke about what will come next. One keyword in these plans was "applications of technology."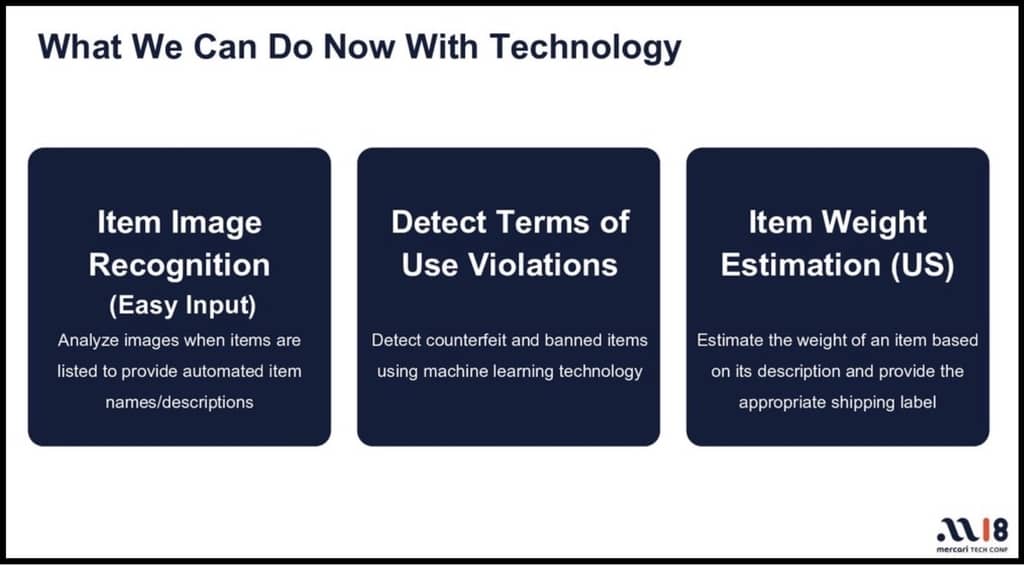 Applying technology to improve user-friendliness
Using technology such as machine learning, Mercari has successfully implemented features including image recognition (easy input), detection of prohibited items, and item weight estimation on the US app.
However, Hamada believes Mercari still has yet to realize its full potential.
"I love this quote by sci-fi author Arthur C. Clarke. "Any sufficiently advanced technology is indistinguishable from magic." I want to use good technology to achieve something nobody has ever done before. And as an ultimate goal, turn Mercari into a product that feels like pure magic." (Hamada)
Making it easier to list items, easier to buy items, and easier to find what you're looking for—Mercari is constantly striving to make use of the latest technology to increase user-friendliness of the app, keeping up with the wave of technology that continues to change with each passing day.
Of course, in addition to the app evolving, Mercari will also evolve as an organization in aiming to become a tech company.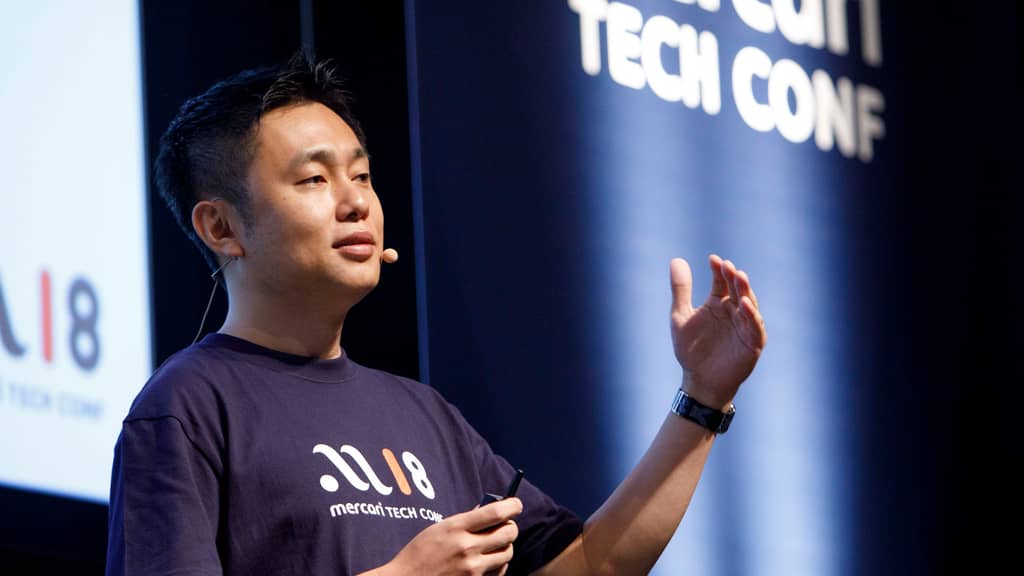 Yuki Hamada (Mercari CPO)
Moving from a product-driven organization focused on UI/UX to make an easy-to-use app, and now making the transition to microservices, Mercari is becoming an engineer-driven organization where engineers take the lead to solve issues experienced by users. Our next goal is to become a tech-driven organization.
"We want to use technology to change the world, and make technology that even developers themselves will use. For example, Google, Facebook, and Netflix contribute technology that comes out of their own products to developers as open source. This type of company culture is exactly what we're trying to create, and I think doing so is a prerequisite to becoming a tech company." (Hamada)
In working towards these goals, Mercari is focused on two types of technology—value discovery and value exchange. Are we properly matching buyers and sellers? Are transactions being conducted safely? Mercari will continue to create user trust by pursuing these two values.
"I think a lot of people feel nervous using services like Uber and Airbnb for the first time. However, by providing a trustworthy experience, these companies have increased the number of users and grown dramatically. The same is the case for Mercari. There's a lot of uneasiness in buying things from a stranger. However, by using technology, we are able to provide this sense of trust and reliability. We want to make a product where people will say "I feel comfortable using the app because it's Mercari," and "I'll buy on Mercari because it's safe."" (Hamada)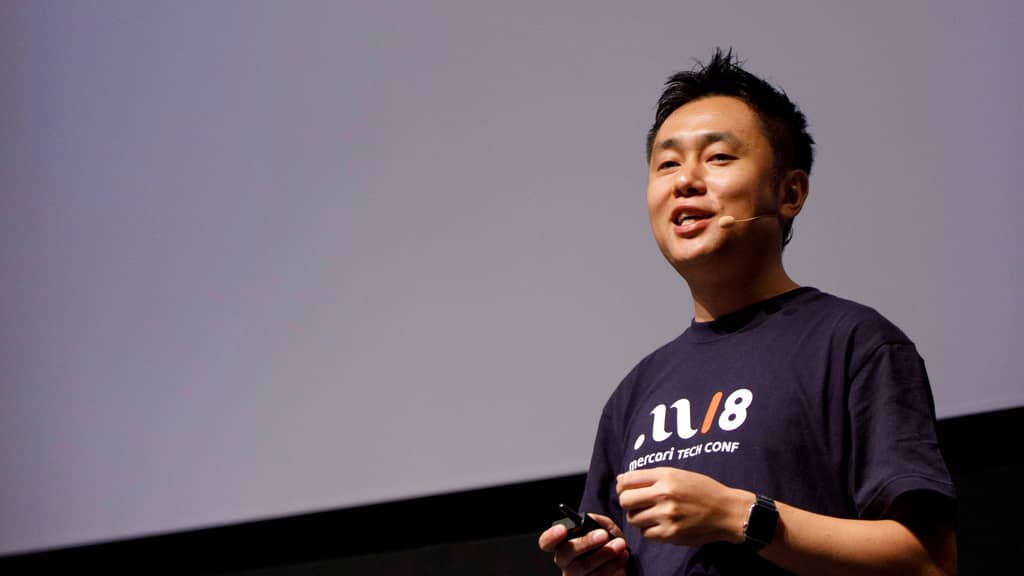 Hamada brought his opening talk to a close by touching on Mercari's upcoming plans.
"By 2020, we are aiming to hire 1,000 engineers. To enable these engineers to work smoothly, we need to become a scalable engineering organization. I believe Namura will talk about these plans in more detail after my presentation. We also intend to put major focus on research and development led by R4D in order to create new technology." (Hamada)
Take on the world as a tech company, and create global evolution through technology—Mercari is striving to bring about change of this magnitude.
The four goals of Mercari as an engineering organization
Hamada's opening talk was followed by a keynote speech, where Mercari CTO Suguru Namura was first to take to the stage. Namura spoke on changes in Mercari as an engineering organization and upcoming plans, under the theme of an organizational strategy for becoming a scalable tech company.
Hamada spoke earlier about the plan to hire 1,000 engineers by 2020. In just this one year, Mercari has grown rapidly as an engineering organization, tripling in size from 120 engineers in October 2017 to the current number of 350.
As a result, we've started to see problems like drops in development speed, less autonomy given to each individual, and clashes of opinions. Seeing these changes, Namura set out over this year to change the perspective from that of individual teams to taking an approach as one whole organization.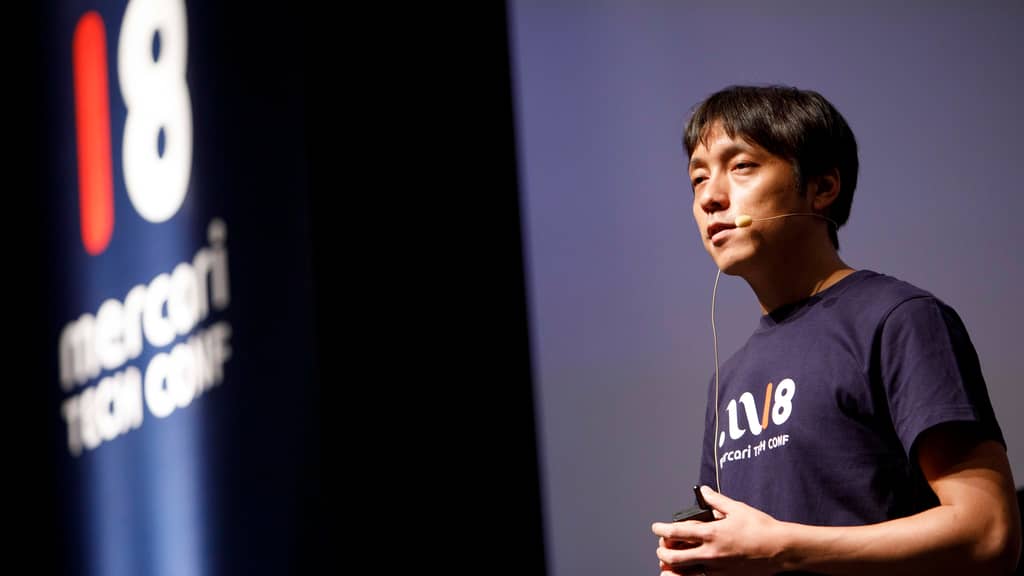 Suguru Namura (Mercari CTO)
"After growing to more than 300 engineers, our approach of collaborating and covering for one another stopped working. Naturally, many engineers prefer working in smaller teams. But even for those with such preferences, what kind of engineering organization do we need to become in order to pool our abilities together and perform at our very best? This question should be our top priority." (Namura)
What kind of engineering organization does Mercari need to become? Namura came up with four concepts to answer this question.
1. Develop from a wide range of perspectives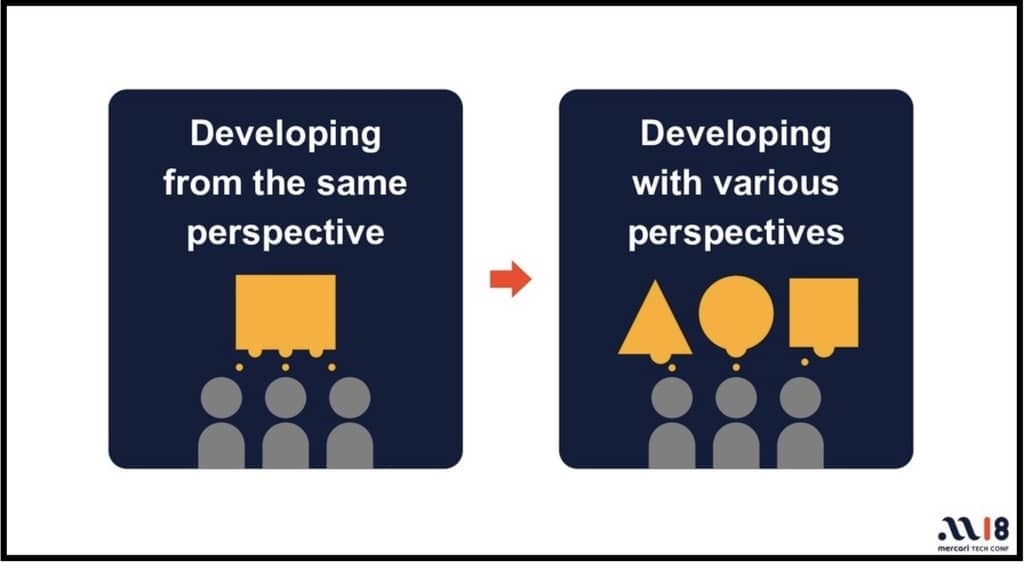 Mercari places great value on developing from as wide a variety of perspectives as possible
"With a small team, where people are similar and there is little difference in perspectives, developing with the same goal in mind is easy. However, in growing into a full-scale organization, we start to see a wide variety of perspectives. That's why we need to really focus on getting engineers from different backgrounds to be able to work towards the same goals. We are overcoming this challenge as an organization, and striving for diversity in our approaches to development." (Namura)

2. Evolve through a wide range of abilities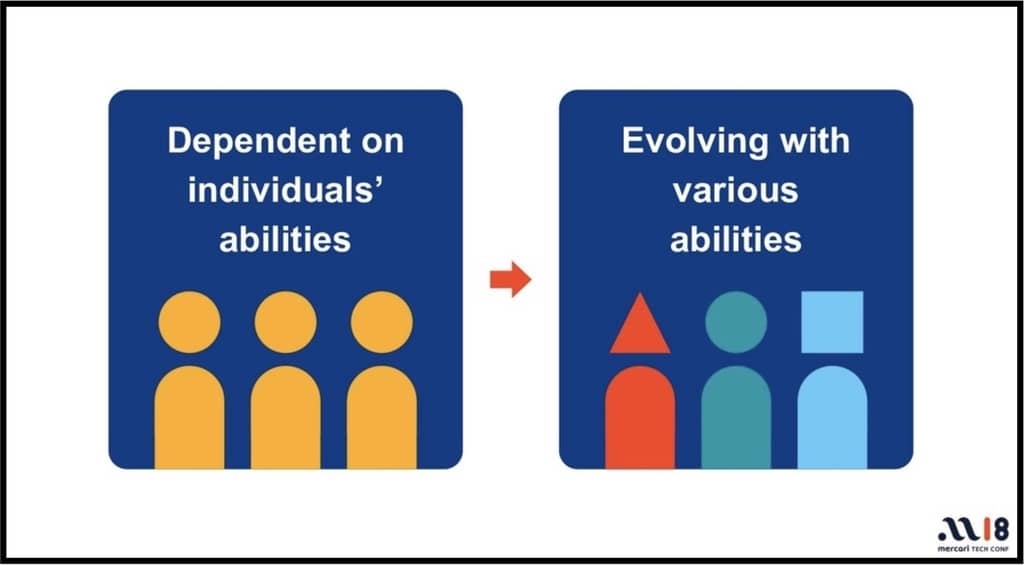 Move away from thinking in terms of individual skills in order to increase the potential of Mercari
"Relying on extremely talented engineers for development can be effective, but at some point, doing so will make the potential of the individual the limit of the organization as a whole. Engineers with a wide range of abilities come together in synergy, creating something like a chemical reaction to increase the potential of Mercari." (Namura)
3. Technology capabilities = creativity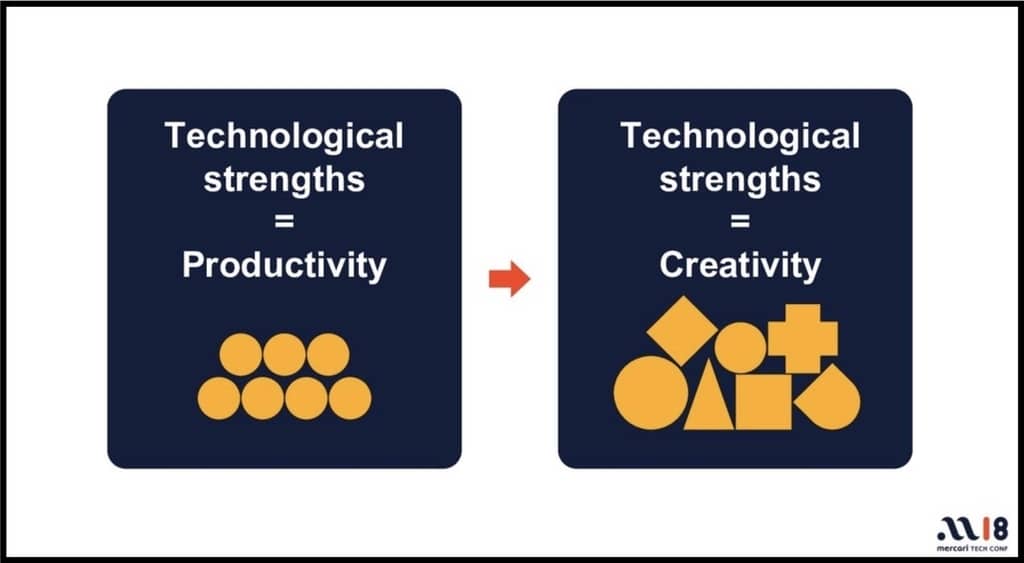 At Mercari, we believe that our technological capabilities are linked to our creativity
"Technological capabilities as a term can be interpreted in multiple ways. At Mercari, we think of it not in terms of productivity, but creativity. For example, if we only focus on productivity, we won't be any match for companies that already have 10,000 engineers even if we grow to 1,000 ourselves. For this reason specifically, we value creating new things through new approaches." (Namura)
4. Become an organization where talented people can grow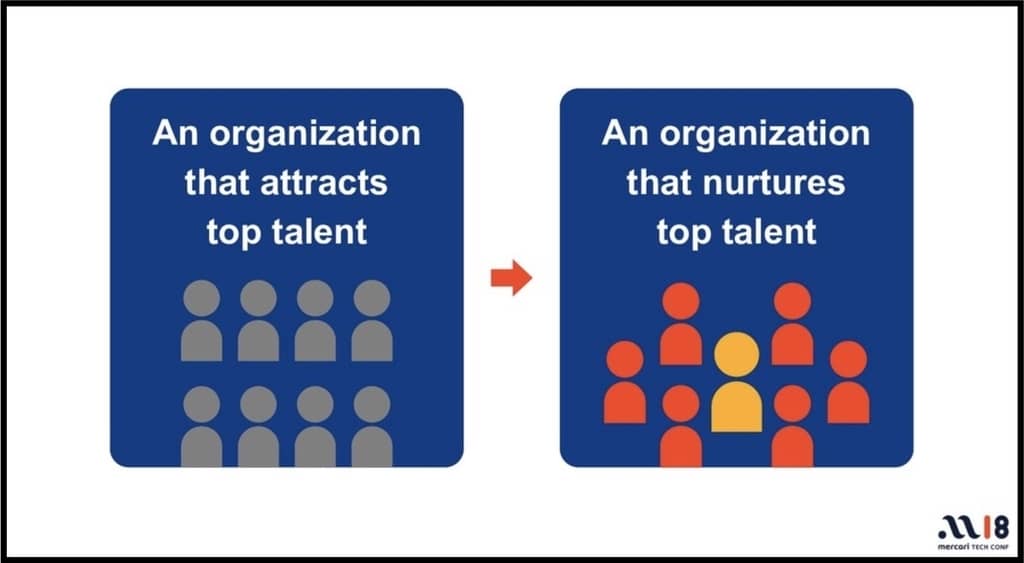 Become an organization where talented people can grow
Mercari has talented people, but that's not all. We are striving to become an organization that enables talented people to grow even further.
"We have very highly skilled engineers at Mercari. It's not very difficult to grow an organization by hiring people that can contribute great things right off the bat. However, even if someone isn't yet at that level, Mercari should be a place where they can become a highly skilled engineer through working here. I want us to become the kind of organization where our engineers can really grow." (Namura)
Becoming a resilient organization by continuously making micro decisions
Mercari has two strategies in place to achieve this goal of becoming a scalable engineering organization. One is the implementation of an EM/PM structure.
"We can create a strong product organization by separating the roles of engineering managers (EM) and product managers (PM). In implementing this EM/PM structure, we also established the role of tech lead in addition to EM." (Namura)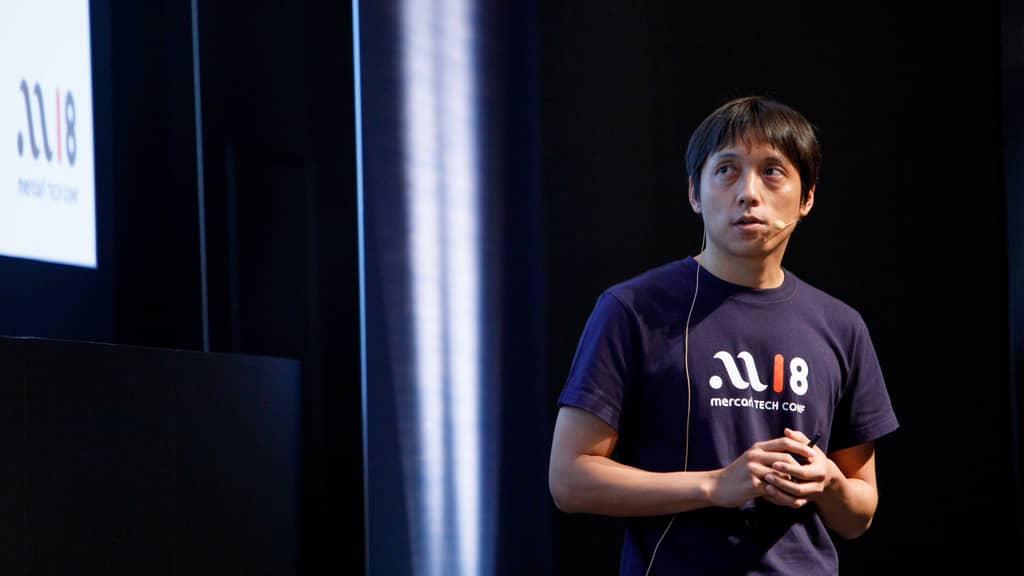 EMs mainly manage hiring, training, team assignments, and the engineering organization as a whole, while tech leads make decisions on what kind of technology will be used for development, what will be designed, and how we will maintain quality in our work.
"The goal here is to take both an organizational and a technological approach to enable our engineers to fully realize their potential. Most EMs at Mercari come from an engineering background; by considering what kind of organization engineers themselves want to create, we can make Mercari the best possible working environment for engineers." (Namura)
The discussion then moved from Mercari's organizational strategy to its technical strategy. Speaking on Mercari's technology strategy, Namura said, "We are looking at things not only from an organizational perspective, but also in terms of a technological strategy in order to grow as a company."
One key approach to Mercari's current technological strategy is micro decisions. This thought process refers to making small-scale decisions in order to both minimize the potential harm of each single decision, and to make the decision-making process take place throughout the entire company.
"We tend to think of making decisions as taking responsibility and making a major impact. Rather, we want to move away from this idea, and create a company where decisions are made at any time, whenever necessary. Of course we do at times need to make major decisions, but I think we can do so by repeating the process of making small-scale decisions on a regular basis." (Namura)
One approach to help implement this idea of micro decisions is the transition to microservices, which began last year. Microservices is an architecture that brings together smaller, individually developed services to provide one large service.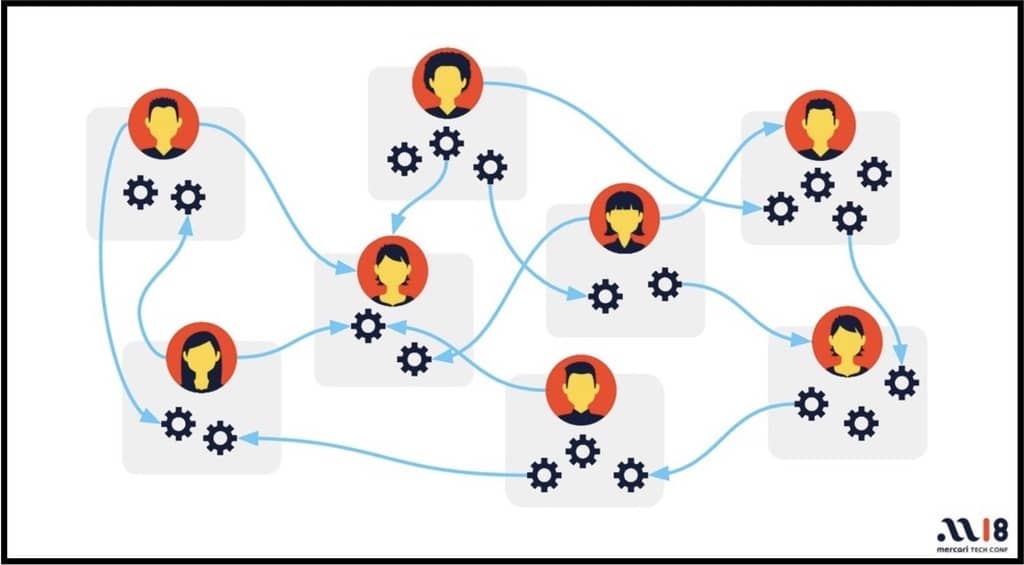 Conceptual diagram of microservices
"Implementing this architecture gives ownership to engineers as individuals. Each engineer must make decisions on various components such as technology and design, which creates a culture of employees making small-scale decisions throughout the company." (Namura)
Furthermore, to enable employees to proceed on their own with the choices they have made, we determined it was necessary to implement the concept of Micro Deploy, in order to have detailed rules in place for safe deployment.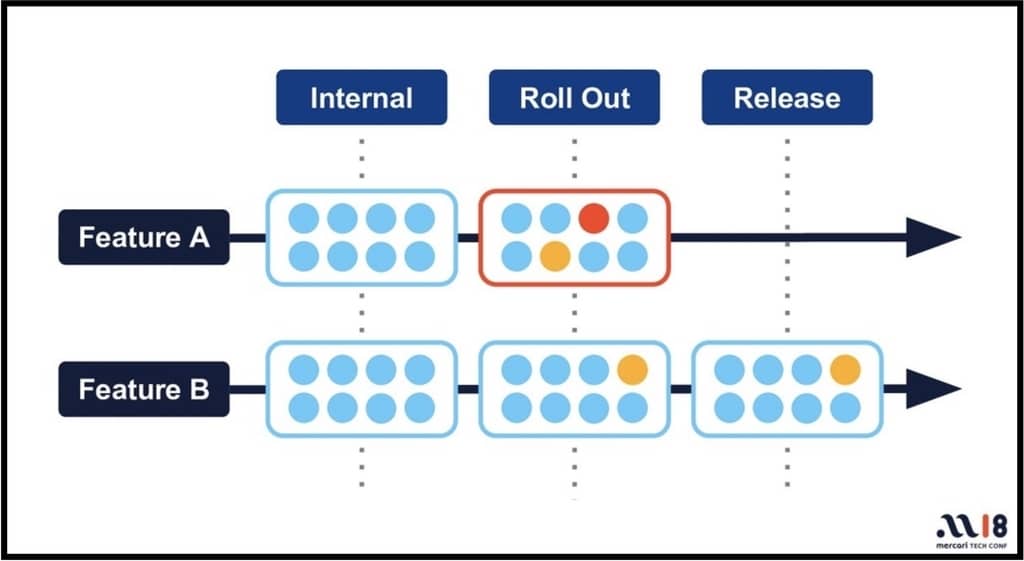 Conceptual diagram of Micro Deploy
"Releases generally involve going through various rounds of approval. At Mercari, we want to provide more autonomy for engineers to safely make releases, so we are planning to implement a release system where we gather several data signals for a given feature, and move the process to the next step if deemed safe to do so." (Namura)
Namura touches on another benefit of continuously making micro decisions—it makes for a resilient system.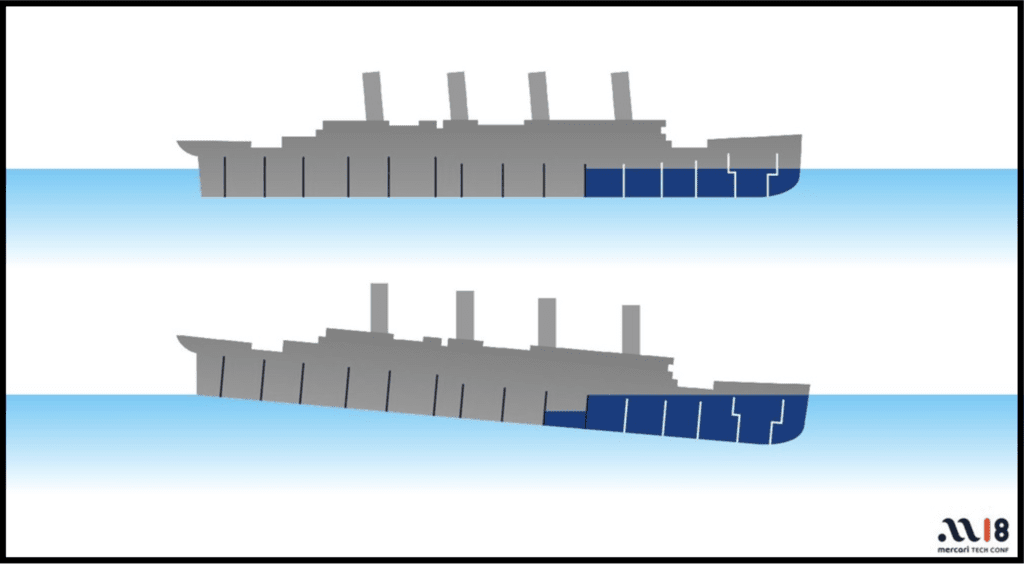 Namura uses the Titanic as an example to illustrate the utility of a resilient system
"I believe by continuously making micro decisions, we can create a strong, resilient system that can handle abrupt changes and unforeseen situations. Many might first think of micro decisions as only making the system more complicated and more prone to problems. However, I look at it differently." (Namura)
To give an example, Namura talked about the sinking of the Titanic.
"Ships have a bulkhead cutting across along the inside of the ship, that prevents water from getting in even if the axis gets damaged. This drawing here is actually a cross-sectional view of the Titanic. Why did the ship sink, even with defense mechanisms in place? The Titanic was designed to stay afloat if up to four compartments become inundated with water, but when it hit the iceberg, water flowed into six compartments." (Namura)

"As a result, the weight of the water made the ship start to tilt, water flowed into other compartments, the bulkhead failed to function properly, and the ship sunk. A failure in one part caused a problem in other parts, resulting in an unforeseen situation and the sinking of the ship. We can't put our customers through an experience like getting on the Titanic, so we are focusing on preventing an unstable chain reaction by continuing to make micro decisions and maintaining a clear division of tasks and responsibilities." (Namura)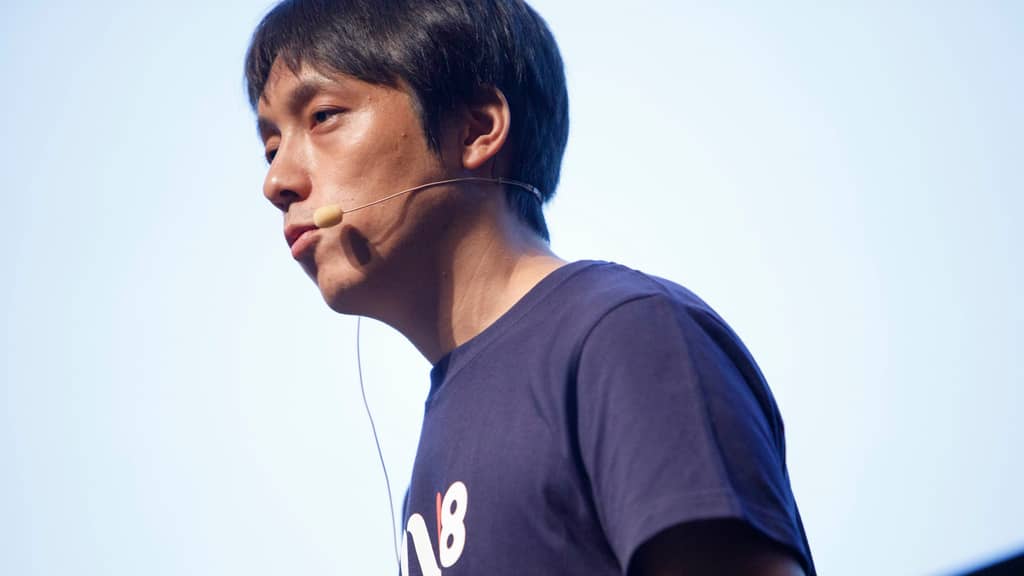 In creating an environment where we can make an unlimited number of decisions, we're creating a product that will evolve like a living creature by allowing ourselves to repeat the process of challenge and failure.
"Tech companies need to be constantly evolving."
Namura brought his keynote speech to a close with this final message. Mercari will remain dedicated to continuing to evolve as an engineering organization.
Speaker Profiles
Yuki Hamada

Yuki Hamada founded CYBRiDGE GROUP CORPORATION, where he took on the role of Executive Vice President, while enrolled in the Tokyo University of Science, Faculty of Engineering, working as the lead of contracted development, as well as on M&A and launching of new businesses. After leaving CYBRiDGE in October 2014, Hamada joined Mercari, Inc in December of the same year. In January of the following year he became an Executive Officer, and in March 2016, CPO, working across the entire Product Division of Mercari.

---
Suguru Namura

After joining Cyber Agent, Inc. in 2004, Namura worked on launching new services including Ameba Pigg, AWA, and AbemaTV. He joined Mercari in July 2016, and after leading development of the US version of Mercari, he took on the position of CTO in April 2017.
Presentation Videos