Announcing Our Award-Winning Teams at the End of the 4th #MercariHackWeek! #MercariDays
I'm Kayoreena from the Engineering Office!
From February 15 to 19, Mercari hosted Hack Week, a technology hackathon for engineers working at Mercari.
The latest Hack Week generated 94 new ideas and saw 26 ideas presented at Demo Day. A total of 273 people logged on to watch the Demo Day presentations.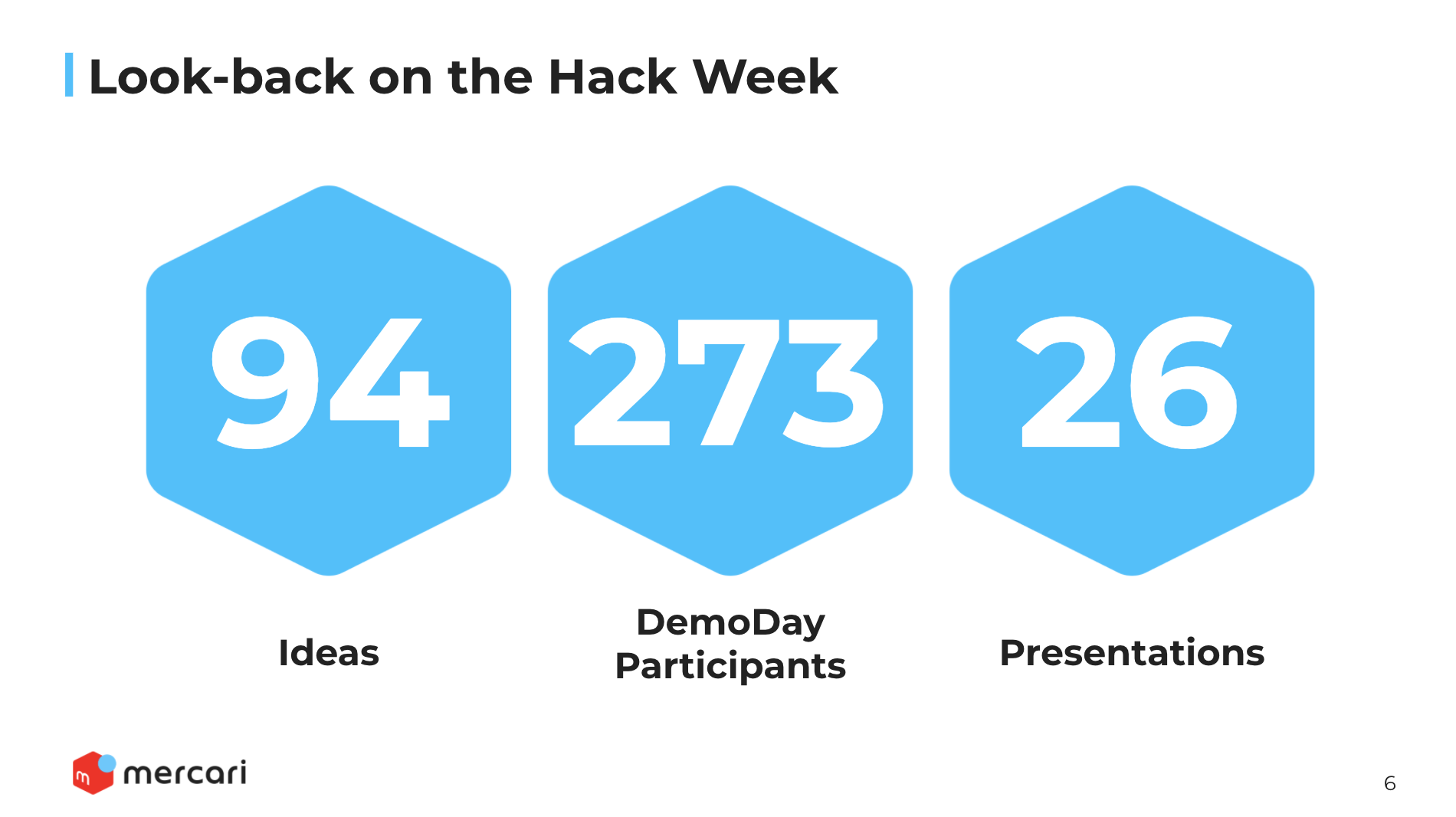 Every Hack Week culminates with Demo Day, an event where various members and teams present each of their projects and finished products. Members and teams whose output or impact is especially excellent are granted Hack Week Awards. Anticipation over who will take home an award is one of the reasons Demo Day draws so much attention each time.
In this Mercan article, we would like to introduce our readers to the award-winning projects featured at the most recent Demo Day.
Bronze Award: "Personalized Search Navigation" and "Image Editor"
We start by announcing the third-place Bronze Awards winners. This time two teams tied for the award.
"Personalized Search Navigation"
Members:
@furufuru
@keizo042
@takuya-a
@alpicola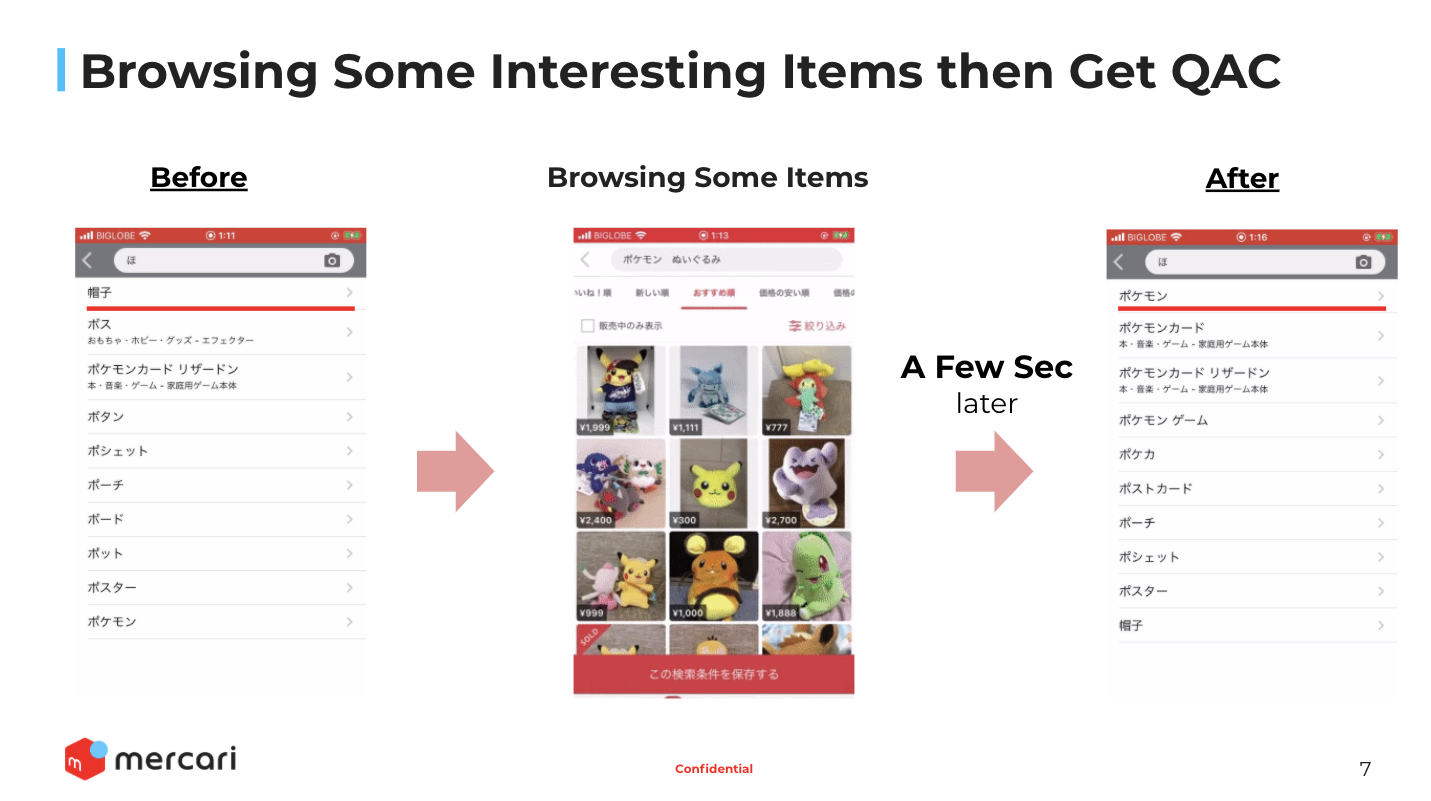 Personalized Search Navigation is a feature that enables the Mercari app to customize keywords in line with your preferences based on the words you have searched for on the app.
"Image Editor"
Members:
@matthew.gillingham
@acantallops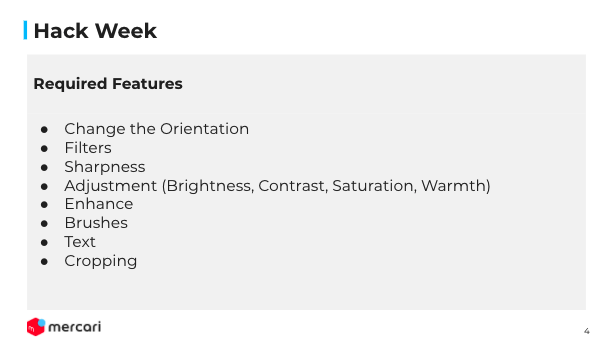 The iOS version of the app currently uses a library made by a third party. For this project, we used the CoreImage framework to create our own library that could potentially replace the existing one.
Silver Award "Dynamic Preview of Items"
Next is the Silver Award. In second place was the "Dynamic Preview of Items" project.
Members:
@bowei
@kuu
@louna
This feature extends the Mercari UI and allows users to easily check multiple item photos, descriptions, prices, or other displayed elements and give likes to the items.
第4回 #MercariHackWeek でSilver Awardを受賞したのは「Dynamic preview of items」!

メルカリのアプリUIを拡張し、お客さまが手軽に複数枚の商品写真・説明・価格などを確認するほか、いいね!を追加できるアイデアを提案しました。 pic.twitter.com/GkaPsy2XCK

— mercan(メルカン) (@mercari_team) March 5, 2021
Gold Award "Project TS"
Next are the winners of the Gold Award, which went to "Project TS"!
Members:
@masaki.haga
@manoj
This project TS developed a UX that took advantage of the screen size of tablets and also did not slow down the development for phone screens. We ask that people view this project as a showcase and in doing so conceived this idea to show the potential of the tablet UX.
In the actual demonstration, the presenters unveiled that the feature allowed users to use Slide Over and Split View to display items that they liked while at the same time allowing them to search for other items on sale.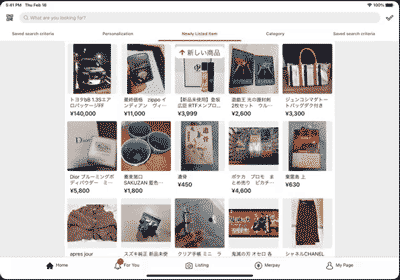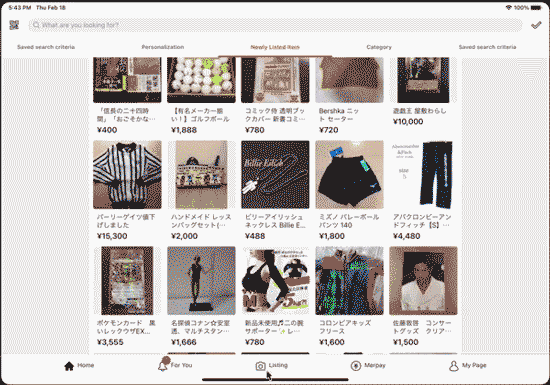 Judge's Choice Awards
The following four teams received the Judge's Choice Award.
Eco Award/CO2 Emissions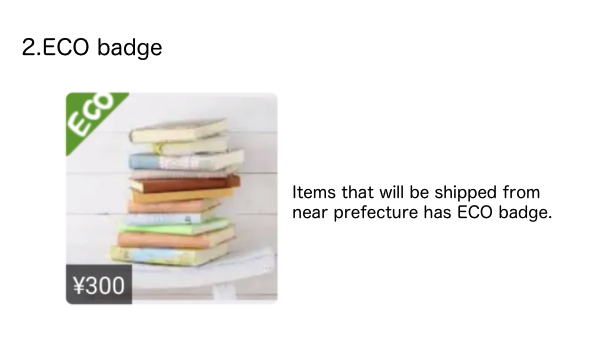 Members:
@osari.k
Suggesting that a user choose an item sold by a lister closer to the user's location could help reduce the amount of carbon emissions emitted during shipping, which is good for the environment.
Productivity Award/UI Genierator
<メンバー>
@howie.zuo
@allan.conda
@kagemiku
Based on a UI Design created using Figma, this team created a prototype of a Figma Plugin that automatically generates the code for SwiftUI/Jetpack Compose. The compatibility of the componentized UI and Declarative Style Framework proved to be superb thanks to Design System. We estimate that it would achieve development efficiency that is roughly ten times more efficient (compared to our current efficiency).
New Normal Award/WaI WaI
Members:
@zordius
Amid the growing number of online meetings, this team suggested using a feature that reads members' expressions and visualizes them in real time. Even if a member's expressions are hard to read, this feature aims to stimulate communication by visualizing meeting attendees' expressions which it reads as "happy" or "sad".
Developer award/Merkit – Mercari SDK
Members:
@sanposhiho
@carolinesun
@akkie
@yurie
@sanposhiho
@deepak.bhatt
This team developed an SDK library to allow regular people to use the Mercari API unfettered.
※※※※※※※※※※※※※※※※
For the fourth incarnation of Hack Week, Mercari's CEO Shintaro joined the ranks of judges for the first time, and judging was more multi-faceted than in the past. Some teams' proposals featured further refined versions of previously showcased projects. Other projects were aligned with topics now trending in society. This fourth contest was a feast of several impressive projects.
The event will be back again in the fall of 2021. To make this an even better opportunity for engineers, we would like to dedicate ourselves to also improving our operations. Expect big things from the next Mercari Hack Week!
Be sure to visit Mercan for the next installment of #MercariDays!