[ #MercariHackWeek Pre-Event] Hack Week Hints Panel Discussion with Engineers from Mercari JP and Mercari US@Tokyo! #MercariDays
Hi, everyone! This is Rafael from the Engineering Office! I'm here to share a bit about the last Hack Week Hints!
Hack Week is a semi-annual technology festival and so-called "hackathon," where members can get away from their usual work and develop whatever they want for a week. This is the fourth time, and every time we have held this event, our members have provided us with unique ideas. It's always a lot of fun.
We've actually been holding pre-Hack Week events during these few weeks leading up to the hackathon. These pre-events serve a wide range of purposes, such as letting first-time attendees know about Hack Week and making it easier for other departments to participate. One of the pre-events was called "Hack Week Hints."
For Hack Week Hints, we held an online panel discussion with a group of Mercari engineers, three of them from Mercari JP and the other two from Mercari US@Tokyo. They showcased the Mercari JP and US apps and shared what excites them about working with tech.
The five panelists for this year's event were: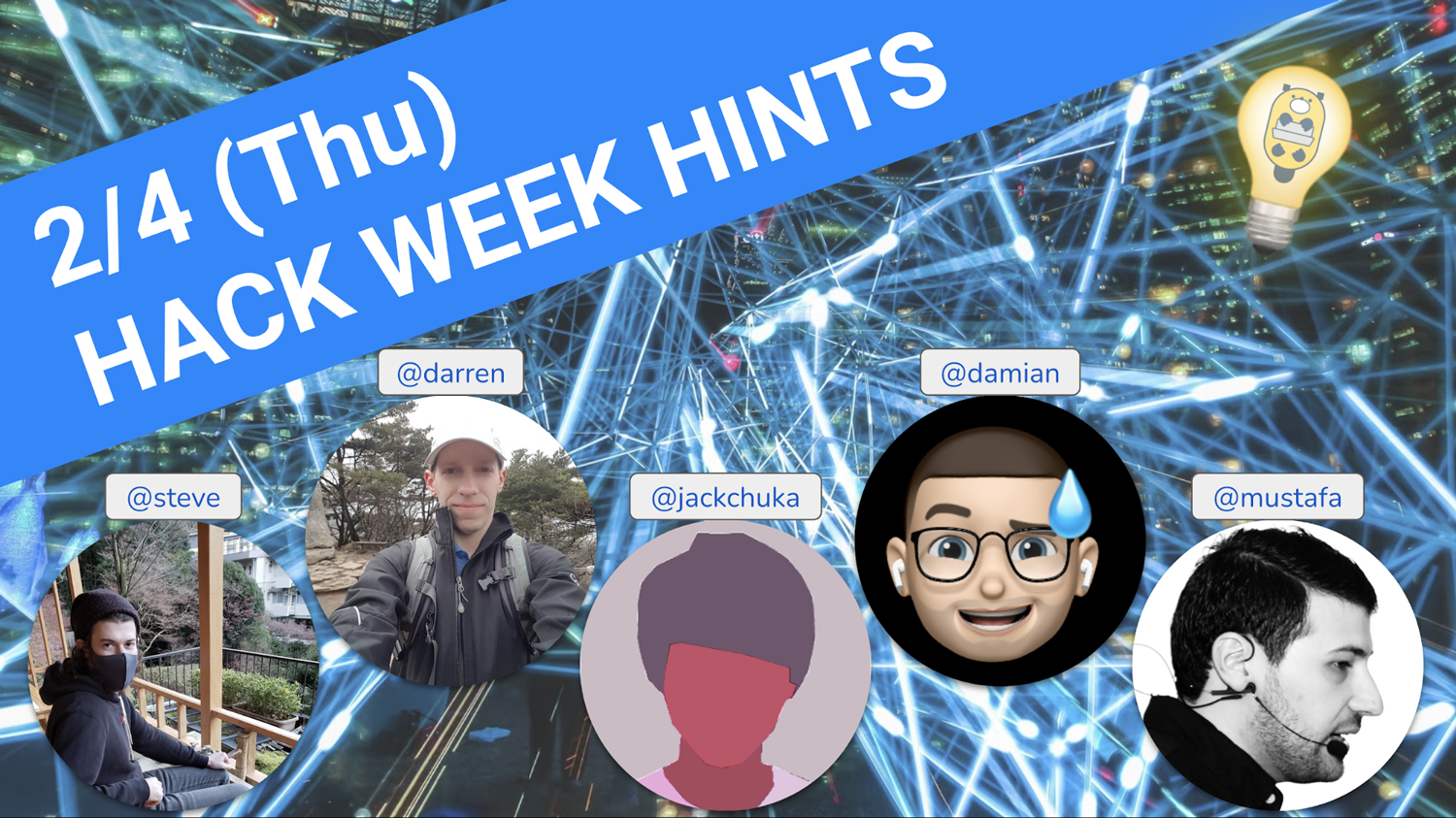 Damian Pasko (@damian)・・・・・Damian showcased the iOS widgets feature from the Mercari JP app. This feature started as an idea in the previous Hack Week!

Stephen Johnson (@steve)・・・One of the two US@Tokyo engineers joining the event, Stephen showcased general concepts of the Mercari US app, which was great since many JP members are not familiar with it. Besides that, Stephen also presented SKU architecture in Mercari US which was a good introduction to the way we structure data for the US app.

Darren Lewis (@darren)・・・Darren showed us what Real-Time Data is all about. His presentation included an introduction to the flow of client event data in the Mercari JP app and showcased how that can be used in a live simulation.

Masanori Uehara (@jackchuka)・・・Masanori shared with us the downsides of using API testing tools like Curl and Postman. Also, he shared how he overcame those challenges using the command line tool he created called Doublish, which actually originated in Go Bold Day (the Hack Week equivalent for Mercari US).

Mostapha Baalbaki (@mustafa)・・・Mostapha gave us a great overview of Apple's products and history. Afterward, he presented the new trends on the Apple platform including the WidgetKit and SwiftUI.
The actual event
The purpose of Hack Week Hints was to share ideas that only a Mercari fanatic would have, as well as to find inspiration for what Hack Week participants can develop during Hack Week. At the event, viewers were also able to exchange ideas on Slack, and there was a lot of feedback that could be used for everyday product development, too.
As a pre-Hack Week event, we made a graphic recording of the hints given by these inspiring Mercari engineers. Since everything was held online, we invited Tanaka Yumino, a graphic artist, to help us capture the excitement of the event and share it with as many members as possible.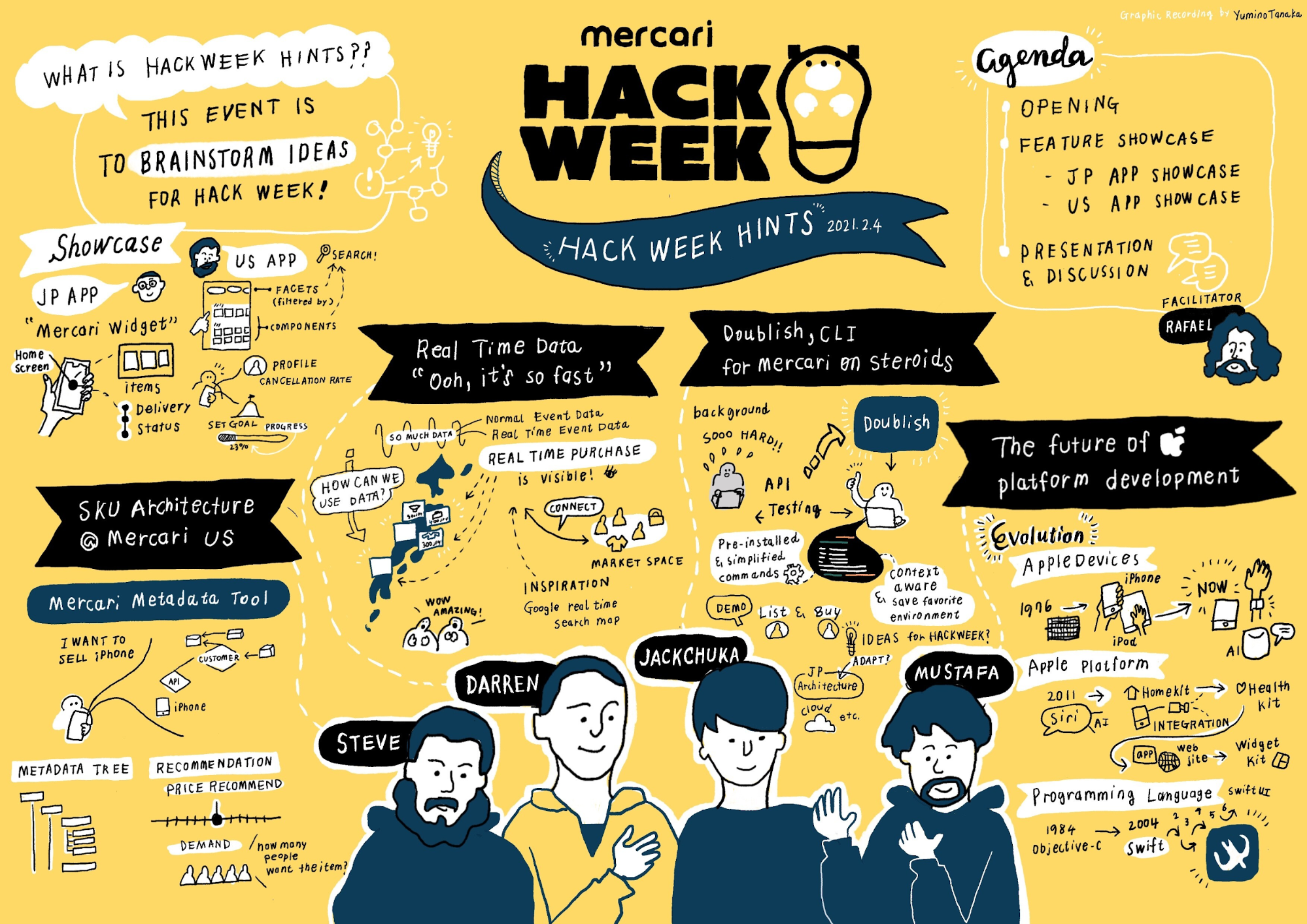 Hack Week is now underway, and we in the Engineering Office are looking forward to supporting you while you enjoy learning and playing with technology. See you next time for more Hack Week coverage on Mercan!