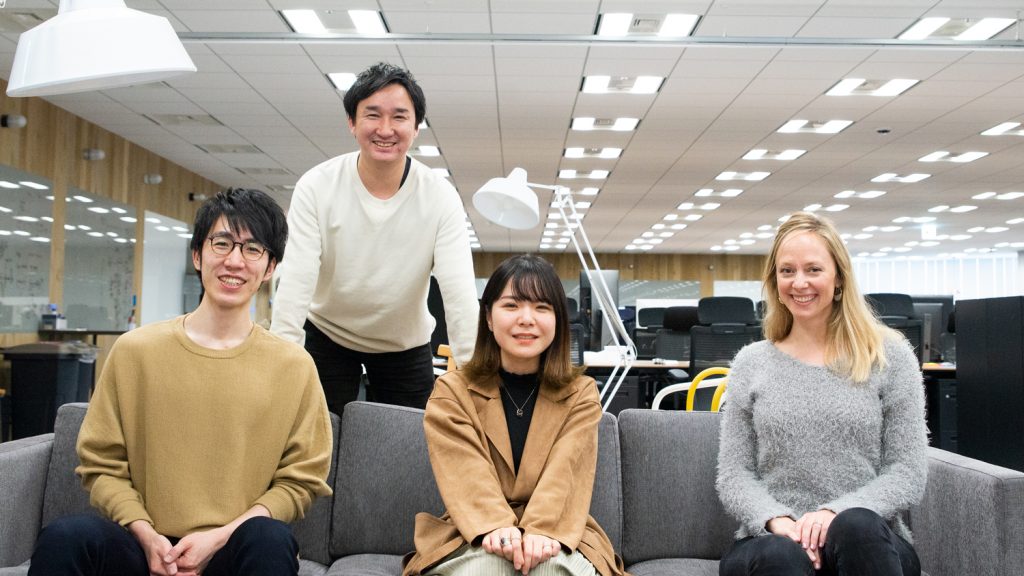 "Go Bold" to Reward Members' Performance: Mercari's Revamped Performance Evaluation System
"I'm not trying to say our HR evaluation system up until now was completely terrible! It truly embodied the culture of Mercari Group at the time, and it was what we needed during that phase—a system which could Go Bold to reward members' performance in alignment with market standards. The overarching policy of the new performance evaluation system is no different. We just changed the means by which it operates in order to better match the company's current phase."
Mercari Group conducted a major update of their performance evaluation system in February 2021. The performance evaluation system up until now utilized a "no rating" system, which did not evaluate members' abilities and achievements; and an "absolute rating" system, which was used to assess the degree to which members were able to achieve set targets. So what is the new, revamped evaluation system like?
For this Mercan article, we interviewed four members of the project team that worked to design this new performance evaluation system, PJ-Excite. Ryo Umezawa (@ume), Maya Tanaka (@maya), Tomoyuki Inoue (@into), and Momoko Emoto (@momoko) explained to us how the new HR system has changed and how it can better assess Mercari members.
*Face masks were temporarily removed for photos
Profiles



Tomoyuki Inoue (@into)

Manager for Mercari's HR Planning Team. Joined Mercari in July 2018. As part of the Corporate Solutions Engineering Team, he acted as Product Manager for the "Reviews" evaluation system and "Benefits" RSU management system. Moved to the HR Planning Team after that, as overall PM for the project to revamp the HR evaluation system, PJ-Excite.




Momoko Emoto (@momoko)

Member of Mercari's HR Planning Team. Joined Mercari in January 2018. As HRBP for the CS Division, in charge of overall HR processes from recruitment to labor management, as well as team management. Transferred to HR Planning Team in April 2020. Currently in charge of HR evaluation system planning and operation, as well as management of personnel planning for Mercari Group.




Maya Tanaka (@maya)

Part of Merpay's HRBP Team. Joined Mercari in July 2018. Started as an interpreter in the Global Operations Team, later becoming the team's manager. During her time as a GOT Manager, she laid the groundwork for leadership development as part of a special taskforce and later worked to lead D&I initiatives for Merpay.




Ryo Umezawa (@ume)

Director of Merpay's Talent & Culture Team. Joined Mercari in March 2018. After being involved with policy design for Mercari Group as part of the HR Planning Team, he transferred to Merpay in August 2018. Established Merpay's HR function and went on to serve as the coordinator for Merpay's management meetings, overseeing a wide variety of tasks including the office workplace, general affairs, and company culture.
---
The New performance Evaluation System: A Signpost for Expectations and Evaluation Criteria
—The performance evaluation system up until now utilized a "no rating" system, which did not evaluate members' abilities and achievements; and an "absolute rating" system, which was used to assess the degree to which members were able to achieve set targets. Did all of this change with the new evaluation system?
@ume: The main policy behind the performance evaluation system remains unchanged. In comparing Mercari, Merpay, and Souzoh, we see that their businesses are all in different phases, and they are all working to realize that policy in different ways. Still, they all retain their core belief in boldly rewarding our best talent.
@into: The biggest change with the new evaluation system is its focus on job grades. These grades clarify what kind of contribution Mercari Group expects of each individual. This is why the grades are broken down into "expected results" and "value-embodying behavior." In this way, the grades form a basis for discussing evaluations and promotions, and they can be used as a benchmark for growth.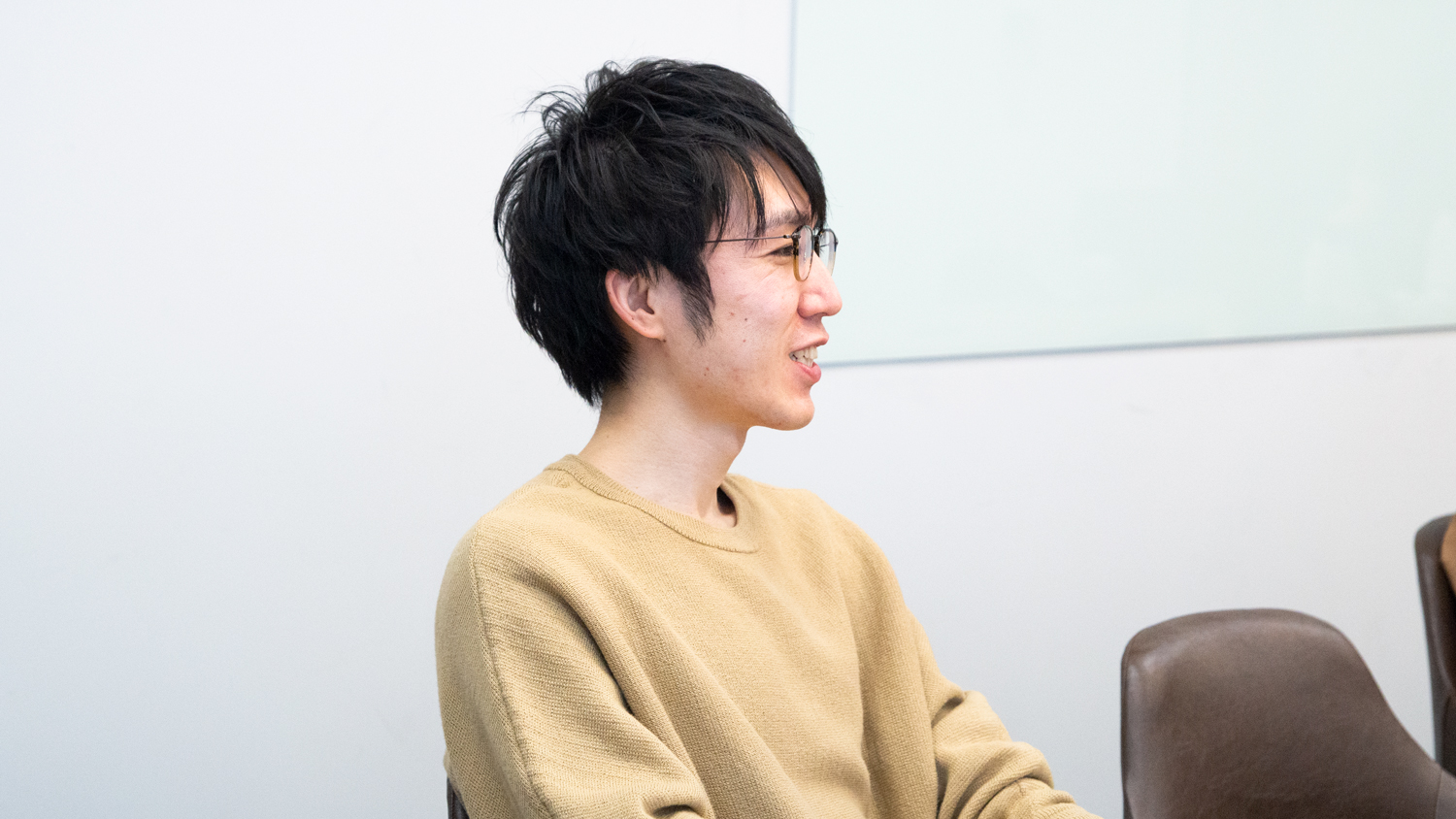 Tomoyuki Inoue (Mercari HR Planning Team, @into)
@momoko: The performance evaluation system up until now was formulated in concert with Mercari's culture and put into use while administrators gradually improved and fleshed out the system. Job grades were added as part of this fleshing out, they themselves decided based on general pay averages. We revised the job grades once more as part of the new evaluation system, redefining them to act as a benchmark for assessment.
—How did making these clear benchmarks in the form of grades change the new performance evaluation system?
@ume: The specifics can be found in these slides.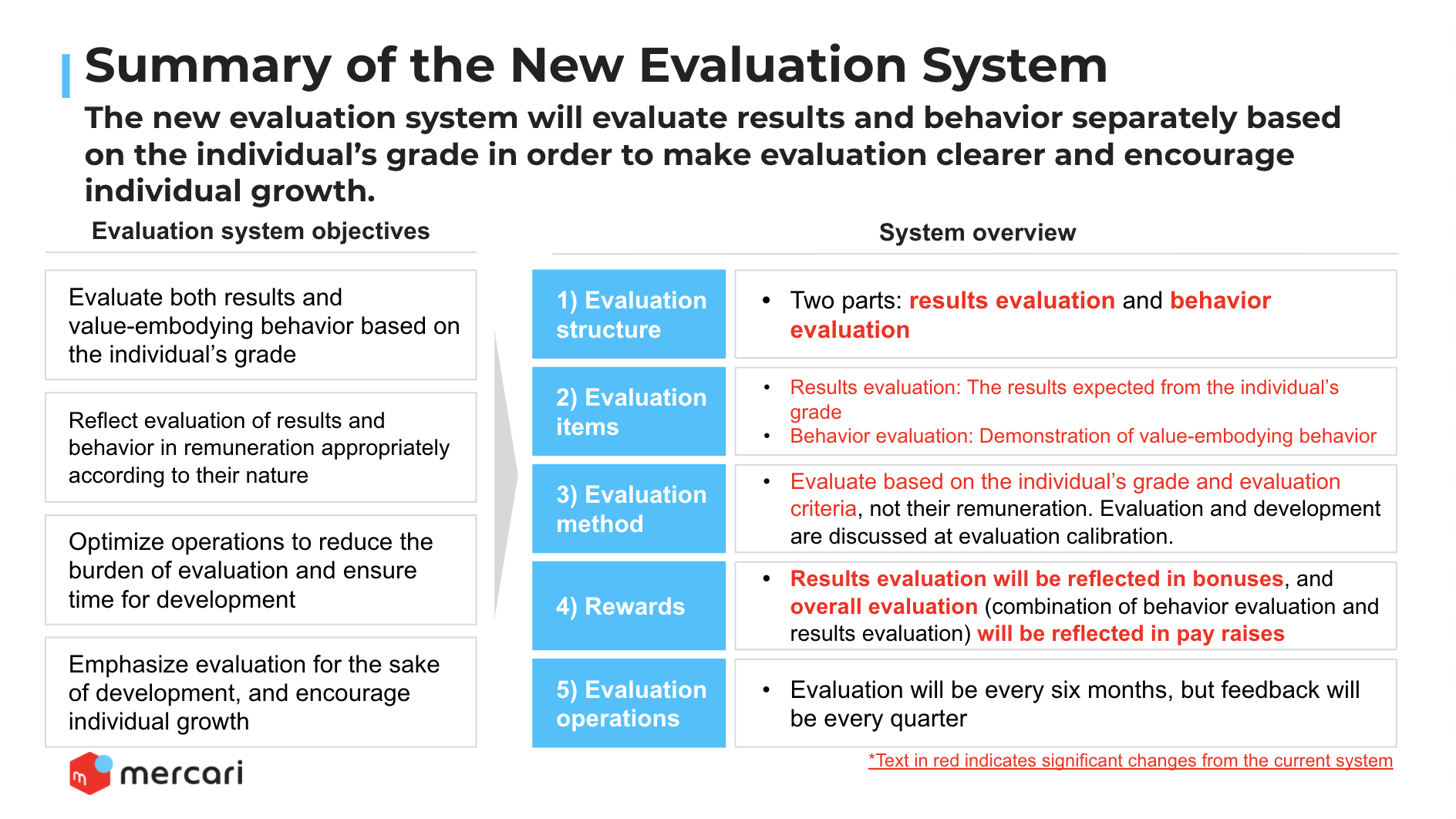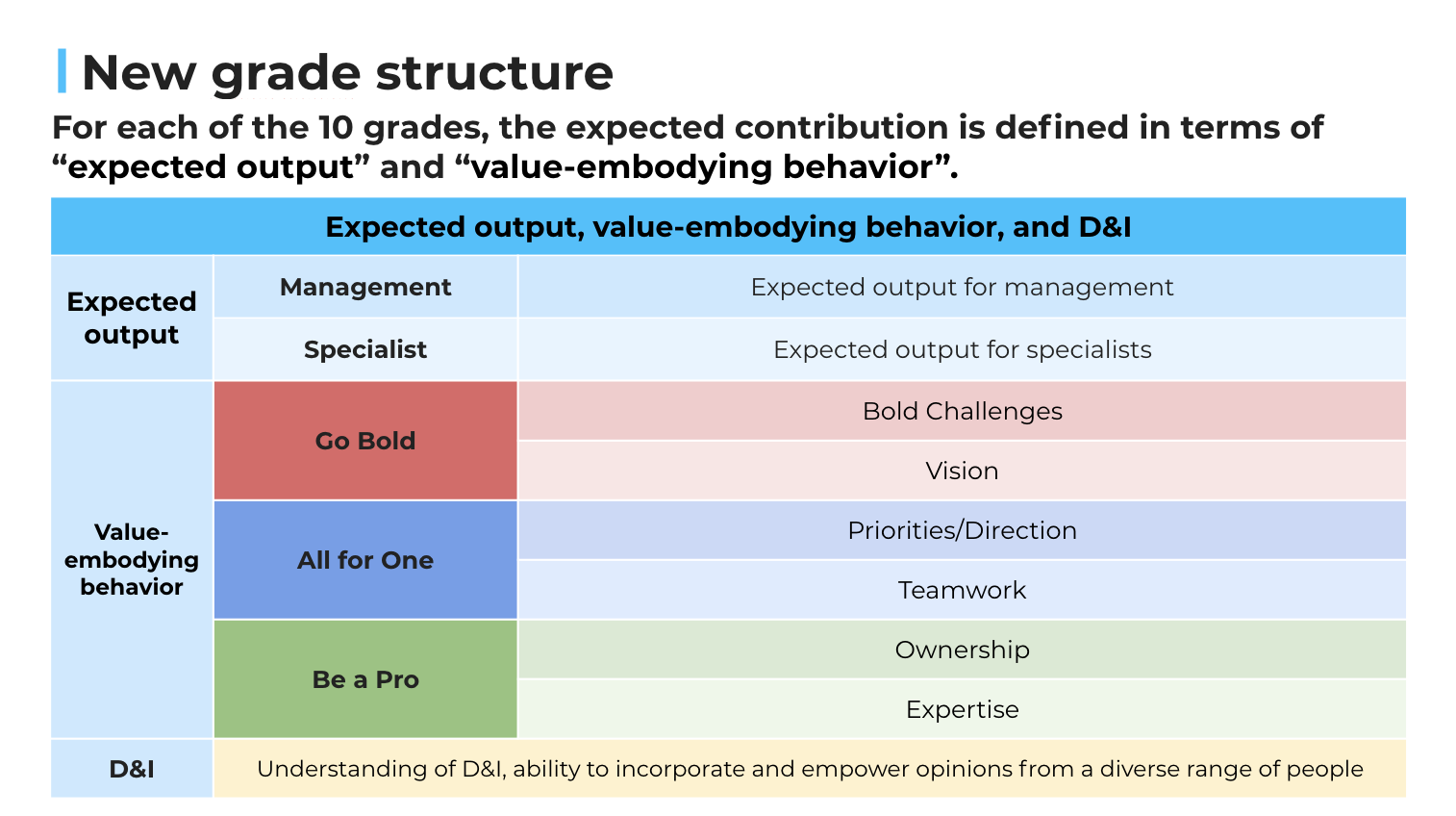 @ume: The new evaluation system uses the grades to assess members from two perspectives—based on their individual achievements ("expected results") and their behavior and conduct ("value-embodying behavior"). For results, it asks whether the member achieved the output expected of their grade, while for behavior, it asks whether the individual demonstrated and embodied Mercari Group's values. Expected results are linked to the member's bonus, while both expected results and value-embodying behavior are tied to pay raises.
Changes to Address Greater Diversity and Lack of Evaluation Transparency
—I guess what I want to ask is why you decided to change the performance evaluation system in the first place. Anything you can tell us about that decision?
@ume: Put simply, it was because the organization had grown. Up until now, a lot of the evaluation process was dedicated to "calibration." These overly long sessions see the leadership and managers come together to make sure performance evaluations are aligned. There was little confusion about how to evaluate certain criteria, and even if we weren't explicit in our reasoning, it was easy to come to an agreement and decide evaluations for each member.
As the organization grew bigger, however, and the number of members increased, managers naturally had to spend much more time on calibration. Despite wanting to use most of the time to discuss what challenges members need to face in order to keep growing, the most efficient route ended up focusing on salary discussion.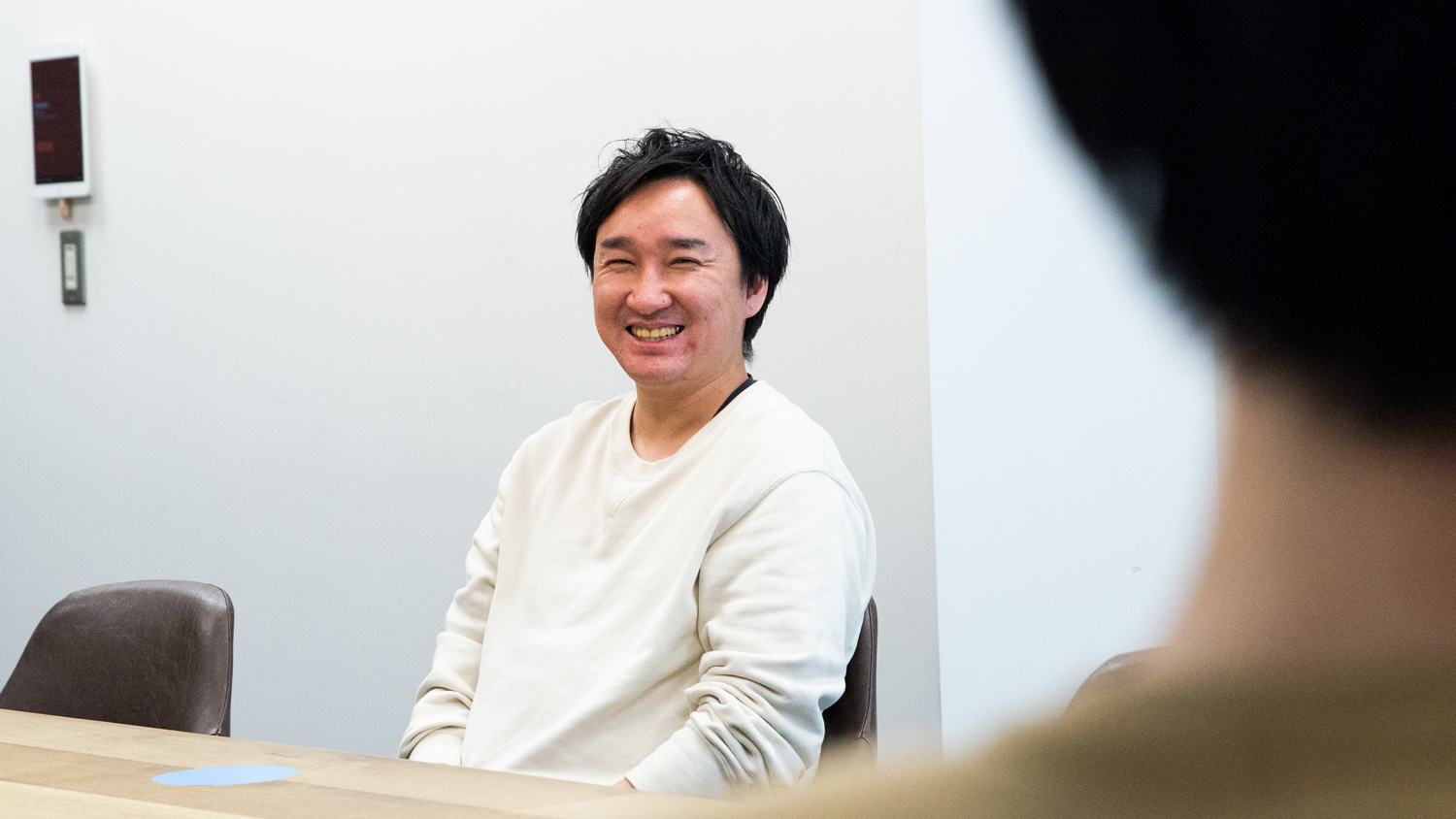 Ryo Umezawa (Merpay Talent & Culture Team, @ume)
—Right. More members means more people for managers to evaluate. More teams means more discussion with leadership.
@ume: Yes, exactly. The Key to Employee Evaluation: Members' Agreement Although roughly 80% of members would agree to their evaluation results under the previous system, the leadership only had a general idea of what was going on with members. Or to flip the perspective: members felt it was difficult to know how the leadership was evaluating them.
@into: As the organization grew and became more diverse, we needed to reduce the amount of high-context messaging, to communicate in a way that all members can understand. There's a big difference in the quality, scope, and impact of "Go Bold" as demonstrated by a company of 100 people and "Go Bold" as demonstrated by a company of 1,000 people.
@maya: Discussions also arose about how to assess non-Japanese members. I joined Mercari as a member of the translation and interpreting team. I saw conversations between managers and members at the time where the manager would insist that they had explained their expectations, but the member claimed to have never heard that explanation before. We needed to create an evaluation system which could accommodate that organizational diversity.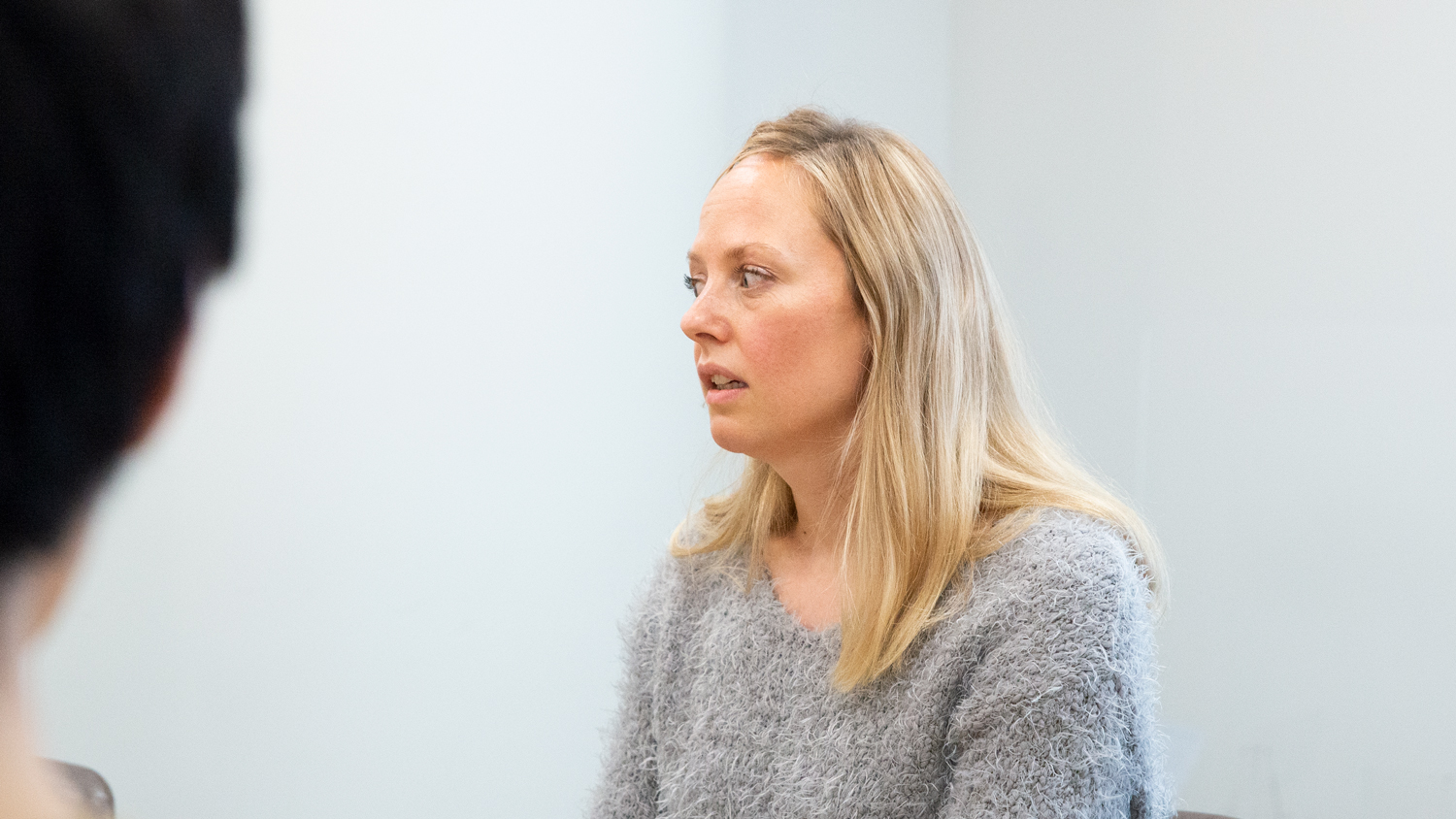 Maya Tanaka (Merpay HRBP, @maya)
@ume: Generally speaking, the previous evaluation system was inconsistent in a lot of ways. We had initially talked about just making a minor update, but this would see us ultimately coming up against the same issues again. We eventually decided to make a major update that went back to the leadership's original vision.
@into: I'm not trying to say our evaluation system up until now was completely terrible!It truly embodied the culture of Mercari Group of the time, and it was what we needed during that phase—a system which could Go Bold to reward members' performance in alignment with market standards. At the end of the day, the overarching policy of the new evaluation system is no different. We've just changed the means by which it operates in order to better match the company's current phase.
Evaluating whether Members' Conduct is Aligned with Values
—I wonder how you made sure that the new performance evaluation system wasn't too results-focused. Even outside of Mercari Group, we often see systems where the people whose work most easily stands out receive the best evaluation, and the background coordinators—who are equally committed to those results, but much less visible—go unrecognized. Did you think about how to avoid that pitfall?
@ume: I know what you're talking about. It's a common issue. I mentioned that our new evaluation system assesses members based on both results and behavior, but behavior receives particular focus. That's based on our belief that behavior aligned with company values creates better results. I've looked at the evaluations for thousands of Mercari members, and it's those members who best embody the values that create the best results. Output is, of course, important. Under the new system, however, our members cannot go up to the next grade without demonstrating the values which serve as our guiding principles.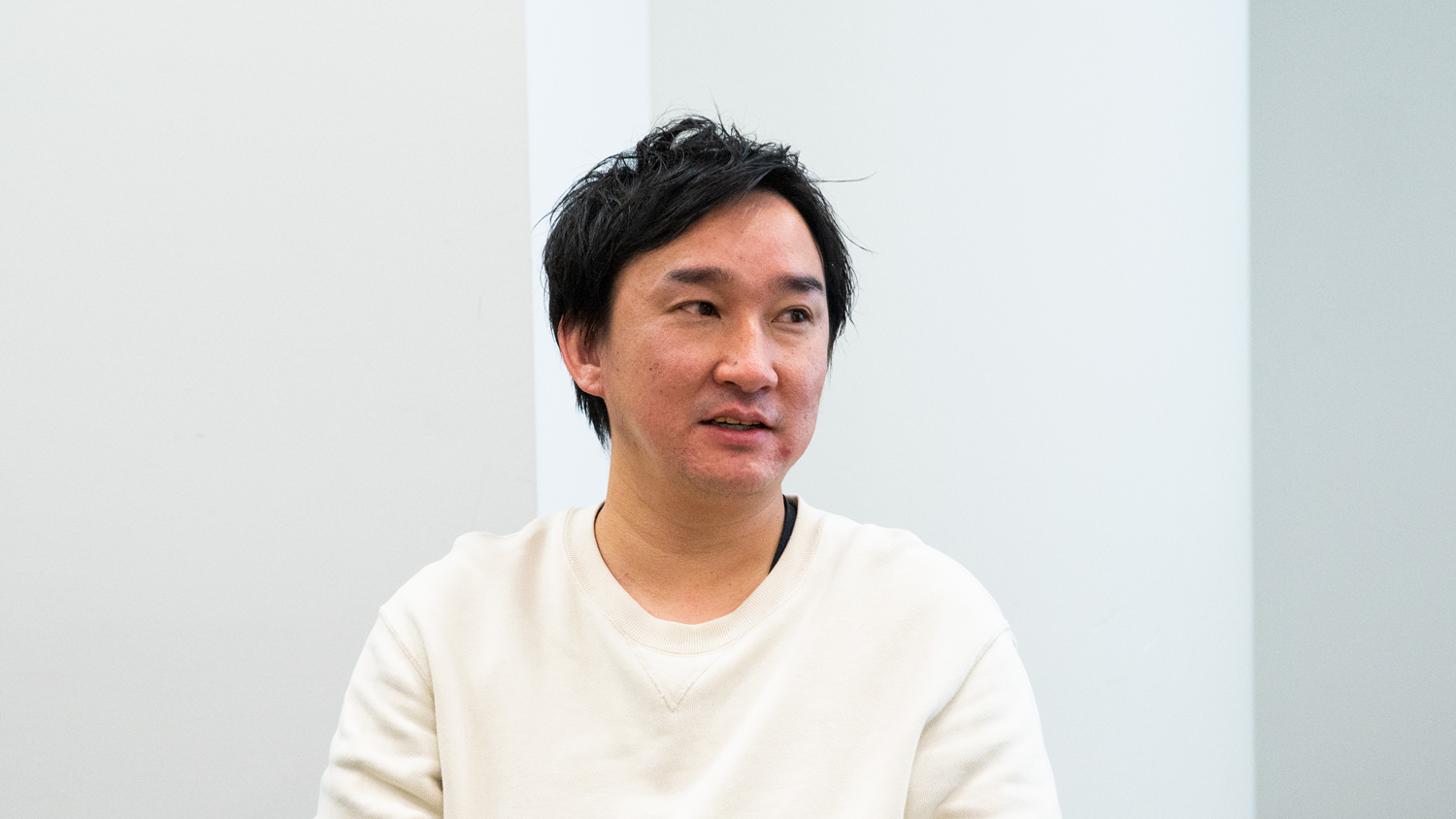 @maya: It's really indicative of Mercari's identity. In performance evaluation, action in alignment with the values is more important than results. No matter how much the member achieves, those acting out of alignment with the values receive a poorer evaluation, and those acting in alignment with the values receive a better evaluation.
Right, it prevents weighting the assessment too heavily on results.
@ume: It's important that a member's assessment is linked to their future growth. That's what calibration is for. We expect that having introduced the new evaluation system, we should see less high-context, implied reasoning in these meetings—"This is just how we evaluate members at Mercari." That sort of thing. It should also increase members' agreement with their evaluation results and foster behavior aligned with the values.
Under the new system, discussion during calibration becomes tangible results for our members the following month. This is the very thing which allows Mercari to achieve non-linear growth. By focusing on behavior and conduct, we expect to create a culture where members don't just who don't just wait for their regular pay raise, but who push themselves to "Go Bold."
But calibration can be a really tiring process. Most of the managers are exhausted by the time we finish. (laughs) At the same time, though, it's one of my favorite events. It's a chance for managers and leadership to get together and have a thorough discussion about members. Although we may only be discussing each member for 10 minutes, these end up being considerably deep discussions. It's a very productive time.
@momoko: Right. We talk about what projects to assign members to next and how we're going to support their growth and career. It's always a great conversation.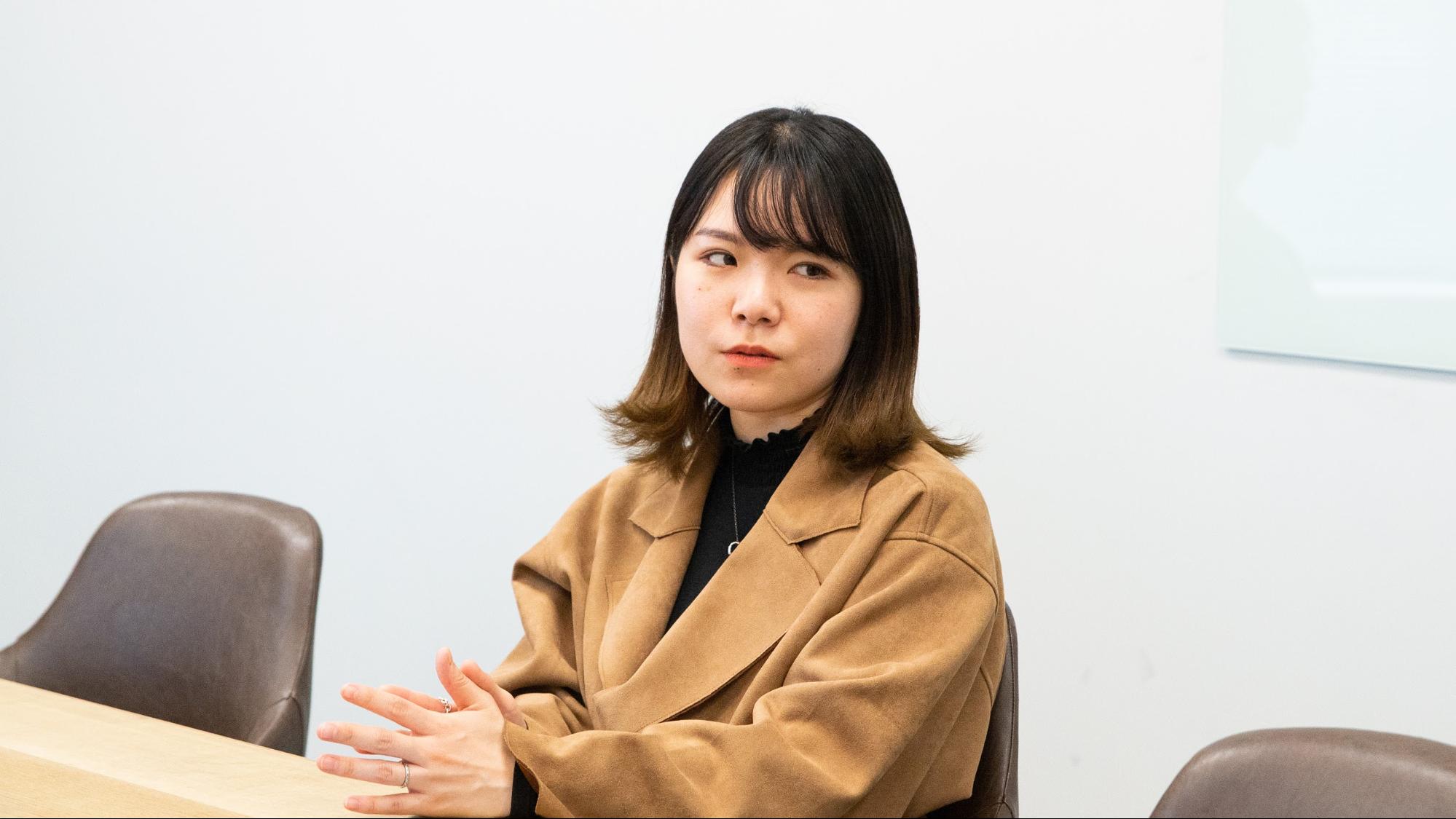 Momoko Emoto (Mercari HR Planning Team, @momoko)
A Project to Support Mercari Group's Non-Contiguous Growth
—You called this project to create a new performance evaluation system "PJ-Excite." Since we have you PJ-Excite members here today, I was wondering if you could talk about how the project came to fruition.
@into: PJ-Excite was launched in December 2019, with work starting in earnest from the middle of January 2020. I remember getting together to discuss the need for a performance evaluation system that can accommodate the growth of different companies operating in different phases—as Mercari Group will undoubtedly continue to expand going forward.
@ume: From the outset, we decided to define the new job grades based on whether the behavior was aligned with our values. This was not up for discussion. Alignment with values was a sticking point!
@into: That's right. We fleshed out the system from there, working together with the leadership. Initially, the leadership threw us a real curve ball, saying that given how our businesses had changed between phases, we might as well rewrite the values from scratch. Through discussion within PJ-Excite, however, we determined there was no need to change the values right now, and we decided to base the job grades on the current values instead. We ended up submitting proposals to the Executive Meeting around 30 times or so, right?
@maya: Looking back, it's pretty incredible how the leadership were committed to discussing the topic 30 different times and the project members were committed to fighting for it. (laughs)
@momoko: Not only the leadership, but even the project members themselves set up opportunities to collect a wide range of opinions on each draft of the new evaluation system.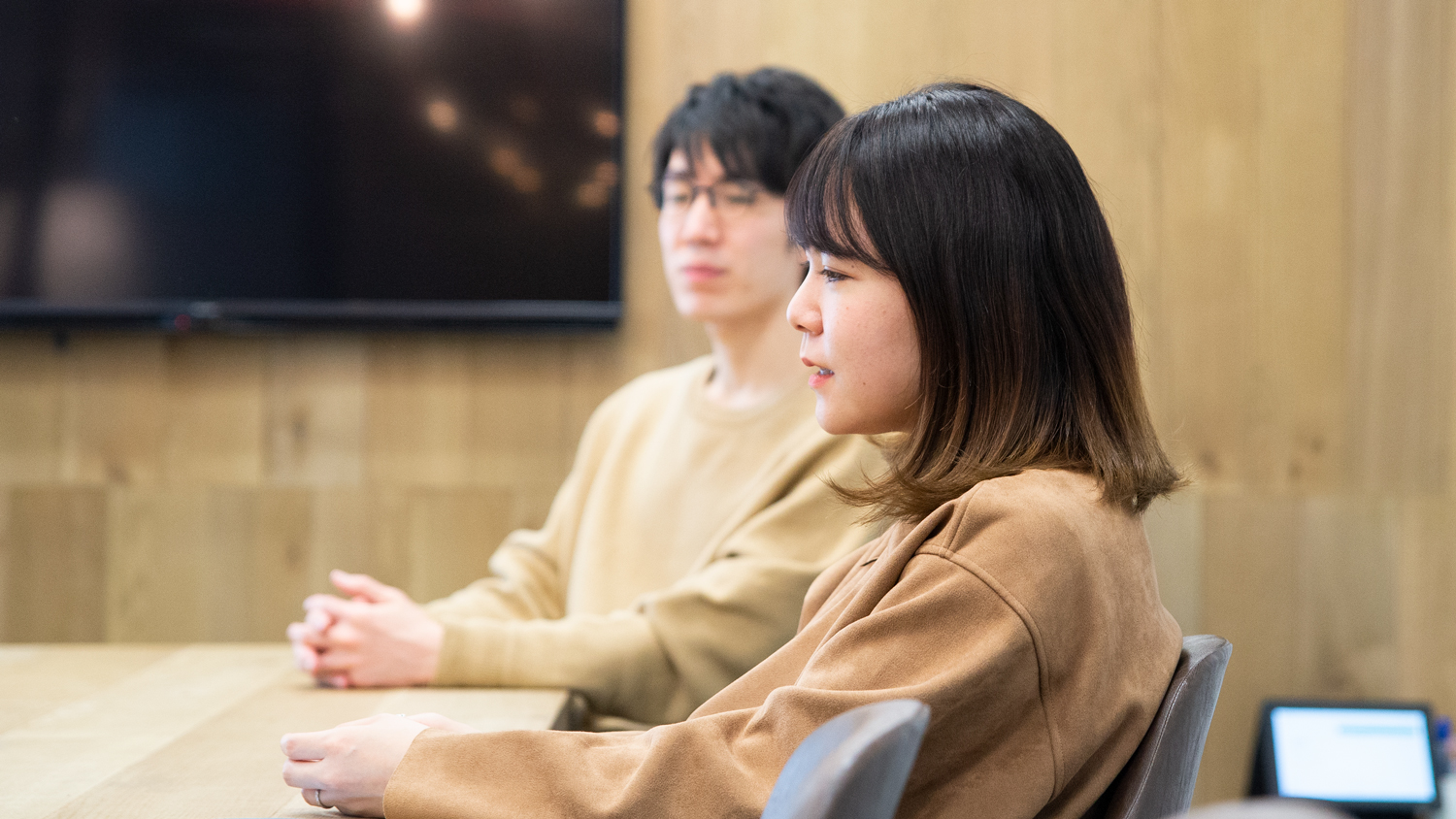 —You took time to solicit comments from all Mercari members?
@ume: That's right. While performance evaluation systems like this are usually created top-down, ours was gradually refined over time, taking members' opinions into account. I think that way of tackling the project creation was also a uniquely Mercari approach. Naturally, this meant the process took a lot of time, though. (laughs) It was especially hard on @into and @momoko. Honestly, it was like, "How many open door events have you held now?"
@into: That was my biggest contribution to the project. (laughs) We even held a vote internally to decide the remuneration system. The fact that @tatsuo (Tatsuo Kinoshita, Mercari CHRO) was watching that dialogue closely and leading it himself was also very emblematic of Mercari, I think.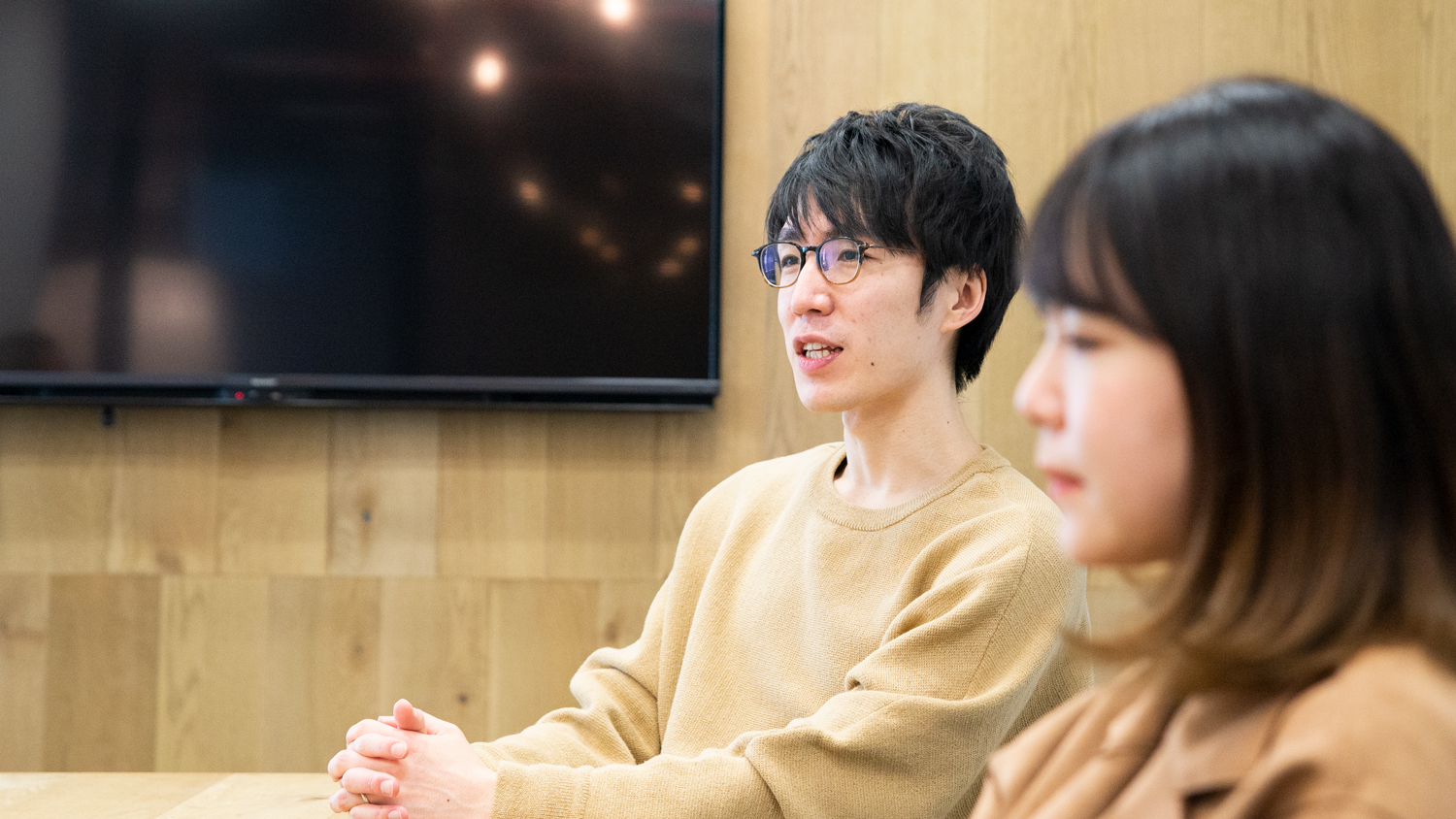 @momoko: Of course, that's not to say that we just adopted the voting results as-is. The goal was to gain insight from members and then share a new draft of the HR evaluation system based on that. In sharing how members thought about the new system and getting feedback, we really felt like everyone helped create the system together. I was really impressed with our company. (laughs)
D&I: Instrumental in Obtaining Members' Buy-In
@ume: Another thing that I thought was very emblematic of Mercari's character is our new focus on D&I. While we have the values on which we based our conduct evaluation, D&I is more like part of our code of ethics. This is why there was initially a lot of discussion about whether to introduce it to the job grade definitions. When we asked the Executive Meeting whether to make D&I a focus area, they immediately told us to include it. A company isn't improved simply by the opinions of the majority; we need to take the opinions of our many diverse members into account. This is what makes D&I so important.
@maya: From a D&I perspective, there were doubts about defining D&I exclusively in Japanese when our members are not all Japanese speakers. For example, the Japanese version of our values was created by several members looking carefully at each word and phrase. The English version, on the other hand, was translated by just 1–2 people. I'm not saying that our translators did a poor job or anything, but our non-Japanese members naturally had questions about the draft being based on Japanese.
For the new HR evaluation system, we made sure to bring together English speakers from many different departments and get their opinion on the completed translation. We then brought those opinions back to our PJ-Excite meetings and reflected them in the new system. This allowed us to receive suggestions not only about the English, but about how we could change the Japanese as well. By building our proposal for the new system while listening to the opinions of members from outside HR, we were able to increase buy-in from all members. I think it was good of us to avoid choosing just one language or the other as the basis of the system.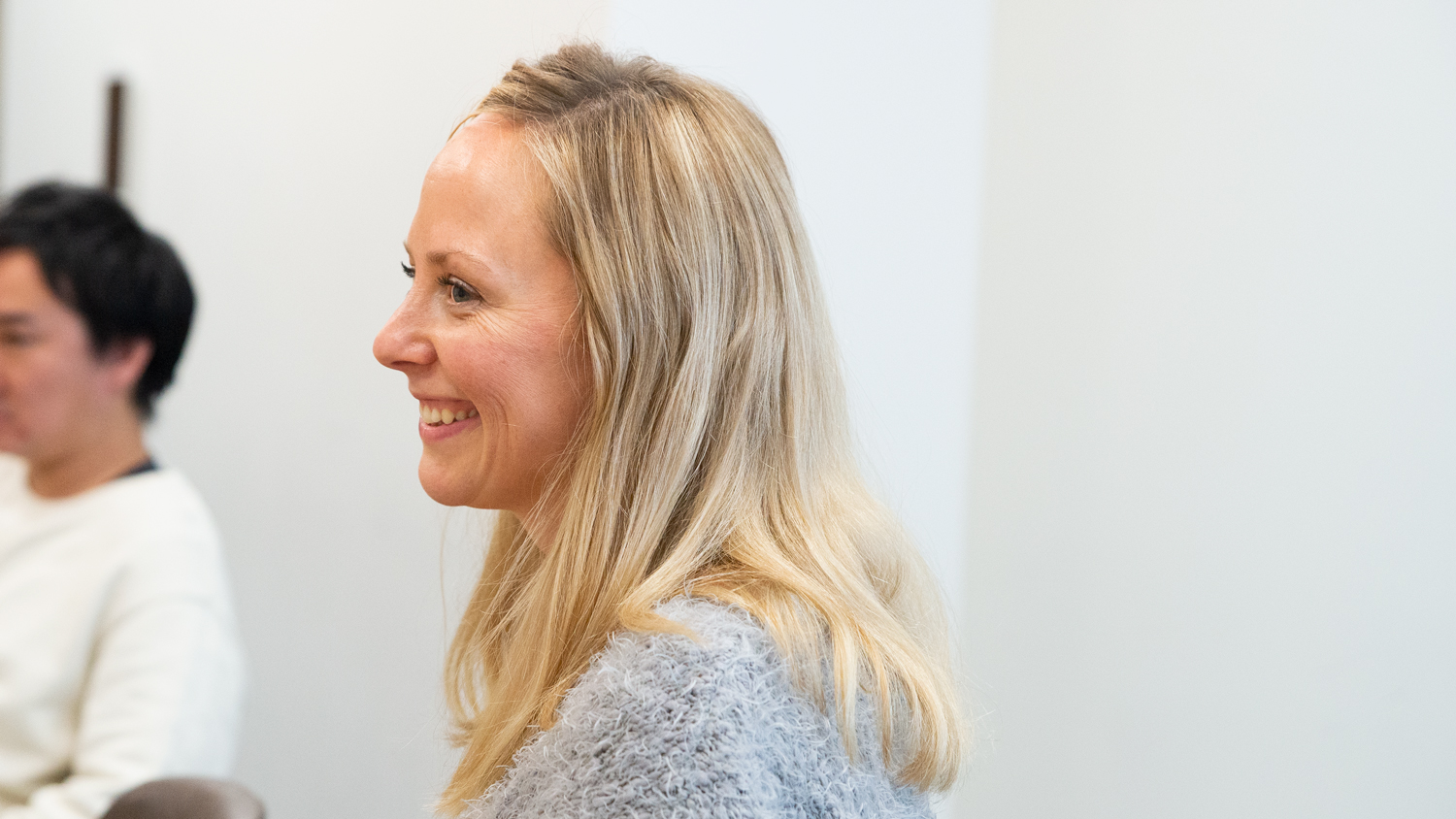 So the new HR system launch was a success.
@ume: We launched the new system by having managers determine the new job grades for their members. We knew that defining new job grades would create some challenges. We expected that some members would end up at a higher grade than they were before the new system was introduced. In other words, members whose assessment had been based largely on implicit reasoning and conducted inaccurately would now be receiving the evaluation they deserved. It was very reassuring to see some managers already able to say with confidence that certain members already met the system's criteria or fit into a specific grade.
@momoko: We could have just matched the systems up so that it was a simple matter of sliding members over from the old grade to the new grade. But we decided not to do that because we wanted to prioritize ensuring that both managers and members agreed with the system. That was the key to making this project work. Mercari Group places the greatest value on investing in our people. As an HR evaluation system which embodies that ideal, we knew we could not skimp on the cost required to make sure members agree with its content.
@into: The HR system updates made as part of the project also served to solve organizational problems. Rather than eliminate opportunities for discussion, we expect our system will allow managers to organize their thoughts logically and allow time to be used effectively, to discuss what should actually be discussed. Calibration had turned into a discussion about remuneration exclusively, and there was no time to adequately discuss growth opportunities. This posed a problem for individuals and organizations alike. The new HR evaluation system is not only easier for our members to understand, but we expect that managers will be able to utilize time spent on calibration more effectively.
No Such Thing as a Perfect Performance Evaluation System
—Now that the new performance evaluation system has been completed and implemented, are all of you finally able to relax?
@ume: This is true of all such systems, but no matter how good the system is, it will fail unless members learn how to use it fully. The work to educate members about the system is never done. So in that sense, we can't breathe easy just yet. (laughs)
@into: There's no right answer when it comes to designing a system. Since there may be a degree of difference in how members use it, the next challenge is explaining our original intentions behind its meaning.
@ume: With regards to D&I in particular, the entire Mercari Group is now in a phase where we have to promote D&I. But this also differs by grade. D&I will become a natural part of Mercari's culture if we keep working on it, though. There's a chance that one day, our company will be at a place where we will no longer need to include it in the definitions. Since no system is perfect, this will depend on how we develop the management-level talent responsible for performing the assessment, as well as whether we can ensure the system takes root within the company.
@maya: That's what we need to remember going forward. Although we created the grade definitions, we now need to explain to members and managers how to incorporate them into their daily work and objective setting. Since there's no such thing as a perfect system, we need to gather opinions from members as they use the system. That way, we can make improvements as necessary, in a way which matches our company.
@momoko: Right. The new system's introduction increased the number of tools managers have at their disposal when conducting assessments, and moving forward, we want to help members make the most of the system. From the HR side as well, we want to proactively share our feedback to make it an even better system!
@ume: Couldn't have said it better myself. I also want to end by saying that we may alter the performance evaluation system yet again depending on future phases the company enters and the situations it faces. That's because the performance evaluation system is ultimately just a tool to further the growth of the company. We in HR still have a lot of work ahead of us.