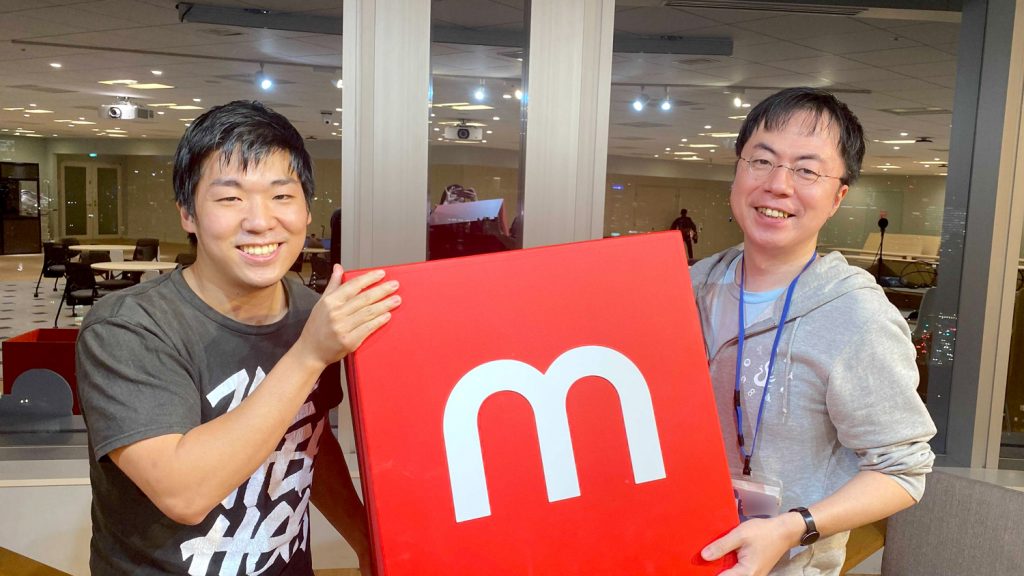 How a Mercari EM who says "I was not good at English" joined a language learning program and gained confidence
Hello everyone, this is Kayoreena from the Engineering Office.
So, the topic of this article is "What happened to a certain Engineering Manager (EM) as a result of Mercari's internal language support?
Currently, Mercari has members from about 40 countries. For this reason, English is the preferred language for meetings involving engineers. Of course, Global Operations Team members, who provide interpretation and translation support, are available for members who are not proficient at English. However, when you are in a management position, you need to be able to speak English to some extent.
In this issue of Mercan, we focus on language support for internal use. We asked vkgtaro, an EM on the Backend Team who said that he wasn't that good at English when he first joined the company, and Riley, a member of the Language Education Team (LET), who provides language education, to honestly tell us about English at Mercari.
※The mask is removed only when taking pictures.
Featured in this article



Daisuke Komatsu(vkgtaro)

Daisuke Komatsu (vkgtaro) is an engineering manager on the Mercari Backend Team. He joined Mercari in September of 2017. After graduating from high school, he joined the theater company Himawari. He admired Shuji Terayama and spent his early 20s immersed in theater. When he was a member of the troupe, he set up a website to market himself as an actor, which led to him teaching himself programming. After that, he became independent, closed his business, and changed jobs before joining Mercari.




Riley Masunaga(Riley)

Riley Masunaga (Riley) is an LET Coach and Program Coordinator. Originally from Hawaii, Riley has worked as a marketer and strategist at startups in the US and Japan since 2012. He is currently working as a LET Coach and Program Coordinator at Mercari, where he is responsible for analyzing program data and improving team processes.
---
A language education program for "EMs with English-speaking members"
ーFirst of all, let's talk about what kind of English support is available inside the Mercari Group. Could you briefly tell us about the role of LET and the contents of the English learning program?
Riley:We at LET are a team that was born with the mission of "eliminating barriers to communication" rather than "teaching English itself." Our language learning programs are designed to help company members learn. In addition to the language learning program we are talking about, we also offer "Easy & Kind Communication Training."
Riley:LET has prepared an appropriate curriculum, divided it into different levels so that learning does not become too overwhelming. For beginners, there is material focusing on daily conversation, and for the next level there is collection of intermediate materia. In addition, we have a program that has content focused on management.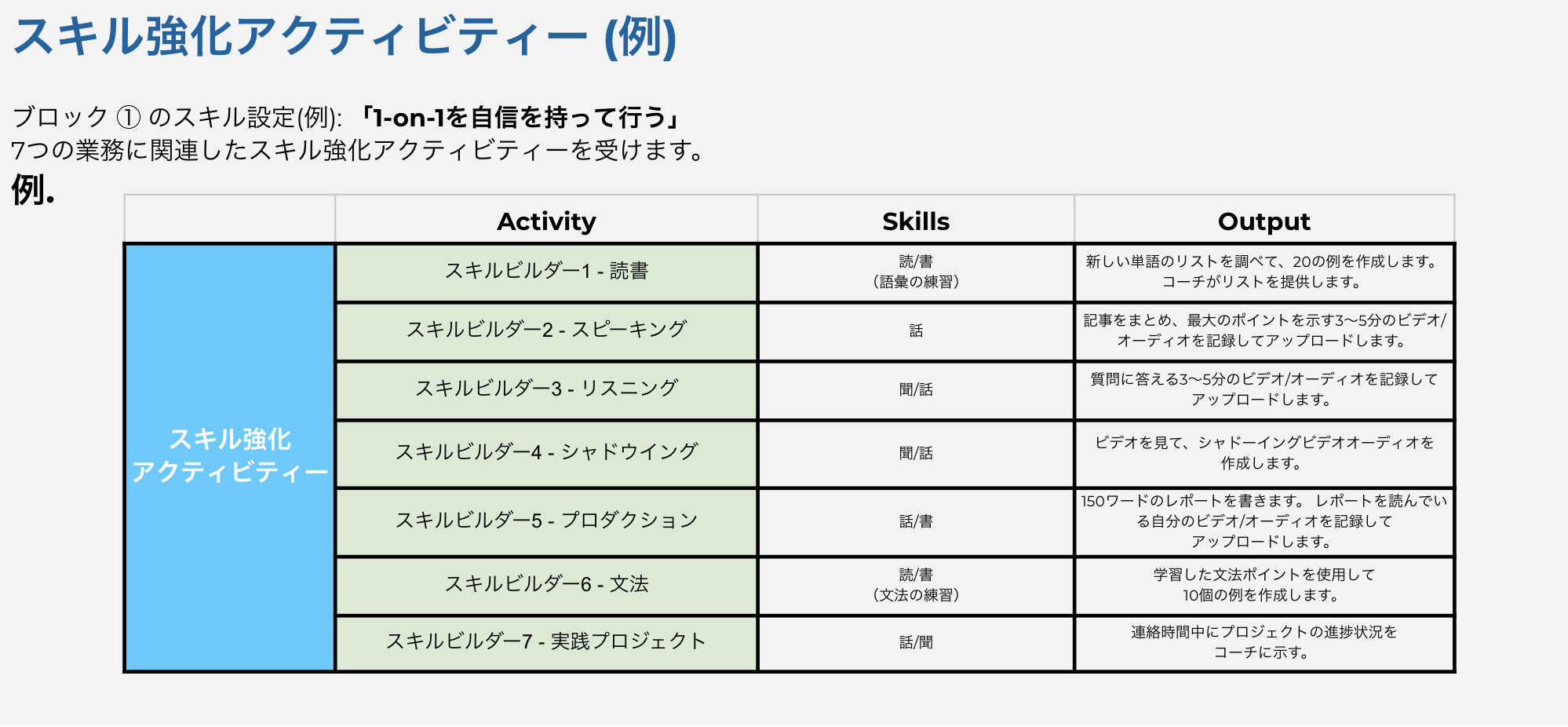 ー I know this language program is targeted at some members. What kind of members are covered by this program exactly?
Riley:We target members who have a high priority for learning English. Specifically, EMs who have English-speaking members get priority in our language learning program.
I started feeling the "English communication barrier" around December 2018
ー The percentage of English speakers in the development organization at Mercari is increasing every year (about 50% as of December 2020). I heard that vkgtaro-san learned English after joining the company. To begin with, how good was your English before you joined Mercari??
vkgtaro:To be honest, I'm still not very good at English and I can't speak it well (laughs). My current level is that I can speak everyday English and I can have professional conversations using roughly the same vocabulary. I'm still not good at conversations with a high level of abstraction.
Before joining Mercari, I had a job that required a lot of communication with Shanghai, China, so I could only read and write English. And then I joined Mercari in 2017… At that time, I remember that it was a condition for me to join the company that I could speak English to a certain extent, because it was the time when I was getting more involved with overseas business in the UK. I wasn't very good at English, but because of my experience at my previous job, I didn't have that many issues. In fact, when I first joined the company, all of my team members spoke Japanese, so I didn't feel particularly stressed in my work.
The atmosphere in the development organization started to change around the summer of 2018, when we started to strengthen our recruitment both domestically and internationally. Since that time, the percentage of English speakers has increased. Until then, we had few English speakers and they seemed to have a harder time communicating with others.
ー When did you start to feel that you were able to communicate more in English?
vkgtaroIt was around December 2018. When I first became an EM, it consisted of English-speaking members only. At that time, I couldn't communicate what I wanted to say well, and it was a very tough situation for them. The GOT members were always very helpful to me.
ー What kind of language support system existed at the time?
vkgtaro:At the time, Mercari had a system where you could take online English lessons. So, I started taking those lessons. At first, I couldn't even communicate with the teacher in a simple way, and I didn't even know what was being asked (laughs). I felt like I had to start from the basics, so I bought some reference books and went over the basics.
How to stay motivated and face English learning
ー In June 2019, an English learning program that implements a language curriculum for members of the company who have a particular need for English was launched. This involves 10 hours of English study per week according to a prepared curriculum. How much did you actually study according to the English learning program prepared by LET?
vkgtaro:I set aside one hour every day on weekdays and five hours on weekends to take the program. Learning English at this time was just very difficult. I couldn't shadow English well, and my Japanese wasn't smooth either, so I had a deep complex about the language.
ー Was there a moment when you felt that you had improved your English?
vkgtaro:English is not something that you can immediately improve your ability just because you do it. That's why it's important to keep learning a language. At first, there are days when you can't do anything at all. You go back and forth between being able to hear and still not being able to hear.
ー As a language program provider, is there anything special you would like to mention?
Riley: Well…. The important thing to remember here is that communication skills are not necessarily tied to your level of English. Of course, it is very important to be able to use basic English, but just because you have a high TOEIC score doesn't mean that you will be able to communicate smoothly in English. It is important to practice actual conversation and learn how to communicate with your body.
ーTo be honest, I think some of the members might feel depressed because they couldn't learn English very well.
vkgtaro:I'm sure there were members who felt stressed. However, Mercari had made it clear that the company was aiming for internationalization, so I was prepared to do my best. There are still very few Japanese companies where English is used as the main language, so this initiative itself is a new challenge.
Riley:That's right. Having seen a lot of employees study English, I think vkgtaro is great at being patient. English doesn't improve quickly, so it's good to enjoy the process.
When I come into contact with members from various countries, I feel that Japanese people are very good at self-learning. At Mercari, there are many persistent members who are highly motivated and study hard in secret. These members amaze me because I can't see their efforts to improve.
However, English is only a tool for communication. It's not something you can just get a test score for. If you study alone, it is difficult to know whether you are really acquiring English that can be used in conversation. It is important not to be more serious than necessary and to learn together with your friends.
Mercari has an environment that will help and support your English learning to the fullest
ー Mercari has GOT, which specializes in interpretation and translation, and LET, which creates language learning programs. How do you feel about this system?
vkgtaro:I'm still very grateful to the members of GOT and LET. What I found out as I was learning English is that even if you speak through an interpreter, it doesn't mean you can have perfect communication. Even within the team, there was a difficulty in the pace of understanding each other's intentions when communicating in English. Since engineers need to have specialized conversations, we also created documents about the backend to help the interpreter members understand it better.
However, the company as a whole is now in a phase where individual growth is expected, rather than "all support is generous" as it has been in the past. Each of us must continue to do our best to learn the language as our own.
ー Finally, do you have any words of advice for the members who feel like they are struggling because of the English environment?
vkgtaro:It's a welcome development in the industry that English is becoming the main language of communication. To begin with, many of the new technical documents related to engineering are in English. It's tough, but I think it's great to be in an environment where you can use English while still being in Japan. To be honest, I'm still not very good at it, so I'm working while telling myself, "I'm kind of great at using English! (laughs)." Thanks to this, little by little, I'm able to have conversations with English-speaking members even in situations where GOT members are not present.
Even if you are not good at English, if you decide to "do your best," the members around you will do their best to help and support you. However, no matter how much support you get, if you don't have a strong will, you won't be able to do your best. Above all, it's very interesting to work in an organization where people come from all over the world. I would recommend this environment to anyone who wants to work using English.
Riley:In the future, there is a possibility that Mercari will have even more members from overseas. It's not a question of whether it's good or bad, but it's a natural progression that the environment for using English will increase, and it's very important to get used to it. You may think that English is a skill that is separate from work, but in some development environments it is closely connected.
I understand how people feel when they think, "I'm not good at English." That's why I want everyone to challenge themselves without fear of failure. But no matter what, it is important that you try to speak. No one will judge you for your score or ability. If you can use it as a communication tool, you will be able to work at a higher level and train yourself even more!
ー Thank you, vkgtaro and Riley!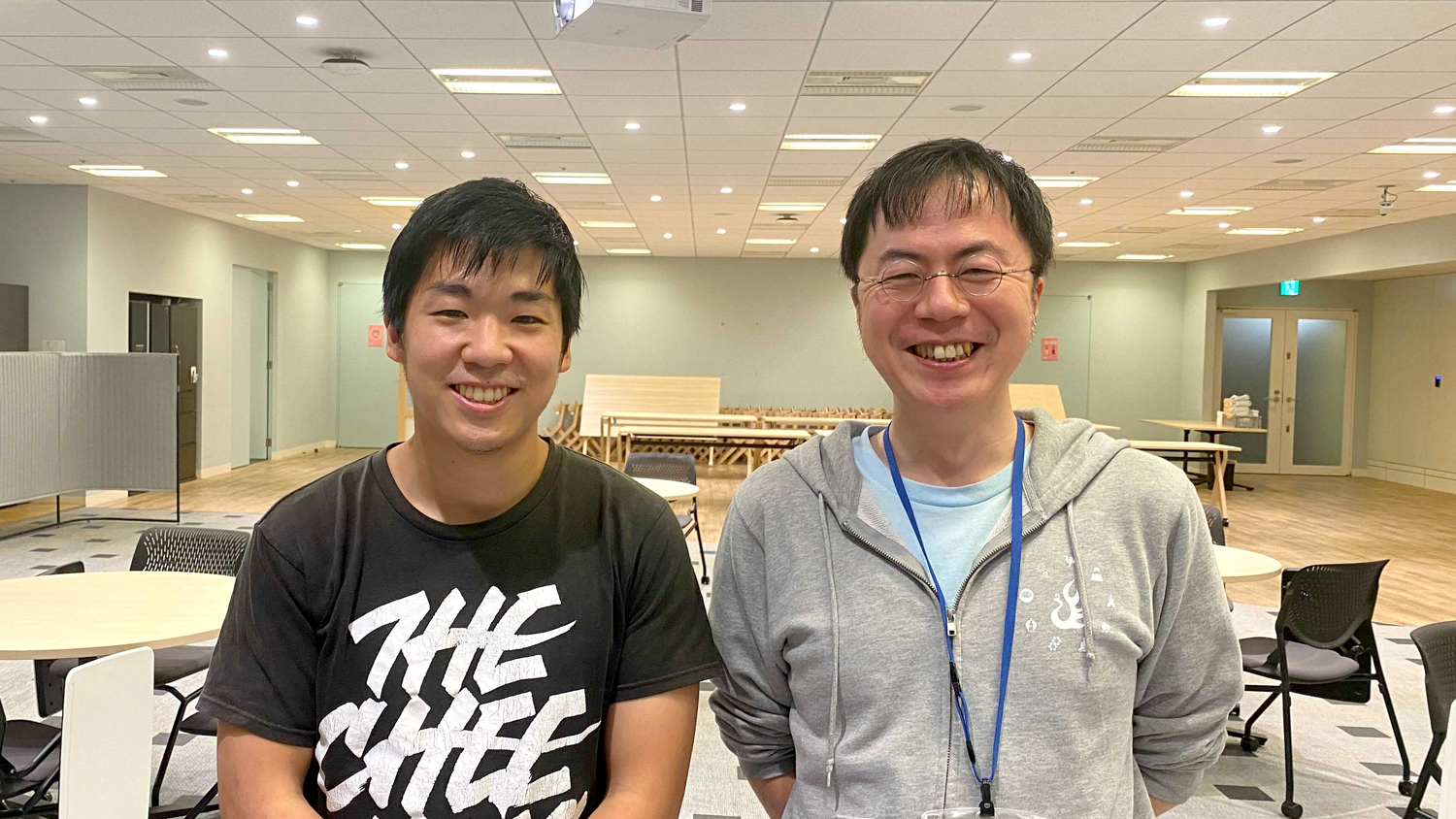 In this article, I brought you "What happened to a certain Engineering Manager (EM) as a result of Mercari's internal language support."
Learning a language is never fun! It's fun! However, as an engineering organization, Mercari is aiming to build a strong team of talented people from all over the world, and we are looking for members to join us. If you are interested in joining our engineering organization and developing your engineering career at Mercari, please apply via the link below. We are sincerely looking forward to hearing from you!