[ #MercariHackWeek Pre-Event] Hack Week Idea Panel Discussion with Heavy Mercari Users Inside the Company! #MercariDays
Hi, everyone! This is Kayoreena from the Engineering Office! I'm back with another Hack Week post!
Hack Week is a semi-annual technology festival and so-called "hackathon," where members can get away from their usual work and develop whatever they want for a week. This is the third time, and every time we have held this event, our members have provided us with unique ideas. It's always a lot of fun.
Hack Week is coming up in the middle of September, and we've actually been holding pre-Hack Week events during these few weeks leading up to the hackathon. These pre-events serve a wide range of purposes, such as letting first-time attendees know about Hack Week and making it easier for other departments to participate. One of the pre-events was called "Hack Week Hints."
For Hack Week Hints, we held an online panel discussion with a group of heavy Mercari users within the company and asked them to let their imaginations run wild and describe what features they would like to see on Mercari.
The three panelists for this year's event were: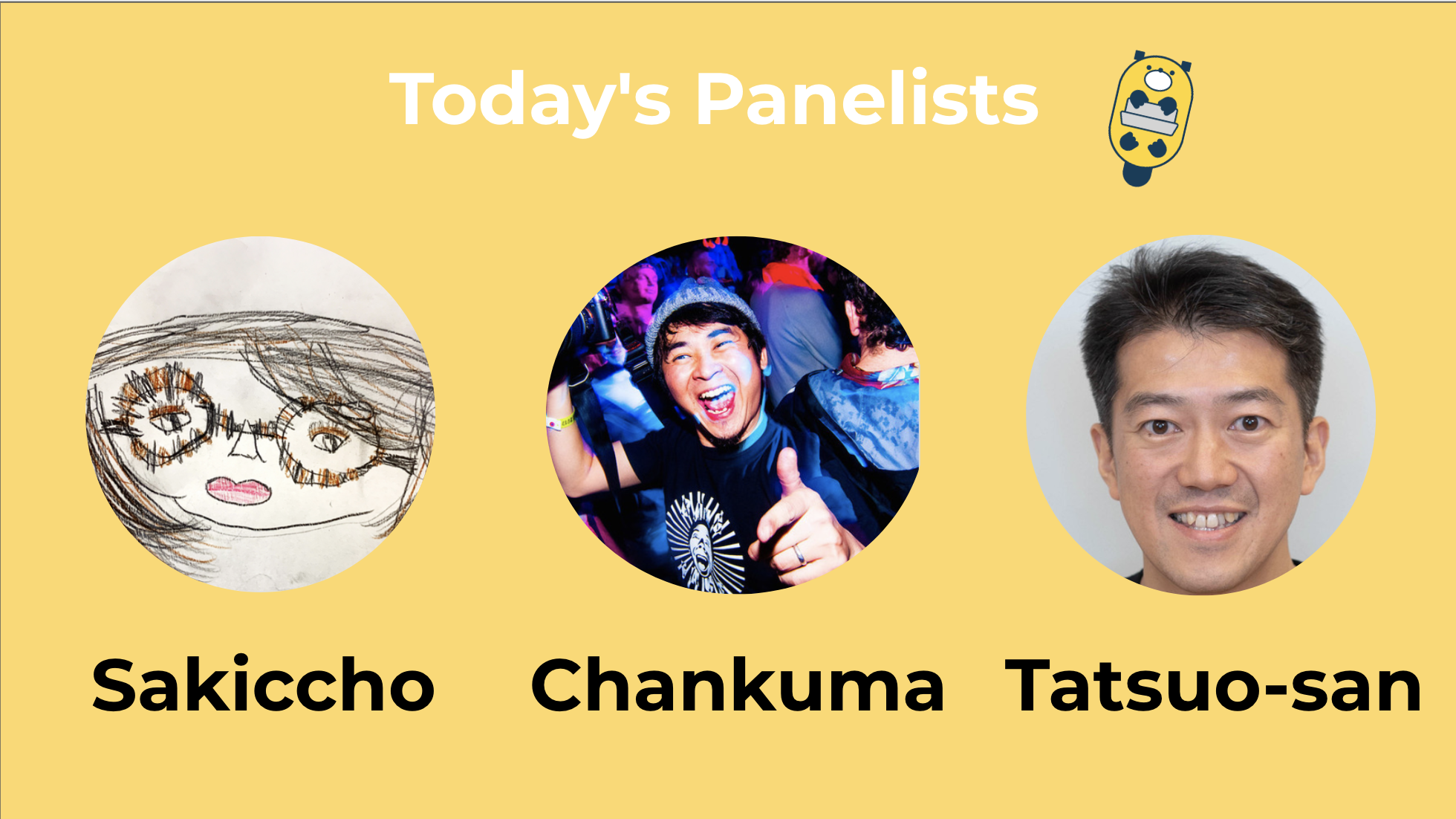 @sakiccho・・・Belongs to the branding team. She is in charge of the company's official social network accounts, making use of the social network management skills she has developed over the years. She usually uses Mercari for shopping. At the recent Mercari Online Festival, she showed viewers her shipment packing technique.

@chan-kuma・・・He is a very popular photographer both inside and outside the company. He has been using Mercari since the early days, mainly buying and selling cameras and related equipment. He is always checking the market price of equipment.

@tatsuo・・・Head of Human Resources for the rapidly-changing Mercari. In December 2019, this Mercari titan listed 56 items in about a month in order to win a listing competition. He often looks for clothes and picture books for his daughter on Mercari.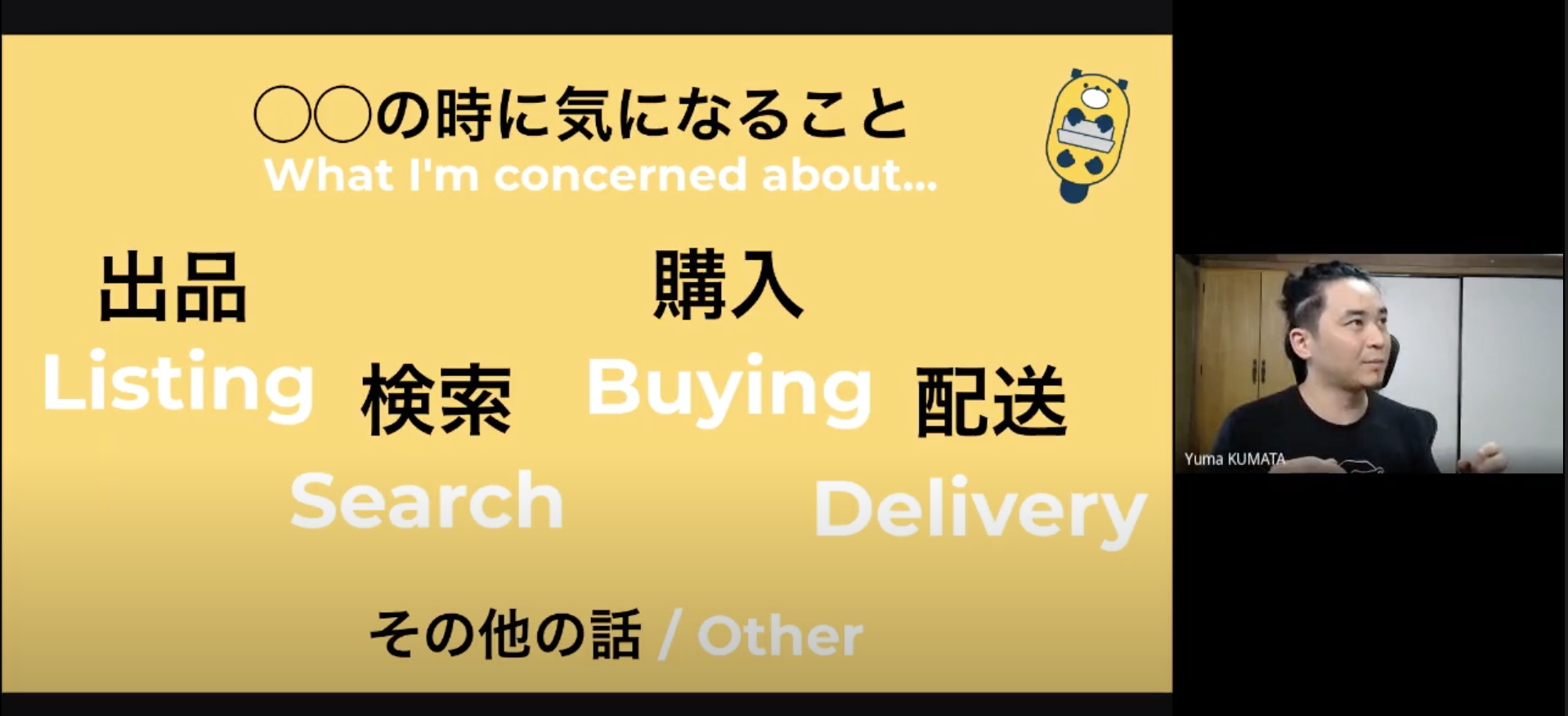 The actual event
The purpose of Hack Week Hints was to share ideas that only a Mercari fanatic would have, as well as to find inspiration for what Hack Week attendees can develop during Hack Week. At the event, viewers were also able to exchange ideas on Slack, and there was a lot of feedback that could be used for everyday product development, too.
As a pre-Hack Week event, we made a graphic to record the hints given by these Mercari maniacs. Since everything was to be held online, we invited Shuzui, a graphic artist, to help us capture the excitement of the event and share it with as many members as possible.
Here's the actual graphic that was created! A few days after the event, we used the internal Slack to share a version of the graphic with added English and a document summarizing opinions expressed during the event.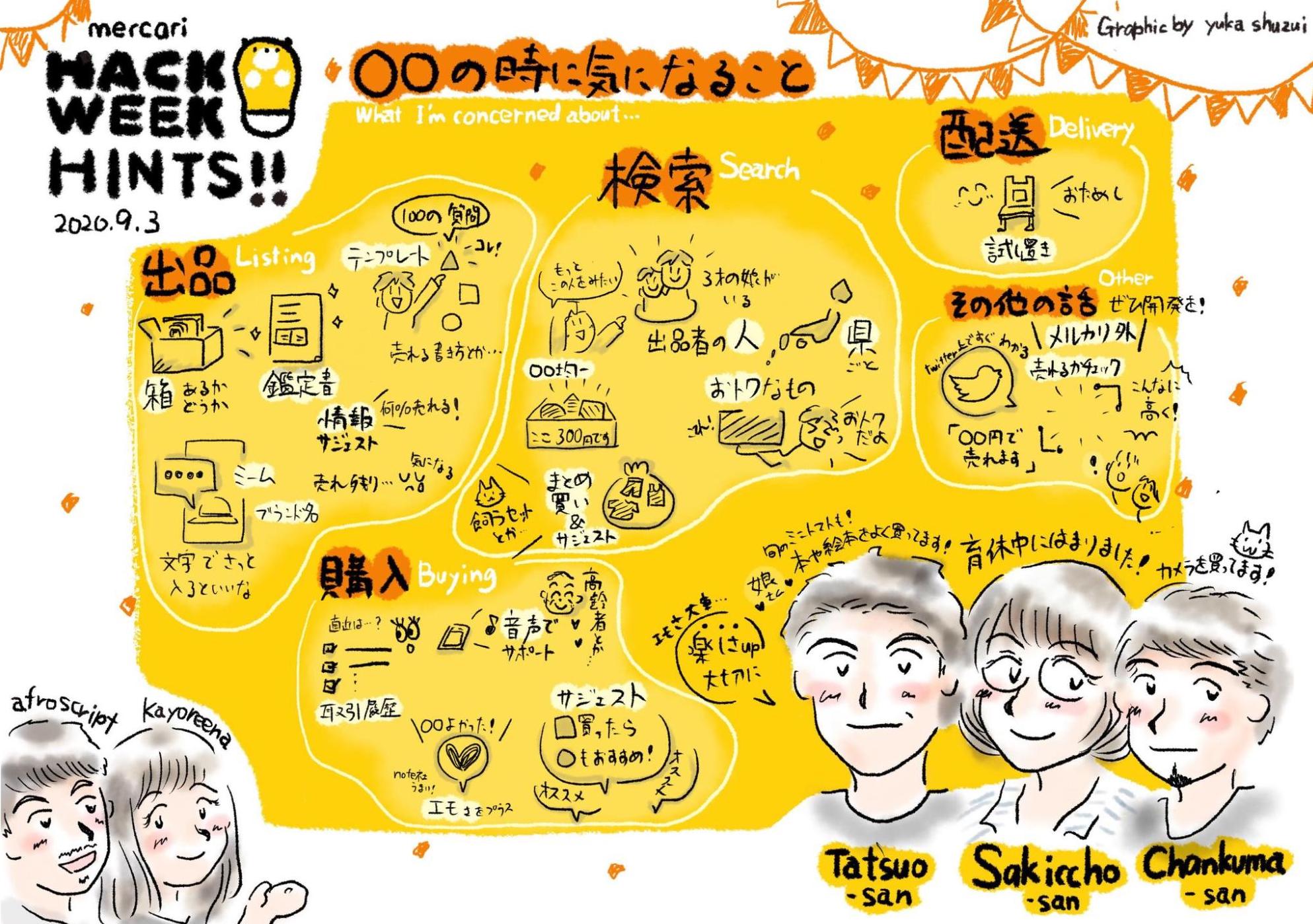 Hack Week starts next week. Preparations among the members are well underway, and we in the Engineering Office are looking forward to making the final adjustments and finishing up the exciting plans we have in store! See you next time for more Hack Week coverage on Mercan!