Mercari's Women in Tech vol. 2: "Your role model doesn't have to be a woman" #MercariDays
Hi! I'm @Maho from the Talent Acquisition Team.
A few days ago, we held vol. 2 of Mercari's Women in Tech event! Women in Tech is an event series focused on women in tech companies and provides an opportunity for them to exchange information and knowledge with each other. We decided to hold vol. 2 after seeing everyone's amazing response to our first event, organized in August this year.
We invited women working in product sideat different tech companies for vol. 1, so this time we let women in business development, marketing, and corporate divisions take the stage instead.
This time we had the pleasure of meeting Keiko Hirayama! While she was head of Search & Brand Marketing at Google, she launched Women Will, a project that aims to empower working women with technology. After that, she joined Uber Japan, where she worked as Country Marketing Director & Executive Officer and helped expand and promote the Uber Eats and Uber Taxi businesses.
Mayumi Tochinoki, Statutory Auditor for Mercari and Merpay, and Goeun Kim, Merpay's VP of Sales & Business, both shared the stage with Keiko. Mercari's CHRO, Tatsuo Kinoshita, was in charge of facilitating. During the event, we held a panel discussion to talk about how everyone working in business development, marketing, and corporate divisions at tech companies can maximize their performance, and in particular, how women can improve their working style and build their careers. Let's dive into more details!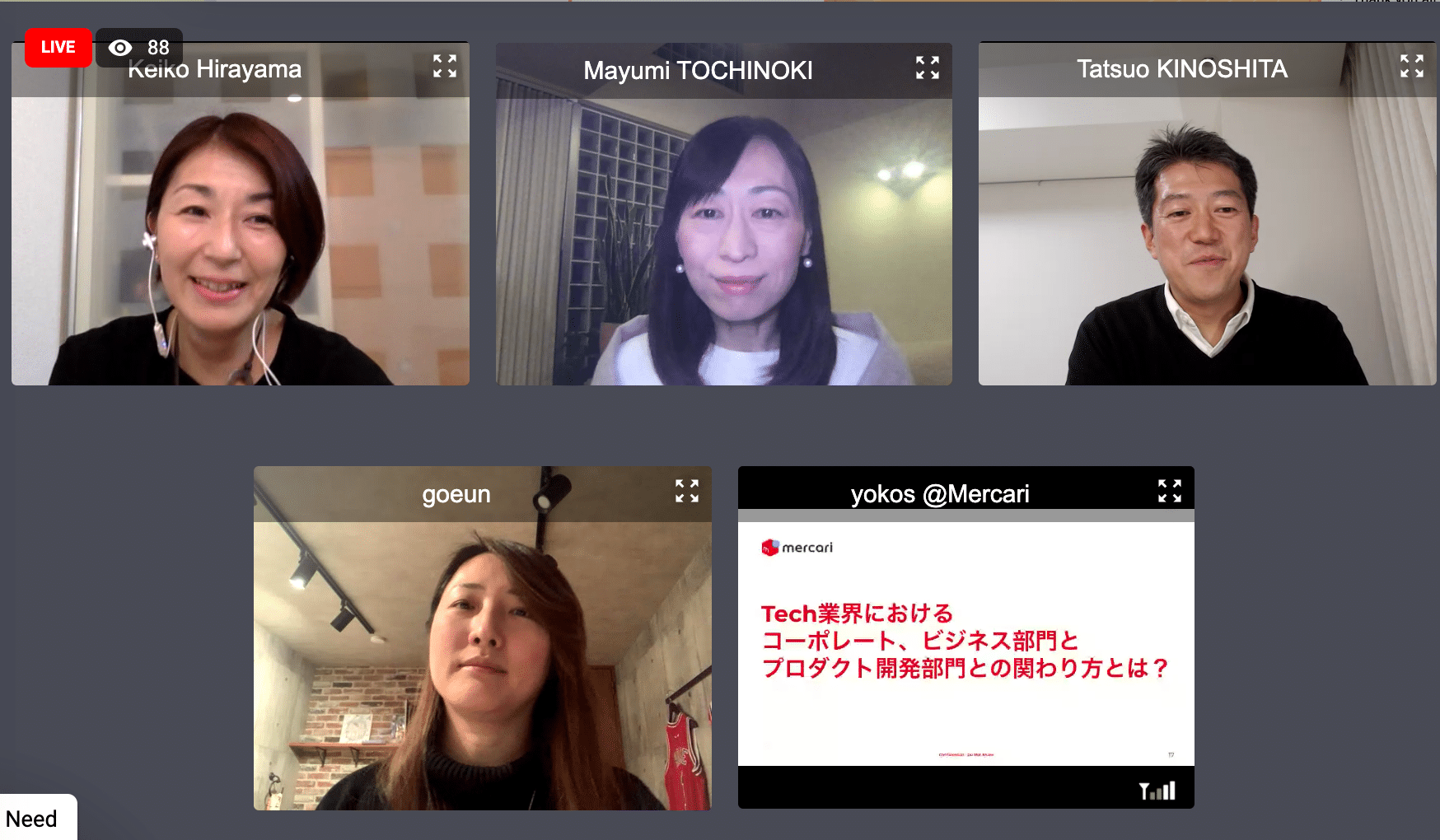 The event had four main topics.
1: The relationship between the corporate, business, and product development divisions in the tech industry
2: New leadership styles
3: Being yourself despite unconscious biases dictating how "a woman should be"
4: What organizations need in order for both businesses and people to grow
The following is a summary of a few discussions that left a big impression on me. I hope you enjoy it!
—How do you approach the product teams and work with engineers from your positions within the corporate or the business divisions? Is there anything that you try to keep in mind when doing so?
Keiko: In my experience, it was hard for the product side to understand the importance of the marketing team's work. In all the IT companies I worked at, the product side has always wondered why the company needs to spend so much money on advertising, especially those who have seen how making an amazing product can lead to a natural increase in the number of users and in company growth. We also received a lot of criticism from sales, finance, and other divisions regarding marketing costs…
The key to surviving in that situation was, first of all, to communicate with all divisions. Every time we had a new promotion, we would take the time to explain to all departments the value that marketing brings to the company, and how spending that money would affect it. We would explain in detail who our target users were, show concrete figures, and basically be patient until everyone understood, and gradually we were able to build a good relationship. I think it's very important for different divisions to have conversations about how they can contribute to the company's success in order for everyone to better understand each other.
—Can you tell us of any big lessons, successes, or failures throughout your experience in leadership?
Keiko: At first, everything was confusing to me. After thinking about what I could and couldn't do and what my strengths and weaknesses were, I realized that I'm not the kind of person that makes everyone else follow them, so I decided to create an environment in which team members could think for themselves. I created opportunities for us to think about what we needed to do, and especially how we needed to do it in order to achieve the company's mission. I was fortunate enough to have a group of brilliant team members, so each of them thought about what they could do from within their own areas of expertise. Also, I made a conscious effort not to talk about what I thought we should do, so as not to condition them. Because if the leader decides for everyone else, then everyone just follows…
So, I just trusted my team members, and checked that they went in the right direction. Another thing I was conscious about was asking "good questions" to team members who are likely to end up having too narrow a scope if they think too much about the same thing, to provide them with different perspectives. That way, we had some new ideas we hadn't thought of, which together with great opinions from other people allowed us to have a great outcome in the end. After that experience, I feel I am finally able to guide the team in a direction that can bring out the best in them without overworking myself.
Kim: I also worried terribly about leadership. At first, I used to ask all of my team members why they got those results, or what process they went through to get them, and I would get deeply involved in every single thing they did. My team members were about the same age and had a similar level of experience, so I was desperate to maximize our results. With small teams, leaders also need to be players and take care of other things. But as our organizations grew bigger, I began to think of it as having different partners in each organization, and saying, "Okay! I'll leave this up to them." That makes it easier for them to do whatever they have to, and gives me time to focus on things with a wide perspective. So, I think that the leader's role changes according to the scale of the company or the business, and the number of people within their organization.
Mayumi: I believe that, in the future, we will need to have a leadership style that, regardless of whether it is "old" or "new", allows us to be the right person at the right time, as Kim said. A leadership style that focuses on what is required right now and adapts to different situations in order to guide the company in whatever direction it wants to take. This year we had the COVID-19 pandemic, and many unexpected things happened. So, the leadership style I've been using so far was not helpful at all. I believe we need a type of leadership that can determine what the company needs in order to grow, and indicate the direction it needs to take based on what different people and situations require, without being caught up in past experiences.
—Do you have any role models?
Mayumi: I had several role models depending on their field or skill. It's hard to find one person who has all the elements you look for, so it doesn't really need to be just one person. I also think that your role model doesn't have to be a woman just because you are. In my case, my boss at my previous company was a man from another country who had excellent communication skills and an assertiveness I did not have. I wanted to be that kind of leader, so he became my role model. However, I knew that his networking style didn't fit mine, so I looked up to someone else for that instead. I learned from various people, regardless of their gender or nationality.
—How can you be yourself despite unconscious biases dictating how "a woman should be"?
Kim: Rather than gender bias, I've struggled a lot with other biases because I'm a foreigner in Japan. When I was working at an e-commerce company, a business partner once told me, "You probably don't understand these things because you are a foreigner." So, I replied that, yes, I didn't understand, and asked them to explain that to me. They actually did so, in detail. In the end, if you know they think a certain way about you, you can use that same bias for your own benefit. That, in itself, is my way of being myself.
***
The event was packed with helpful tips on how to improve our working style that anyone can put into practice immediately, regardless of their position, as well as other more casual topics that gave us a glimpse of the speakers' personalities.
I'm already excited to see what the next Women in Tech event will be like!
See you again for more #MercariDays!