Mercari Women in Tech Vol. 7 "Life Stages & Workstyles" #MercariDays
Hi! This is @angelone from Mercari's Talent Acquisition Team.
On April 26th, 2022, we held our 7th Women in Tech series.
Women in Tech is an online event that focuses on women who work at tech companies and aims to provide opportunities for people to exchange information and knowledge with each other. For this installment of the series, we chose a theme that's a bit different from our previous events.
We invited three female speakers from Mercari to a panel discussion to talk about their experiences around life stages, workstyles, and career progression.
Joining us from the Tokyo office were @louna (Senior Product Manager), @anna (Security Engineer), and @A-ya (Senior UX Researcher)
Featured in this article



Kanako Shinohara (@louna)

Joined Mercari in August 2018. Working as a Product Manager for several foundation domains. Currently, she focuses on creating Trust and Safety products that can detect listings that violate Mercari's policy, and ensure a better customer experience. She is also leading hiring initiatives for this area. At the start of her career as a software engineer and in her previous jobs, she worked with multiple startups in human resource sectors, and led several critical initiatives that built candidate engagement platforms.




Anna Simon (@anna)

Born and raised in Hungary, Anna got her bachelor's degree in applied mathematics and her master's degree in security & privacy. She started her career as a penetration tester at a Big4 company, then moved to the blue team side working at a cloud company. She joined Mercari in December of 2021 as an overseas subcontractor, and finally moved to Japan this year in March. Outside of working hours, she likes to participate in CTFs, run half-marathons, and knit socks.




Aya Kubosumi (@A-ya)

Originally from Tokyo, Japan, Aya built her career as a design researcher at a Japanese electronics manufacturer company, a gas utility company as well as a small consulting firm she co-founded. She is passionate about creating insights into positive changes and values for people and communities, with a deep and holistic understanding of people's lives. She moved from Japan to the US in 2018 due to her family job and stayed there for three years, where she worked as a freelancer. Aya joined Mercari in February of 2022 as a senior UX researcher on the product design team. She is a mother of a 6-year-old daughter and a 2-year-old son, always juggling life, work, and everything else in between.
Our MC for this volume was @maya (HRBP Manager at Merpay). After giving a quick explanation about Mercari Group, she went over why D&I is so important at Mercari, and why we make an effort to incorporate it into our day to day work. D&I isn't just a buzzword at Mercari. It's what we strive for, provide attractive benefits to maintain, and build our teams around. One of our newest benefits pictured below, "merci box", does a great job of encapsulating this.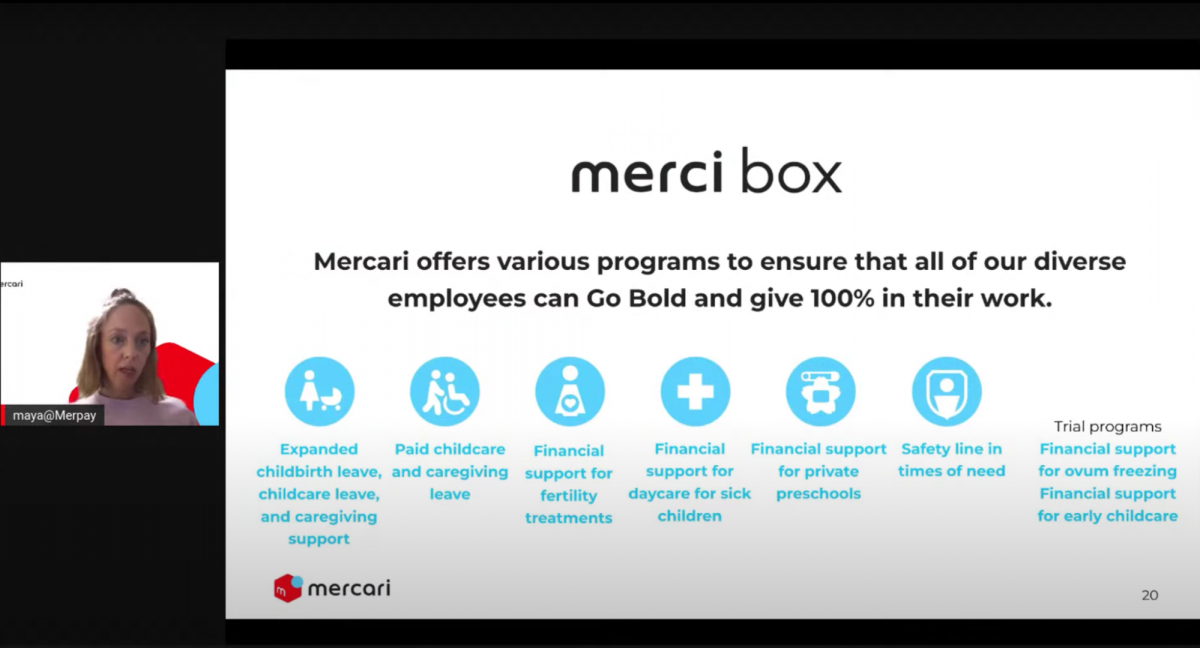 After filling the audience in, @maya moved onto the main part of the event, our panel discussion. We kicked off by discussing the topic of career progression. There were some really great background stories about how our speakers got to where they are today. We also got to hear about challenges they've faced in their careers so far. Covering challenges from relocation, family influenced work life balance, and cultural differences. The audience also chimed in on some of the issues discussed, and provided interesting insight on their own challenges as well!
After some insightful discussion, we moved on to the next topic, which focused more on career progression.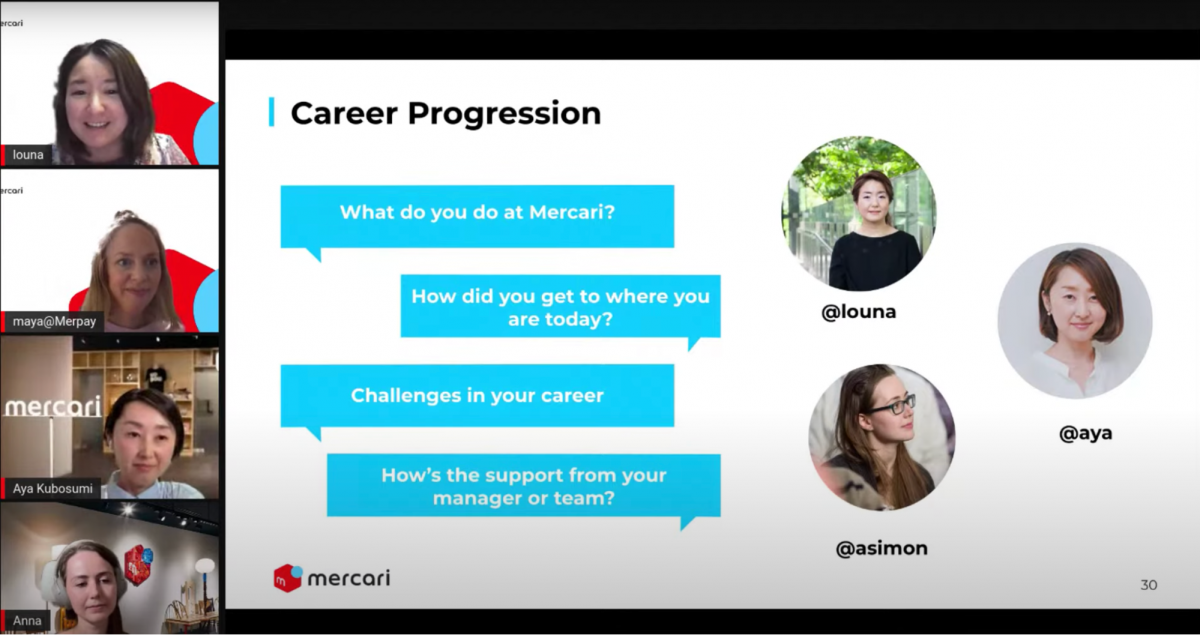 Our speakers had a lot to say about this topic. @anna spoke about her big move from Hungary to Japan, @A-ya talked about moving from a freelance workstyle, to a fulltime workstyle, and @louna gave us an image of what it's like moving to different roles within an organization.
All of our speakers had huge moments in their lives where they needed to make a big, life changing choice. The audience & speakers in the discussion talked about how they came to the decision to make the choices they did, and ultimately how that led them to get to where they are in Mercari today.
Towards the end of the event, we had a Q&A session.
The audience was eager to participate and ask questions about Mercari's support for career growth internally, time management, and relocation options for candidates located outside of Japan.
To hear our panelists' full stories and insightful discussion, watch the recording here!
We look forward to seeing you at our next Women in Tech event. See you next time for more #MercariDays!
Check out the reports of some of our previous events: