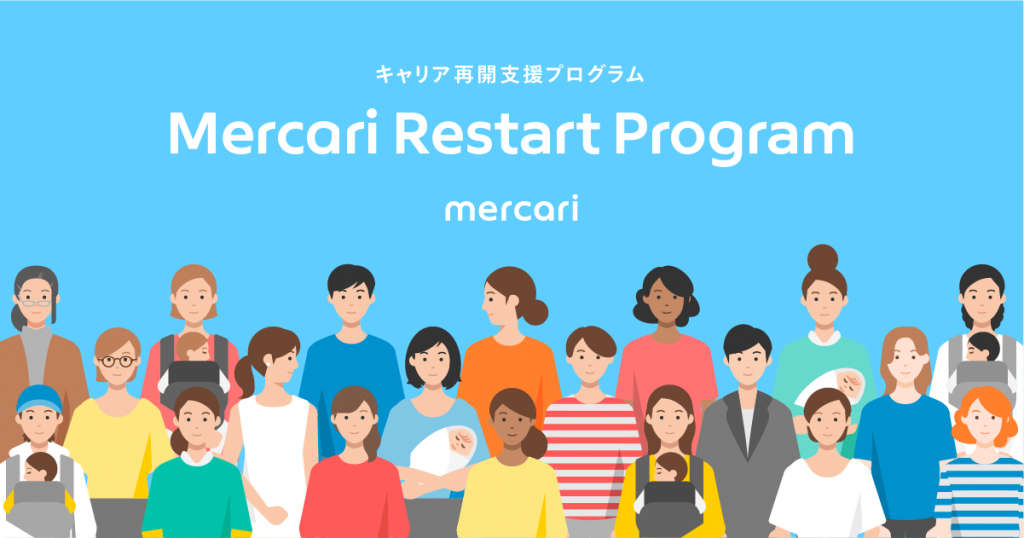 Take your first step into a new career with Mercari. Introducing the Mercari Restart Program: our support program for restarting careers!
Hi there! This is Rika from the Hiring Team.
Right now, Mercari is drawing talent from all over the world, with members bringing their different backgrounds, religions, nationalities, gender identities, gender expressions, sexual orientations, and more.
We are well aware that in order to achieve Mercari's mission of "create value in a global marketplace where anyone can buy & sell," we need to build and deliver a service that can include anyone and everyone regardless of their background. The same goes for the company building that service as well.
For Mercari's growth to continue, we need to be able to provide equal opportunities to a diverse group of people in an environment that is ready to give them the appropriate support they need to excel. This is the core idea behind Mercari's efforts targeting diversity and inclusion.
Mercari has had programs like Build@Mercari, a software engineer training program for people who identify as minorities in IT or STEM fields, and also Women in Tech, an online career event for women.
Now, we are taking another step on that same path, and are announcing a new initiative, the Mercari Restart Program. This is a program for people who have left the workforce once but would like to return and restart their careers.
In this article, I'd like to explain what the program is and the idea behind it.
What is the Mercari Restart Program?
"I want to restart my career, but I find it too difficult to apply for a full-time position right away."
"Now that I have a family, a flexible working style would be the best for me, but every company I interviewed says they can't do it."
Does this sound like you?
Labor shortage has become a problem for Japanese society. In addition, when employees have to interrupt their careers due to various reasons such as childbirth, childcare, or nursing care, it is difficult for them to return to the workforce or find a new job and utilize their skills to contribute to society.
The Mercari Restart Program is a support program for people who had to leave the workforce for various reasons, such as giving birth, raising a child, taking care of a family member, or a family member being relocated, and who are now striving to restart their career. We will provide a 1-3 month paid internship program to people who, at the time of their applying, are not working full time.
Advantages of the program
■Work from anywhere in Japan
From September 1st, 2021, Mercari Group has implemented a new work style called "Your Choice" that respects diverse working styles and allows you to work from anywhere in Japan.
■Flexible work hours
The program also gives members the flexibility to plan their schedule around the needs of children or other family members. Simply enter your desired period and number of weekly work hours when applying to the program.
*We may not be able to meet all of your conditions, depending on the position or team.
■Compensation that matches your experience
Mercari Group evaluates the experience of each applicant individually and offers compensation that matches their skills.
■Work as a member of Mercari Group
This program is designed to allow working professionals to experience a wide range of work tasks as a member of a Mercari team. At the start of the program, you will have the opportunity to set your objectives for the program with your mentor, and be taken through the proper onboarding. You'll start working after that, and if, at the end of the program, you wish to become a full-time employee, you will have to go through the mid-career hiring process as usual. Details will be shared after your application to the program.
Positions open
<Business Position>
・ Senior Data Analyst
・ Senior Account Management Specialist
<Corporate Position>
・ Sourcing Recruiter
・ Hiring Management Specialist
・ Global Operations Team (Interpreter/Translator)
・ Recruiting Branding Specialist
・ Corporate Specialist
<Engineering Position>
・ Software Engineer
Application requirements
Depending on the position, some requirements may differ, so please make sure to confirm all details at the time of your application. The common requirements that apply to all positions are listed below.
<Minimum Requirements>
・ Has an understanding of the Group's mission and values
・ Has had to interrupt their career or leave their job due to circumstances such as taking childcare or childbirth leave, studying abroad, changing careers, etc.
・ Is able to join a paid program lasting several months
(With Your Choice, you can choose whether you want to work remotely or commute to the office.)
(Simply enter your desired period and work hours when applying to the program.)
・ Has an interest in joining Mercari full-time after the end of the program (as a full-time employee, you are expected to relocate to Japan if the entry ban is lifted by then)
Selection process
Document screening → First interview → Second interview
*There might be some skill testing or tech assignments depending on the position.
About finished with your leave of absence? Ready to get back into the workforce? Consider applying for the Mercari Restart Program and get back to your career. We're waiting for you!
*Mercari Group's mid-career hiring process does not look at matters like the applicant's career gap with their previous job. If you wish to apply for our mid-career hiring, please refer to the mid-career recruitment positions listed on the Careers site.