The Mercari Way to Create a Continuous Learning Environment: the Role of the Learning and Development (L&D) Team
At Mercari, we believe that continuous learning is a key element of personal and business growth. With this in mind, the Learning and Development (L&D) Team at Mercari promotes an approach that connects individual growth with business growth.
I'm @maria, from the L&D Team, and in this article, I would like to give an overview of the learning opportunities waiting for you at Mercari.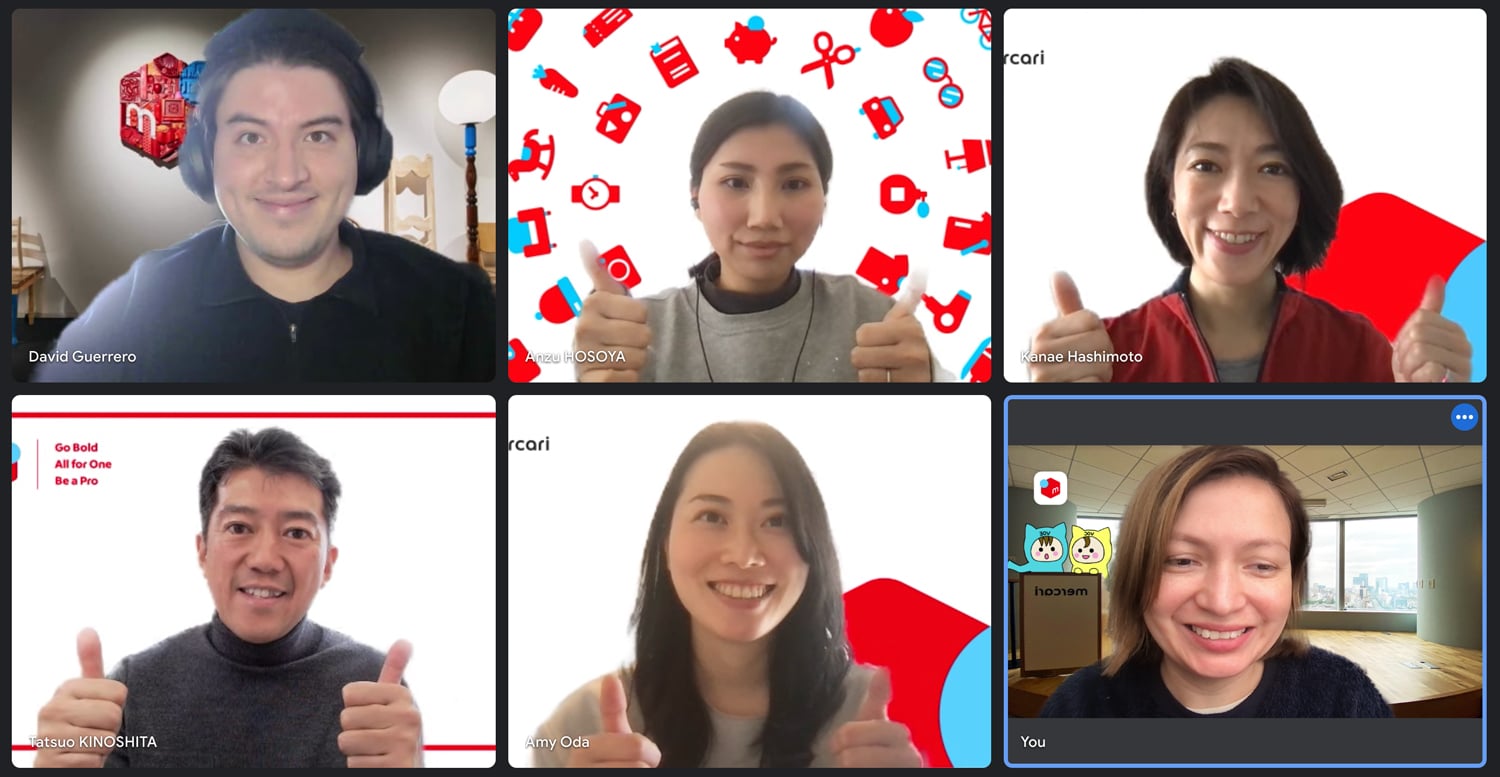 Mercari's L&D Team Members and CHRO Tatsuo Kinoshita
L&D support starts the moment you join!
Mercari employees have many opportunities to grow every day by having different experiences through their work, receiving feedback from other members, and participating in learning programs.
Regardless of their role, all new hires go through our onboarding period in their first three months. As stated in the Mercari Culture Doc, the goal of onboarding is to ensure that "new members can explain Mercari's culture in their own words and demonstrate Mercari's values and their performance to the fullest."
To make this happen, the L&D team provides orientation and support for the entire three months of onboarding.
We start with onboarding!
New employees may find online onboarding or remote work a challenge in the beginning. For this reason, the L&D Team's onboarding staff, mentors, managers, and team members actively support new employees through the onboarding process from day one.
@anzu: Since 2021, when we introduced our new working style called "YOUR CHOICE", Mercari has been organizing the new hires orientation online. We're designing the onboarding journey to make it an engaging experience for new hires, regardless of the challenges of working in an online environment.
We offer many learning opportunities!
At Mercari, we encourage our employees to continue learning after joining the company and to proactively build their careers. To that end, the L&D Team supports the learning of all employees through different training programs.
@Kanae (Manager, L&D Team): The L&D Team has identified three important skills to be strengthened in order for Mercari employees to respond to all business opportunities in the world: adaptability, scalability, and leveraging D&I. Our learning programs are designed based on these three skills.
Mercari's learning opportunities include not only formal training aimed at improving work efficiency, but also Lunch & Learns (casual learning sessions held over lunch), Manager Peer Group (a place for managers to deepen their learning through dialogue), and #z-learning-cafe (a club for knowledge sharing that focuses on learning in English), and e-learning. By combining all of these activities, we aim to empower our employees to take ownership and take advantage of learning opportunities to develop the skills they need.
Fostering a culture of mutual learning and growth
At Mercari, we believe that it is important not only for each employee to have a self-motivated approach to learning but also for employees to grow together.
Among the new training programs that @AmyOda has been in charge of are "Problem Finding and Problem Solving". We held pilot sessions in November 2021.
@AmyOda: The L&D Team's focus was on adaptability, and the training was designed to improve our people's ability to grasp a situation and take action. Specifically, with the guidance of outside instructors, our members learned how to identify and analyze problems, while managers learned how to set issues and OKRs. During the training, participants received feedback from the lecturer on their own practical issues. In addition to this, the participants also shared their opinions, aiming to foster a culture of mutual feedback.
@David (Certified business coach, in charge of manager development): Interacting with others allows you to take a look at yourself from different perspectives, identify competencies that need to be improved, and develop specific strategies to take action. There are many ways to carry out this process, for example, coaching, mentoring, getting feedback from others, joining or creating a community, and finding a role. Coaching and feedback, in particular, are essential modules covered in the training series for managers. In addition to that, managers themselves also have access to internal and external coaches, and many actually work with them.
There are still many things that those of us on Mercari's L&D Team would like to do in 2022, so until the next time.