Mercari's shared mug cups, an effort to make sustainability a cool new habit! #MercariDays
In October 2019 we held the Shared Mug Cup Workshop, an event with the purpose of thinking about sustainability in the office by introducing a more eco-friendly way of enjoying drinks.
Similar to the experience provided by the Mercari app when selling or buying items, this workshop delivered the satisfaction of giving an item new value in a fun and memorable way. We used B-grade mug cups, which are in good condition but have small imperfections that prevent them from being sold. After decorating the cups with original stickers, they looked so good that no one could tell they were B-grade items! After the workshop, the cups were distributed for shared use in the office's kitchen areas.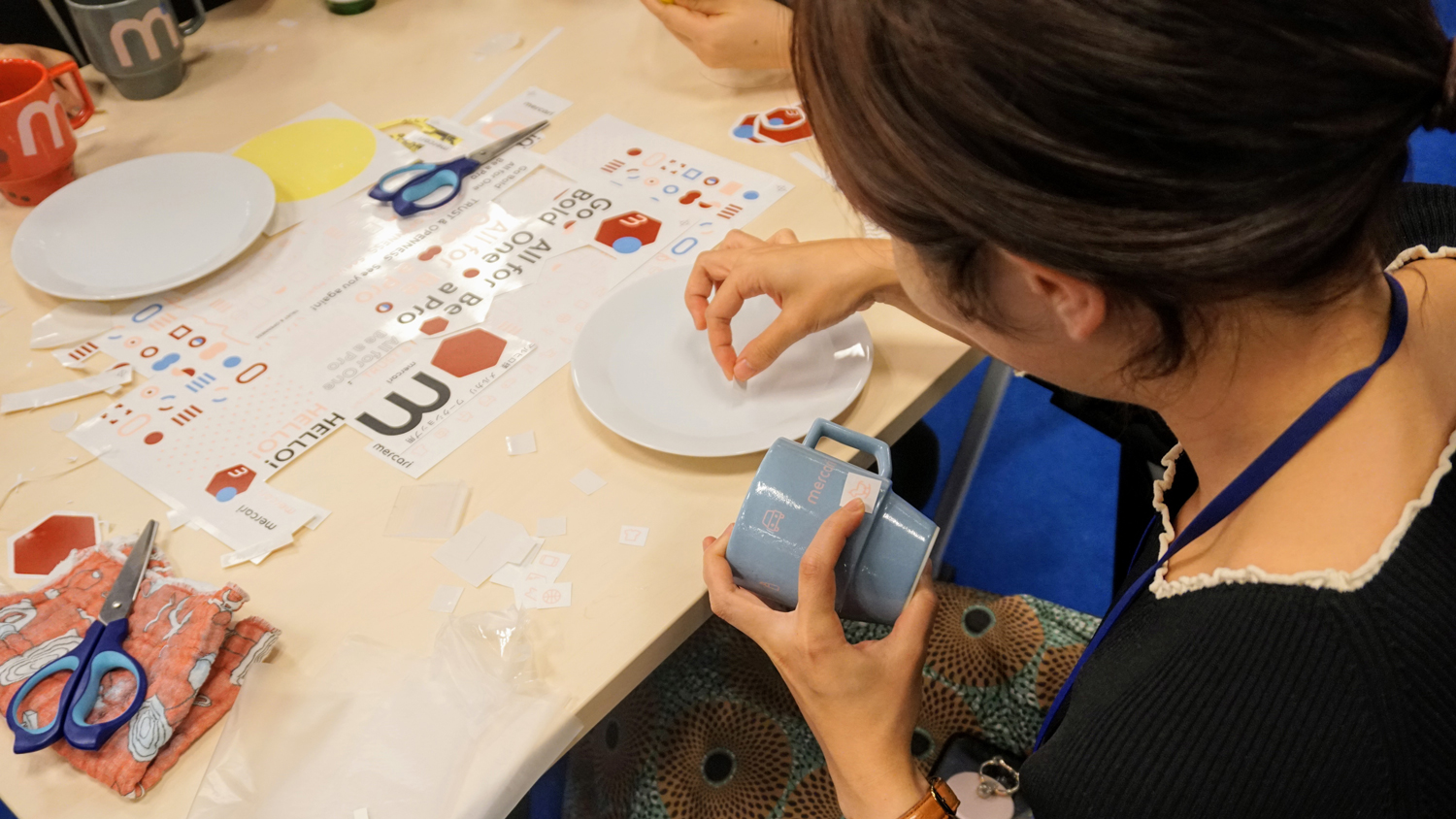 Decorating cups in the workshop.
Three months have passed since then, so I was curious to know how often people were using the shared mugs. I noticed that even though many people had good intentions and wanted to reduce waste by using shared cups when ordering coffee, sticking to that habit was quite difficult. One reason was because the cups needed to be washed after each use. However, the Mercari office cafe's staff is helping with this to make it easier to keep the habit. Tenlingp, a backend engineer from Taiwan who participated in the Shared Mug Workshop, commented on this:
I think it's also a problem of displaying and communicating the message. Currently, the shared mugs are only located in the kitchen areas, so if I want to use the cup I will have to go pick it up first and then walk back to the Cafe to get my drink. I think that having the cups on display on the Cafe counter would make it easier. Also, some people confuse shared mugs with other members' personal ones, so even though they are curious they don't use them out of respect for the owner. In this regard, we need to consider a better way to communicate the message internally.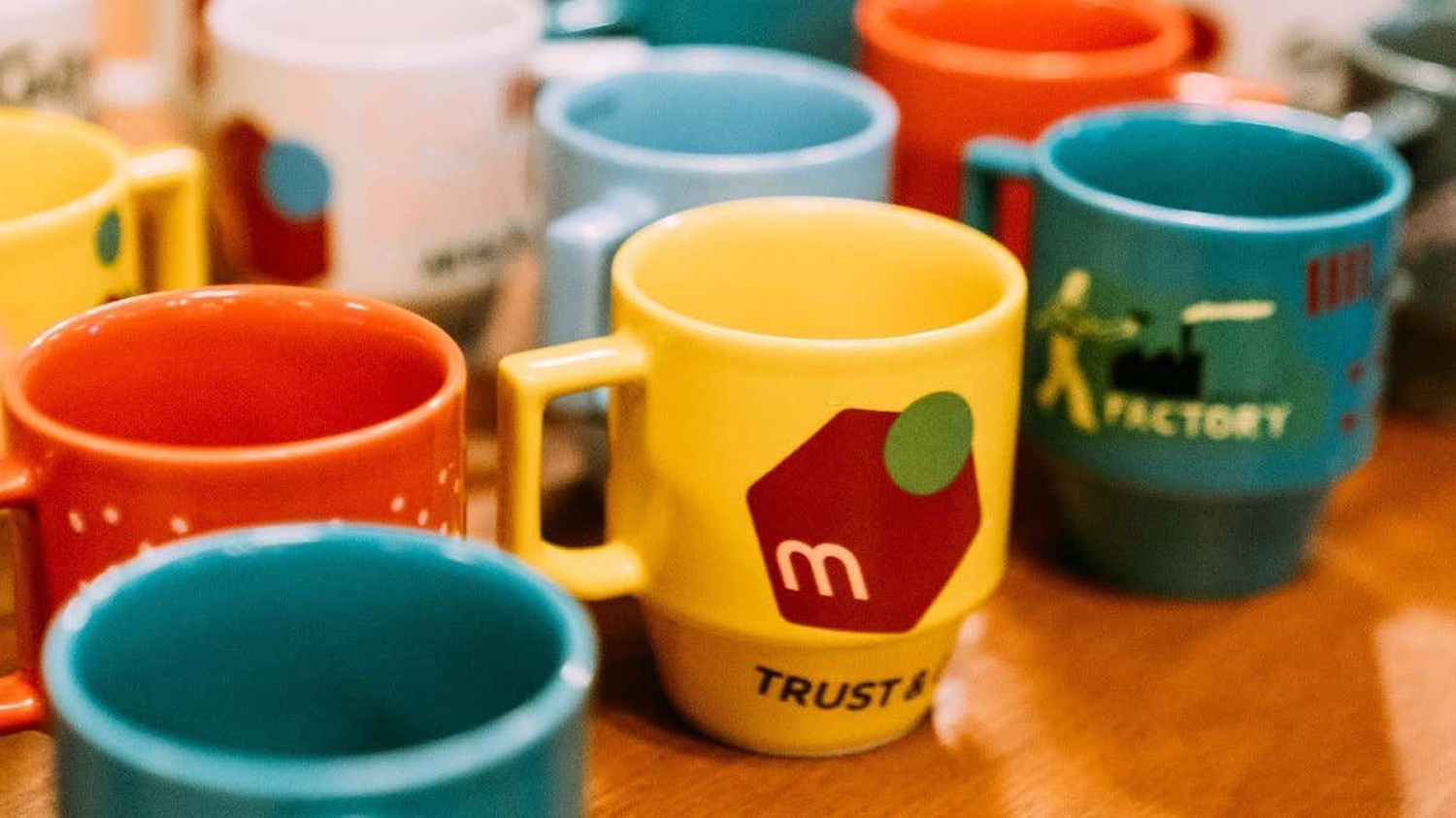 Colorful Mercari shared cups ready to use!
This is where thinking of sustainability as a reward can change our mindset and behaviors in a positive way. Tenlingp shares how sustainability is now a new lifestyle in her home country, Taiwan.
Taiwanese people are very health-conscious, and at the same time, they like to express themselves through the items they carry in their daily lives. So sustainability came along with the concept of avoiding single-use plastic items for health reasons, and also as a cool lifestyle. It actually became so popular to bring reusable cups, plates, or chopsticks, not only for school or work lunches but even when going to eat at fast-food restaurants! This change of attitude from the customers encouraged more shops to design eco-friendly products, and as an example, we now have reusable tumblers for bubble tea with really cool designs, and they're easy to wash so it's stress-free. Social media is a platform for Taiwanese people to proudly show their eco-friendly items and spread the concept of sustainability as a new cool lifestyle!
Tenlingp told me about how sustainable behaviors are naturally blooming in the Mercari office, coming along with happy experiences.
Once a month we have an activity with colleagues in which we share a home-made cake. We realized that enjoying the cake on a real plate would be not only more attractive to the eye but also tastier, so we actually bought real plates and cutlery to use in our events! We enjoyed the experience so much that washing the dishes became second-nature.
In Mercari we want to cultivate sustainability and make it accessible, easy, and fun for everyone. While we are still facing challenges, we want to keep building positive habits and make the Mercari office a more sustainable workplace.
Thank you for reading, and stay in touch for more updates in #MercariDays !